Reporting by Clare McNeill
Traders on Sauchiehall Street fear years of disruption as a result of the fire at Glasgow's School of Art.
Thirteen weeks on since the blaze ripped through 'The Mac' many businesses are still being denied access to their premises.
And among those that have reopened, some are reporting a 75% downturn in business.
At Friday morning's meeting of the Sauchiehall Street Traders group, which was set up in the wake of the fire on June 15, one businesswoman said: "We want people to know this isn't over. Just because some of us are back in, and we have had a lump of funding, it's not problem solved.
"We will have repercussions for a long, long time. The result of this fire could go on for years, not just months. There is no ending in sight.
'Even when the facades of buildings are sorted, we then have to wait for the street repairs to take place so Sauchiehall Street won't be back to the way it was for a long time."
The devastating fire was the second major blaze in the area in just three months.
In March, a building housing Victoria's nightclub was destroyed and firefighters had to battle to prevent the flames spreading to the 114-year-old Pavilion Theatre.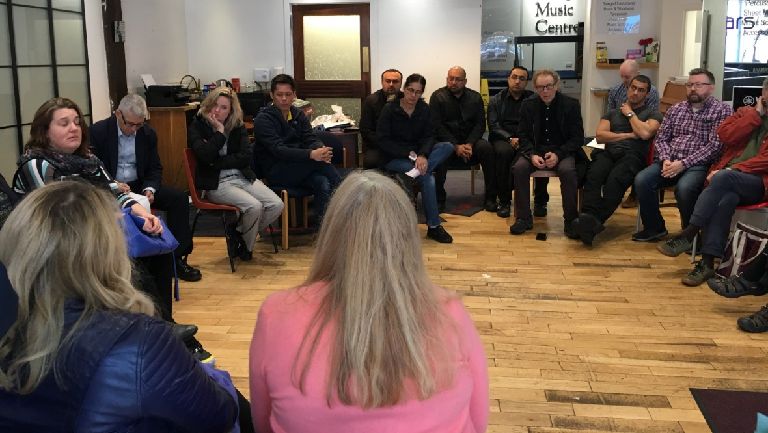 Many say they believe the authorities are giving favourable treatment to the Mackintosh building to the detriment of those around it.
One said: "All the authorities seem to care about is the Mac, and nothing else matters.
"If it had been Campus, they would have knocked it down straight away so repair work could begin. But they're trying to save the Mac while everyone else suffers as a result.
"If it's an unsafe building it should've been knocked down, it's as simple as that.
"They dealt with Victoria's quicker than this."
Traders have also said that all communication from Glasgow City Council has stopped.
A spokesperson for Glasgow City Council said: "We continue to provide updates where the progress of work on site affects neighbouring premises.
"At this point in time, work is focused on the west end of the site where businesses are still displaced. We are updating the affected businesses, as we previously did with those who have now reoccupied their premises.
"If and when there are further changes that affect these areas, or indeed the wider community, they will be included in any update."