A statue has been unveiled in Paisley to a trailblazer of Scottish legal history – following a case featuring a snail.
May Donoghue was at the centre of a landmark case involving the creature and ginger beer which helped to define the modern law of negligence.
The curious tale of the 'Paisley snail in the bottle' is one of the first cases taught to law students around the world, but May's descendants only discovered her place in history recently.
Her granddaughter Maggie Houston-Tomlin, from Dorset, found out when a distant relative contacted her online.
Maggie, who was only four when May died, said: "I was over the moon to hear about the case. It's just so amazing.
"My step-son is a solicitor and when I said to him 'Have you heard the story of the Paisley snail?', he said 'Yes, I had to do it in my training'.
"When I told him that I had just found out that was my granny, he couldn't believe it."
Maggie has just one black and white photograph of her grandmother holding her twin sisters in 1958.
The picture is the inspiration for a bronze statue close to the site of the Wellmeadow Cafe in Paisley where May Donoghue was a customer in August 1928.
The shop assistant was there with a friend, who bought May a ginger beer ice cream float. As she was finishing her drink, the decomposing remains of a snail dropped out of the bottle.
May fell ill and, after a doctor diagnosed gastroenteritis and shock, a solicitor took up her case, offering his services for free to raise an action for damages.
The shop assistant had to declare herself a pauper during the legal proceedings.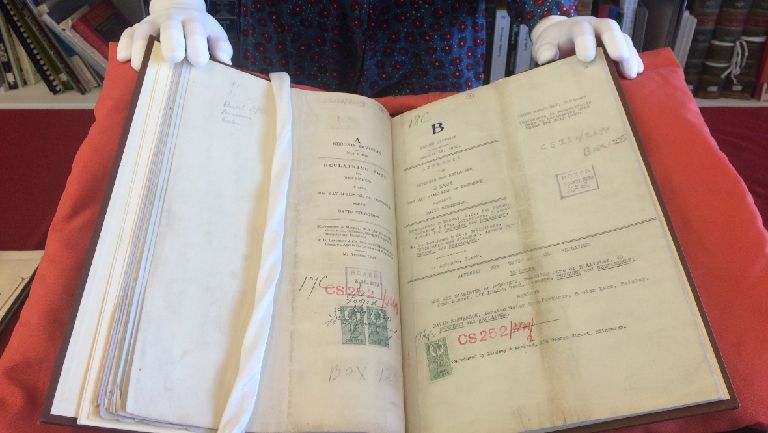 Artist Mandy McIntosh, who created the statue of the Paisley Snail, was moved by May's story.
Mandy said: "She came to Paisley with her pal for a treat. She ordered an ice cream float and then the snail came slithering out of the bottle.
"What I learned about her is that she wouldn't take 'no' for an answer. She knew it was negligence that had led to the snail being in there and she just wouldn't let the issue go.
"She eventually won her case four years later, so that shows you how determined she was. "
The initial hearing of Donoghue v Stevenson came before the Court of Session in 1930. The drinks manufacturer, David Stevenson, appealed and the case was dismissed.
May and her lawyer persevered and took her claim to the House of Lords. The case was eventually settled out of court, but the action changed the laws on negligence around the world.
Michael Clancy, from the Law Society of Scotland, said: "In House of Lords, Lord Atkin gave his famous speech about the neighbour principle.
"Under that principle you must take reasonable care to avoid any act or omission that you might imagine would injury another party – an underlying duty of care.
"It's the foundation of the law of consumer protection, a law on which we all depend so that we make sure we are getting safe goods."
May's great-great niece is 19-year-old Abbie Burgess, a student from Sunderland.
Abbie said: "I'm so proud that she managed to make that change and that it still has such a lasting impact nearly 100 years. It gives me a really warm, kind of special feeling. "
May's granddaughters, Elizabeth Crosby and Evelyn Blair, who live in Oban and Bournemouth, are delighted they are represented in May's statue.
Their sister Maggie said: "My father always said she was a very strong, tenacious lady. She must have wholly believed in what she was doing.
"It's just amazing that my granny is always going to be there forever. "