A crowdfunding page raising money for a memorial at the former primary school of Alesha MacPhail has almost tripled its target.
The fund, set up for a tribute to the six year-old after she was found dead on the Isle of Bute in July, has exceeded the original target of £8000 in less than a month.
The JustGiving page has collected more than £22,000 from 3970 contributors on Friday.
Comedian Jason Manford also showed support for the cause by sharing the charity page with his fans.
The money raised from the fund, which was set up by, Nicola Smith, vice-chair of Chapelside Primary School, will go towards a permanent memorial at the school in Airdrie, North Lanarkshire.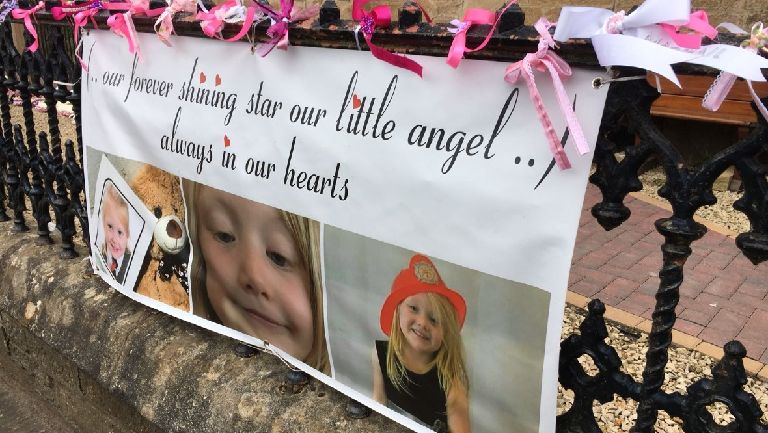 Alesha's body was discovered after she was reported missing from her grandparents' home during three-week summer holiday break.
A 16-year-old boy was charged with rape and murder and was remanded in custody at Greenock Sheriff Court in July.
Discussions over what the memorial will be are ongoing, as initial proposals suggested a professionally handmade wooden play house.
However, a meeting area for pupils is being looked into as this was said to be "in keeping" with Alesha's character.
Expressing her gratitude for the fund's support, organiser Nicola said: "Absolutely gobsmacked.
"On behalf of Chapelside Primary School and Chapelside Parent Council we thank you from the bottom of our hearts.
"I actually have no words right now, the tears are blinding me.
"Thank you so much. Alesha, wherever you are, you'll always be our Chapelside star."
Wendy Davie, head teacher of Chapelside Primary School, said: "We've been completely overwhelmed by the outpouring of support from so many people, including complete strangers with no connection to the school, for our memorial fundraising appeal for Alesha.
"The entire school community is working closely together to create a fitting and lasting memorial for Alesha and this is being led by our parent council who have been tireless in their efforts.
"At the moment we're still discussing what the memorial will look like, but we're thinking about some form of meeting area where pupils can sit and chat with each other.
"That would be very much in keeping with Alesha's character – as she was so smiley and sociable and loved spending time chatting and laughing with her classmates.
"We'd like to thank everyone for the generous and kind support they've shown to our appeal."