An Oktoberfest beer festival has been refused an alcohol licence amid police concerns over violence and disorder.
The German beer festival was set to take place in Glasgow city centre from October 19 and the event organisers applied to the city's licencing board for permission to sell alcohol.
A liquor licence was refused, however, and they were told the planned venue at Blythswood Square was not suitable after Police Scotland submitted a report outlining its concerns.
Organisers are still planning to hold the event and are seeking a different venue.
Police highlighted concerns following last year's event at Glasgow Green, which more than 2000 revellers attended, and said the thousands of people in attendance were drunk as early as 4.30pm during the event.
The report, submitted to Glasgow's Licensing Board, said "a number of fights broke out" after the "atmosphere changed" at the 2015 festival and around 25 people were thrown out by security staff.
It was also pointed out by police that two riot vans were sent in.
They criticised Blythswood Square as the chosen venue and raised a number of concerns, saying it "poses a threat to pedestrians and a significant burden on the surrounding streets" to such hold an event there.
Glasgow Licensing Board was told in the report that "the level of drunkenness previously demonstrated by patrons in addition to inadequate staffing levels will prevent the licensing objective of protecting children from harm being achieved".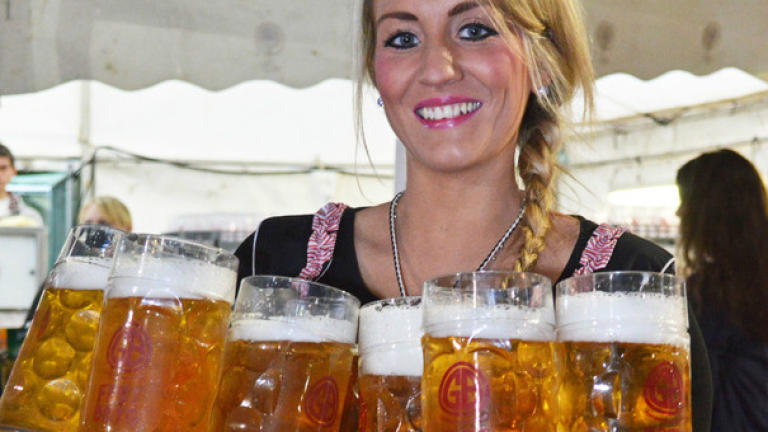 It added: "Police Scotland recorded three males arrested and issued then with fixed penalty notices for a breach of peace on October 23, 2015.
"Additionally, a 20-year-old Dutch marine was arrested for assault. The male had been observed by stewards walking across tables and falling into a group of males due to his intoxication.
"He then punched one of the males and was restrained by stewards. There were a further three arrests for breach of the peace and police assault on October 24, 2015."
A statement from the Oktoberfest organisers said: "We are working on the best suitable venue as the licensing board did decide that Blythswood Square is not the right one to be.
"We are working on a perfect venue and will announce this shortly."
A licensing board spokesman said: "A number of concerns were raised with the board about this licence application.
"After considering all of the submissions made at the hearing, the board decided it would be inappropriate to grant a licence at this time.
"The board was particularly concerned about the proposed location for the event and the risk to public safety created by people potentially being forced to walk on busy roads."