Almost £10,000 has been raised for the family of a deaf mother found dead in the River Clyde after she vanished on a night out.
Kirsty Aitchison, from Robroyston, had been missing for a week before emergency services recovered her body from the River Clyde on Saturday evening.
The British Sign Language user had been on a night out with friends at Campus bar in Glasgow's city centre before becoming separated from the group.
The 30-year-old was last spotted walking barefoot near the Riverboat casino on CCTV in the early hours of June 12.
A body recovered from a stretch of the river by the Kingston bridge on Saturday afternoon was later to confirmed to be that of the missing mother.
Since then, a JustGiving page has been set up to help Ms Aitchison's family with the aftermath of the tragedy, surpassing its initial target almost immediately.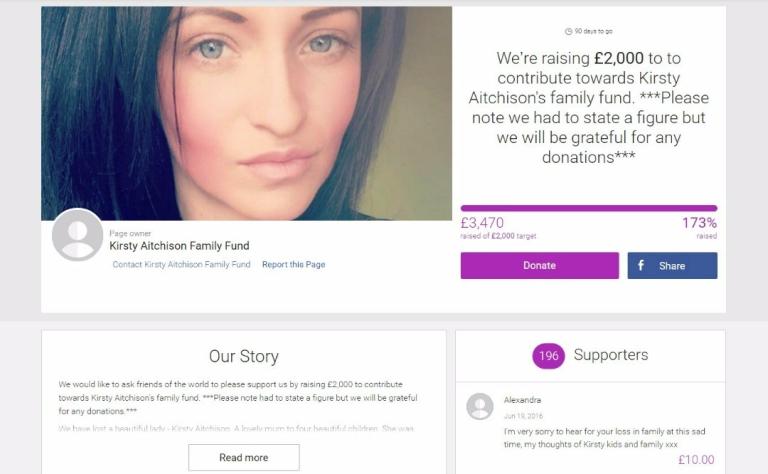 On Monday morning the campaign had raised just almost £9500 despite setting an initial target of £2000.
The crowd-funding page paid tribute to a "fantastic" mother, asking that donations be made to ensure her family could arrange "a beautiful funeral service to celebrate her life".
The tribute read: "We have lost a beautiful lady – Kirsty Aitchison. A lovely mum to four beautiful children. She was only 30 years old. Kirsty was a fantastic mum to her four children, they were her world. She always had something positive and funny to say about her children. They will be truly devastated.
"Kirsty is well known and loved by her many friends and family members. It's kinda like one of our own who has been taken away from us. Our heart breaks for her family and most importantly her four children. They've lost a daughter, sister, cousin, mum, a best friend and someone they could have fun with.
"Kirsty's death is a great shock, it was unexpected. She always had a smile on her face and she will be solely missed by everyone. She was young so no provision had been made for a funeral at this time in her life. Any contributions will help greatly.
"Kirsty should have a beautiful funeral service to celebrate her life and provide comfort to her family and friends, and also Deaf / BSL communities. We really appreciate any donation whether it big or small.
"All contributions will be spent on the funeral service and supporting Kirsty's children future.
"Thank you for your kind support. Rest in peace Kirsty, we'll never forget you."