The Homeless World Cup might have humble beginnings but when it takes over George Square in Glasgow this summer it will be hard to walk past and not take notice.
On Monday, it was announced the tournament would make its return to Scotland with national team captain Scott Brown and assistant manager Mark McGhee joining representatives and politicians at the site, where three purpose-built football pitches will be installed.
More than 100,000 people are expected to take in the week of free football taking place in the city centre this summer.
Glasgow already has a track record with street football and there are many Scottish connections to the Homeless World Cup throughout its 15-year history at the helm of co-founder Mel Young, who also helped establish the Big Issue in Scotland.
It is an annual tournament organised to bring together people who have suffered from homelessness around the world and to help campaign for a global solution.
All year round the HWC organisers work with a national partner for homelessness from each participating country, with the tournament the culmination of this.
This year's competition will take place from Sunday, July 10 to Saturday, July 16 and no tickets or entry fee is required for any match.
There will be 64 teams taking part in HWC 2016, representing 51 countries. The men's/mixed team competition features 48 teams while the remaining 16 will take part in the women's team competition.
Glasgow will welcome 512 players over the seven days with 100,000 spectators expected to fill seats around the three purpose-built pitches in George Square.
There are four players on each team, three outfield and a goalkeeper, plus four additional rolling substitutes.
This year marks the 14th tournament and it will be the second time Scotland have hosted the HWC, with the 2005 competition held in Edinburgh.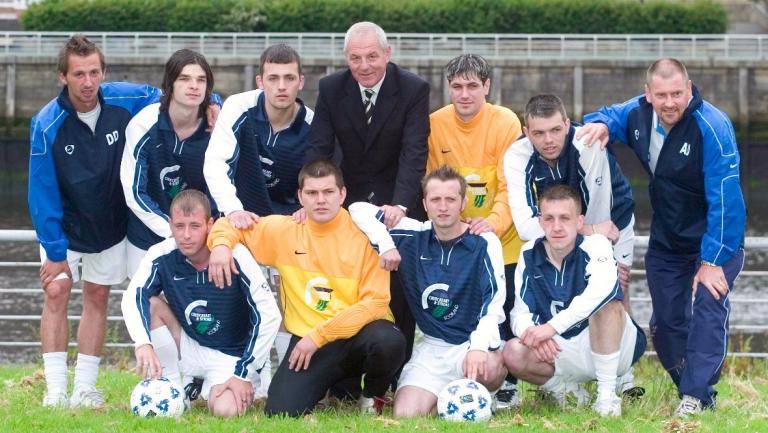 Back Row: (from left) David Duke (assistant coach), Andrew Steel, Gary Kimmett, Walter Smith, Steven Buchan, Gary Lipscombe, Ally Dawson (coach).
Front Row (from left) Mark McBryde, David Fairgrieve, Frank Hughes and Stuart Emslie
The HWC organisation's international headquarters are in the south stand of Hibernian's Easter Road in Edinburgh.
Not only have Scotland hosted the tournament once but they have also won it twice: in 2007 when the competition was in Copenhagen, Denmark, and again in 2011 with a narrow victory in Paris, France. They are one of four countries with two titles to their name along with Chile, Brazil and Italy.
As well as the two final appearances the Scots side have been involved in the third-place play-off on three occasions but lost out on each of these in 2004, 2005 and 2008.
From the very beginning the tournament has been supported by Street Soccer Scotland, which is the national partner for the Scotland team and is responsible for choosing who represents Scotland at the tournament.
The project helps Scottish people who are homeless or disadvantaged and uses football to encourage them in their recovery by providing stability through playing the game.
Even after players have taken part in the HWC, the initiative continues to support them and provides other opportunities to represent Street Soccer in other international ventures.
It was launched in 2009 by David Duke, who himself experienced homelessness and was part of the Scottish squad for the 2005 tournament.
Since then he has continued to be involved as the Scotland team's manager and will be in the same position this year.
At Monday's announcement, Duke said: "Street Soccer Scotland select, coach and mentor Team Scotland at the Homeless World Cup every year.
"It's great to offer our players, who will be selected from the many thousands who take part in our hundreds of football programmes across the country, with an opportunity to represent their country on home turf.
"Glasgow is a great host city and its people will open their hearts to the inspiring players from across the world."
Mel Young, president of the Homeless World Cup Foundation, said: "We are happy to be bringing the Homeless World Cup back to Scotland after 11 years and know Glasgow will be an amazing host city, with George Square the focal point.
"We are delighted to be working in partnership with the Scottish Government, Glasgow City Council and Culture Sport Glasgow to deliver what we're sure will be the biggest tournament yet.
"What is important for me to stress is that this is significantly more than a football tournament; it's a real celebration of optimism.
"We will have 512 players with us and every single one of them is at some stage of their journey towards a more stable future.
"Their personal stories are remarkable, often very moving, but they reflect a real sense of hope for social justice.
"We want people to come to George Square in their tens of thousands this July and feel that sense of optimism and to be inspired by it.
"Knowing Glasgow as we do, there are surely few better places in the world to celebrate our movement."