The National Bard once wrote a poem entirely dedicated to lamenting the passing of winter.
In Winter: A Dirge, Robert Burns goes into great detail about the harshness of winter, about his love for the season and even compares himself to some of winter's characteristics.
It would be easy for us to lament the complete lack of winter this year – having seen unseasonably warm conditions and still no sign of snow.
With Burns Night upon us once again, the weather looks set to be quite average, but through the years Scotland has seen several extreme conditions on January 25…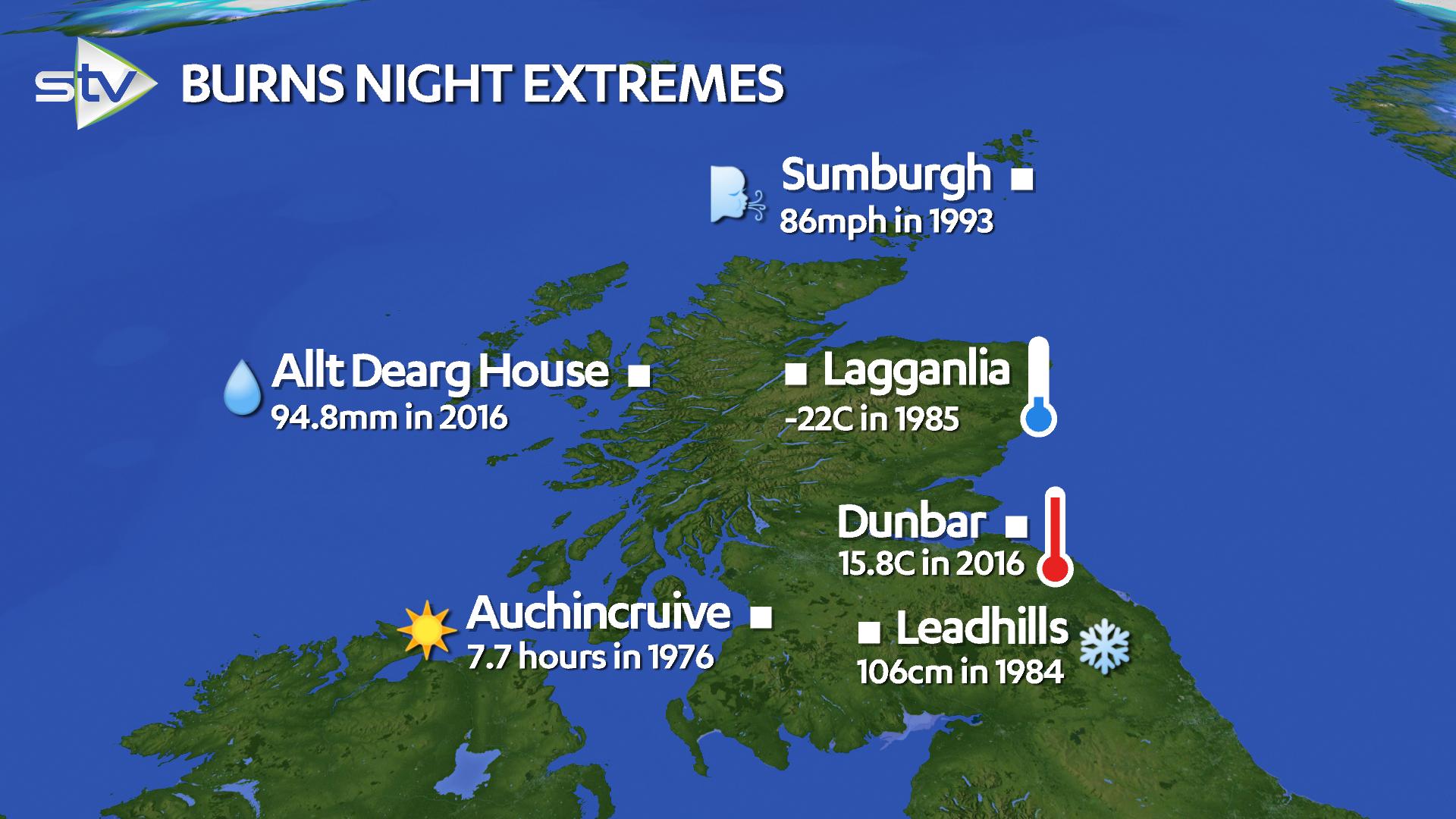 The Rabbie Burns Day of 1976 recorded 7.7 hours of sunshine, making it the sunniest.
The snowiest was in 1984 when 106cm of snow was recorded at Leadhills, South Lanarkshire.
The following year was a cold one, with overnight temperatures dipping to -22C at Lagganlia in Inverness-shire.
In 1993, a maximum gust of 86mph was recorded at Sumburgh in Shetland, making it the windiest Burns Day.
2016 not only saw the highest maximum temperature of 15.8C recorded in Dunbar, East Lothian, but it also recorded the wettest Burns Night with 94.8mm of rain at Allt Dearg House in Skye.
Winter: A Dirge by Robert Burns
The wintry west extends his blast,
And hail and rain does blaw;
Or, the stormy north sends driving forth
The blinding sleet and snaw:
While tumbling brown, the burn comes down,
And roars frae bank to brae;
And bird and beast in covert rest,
And pass the heartless day.
The sweeping blast, the sky o'ercast,
The joyless winter-day,
Let others fear, to me more dear
Than all the pride of May:
The tempest's howl, it soothes my soul,
My griefs it seems to join;
The leafless trees my fancy please,
Their fate resembles mine!
Thou Pow'r Supreme, whose mighty scheme
These woes of mine fulfil,
Here, firm, I rest, they must be best,
Because they are Thy will!
Then all I want (O, do Thou grant
This one request of mine!)
Since to enjoy Thou dost deny,
Assist me to resign.
STV News is now on WhatsApp
Get all the latest news from around the country
Follow STV News
Follow STV News on WhatsApp
Scan the QR code on your mobile device for all the latest news from around the country