Tributes have been paid to Scottish managerial great Walter Smith, who has died at the age of 73.
Smith, who won 21 domestic trophies as Rangers manager, and also had time in charge of Scotland and Everton, was one of the nation's most successful managers, and figures from across sport and beyond expressed their sadness at his passing.
Ally McCoist, who played under Smith before working as a coach alongside him at Ibrox and with the Scotland national team, said he had lost "a second father".
He told talkSPORT: "He means everything to a lot of folk. He was my boss, my coach, my second father and then turned into one of my best friends.
"The loss is absolutely incredible.
"The good thing is he's not in pain. I went to see Walter recently, I spoke to him at the weekend and we knew that it would be a matter of time. But it still does not take away the pain and the grief.
"I could sit here and tell you about Walter Smith until the cows come home, but what I will say he was the best husband, father, friend, everything you want from a man.
"I can't tell you how devastated I am."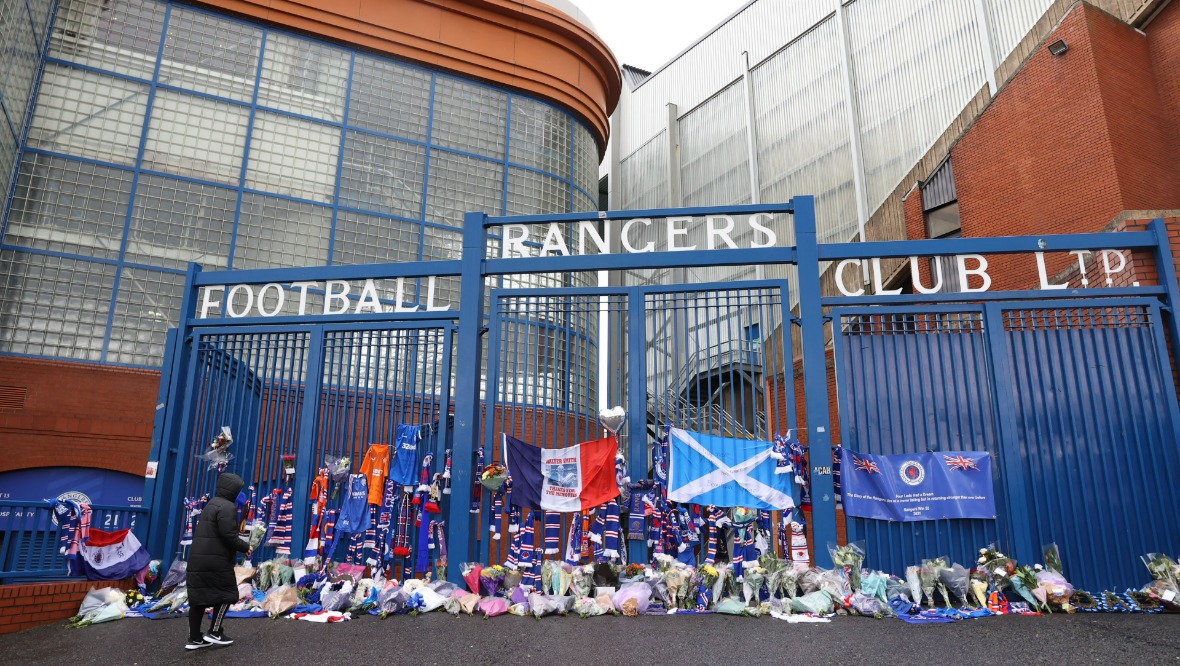 Rangers chairman Douglas Park said the club had lost a major figure.
He said: "It is almost impossible to encapsulate what Walter meant to every one of us at Rangers. He embodied everything that a Ranger should be. His character and leadership was second to none, and will live long in the memory of everyone he worked with during his two terms as first team manager.
"I spoke with Walter as recently as last weekend. Even when he was battling illness, he was still able to provide advice and support. For that, I am personally grateful. I know that he continued also to maintain dialogue with senior members of staff, including our manager, Steven Gerrard.
"Walter will be sorely missed by all of us at Rangers."
Political figures also paid tribute to Smith.
First minister Nicola Sturgeon tweeted: "Very sad to hear of the death of former Rangers and Scotland manager, Walter Smith – he was a true football great.
"My condolences to his family, friends and colleagues across the world of football."
Scottish Labour leader Anas Sarwar posted a tribute to Smith on Twitter, which read: "So sorry to hear of the death of Walter Smith – a true football legend.
"He was a huge figure, especially in Glasgow, when I was growing up.
"He was loved by many and respected by all. My thoughts are with his wife, family and friends at this sad time."
Scotland captain Andy Robertson tweeted that it was "heartbreaking to lose another great of Scottish football", adding: "A man of wisdom, dignity and integrity whose legacy will live on. May he rest in peace."
Scottish Professional Football League chief executive Neil Doncaster and chairman Murdoch MacLennan paid tribute to a man who won ten league titles in his time at Rangers.
Doncaster said: "This is terrible news for Walter's family and friends, and also for everyone associated with Scottish football.
"Walter was a true giant of the game with an unparalleled reputation for integrity and character.
"It was a great privilege to have met with him many times in the Blue Room at Ibrox and at grounds the length and breadth of the country during his long and illustrious career with Rangers.
"It was therefore no surprise to find, during his time on the Rangers board, that his contributions to our various discussions were hugely insightful, cogent and grounded in common sense for the betterment of the wider game.
"He will be sadly, sadly missed. but his achievements across the decades – from his time with Dundee United, Scotland, and, of course, Rangers serve as a fitting legacy for one of the true giants of our game."
MacLennan said: "Walter Smith represented all that was good about our game.
"He was universally admired and respected, and with very good reason.
"His career ranks among the greatest ever in Scottish football's long and illustrious history. Of course, Rangers fans hold him in the utmost regard for his long and proud association with their club, but Scottish football in its widest sense owes Walter an enormous debt of gratitude."
UEFA and FIFA also sent their thoughts and prayers to Smith's loved ones. Along with a crying face and a broken heart emoji, UEFA tweeted: "We are very sad to hear of the passing of Walter Smith.
"Our thoughts are with all his friends and family."
While FIFA posted: "Very sad news from Scotland. Our thoughts and prayers are with Walter Smith's loved ones."
Former Scotland and Rangers manager Alex McLeish said he was devastated by the news, and added: " My thoughts are with Walter's wife Ethel, his sons Neil and Steven and the whole family.
"Walter was a great mentor to me in my coaching career and someone I learned a great deal from, but more importantly, he was a great friend and I always looked forward to being in his company.
"He is a true legend of the football world."
Graeme Souness and Sir David Murray, who took Smith to Ibrox in 1987, released a joint statement, saying that the former manager would go down in history as a Rangers great.
"Scottish football has lost one of its finest," they said. "Even in the proud history of Glasgow Rangers, Walter Smith stands out as a colossus. He will never be forgotten.
"His 21 titles and trophies between 1991 and 2011 not only earned respect in the Scottish and British game but across the entire footballing world.
"The Rangers family has lost someone very special.
"Walter had a profound effect on both of our lives – certainly as a manager and a leader and a wise and trusted adviser but always as a close and treasured friend. He made time for so many people.
"Both of us had spoken to him privately over the past few weeks. The topic rarely strayed from football. Our thoughts are with Ethel, Steven, Neil and their families."
Rangers' rivals Celtic sent their condolences.
A tweet read: "Celtic Football Club expresses its deepest sympathies following the sad news that former Rangers and Scotland manager, Walter Smith, has passed away.
"Walter was a tremendous servant to Scottish football and everyone at Celtic FC sends their heartfelt condolences."
Aberdeen captain Scott Brown, who played against Smith's Rangers many times while Celtic skipper, said: "It's so sad.
"Walter was a fantastic man and he was the one who gave me my first Scotland cap many years ago.
"I worked with him very closely with Scotland and I've got huge respect for him, especially what he did with Tommy Burns as well, carrying his coffin.
"He tried to bridge the gap between the two clubs which was fantastic at the time.
"Every time I met Walter he had so much time for every single person."
Clubs across the league added to the tributes, with Motherwell manager Graham Alexander saying he owed Smith a debt of gratitude from his time as a Scotland player.
"It's terrible news," Alexander said.
"I just have fantastic memories of the man. He sent me a great message when I came up here to work at Motherwell, a fantastic man to think of me at that time.
"I owe the resurgence of my Scotland career to him and I had without doubt my best spell of my Scotland career playing under Walter.
"A brilliant man first and foremost from my experience of how he was on the human side, how he treated everybody, and I mean everybody, not just the players but absolutely everyone who had the pleasure of being in his company.
"To play under him was an absolute privilege. Actually just getting picked by Walter, I thought I had won already because it was an achievement just to get picked by him."
Hearts manager Robbie Neilson shared his memories of Smith, saying he learned a lot from him.
He said: "Walter was a giant of the game, someone who gave me my debut for as well Scotland so something I'll always be indebted to him for.
"Probably other than Sir Alex Ferguson, he's the top coach or manager that Scotland's ever produced. To think going back to the 80s with Dundee United and then Rangers, Man United and Scotland. Working at the highest level for 40-odd years.
"He was a huge person not just within the Scottish game, but the British game, the world game.
"Walter was involved with UEFA and FIFA and doing the Pro Licence courses, going to speak to all the young coaches coming through, myself included and he was just somebody that always had time for the coaches.
"He understood the ins and the outs and the pressure that comes with it. He was always brilliant with me whenever I met him."
He added: "Firstly, it was brilliant when you met him and he knew your name.
"He was always so down to earth. He would come over and give you five or ten minutes and always knew what was going on with your team, how they were doing and what their form was.
"It was an inspiration for me as well whenever I'll meet other coaches, I'll keep an eye out on what they're doing so when you bump into them you can say 'oh, your team did this.'
"It's a real sad day for Scottish football.
"It was brilliant(playing under him). He called a spade a spade. You knew where you stood with him. He could be quiet, he could be loud, he had all the things you need to be as a top manager. I learned a lot from Walter."