Tartan Army fans gathered in London to celebrate Scotland's 0-0 draw with England.
Scotland put in a superb performance to earn a draw with England at Wembley on Friday night in their second game of Euro 2020.
A win over Croatia at Hampden on Tuesday should be enough to reach their first ever major tournament knockout stage.
Supporters were out in force in London celebrating the result which keeps Scotland's Euro 2020 hopes alive.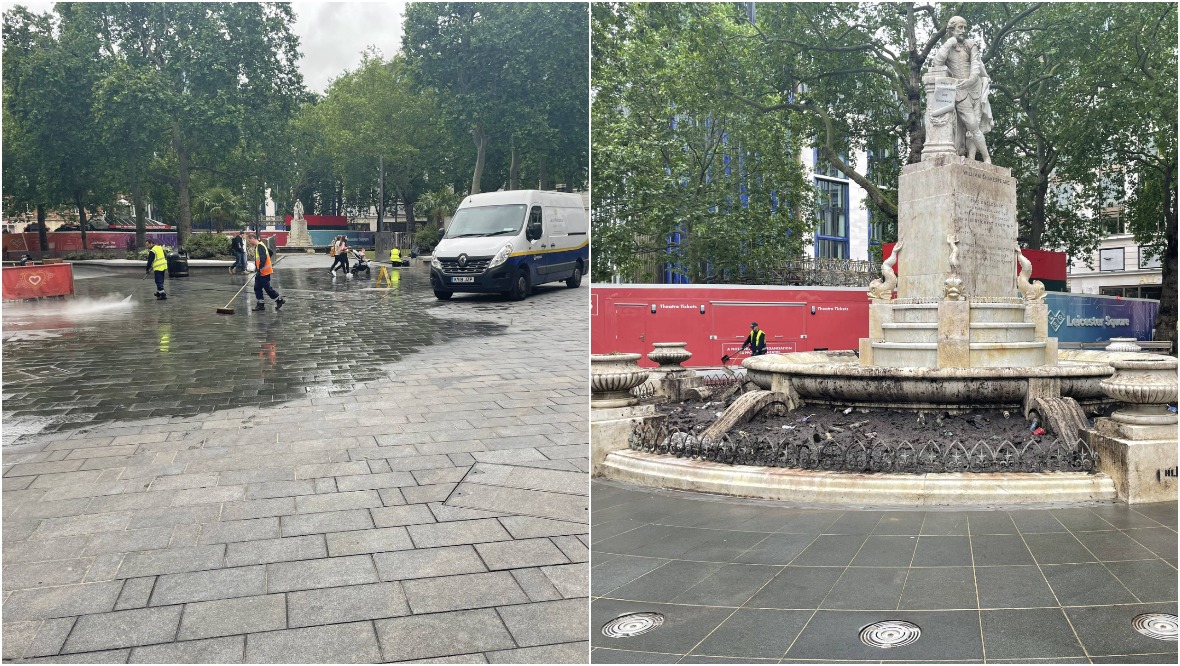 A large-scale clean-up is under way on Saturday morning at Leicester Square after fans congregated in the area the night before to celebrate the much-anticipated match.
Red flares were set off as crowds gathered together following the result.
Many fans were wearing kilts and draped in Scotland flags, singing and cheering in the popular tourist spot.
Others kicked footballs and many belted out the Scottish national anthem and chanted "No Scotland, no party".
The Metropolitan Police said officers entered Leicester Square at about 12.45am and encouraged those still at the scene to leave the area, with the square finally cleared by 1.15am.
A total of 30 people were arrested in central London as part of the policing operation for the Euros clash.
The force added 25 of the arrests were in central London while five people were arrested in the vicinity of Wembley.
Scotland Yard said in a tweet: "13 arrests were for public order offences, six for drunk and disorderly, four for assault on police, three for assault, two related to Class A drugs and one each for breaching a dispersal order and breaching a banning order."
Meanwhile in Scotland, fans displayed their home support by gathering in Glasgow's George Square to celebrate the result.
Supporters also gathered at an official Euros fan zone in Glasgow to watch the Auld Enemy clash.
It was the biggest event in the city since the pandemic began despite concerns it could lead to a spike in coronavirus cases.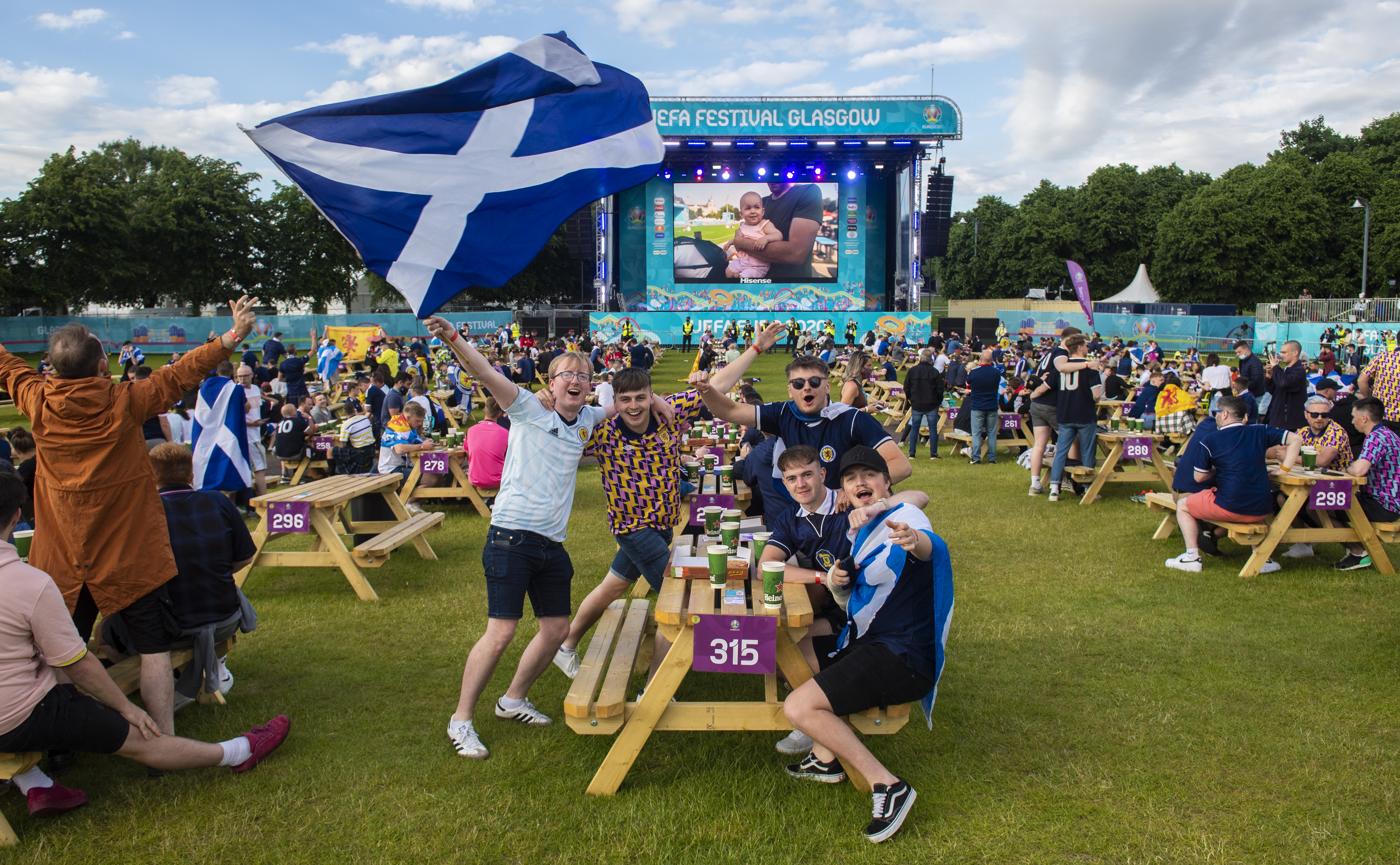 Up to 6000 people each day – split into two 3000 sessions – have been able to watch Euros matches at Glasgow Green if they have a ticket.
Following the game, First Minister Nicola Sturgeon tweeted: "Yes, sir, you all boogied."
This week, thousands of Scotland fans travelled to London despite warnings they should not go unless they have a match ticket, or a safe place to watch the game.
Wembley only had 25% capacity for the game, and Scotland supporters were not able to access the traditional Trafalgar Square meeting place as it had been reserved as a fan zone for key workers.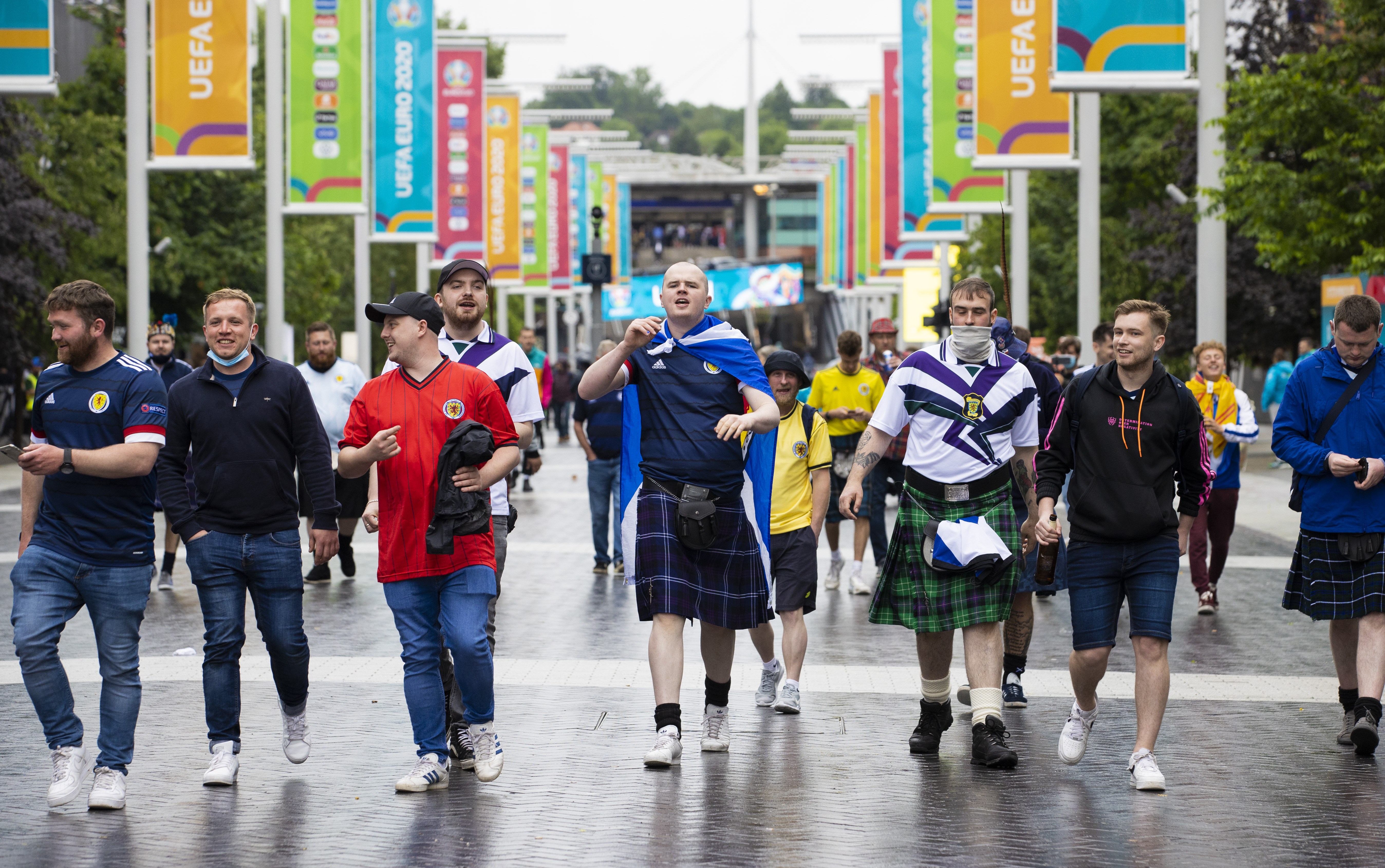 The First Minister urged members of the Tartan Army to "please, please, please try to behave in a way that is a safe as possible".
Speaking at the Scottish Government's Covid briefing on Friday, Nicola Sturgeon said: "The virus doesn't care about football, it is not going to give you a free pass because you are there celebrating a football match."