Rangers and Celtic clash at Ibrox on Sunday afternoon with the result likely to have a major say in how the race for the Premiership title plays out.
Defending champions Rangers trail their city rivals by three points, and have lesser goal difference, but have home advantage as they try to pile pressure on the leaders.
Celtic travel across the city knowing that opening up a six-point gap with only six more games to play would be a significant step towards winning the league.
The stakes are high, and both sides can take confidence from recent form. Rangers won all three Premiership matches in March as well as reaching the Scottish Cup semi-finals and the last eight of the Europa League.
Celtic last lost a domestic match when they were beaten by Livingston in mid-September and their league form has seen Ange Postecoglou win Manager of the Month for January, February and March.
The teams have a win apiece from their two meetings so far this season with Filip Helander's goal sealing a 1-0 win for Rangers at Ibrox early in the season, and Celtic bursting out the blocks to score three times as they won the reverse fixture at Parkhead in February.
The stage is set for what should be fiercely competitive match when they meet for a third time. And with so much riding on the result, it's no surprise that the pre-match squad news got plenty of attention.
For Celtic, the news was all good with Tom Rogic available and Postecoglou revealing that talismanic forward Kyogo Furuhashi is fit to play his first match of this year if called upon.
The news coming out of Ibrox was not so positive. Alfredo Morelos' value to Rangers has been demonstrated time after time in recent years, so it's a blow to Giovanni van Bronckhorst that the forward suffered a muscle injury in training on international duty and will miss at least a couple of weeks.
Regardless, the Rangers manager was in positive mood as he looked ahead to Sunday.
'We need to win, no matter what'
For the Rangers boss, his side are motivated to win because it's a derby first and foremost.
"We need to win no matter what," Van Bronckhorst said.
"It's an Old Firm game.
"Of course if you look at the standings it's a big opportunity to go on level points. That's the objective we have.
"That's why we'll work hard to be the winners on Sunday. We want to win."
The Dutchman succeeded Steven Gerrard in November, meaning the defeat at Celtic Park is his only experience against Rangers' rivals so far, and he says he's learned a lot about them since then.
"I've watched back the game we played in February," he said.
"We didn't play well, especially the first half where we had the option and the space to play our normal game which we always do – but we didn't have the patience and the calmness to play our possession game.
"That's why we won't come into this weekend's game only defending."
Van Bronckhorst said his team are "more dynamic and versatile" than they were and has promised they'll show they've improved since February.
"We've shown we've strong at home," he said.
"I'm confident my team will perform well on Sunday and have a better performance than we had a couple of months ago."
'You have got to go out there and do it'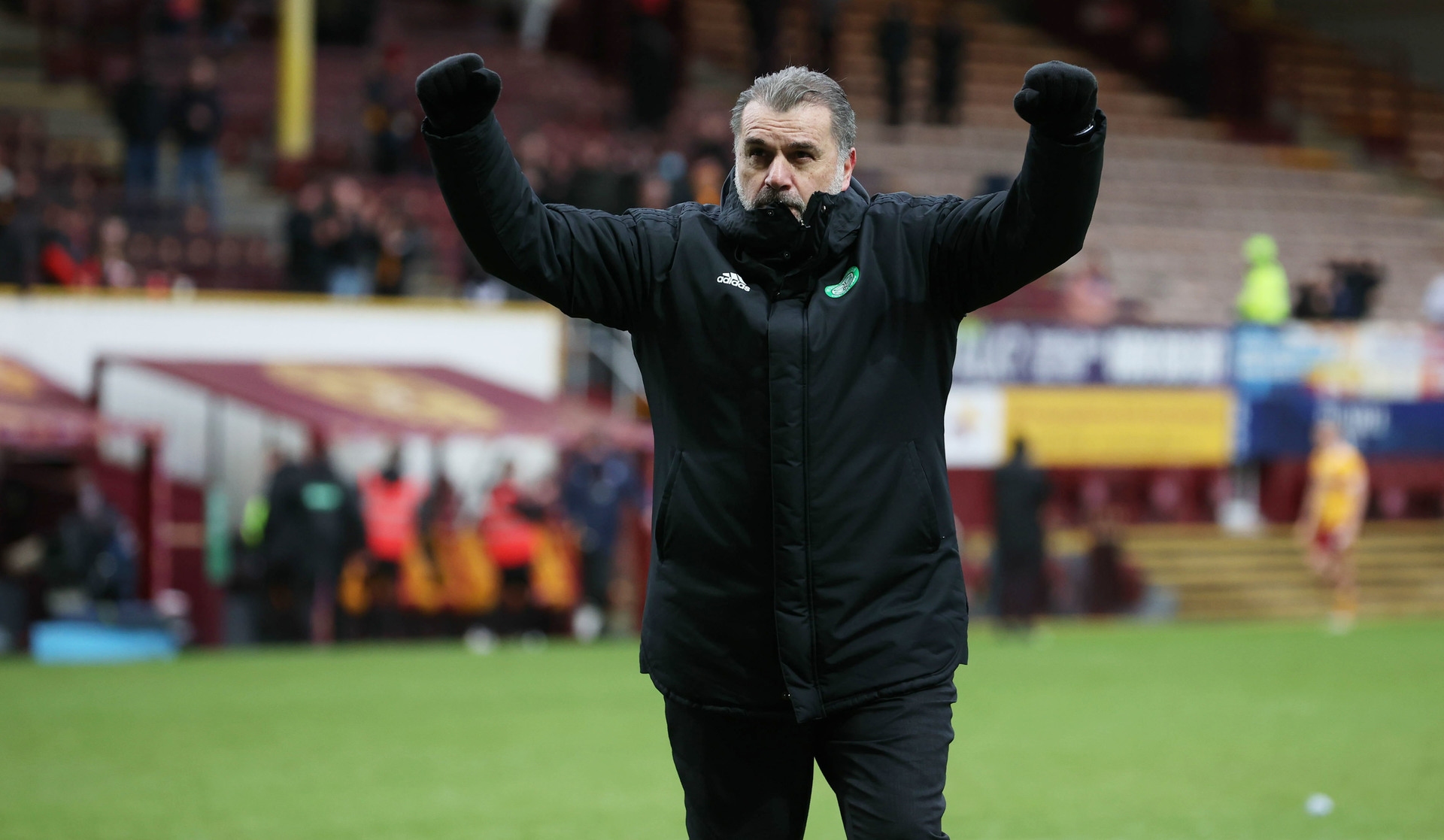 Celtic boss Ange Postecoglou knows his side is in a good place but says they have to deliver on the day.
As the season gets to the decisive spell where prizes are handed out, the Celtic boss reflected on how far his side had come since a summer of widespread change at the club and a huge turnover in the first team squad.
After spending time getting his message across to players and getting them adapt to his style of play, and the physical demands of that approach, he says things haven't looked better and Celtic can reap the rewards.
"It was going to be hard for us to be at our best at the beginning of the season because of the way we had to put the group together," Postecoglou said.
"We had to sort of grind our way through it.
"But the best planning was that you get to this point of the season, when you know all the games have huge consequences, and try and have a fit and healthy squad, and also try and play your best football at this time of the year.
"I think we have grown through the season, each block we have got a little bit better. Now we are into the final block so that's our intent, to play our best football now.
"Certainly in terms of the health of our squad, this is the best place we have been in all year, for sure, which gives us that platform.
"But you have got to go out there and do it. It's one thing to plan for these things but we have still got to go out there and execute and the players know that.
"The foundation is there for us to play our best football now because we have the strongest group of players we have had since the beginning of the year."
What do the players say?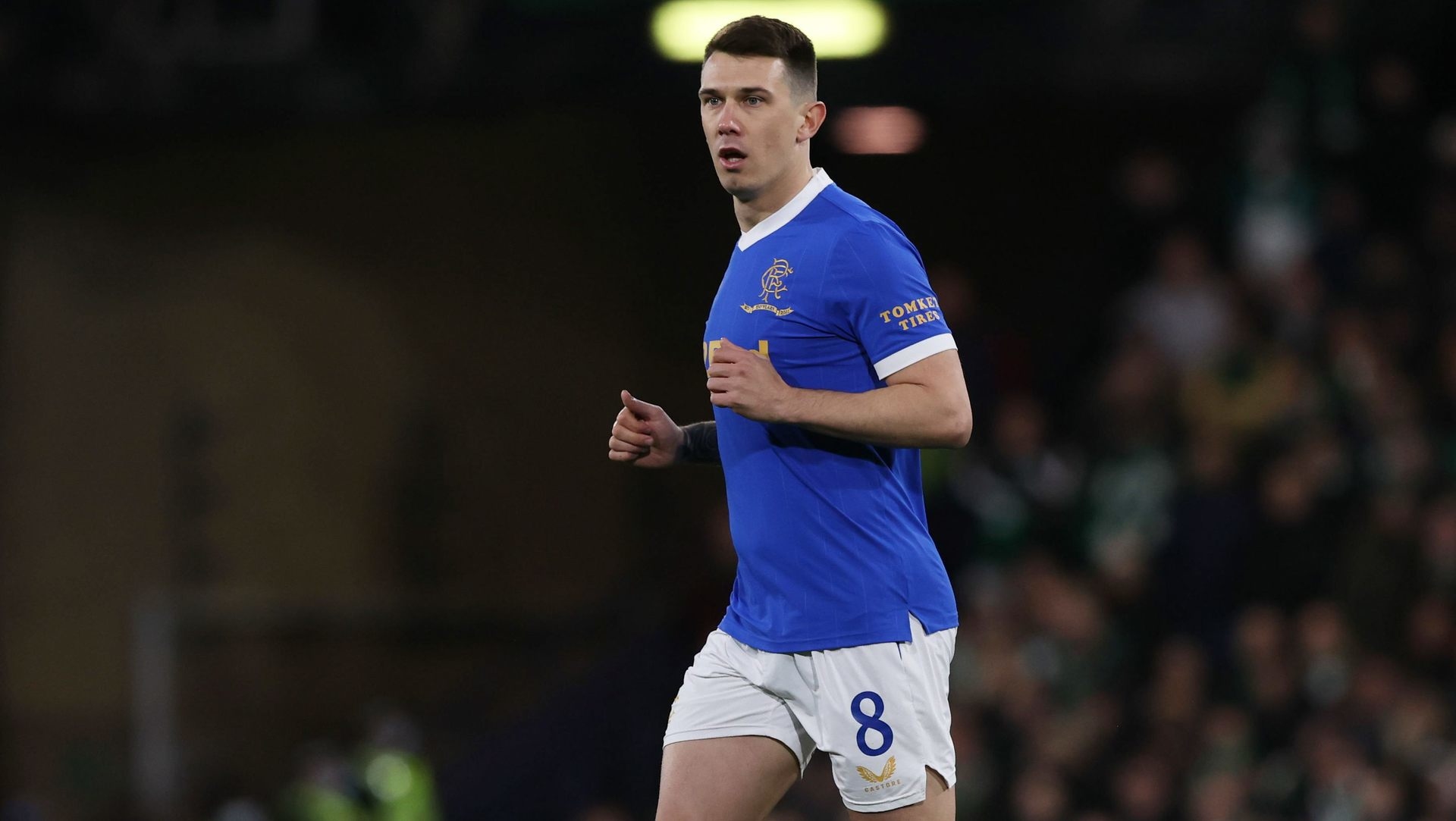 Celtic captain Callum McGregor faced the media on Friday and the midfielder was calmness personified as he laid out what was required from his team.
"These games have a funny way of throwing up something different so you have to be ready for that," he said.
"The experience we have gained this season should hopefully stand us in good stead come the weekend.
"If we face a different challenge we think we have enough to overcome that.
"We have to go there, be men and stand up and be counted so come the weekend we will be giving everything we can to make sure it's a positive result."
Rangers midfielder Ryan Jack was anticipating a tough afternoon but said nobody in the Ibrox dressing room needed reminded that maximum effort would be needed to succeed.
He said: "We know it's going to be a tough game, there's been a lot of talk around the game and we know the situation we're in, in the league.
"We know it's a big match and a big ask, but we're in front of our fans in our own stadium and it's important we put on a show and show how much we want to fight from now until the end of the season.
"We know where we are in the league, we know we're behind, we know we're chasing.
"We know that come Sunday, it's important we leave everything on the pitch and, win, lose or draw, the main objective throughout the season is that we will never give up or stop fighting.
"We want to win the game and will do everything we can to send the fans home happy."