Sports broadcaster Eilidh Barbour says she felt "deep disappointment" after offensive jokes were made at the Scottish Football Writers' Association (SFWA) dinner at the weekend.
Barbour walked out of the event on Sunday night, saying she had "never felt so unwelcome in the industry".
And writing in The Telegraph newspaper on Monday, Barbour said that by speaking out about her experience, she hopes to start a conversation about discrimination in the journalism industry.
She wrote: "I enjoy a joke, I can take a joke, but this wasn't a joke. Degrading women, making homosexual jibes and using offensive racial terms should never be funny. It is divisive at a time when we are striving so hard for equality."
Eilidh said she walked out ten minutes into a speech by former criminal defence lawyer Bill Copeland.
She wrote: "There were comments about the room smelling of "fake bake". Women who wanted to go and touch up their make-up were told that Alex Salmond had been spotted in the foyer and that he would love to do it.
"There were comments about how a man knew if he had f***** a woman from Paisley because his d*** would start to itch. After I left, there was a slew of homophobic and racist comments.
"And for those that organised it and laughed along with it, a lot of whom would have left the evening to go home to their wives and children, I ask you, what kind of society do you want them to grow up in?
"One that discriminates against them because of their gender or their sexual preferences or the way they look, or one that offers them the same opportunities regardless? Because I know what world I want to live in and Sunday night was not an example of it."
Copeland's biography was removed from one of the agencies that represented him following the dinner.
He had been on the books of the Gordon Poole Agency prior to Sunday night's event. Copeland has not responded to requests for comment.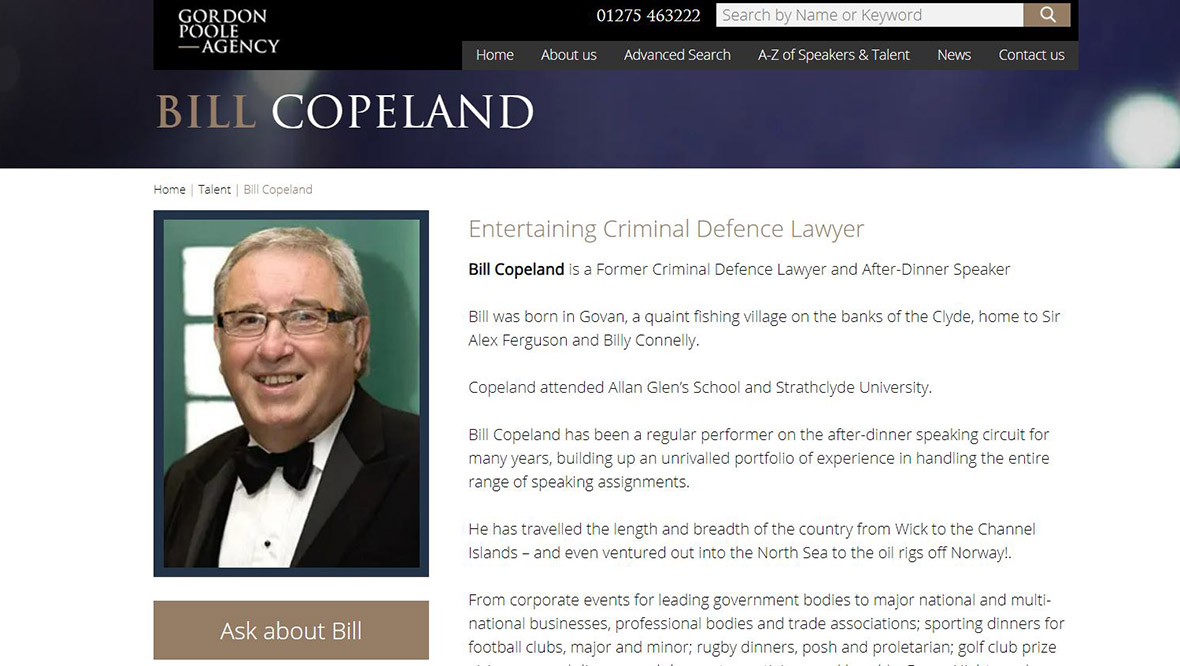 In a statement, the SFWA said: "(The) Scottish Football Writers' Association apologises to anyone offended or upset by material from one of our after-dinner speakers at last night's annual awards dinner.
"We have agreed unanimously that this will act as a catalyst to review and improve the format of our future events to make it an enjoyable and inspirational event for all."
Meanwhile, sports broadcaster Gabby Logan and MP Hannah Bardell have backed a new campaign by Women in Journalism Scotland (WiJ Scotland) to tackle gender inequality in Scottish print sports journalism.
The campaign – called The Sexist Shame of the Beautiful Game – comes after research revealed that out of 95 staff roles on sports desks at national and regional print titles in Scotland, just three are filled by women.
Logan was among those who expressed disgust at Copeland's comments. She said: "I can't believe I am reading all this in 2022.
"In 2022 there should be no barriers or discrimination to anyone who wants to enter our profession. And once there they should be made to feel welcome and encouraged to excel whoever they are."
'No female students'
As part of WiJ Scotland's campaign, two Masters students at Strathclyde University undertook further research into inequality in the sector.
Their research included interviewing eight women working in Scottish sports journalism and student journalists about their experiences in the industry.
One participant applied for a new position and later found out that a male candidate applying for the same job had been offered significantly more money than her despite him having "ten years less" experience than she did.
A sports journalism lecturer revealed there had only been eight female students during a sports journalism course's 13-year history, meaning that there were years in which there were no female students at all.
Catriona MacPhee, co-chair of WiJ Scotland, who leads the campaign, said: "This is a watershed moment for the media in Scotland.
"We need more women's voices and perspectives in sports coverage and as an industry we need to work together to make sure women have access to this sector and are not pushed out.
"One way of doing that is calling out sexist behaviour, but there are practical solutions here too and we call on our peers across the industry to help us drive this much needed change."