As the eyes of the footballing world prepare to fall on Australia and New Zealand this week, envious glances are being cast from other side of the globe as Scotland prepare to watch the 2023 Women's World Cup from home.
A painstaking defeat to the Republic of Ireland in October's play-off at Hampden ended hopes of a second straight participation at the finals.
That followed a similarly frustrating exit from the 2019 edition courtesy of a last-minute penalty against Argentina, when a win would have sent the side through to the knockout stages.
But with soaring participation numbers and record-breaking levels of support domestically, the blow of missing out on a trip down under has been somewhat softened.
National team boss Pedro Martinez Losa believes the Scottish game is in rude health and the side in the perfect shape to reach the 2027 tournament.
"It makes us feel jealous, not being there," he said in the lead up to Friday's friendly meeting with Northern Ireland at Dens Park.
"But we moved on a long time ago in terms of the group and we are planning for the future.
"At this moment in time, we are in a good position with the team in terms of developing and we will make sure we don't miss the next opportunity."
Reasons to be cheerful
Within 15 minutes of the play-off meeting with Ireland, it looked as if it would be the Scots looking out their passports and preparing to face the Aussies in Sydney the following summer.
Caroline Weir, one of the side's standout players and a star for the mighty Real Madrid, was handed the chance to open the scoring from 12 yards after Scotland were awarded an early penalty, only for Courtney Brosnan to push her spot kick wide.
They were made to rue that miss when Amber Barrett skipped through on goal and slid her effort beyond Lee Gibson to hand Ireland the win and silence the majority of the 10,000 within Hampden.
That bitter blow could have derailed the momentum of a promising crop of players competing at the highest level, but Scotland are made of hardier stuff these days.
Since then, defeat to Iceland in the Pinatar Cup aside, Losa's squad have been on a march. Venezuela were beaten in a friendly, Wales were held to a draw and World Cup qualifiers the Phillipines dispatched 2-1.
Then came Australia in London. The World Cup hosts were expecting a gentle stroll in their warm up for the tournament, only for Nicola Docherty to pick out the top corner from range 60 seconds into the second period.
The Aussies – among the favourites for the tournament – put the Scots under pressure, but Losa's side refused to crack, recording one of their best results in recent years in the 1-0 win.
Days later, Costa Rica were thrashed 4-0 at Hampden thanks, in part, to a double by 17-year-old Emma Watson on only her second appearance.
Three sides off to the World Cup were beaten in quick succession. But that should come as no surprise.
Alongside Weir, Christy Grimshaw was coming off a top three finish with AC Milan in Serie A, a few points ahead of Sassuolo's Lana Clelland.
Fiona Brown lifted the Swedish title with Rosengård, while Martha Thomas' Manchester United narrowly missed out on the Women's Super League title to Chelsea – who boast Erin Cuthbert in their ranks.
With Samantha Kerr signing for Bayern Munich this summer, the Scotland side is brimming with talent playing at the top level.
It surely has the recipe for a team that should be competing the next time the women's showpiece comes around in four years time.
Domestic bliss
A total of 106,781 fans went to an SWPL, SWPL 2, or cup game last season, the highest figure in a single campaign.
The domestic record attendance was broken on three occasions. It was first set at Easter Road in November 2022, with 8,066 watching Hibernian against Edinburgh rivals Hearts.
Celtic then hosted 9,553 fans for the visit of Glasgow City in May, before breaking the record again on the final day of the season, with 15,822 watching their 2-0 win over Hearts.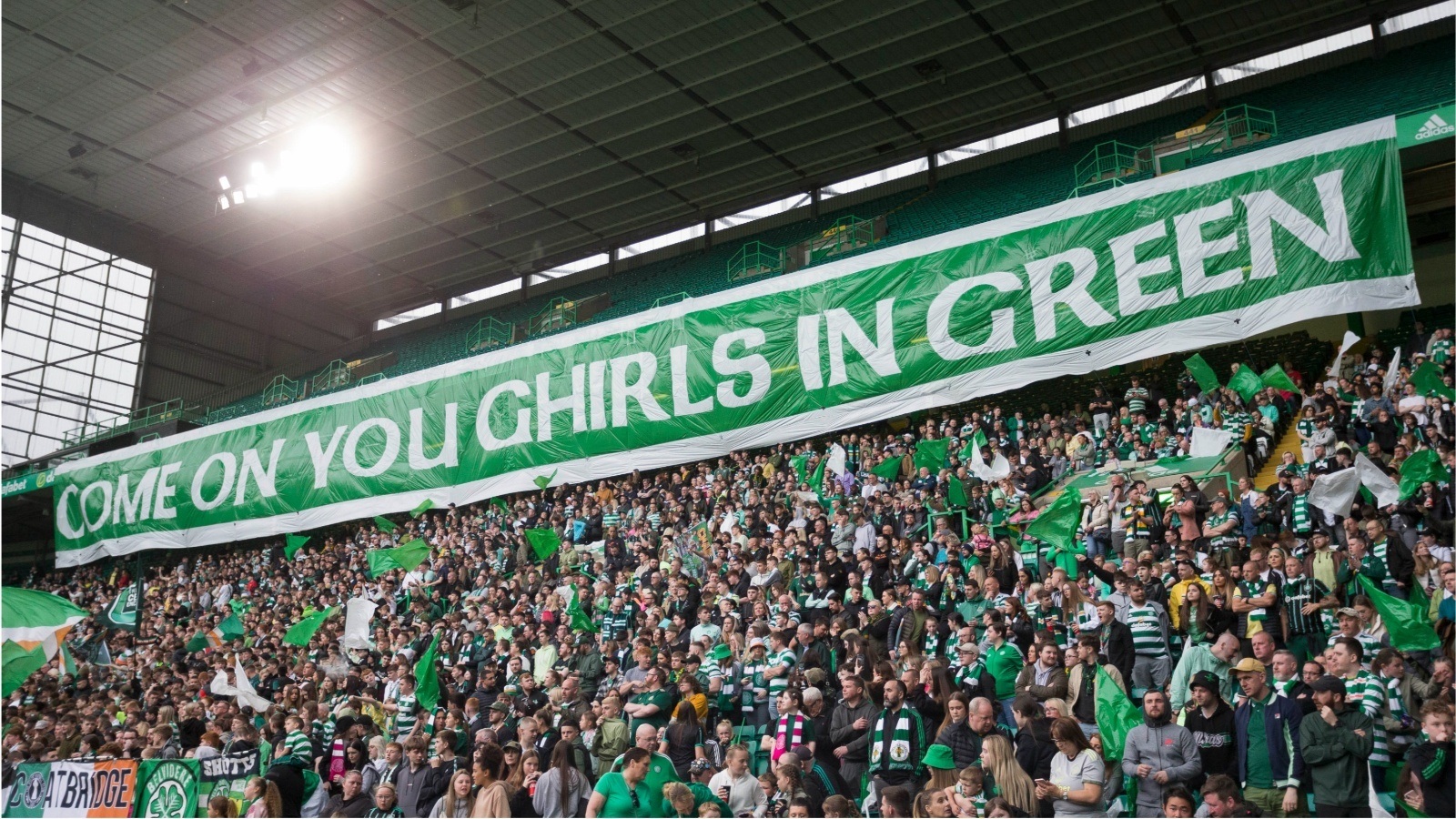 That total was "unimaginable" in previous years, according to SWPL managing director Fiona McIntyre.
"These figures illustrate the increasing awareness and appetite for women's football in Scotland and I hope we can continue to see attendances increase season after season," she said.
"The women's game is affordable, family friendly, competitive and provides an opportunity to watch top-level, elite athletes across communities in Scotland."
The grassroots game has also experienced a huge growth in recent years.
Shirley Martin, head of womens and girls football at the governing body, said the professionalisation of women's clubs had opened up pathways for younger players.
"We had a record number of registered players last year in 2022, we had 21,500, so we're looking to grow that and grow opportunities for girls to take part," she told STV News.
"These are our stars of the future, we want to get them involved in the game, hopefully fall in love with it and then let the game take them wherever they want to go.
"We have professional opportunities now in this country, but at this stage, the most important thing is that they have fun playing with their friends."
The next generation
At Dunfermline's East End Park, a group of young players are put through their paces at the Lisa Evans soccer school.
It is one of six dedicated locations set up across the country in the wake of the side qualifying for the European Championships in 2017 which aims to provide a "fun and friendly environment" where stars of the future can flourish.
Named after the current West Ham and Scotland star, it attracts dozens of promising youngsters every month.
For Scotland assistant boss Leanne Ross, it is a stark contrast to her early foray into the game with Glasgow City.
"As I was growing up, there was really no exposure to women's football in the media," she said.
"So for young girls now to know that they can follow in the footsteps of their role models and become professionals is a dream come true for players in Scotland.
"For a young age to come along, and to see women playing football and knowing that's their job and they can do that when they are older; you can tell that is what a lot of them are now aspiring to."