A Police Scotland officer has suggested that changing laws surrounding the alcohol ban at football grounds in Scotland could enhance safety for fans.
In a new study on current legal restrictions around the sale of alcohol in football, a representative of the force said that a reversing prohibition inside stadia may prevent "mad rushes" of supporters arriving at matches late.
The research, by the University of Stirling, found that most participants in Scotland supported a "pilot scheme" which would see the phased return of alcohol at stadiums.
It would likely mirror the system in England and Wales – where alcoholic beverages can be sold and consumed as long as they are not in view of the pitch.
In evidence submitted to the report, the officer said: "Rather than being in the pub, trying to time it so they can get in – if the turnstile is open an hour and a half before kick-off and fans know that if they want that alcohol, they can get the drink in the stadium, it would probably have an effect on the flow of fans getting into the stadium.
"It would potentially stop the mad rush of fans trying to get into the stadium close before kick-off.
"You could argue that could make it a bit safer."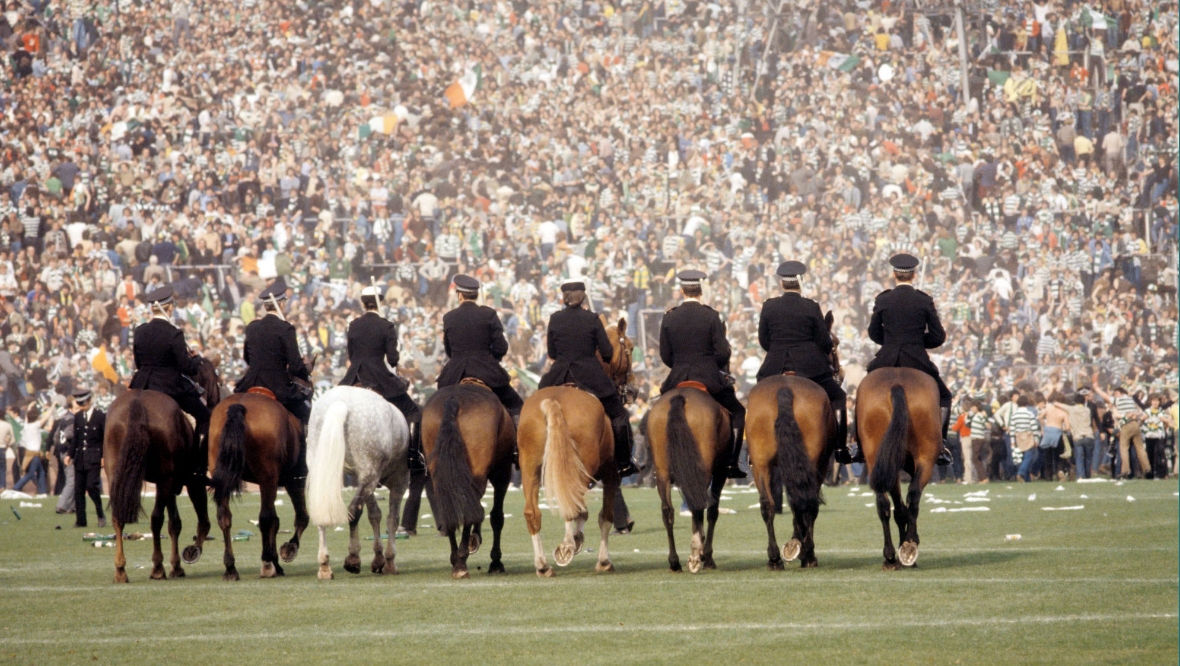 'Minimising the risk of violence'
The ban on alcohol in football grounds was initially introduced following a riot at the 1980 Scottish Cup final between Rangers and Celtic.
It means no alcohol can be served in football stadiums, although there is an exemption for corporate hospitality areas.
In 2020, the Scottish FA, Police Scotland and Scottish government officials met to explore the idea of using the Euro matches at Hampden as a pilot for reintroducing alcohol at stadiums.
However, the justice secretary at the time, Humza Yousaf, refused requests from the Scottish Football Association (SFA) to review the ban.
Existing legislation on alcohol consumption in UK football stadia is defended on the grounds of "maintaining public order and minimising the risk of violence".
However, other sports – such as rugby, darts, horse racing and cricket – continue to allow fans to purchase and consume alcohol within view of the action.
Dr Richard Purves, a Senior Research Fellow at ISMH who led the study, said: "These restrictions have been debated in the UK for more than 40 years, however, research into the current attitudes of supporters and influential stakeholders is lacking.
"We found that some stakeholders felt that there may be some benefits to public safety and football club finances if changes were made.
"Most participants from England suggested that preventing alcohol consumption in view of the pitch could be changed, while in Scotland, most participants were in favour of allowing the general sale of alcohol at football stadia via a pilot scheme."
A Police Scotland spokesperson said: "A reintroduction of alcohol at football matches in Scotland would be a matter for Scottish Government and the footballing authorities.
"A wide-ranging public consultation would need to be carried out prior to any decisions being made and Police Scotland would be part of this process."
A Scottish FA spokesperson said: "This is a detailed and extensive study which raises important issues on legislation that's been in place at football grounds for some 40 years. 
"We would welcome discussions with the Scottish Government, Police Scotland and others to improve the matchday experience for all Scottish football fans in a safe and enjoyable manner, in line with arrangements for other sporting and entertainment events in Scotland."
STV News is now on WhatsApp
Get all the latest news from around the country
Follow STV News
Follow STV News on WhatsApp
Scan the QR code on your mobile device for all the latest news from around the country