Looking back on the previous international camp, when World Cup hopes had gone up in smoke, Scotland boss Steve Clarke admitted that progress had "stalled" for the first time in his tenure.
As they powered to a 3-0 win over Ukraine at Hampden on Wednesday, his players hit top gear and restored belief that a regular place at football's top table at Nations League A-level isn't beyond the team.
John McGinn's opener, and the headed double from Lyndon Dykes, were no less than Scotland deserved after a performance that saw them dominate possession and show energy, attitude and inventiveness against a side that had looked far superior only 112 days previously.
That encounter, when Ukraine were worthy 3-1 winners, and the humbling 3-0 Nations League defeat to Republic of Ireland in Dublin, loomed large over the build-up to this set of international fixtures. Though two routine wins over Armenia kept the team very much in the running to win group B1, there were questions about the direction of travel.
A home match against the opposition that served up such a reality check in June was just what Clarke and his players needed, but nobody inside Hampden before kick-off was under any illusions about how difficult it would be to take revenge.
Injuries to captain Andy Robertson, Grant Hanley and Liam Cooper not only ruled them out of the camp, and offered some potential excuses if needed, but forced the manager to completely re-think his defensive set-up.
After hinting that he wouldn't change a system that had delivered such steady improvement since 2019, Clarke did exactly that, opting for back four and allowing an extra man in midfield to win key battles. For a manager not prone to rolling the dice, it was a bold and decisive move.
The tactical tweak would have been nothing without players and performance, but Scotland showed that they had a point to prove.
'First half of real promise'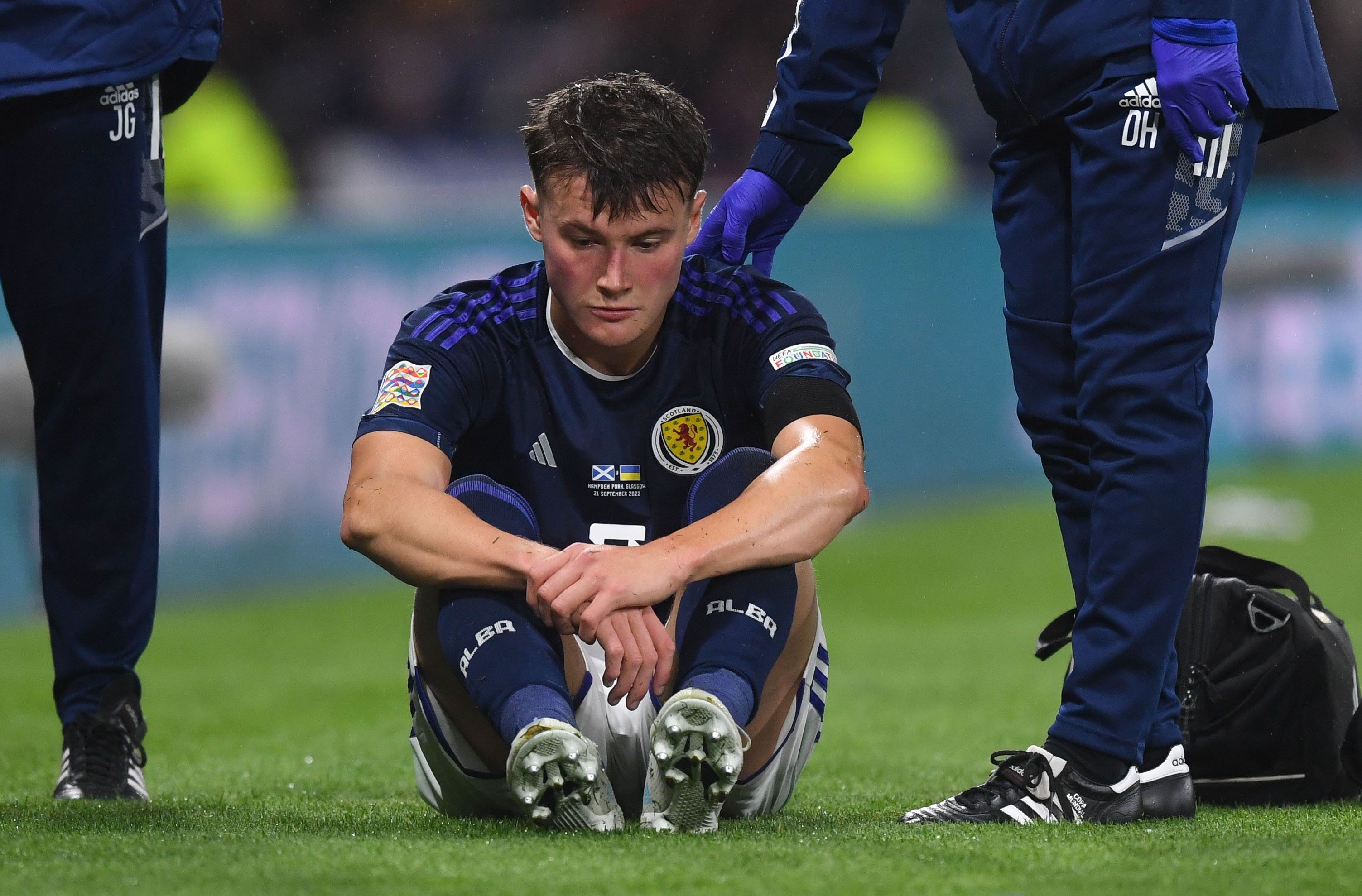 The first half started a little shakily, but after a ten-minute spell to settle, Scotland showed real promise, with energy and commitment and a sense of control.. Injury to Nathan Patterson was a blow, but Aaron Hickey fitted in seamlessly and the hosts created plenty, though no chances were taken.
After the injury, and the missed opportunities, the decision to not send off Valeriy Bondar for wiping out Che Adams might have added to feelings it wasn't going to be Scotland's night, but the team were undeterred.
John McGinn steps up
The second half brought more of the same, with the team inventive and enjoying a near complete control of play, but as time ticked on and chance after chance went by, there was a growing concern that a goal might not come.
Step forward John McGinn. The Aston Villa midfielder has been handed the captain's armband at club level, but his form has drawn criticism. In Robertson's absence, he was Scotland skipper, and took his contribution up another level. Having already been a key part of Scotland's dominance, he was the one that made the breakthrough with a trademark dunt from his bum helping create space before he buried a shot in the back of the net.
From there, Scotland were cruising and with most of the starting players having acquitted themselves well after being questioned in the summer, it was time for the subs to shine. Ryan Fraser's delivery for Lyndon Dykes to score twice made the scoreline a better reflection of the performance.
What next?
In their post-match interviews, management and players made it clear that they felt there had been a score to settle and a point to prove after the summer, but once the euphoria has settled following a display that ranks among the best in a long time, attention will turn to what next.
With two games to go, Scotland now lead group B1 and can seriously contemplate the triple reward at stake.
Positive results against Ireland on Saturday and in Poland against Ukraine on Tuesday could secure top spot and, with it, promotion to the top flight of the Nations League. That means regular tests against the best in Europe, which Clarke believes are needed to ensure the progress of the team.
Nobody needs reminding of the value of the Euro 2024 play-off place that winning the group would deliver, having used that ticket to end a long wait for a major finals just a couple of years ago. And the final benefit on offer would be a likely seeding bump for the Euros qualification draw in October.
After the defeat in Dublin in June, few would have considered those prizes achievable, but Wednesday's win, and the nature of it, will have plenty revising their expectations.
Scotland set a level against Ukraine that they will now look to replicate on Saturday, with a system and style that seemed to suit all concerned.
Having righted one of the wrongs from a disappointing summer, there's a chance to prove a point against Ireland at Hampden. On this showing, the Tartan Army can be confident that after stalling last time, the team can put the foot down and roar on.