Thousands of Rangers fans have begun the journey to Seville ahead of the Europa League final.
Rangers will take on Eintracht Frankfurt at the Ramon Sanchez-Pizjuan Stadium on Wednesday night and supporters have already started travelling to the Spanish city.
After the club secured their place in the final after the 3-1 win over RB Leipzig, airline fares soared with the only remaining flights on matchday from the UK to Seville departing from Gatwick Airport.
Following this, all manner of convoluted flights with multiple stops and changes became available, with the fastest journey time averaging at over 14 hours – costing £1174.
This has not stopped fans of the Ibrox club, who are arriving in the country from a variety of routes and destinations.
One supporter revealed that his nephew, who is flying from Japan, faces a 30-hour trip.
He told STV News: "I'm actually flying from Edinburgh to Madrid then we're meeting up with my nephew who's flying over from Japan.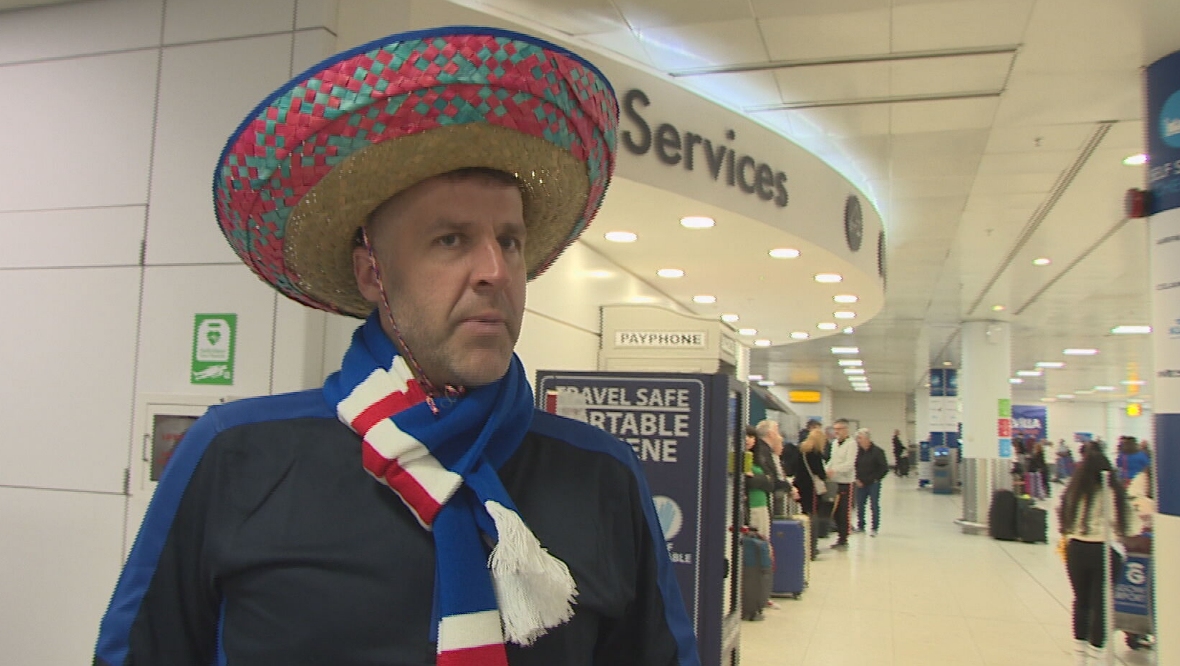 "He's got about a 30-hour flight to go over to where we are going but you can't miss it.
"Once in a lifetime opportunity."
Another supporter revealed he was starting his journey to Seville by flying to Poland from Glasgow airport.
He said: "Going from here to Poland, Poland to Turin, and then Turin to Valencia."
While another fan added: "Planes, trains, and automobiles! Journey of a lifetime. Absolutely lifetime. Dreams come true."
One fan revealed that not even work or his boss could stop his journey to the Europa League Final.
He said: "Work doesn't matter. Even if the boss is watching, work doesn't matter.
"Not for this trip, we're going."
The club has also started the journey to the city, with their plane departing Glasgow Airport at around 2.30pm on Monday.
The team are due to touch down in southern Spain at 6.31pm, before heading to their base to begin preparations for the final.