As Rangers prepare for their Europa League semi-final second leg against RB Leipzig, supporters will be hoping that the spirit of 2008 will help them upset the odds and book a place in the Seville final.
The run that's taken Giovanni van Bronckhorst and his squad beyond Borussia Dortmund, Red Star Belgrade and Braga is already the furthest a Scottish team has gone in continental competition since Walter Smith's Rangers reached the UEFA Cup final 14 years ago.
Then, like now, the Scottish side were underdogs and came out on top. If van Bronckhorst is looking for an inspirational tale as they begin the Ibrox leg 1-0 down, how Rangers dug deep to win their last European semi-final may be just the ticket.
Walter Smith's return heralds hope
Walter Smith returned to Ibrox in January 2007, answering the call after Paul Le Guen's brief stint reached an abrupt end. A serial winner in his first spell, the experienced manager steadied the ship and took the team to the UEFA Cup last 16, but ended the season trophyless.
Second place in the league secured a qualifying round for the Champions League in 2007-08 and, after a busy transfer window, Smith guided his team past Zeta and Red Star Belgrade into the group stages.
They met Stuttgart, Lyon and Barcelona and, despite two wins and a draw from their opening three games, a third-place finish meant dropping into the UEFA Cup.
Road to the semi-final
Rangers' journey almost ended in their first tie. Paired with Panathinaikos in the last 32, a 0-0 draw at Ibrox (more of them later) set up a showdown in Athens.
Veteran defender Ioannis Goumas put the Greeks ahead after just 12 minutes, a looping volley beating Allan McGregor, and Rangers were trailing until the 81st minute when Nacho Novo smashed in an equaliser. The away goals rule put Rangers through, and Werder Bremen were next.
The Scots took command at Ibrox. Daniel Cousin's long-range shot was pushed into his own net by goalkeeper Tim Weise to put Rangers 1-0 ahead, then Steven Davis pounced on another error to double their lead.
Diego's goal gave Werder a win in the second leg, but Rangers marched on again.
Sporting Lisbon were the quarter-final opposition and a close first leg in Glasgow was goalless, making Sporting firm favourites to finish the job on home soil. Instead, goals from Jean-Claude Darcheville and Steven Whittaker took Rangers to the last four.
The draw, conducted by UEFA general secretary David Taylor and Scotland legend Denis Law, pitted Rangers against Fiorentina, their toughest opposition so far.
Serie A strength
Fiorentina came through ties against Rosenborg, Everton and PSV and were competing for a Champions League spot in Serie A.
A team with talent throughout, including goalkeeper Sebastian Frey, defender Martin Jorgensen, midfielder Fabio Liverani and strikers Adrian Mutu and Christian Vieri, posed plenty of threat.
Financial meltdown saw the club drop to the fourth tier of Italian football six seasons earlier, and Fiorentina had clawed their way back up, securing stability and fresh ambition under manager Cesare Prandelli.
Ahead of the first leg, he said the team felt extra responsibility as the last Italians in continental competition.
Injury troubles and 'anti-football'
Smith had plenty on his mind as the first leg at Ibrox approached. Nine of his squad were ruled out through injury or suspension, captain Barry Ferguson and goalkeeper Allan McGregor among those sidelined.
The boss was confident that whatever players he picked would be competitive and made a clean sheet his priority.
"In European games these days it's important to take care at home because away goals are liable to punish you," Smith said. "Throughout our UEFA Cup campaign we've had all our opening games at Ibrox and have been relatively successful. If it finishes 0-0, we would feel we could go to Florence and score ourselves."
The pragmatic approach had been one Smith adopted throughout his career, and that season it had drawn criticism and an ugly label from a player who was already epitomising the more cavalier, attacking approach to the game.
After a 0-0 draw at Ibrox in the Champions League group stage, Lionel Messi had moaned about Rangers playing "anti-football" – the Argentine was no fan of Smith's tactics.
"Rangers didn't want to play football," he said. "Right from the start, they went for anti-football and I'm left with a bitter taste in the mouth at not having been able to win the match because we had a decent number of chances.
"It's a real pain playing against teams like that and it's very hard too."
Almost a decade later, Smith admitted the Barcelona star was on the money, but made no apology.
"He was 100 per cent correct," he said. "But I realised when entering that arena for the second time at Rangers there was a disparity in the levels.
"But you still have to find a way to try to be successful. If that means you have to be defensive, then that was it."
It was no surprise when Smith stuck with his 4-1-4-1 formation and safety-first principles when Fiorentina came to visit.
Ibrox stalemate
Fiorentina were on the front foot and had early chances through Jorgensen and Giampaolo Pazzini, but found a Rangers side defending with everything they had and happy to wait for opportunities to counter.
Darcheville had one such chance on the break, but the majority of traffic went towards the Rangers goal, where Neil Alexander was protected by Carlos Cuellar in particular.
When Rangers ventured forward in the second half, with Thomas Buffel and Daniel Cousin introduced, Fiorentina showed a taste for resolute defence themselves. Mutu had late chances for the visitors, but, once again, Rangers had drawn 0-0 at Ibrox and were happy with their night's work.
Smith reflected on a "tight" game and said: "Our side may lack a lot of things but the supporters appreciate that they play for the jersey, that they work hard to cover any deficiencies."
After seeing their defensive efforts, he was bullish that his side could strike in Italy. "We've scored against Stuttgart, Lyon, Lisbon and Panathinaikos," he said. "No team would relish going to any of these places but we've managed to score there. So we've gained a confidence in the away games – and we take that with us to Florence."
Italian job
Having gone so far on the solid, organised gameplan that Smith devised for Europe, there was no chance Rangers would suddenly go for broke.
Kevin Thompson and Barry Ferguson came back into the team, while veteran defender David Weir was passed fit to start just days before his 38th birthday.
The pressure was on Fiorentina in front of their own fans and they didn't hold back. Mario Alberto Santana nearly opened the scoring and Mutu had chances, but Rangers frustrated their more fancied opponents.
Pazzini shot wide and Tomas Ujfalusi put the ball over the bar, and it was 14 minutes from full-time before Rangers forced Frey to make a save. Vieri spurned a golden opportunity but neither side could find a goal in regulation time, a late chance for Whittaker stopped by Frey.
Extra-time brought more chances, with Vieri having the lion's share, while Rangers had their own opportunities through Cuellar and Cousin.
The visitors' task became harder when Cousin was sent off for headbutting Liverani, but the ten men held out. After 210 goalless minutes, the tie would have to be settled on penalties.
Penalty drama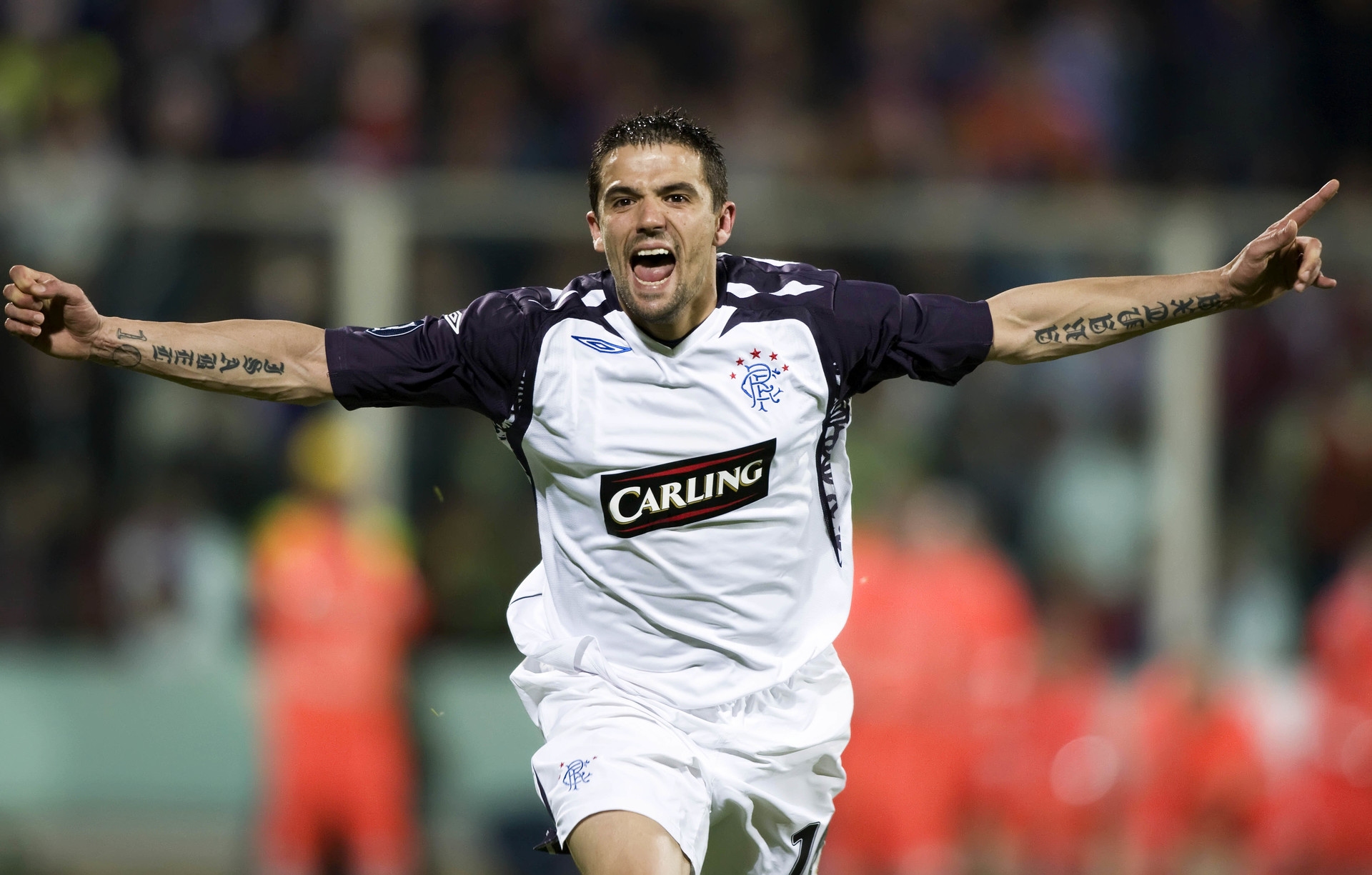 Ferguson took his side's first penalty and saw his worst nightmares realised when Frey saved.
After Whittaker and Sasa Papac nailed their efforts, goalkeeper Alexander took centre stage, diving left to deny Liverani and level the score.
Italian international striker Vieri put Fiorentina's fourth penalty over the bar, setting up Nacho Novo to send Rangers to the final in Manchester. The Spaniard did the business, sealing victory for his side.
Ally McCoist, assistant to Smith at the time, revealed years later that the manager had delegated the choice of penalty takers to his staff and lost track of the scoring.
He said: "A lot of people don't know this but as great a coach and the best manager I ever played under, Walter refused to get involved in picking who was taking the penalty kicks. So he left that to me and Kenny McDowall."
Smith was apparently sceptical at the choice of Brahim Hemdani as one of the initial five, but saw his doubts dismissed as the Algerian scored just before Vieri's miss. That left Novo in the spotlight, to the surprise of his boss…
McCoist said: "Wee Nacho was to go up and Walter actually turned to me in the dugout and looked at me and said 'what's the score?'.
"I thought he was taking the Mickey and I looked at him and said 'what?'. And he said 'I'm not kidding you, what's the score?'.
"I looked at him and said 'I'll tell you something, if wee Nacho scores this penalty, you're about to find out the score'.
"Wee Nacho ran up and stuck it to the goalkeeper's left. I'll never forget it, I saw the goalkeeper dive to the right and the net bulging and it was the most emotional moment I've ever had being involved in football."
Date with a familiar face
Fiorentina boss Prandelli couldn't believe his side had failed to score and revived the anti-football jibe.
"Football is like this and today a team who focus on defending from the first to the last minute were rewarded," he said. "The game would have been more entertaining if we were facing a team ready to play a bit more."
Smith, unsurprisingly, was delighted with his players and what they achieved.
"I don't think Fiorentina could have done much more than they did," he said. "They put us under severe pressure but our defence were fantastic.
"We are a difficult team to score against. Right now I'm not thinking about winning trophies, but just enjoying the fact that we are going to Manchester."
Waiting was a Zenit St Petersburg side that had beaten Bayern Munich 5-1 in their semi-final. In the dugout was former Rangers boss Dick Advocaat.
"Dick Advocaat achieved a great result with Zenit and I'm happy for him as a former Rangers man," Smith said. "I look forward to facing them in the final.
"It was a great result tonight, but I think we have done well during the whole campaign, showing great determination and spirit. Reaching a European final is a fantastic result for everybody connected to the club and for our fans."