Of course Dundee United can overcome the challenge of AZ in their Europa Conference League qualifying tie. The one-goal advantage they hold from last Thursday's epic encounter at Tannadice is more than enough evidence of that.
But the key question is, will they?
One of my colleagues at STV joked that United were 7/1 with the bookmakers to beat AZ at home, such was the expected dominance of an Eredivisie side with a very solid and very recent European pedigree.
The Terrors more than upset the odds and probably bagged a few pennies for the most resolute fan into the bargain.
What worked and what didn't?
Jack Ross was far more committed to attack than many United fans expected. A couple of shaky moments when AZ almost got in behind ultimately came to nothing, often due to a lack of control of that final pass.
Ring rusty? Perhaps, but over the piece, while there was a lot of energy from AZ, there was not really very much quality. The few clear-cut efforts created were matched equally by Ryan Edwards, Charlie Mulgrew and keeper Mark Birighitti.
The midfield – with talisman Dylan Levitt sending a mixture of precise Hail Marys and short incisive passes, partnered with Craig Sibbald's tenacity and industry – created a platform for United that meant they were never out of control.
The moment that inscribed a 1-0 victory over AZ that will forever be cemented in the minds of the supporters who were there to witness it, a vindication of the move to bring winger Glenn Middleton on a permanent deal from Rangers.
The 22-year-old has endured a nomadic existence since returning to Scotland from the youth academy at Norwich City. Loan spell after loan spell that offered only sporadic glimpses of his undoubted talent. A new home, a fresh start and a manager's trust all combined to construct a confidence that delivered the sublime curling finish that brings Dundee United here to Alkmaar with more belief than hope of a shot at the play-off round in either Latvia or Portugal.
Defensively, Keiran Freeman, playing on his opposite side at left-back, was exposed early in last week's match. Torrid opening moments, but he dug out a performance in the remainder of the game to justify the confidence shown in the youngster to play him in that position.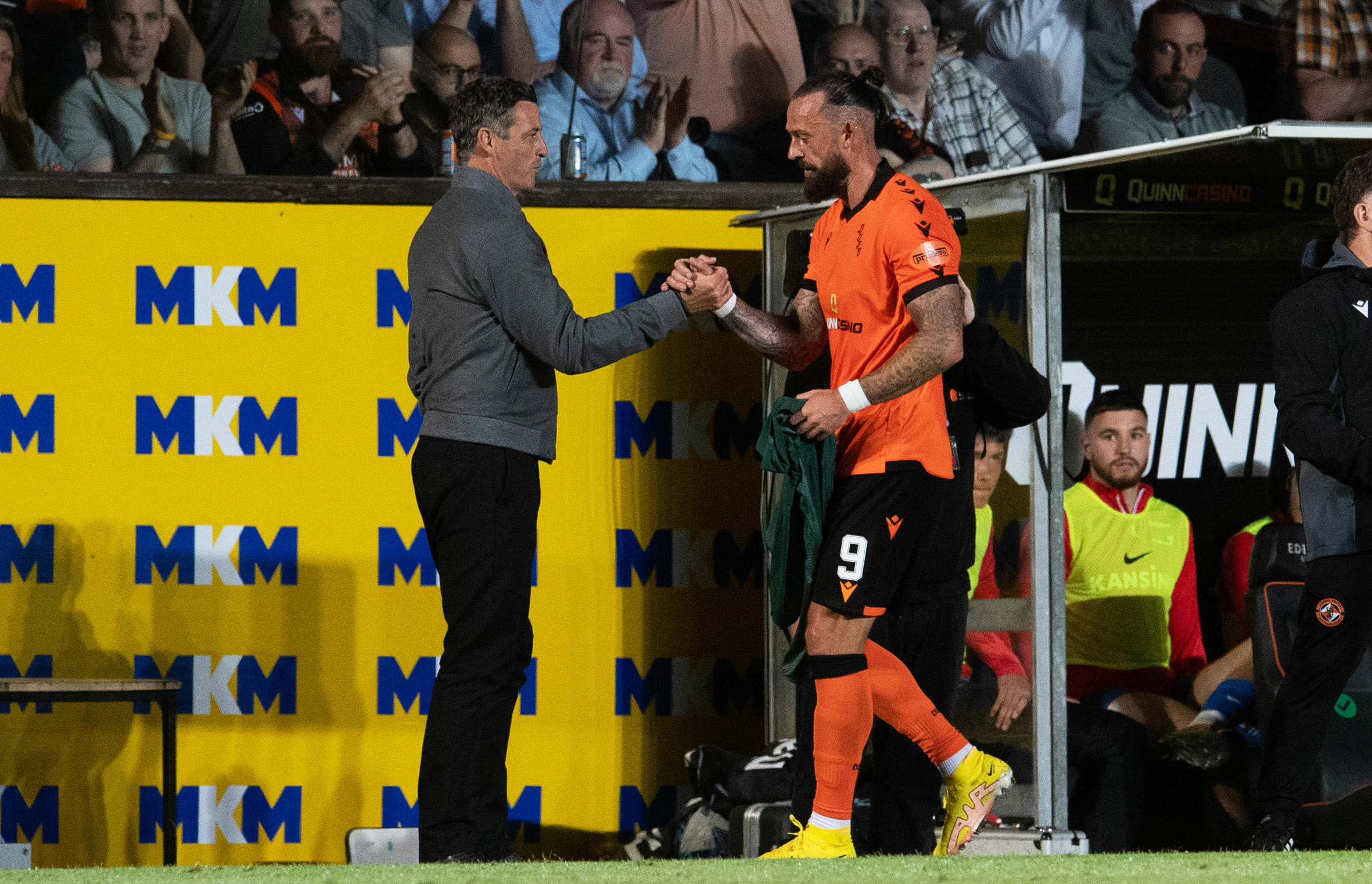 The arrival, and protracted visa and clearance saga, of Australian international Aziz Behich from Turkish side Giresunspor is perhaps the final piece of the United defensive tangram. A Socceroo with 52 caps, the 31-year-old balances out a defence that will be put to severe test at the AFAS Stadion.
AZ number nine Vangelis Palvidis did not enjoy the physical battle with Edwards and Mulgrew, the Greek international constantly complaining to the referee last week to little sympathy.
In the press conference yesterday, he admitted it had not been his best game. A text exchange for information from friend and Celtic striker Georgios Giakoumakis would appear to have not contained enough detail about the strength of the Tangerine's centre-back pairing.
I'm not sure he'll fancy it tonight either.
For Jack Ross, stick or twist?
Holding that vital one-goal advantage, a draw is enough to see them through, but as shown by Rangers' dismantling of a two-goal deficit against Union Saint-Gilloise, sitting deep, hoping to see out 90 minutes with a defensive masterclass, is easier said than done.
The much-vaunted "early goal to silence the home crowd" is what everyone in tangerine and black wants, but I've a feeling United will be pragmatic and compact and hope to quieten the AZ fans through frustration.
Set-pieces will be key and an area where United hold a big height advantage. Steven Fletcher, Charlie Mulgrew and Ryan Edwards are comfortably better in the air than any of their opponents tonight. The 1300 away fans will be anticipating every free-kick and corner with relish.
The odds? They're still stacked heavily in AZ's favour, but a low home crowd and a raucous travelling Arab army could create an environment that is far from intimidating to the visitors.
Hope? Yes, and a large amount of belief that this could be the start of something, not just a one-off adventure in the sun.