David Goodwillie will not play for Raith Rovers as the club review his contract after admitting they "got it wrong" by signing the striker.
It comes just days after the Championship club defended their decision to sign the former Scotland international from Clyde despite facing a furious backlash.
Goodwillie was ordered to pay £100,000 in damages by a judge in a civil court case in 2017 after it was ruled that he raped a woman at a flat in West Lothian.
He was also fined £250 in 2008 for punching a man in a Stirling nightclub. Four years later, he pled guilty to assaulting a man in Glasgow city centre.
Crime author Val McDermid subsequently announced on Tuesday morning she had "ended her lifelong support" of the club and had cancelled next season's shirt sponsorship.
From that point, the pressure intensified further as fellow supporters, board members and even the First Minister weighed in on the controversial signing.
Raith Rovers have now said they "got it wrong", and will not be selecting the striker while he is at the club, and have entered contractual discussions with the player.
In a statement release on their website, they said: "I firstly want to apologise wholeheartedly to our fans, sponsors, players and the wider Raith Rovers community for the anguish and anger caused over the past few days.
'We got it wrong'

Raith Rovers chairman
"We got it wrong. In reaching our original decision, we focused far too much on football matters and not enough on what this decision would mean for our club and the community as a whole.
"Over the past couple of days, we listened carefully to the fans who have got in touch and I'm very grateful for their honesty.
"As chairman, as a board and as a management team, we have all learned a hard but valuable lesson. This very unfortunate episode is something that we all bitterly regret and we are now wholly committed to making things right.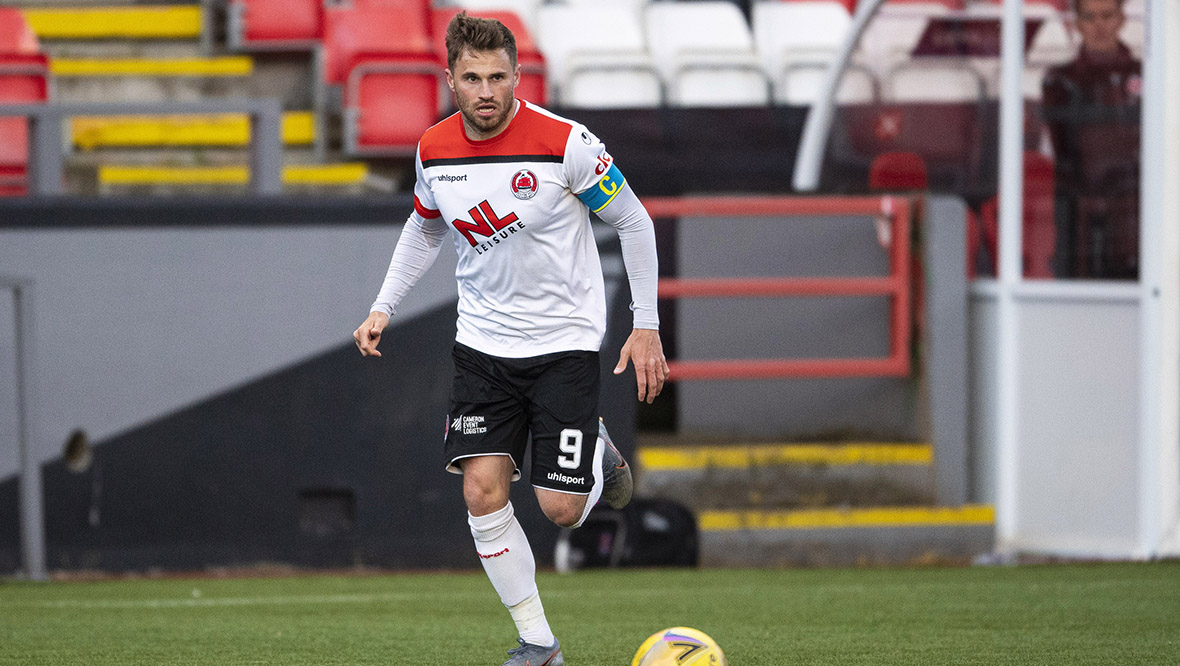 "I can therefore confirm that, following a meeting of the Raith Rovers board, the player will not be selected by Raith Rovers and we will enter into discussions with the player regarding his contractual position.
"We share a desire to do what is best for our club and will be doing everything in our power to regain the trust and confidence of the Raith Rovers family."
McDermid welcomed the U-turn on Twitter following the club's announcement.
She wrote: "It's a victory of sorts for the hundreds of people who MAKE the club who were appalled at the board's original decision and who were not afraid to speak out."
However the author said it's "just the first step on a long road back" as "the same people who made the decision are still in charge".
Rape Crisis Scotland, a group which campaigns to end sexual violence, said those who stood against Raith Rovers' signing of David Goodwillie "should be proud" the player has been dropped.
The organisation had previously said the Kirkcaldy-based club's decision to select the striker was a "clear message of disregard to survivors of rape".
In a response to the club's announcement that they have dropped Goodwillie, the organisation said: "There are no doubt unanswered questions and concerns here but fans, Val McDermid and the Scottish public should be proud that they made this decision by Raith Rovers FC untenable."
Former prime minister Gordon Brown, a lifelong Raith fan, backed the decision on Twitter, saying the club made the "right decision."
He wrote: "Raith Rovers FC have made the right decision.
"Now, as I said on Monday, football authorities, given the recent examples, need to consider how we deal with cases of footballers where there has been rape and violence against women."