Brendan Rodgers is back at Celtic and the club's new manager has his eyes on success.
A serial winner in his first spell in Scotland, leading Celtic to seven successive trophies and breaking records along the way with an 'Invincibles' side, the Northern Irishman has a track record in delivering at the club.
His departure for Leicester City left a sour taste for some supporters though, and he is replacing a manager who became a firm fan favourite in a short period of time.
The Treble was achieved last season and Rodgers is tasked with taking an exciting team forward.
That meant there was plenty to ask the Celtic boss when he was officially unveiled again on Friday, and lots of topics to cover.
The past is the past
Ever since he was linked with a return as manager, Rodgers' departure last time has been a hot talking point.
The manager didn't try to duck the issue when asked about it, and stood by his decision, but his tone was one of reconciliation and togetherness.
Describing himself as "privileged and honoured" to be back at the club, Rodgers reflected on his happiness in Glasgow last time but said his decision to come back wasn't about nostalgia.
He was comfortable with his decision to leave for Leicester City, saying he had no regrets about taking the job and leaving Celtic. He did admit to regrets about how it made supporters feel though, and said it had been a factor in him deciding to take a second spell in charge.
The goals are clear
Rodgers swept the board in terms of domestic trophies in his first spell, and Ange Postecoglou delivered the same last season. The plan for next year is more of the same but the real area for growth is in Europe.
"I think your bread and butter is always Scotland," he said. "I think you have to ensure that you have dominance whilst you are here.
"But I would like to think there's something we could do in Europe."
Winning the Premiership means a place in the Champions League group stage is guaranteed and Rodgers was careful not to make wild claims about making a run deep into that competition with European giants likely to make that a hard task.
However, he talked about "European football after Christmas" and opportunities that the other European competitions can bring.
"We all know the challenges of the Champions League," Rodgers said. "Of course if you can get through into the knockout stages then that's a big step for a Scottish team.
"But in Europe now there's competitions where you can, with a little bit of luck and the quality that you can have, it cam allow you to go a long way.
"So for us, I think it's getting through a qualification phase and you see where that can take you. Europe is something that's such a challenge but it's a great challenge."
Celtic are on the up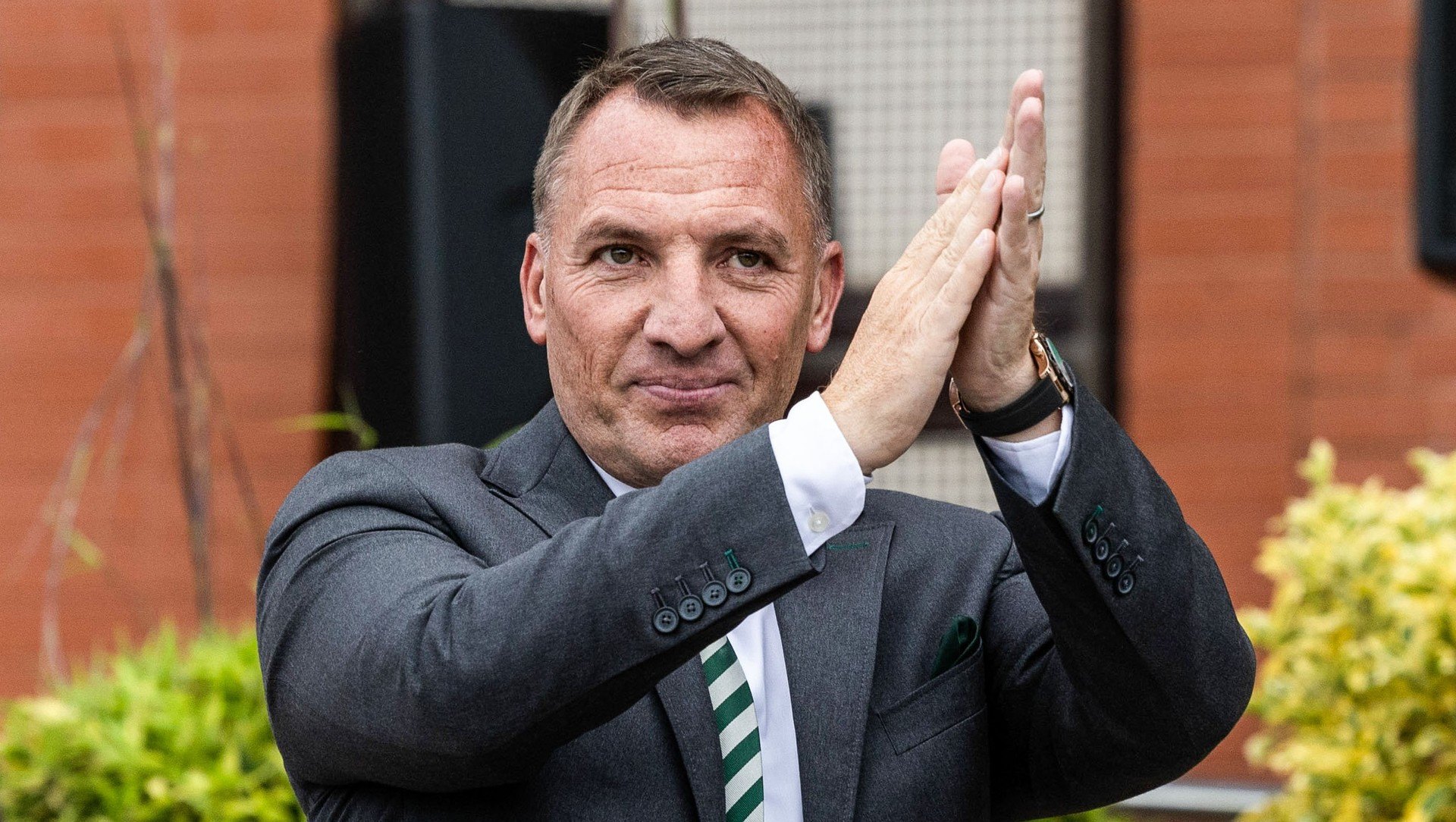 Rodgers has ambitions for Celtic and he made it clear that he felt the club shared that feeling. His road back to Glasgow had begun with discussions with chief executive Michael Nicholson and finance director Chris McKay at Rodgers' home in Mallorca.
The manager said that he learned from them that changes had been made since his previous spell that improved the set-up behind the scenes, and that it was obvious that on the park he had been left a squad capable of success.
"When I had my discussions with Michael, there was a lot of things in place that we had spoken about when I was here the first time," he said.
"There's a brilliant recruitment team and I look at the work [head of first team scouting] Mark Lawwell has done since he's been here. It's set up perfectly for a club like Celtic to work in the markets that they need to be working in.
"You can see from the players that have been brought in through his recruitment team, and that is important for me.
"And I come to a club for one of the very few times in my career where it has an upward feel to it. A lot of the jobs I've come into the club has been suffering or the team has and I've come in to pick it up.
"Here I come in with a great foundation on the back of the work Ange has done here in the past couple of years and I look to continue with that."
Quality to be added, not quantity
Every manager wants money to spend, and Rodgers is no different. But while every club aims to strengthen in every window, the Northern Irishman made it clear he didn't need to make wholesale changes to fit his needs.
Instead, he suggested a couple of signings might be more likely than a handful to expand the squad. The manager also suggested he could develop the players he inherited to fulfil their potential.
"I think it's a good time to strengthen," he said. "Whenever you have done well.
"It's a team coming off the back of a treble, and I've been in that position before and we were able to do another treble.
"So I understand the feeling now over the course of a summer what you need in this period. That will be about strengthening but I'm also really excited to work with the players here because it's a young squad and there's a lot of growth within that.
"I'm looking forward to seeing them in pre-season because there's only a few players who were here when I was here.
"It's an exciting squad and we can add to that. It's now a really good time to do that."
He added: "I think it's just about getting quality.
"My conversations with Mark and the recruitment team, they've got a great handle on where it's at. Speaking to Michael, everything is under control contractually. But a good time to improve is when you're doing well. This is a nice possibility to improve the squad.
"It's not lots of numbers. Ange, when he came in, had a massive rebuilding job and did a brilliant job. Over the last couple of years, himself and the club have built a really, really good squad.
"So it's a case of continually developing that squad and adding quality where we can."
Here to stay
Rodgers was open about how some fans might feel about him being manager again but believes that delivering victories and trophies can erode that antagonism over time.
But the new manager went a step further than many might have expected with an assurance that there would be no repeat of his sudden exit four years ago.
Celtic have broken with their long-standing habit of giving managers a one-year rolling contract, handing Rodgers a lucrative three-year deal.
He insists he'll honour that and be in place until 2026, unless something goes horribly wrong.
"I've signed for three years and I guarantee you I'll be here for three years," he said.
"Unless I get emptied before that, as they say up here."