After going toe to toe with Rangers in the first leg of their Champions League play-off at Ibrox, PSV Eindhoven took a step back.
From the final whistle in the end-to-end 2-2 in Govan, Ruud van Nistelrooy and his team had an eight-day gap until the return leg, thanks to a decision to postpone an Eredivisie match designed to give them a better chance of reaching the group stages.
It wasn't quite a monastic retreat, but it allowed the Dutch side to close the doors at the training ground and put full focus on how to beat Rangers in Wednesday's high-stakes second leg. Rangers' build-up hasn't been quite so zen.
Though they weren't granted the luxury of a weekend off, there was at least the prospect of gaining momentum with a win as the Govan side arrived at Easter Road on Saturday.
That victory looked on the cards when James Tavernier put his side ahead before half time, but an explosive second half put paid to any ideas of smooth sailing before the trip to the Netherlands. Debatable decisions and dodgy defending led to dropped points and an inquest that has overshadowed the countdown to the European night.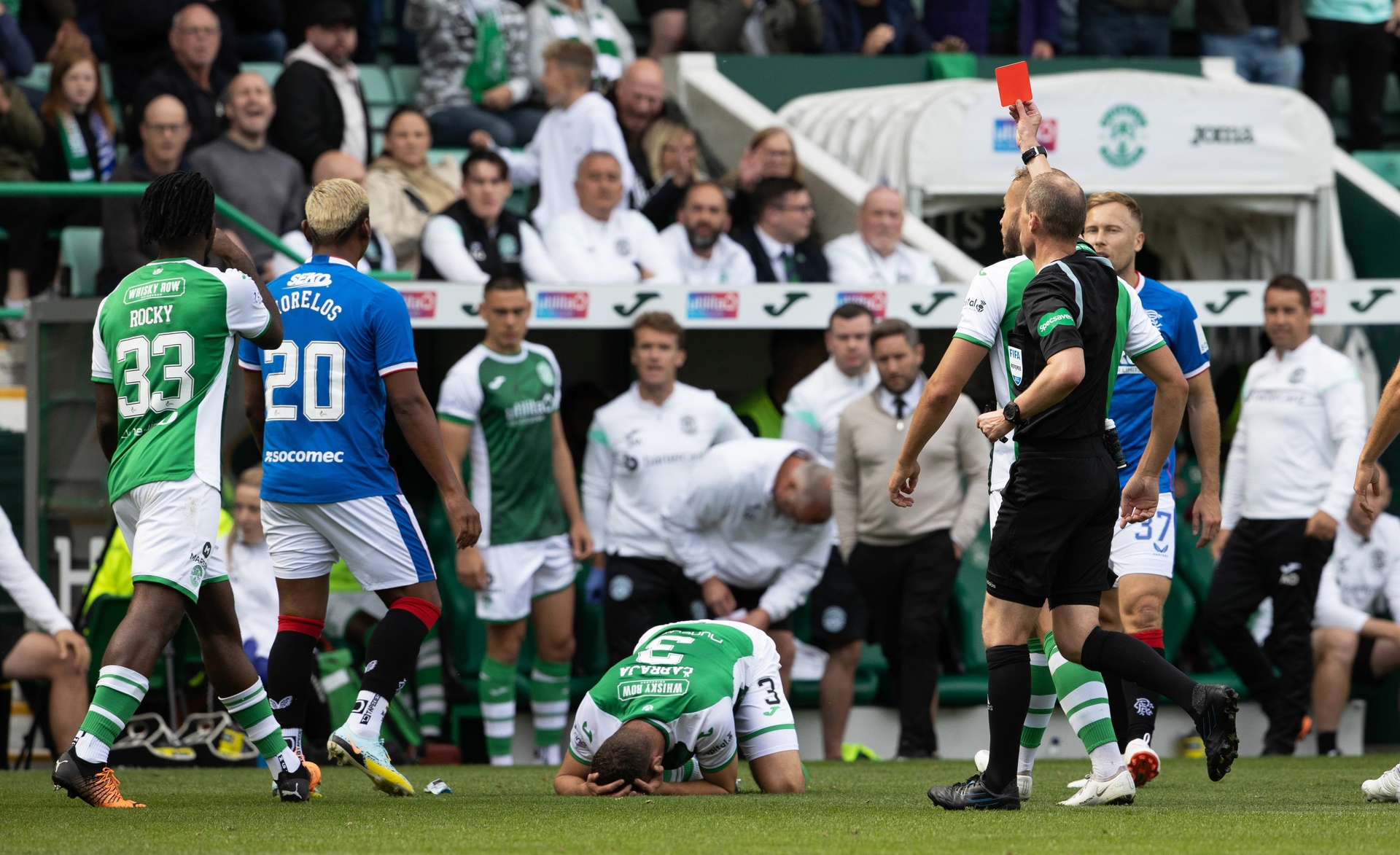 Once complaints from both teams about referee Willie Collum were out of the way, and the early loss of ground in the title race was discussed, it should have been time to turn attention to one of the biggest matches for a Scottish club in recent times. Instead, there was still more drama to come, with Rangers' all-time leading goalscorer in Europe taking centre stage, and not for the reason they would want him to.
Morelos was, of course, one of the two Rangers players shown a red card by Collum against Hibs, his departure leaving his side with just nine men and unsuccessfully trying to hold on to a slender lead. 
The Colombian had been sent off for a flailing arm in the face of Marijan Cabraja, heading for the showers not long after John Lunstram had been dismissed for a late tackle.
Rangers dealt with the two red cards in different ways. Lundstram's was appealed after the club said they would make the "smartest" decision when they had fully reviewed the incident. Morelos' dismissal was left undisputed, with Rangers captain Tavernier describing the sending off as "stupid".
That prompted discussion among fans and pundits about the player's attitude, but few imagined it would have triggered a bold decision inside Ibrox.
After consulting with senior players, manager Giovanni van Bronckhorst effectively exiled the goalscorer, leaving him out of the squad for a must-win game, and one where his goal-grabbing talents could have been utilised, even if not from the start. Rangers believe the player had "fitness and attitude issues" and ultimately feel that going into a huge game, they are better off without him.
Van Bronckhorst said that "as a person, it was a tough decision. As a manager it was an easy one". A clear message has been sent that all individuals are expected to give their all in service of the team, and a huge team effort is going to be required to reach the Champions League. With that in mind, the issue may dominate headlines but isn't likely to gnaw at the manager in the hours before kick-off.
PSV manager van Nistelrooy knows a bit about scoring goals and he played down the Morelos issue when asked about it on Tuesday. "Colak is the number one striker", according to Van Nistelrooy, and as Morelos kicks his heels in Glasgow, responsibility up front now falls squarely on the shoulders of the summer signing.
He is just one of a number of players that Rangers will need to have at their best to prevail against PSV. The Croatian earned the penalty for his side's opener against Hibs and played a part in Tom Lawrence's goal, adding to an impressive start to life in Scotland that's already brought four goals.
Ryan Kent will have a key role once again, and the tireless attacker could barely pick a better game to directly address the critics who say he needs to put more goal and assist numbers on his game. On the opposite flank, Lawrence has already been contributing in those terms.
At the other end of the park, a defence that managed to keep Luuk de Jong, Cody Gakpo and Ismael Saibarirelatively quiet also managed to concede twice from set pieces. Concentration and discipline will be needed to ensure that every corner isn't cause for panic.
Any slips or nervousness will be fuel to the 35,000 crowd in the Phillips Stadion, who will make plenty of noise in backing their team.
That factor, that Rangers are away from home in the decisive match, has been highlighted since the draw was made, with van Bronckhorst's side having been at home second for some key games in Europe over the last year, and been roared to victory by their own support.
The manager has downplayed the importance of that and will instead be looking for positive factors to give his players belief ahead of this tough test.
Throughout last season's European run, van Bronckhorst talked about learning from the first leg to improve in the return match. He said it again ahead of Wednesday night's game and he can point to how ties were turned around against Braga and RB Leipzig last season. He might also point out that a draw in Lyon and a 4-2 win in Dortmund in the last year don't suggest a psychological barrier in away games.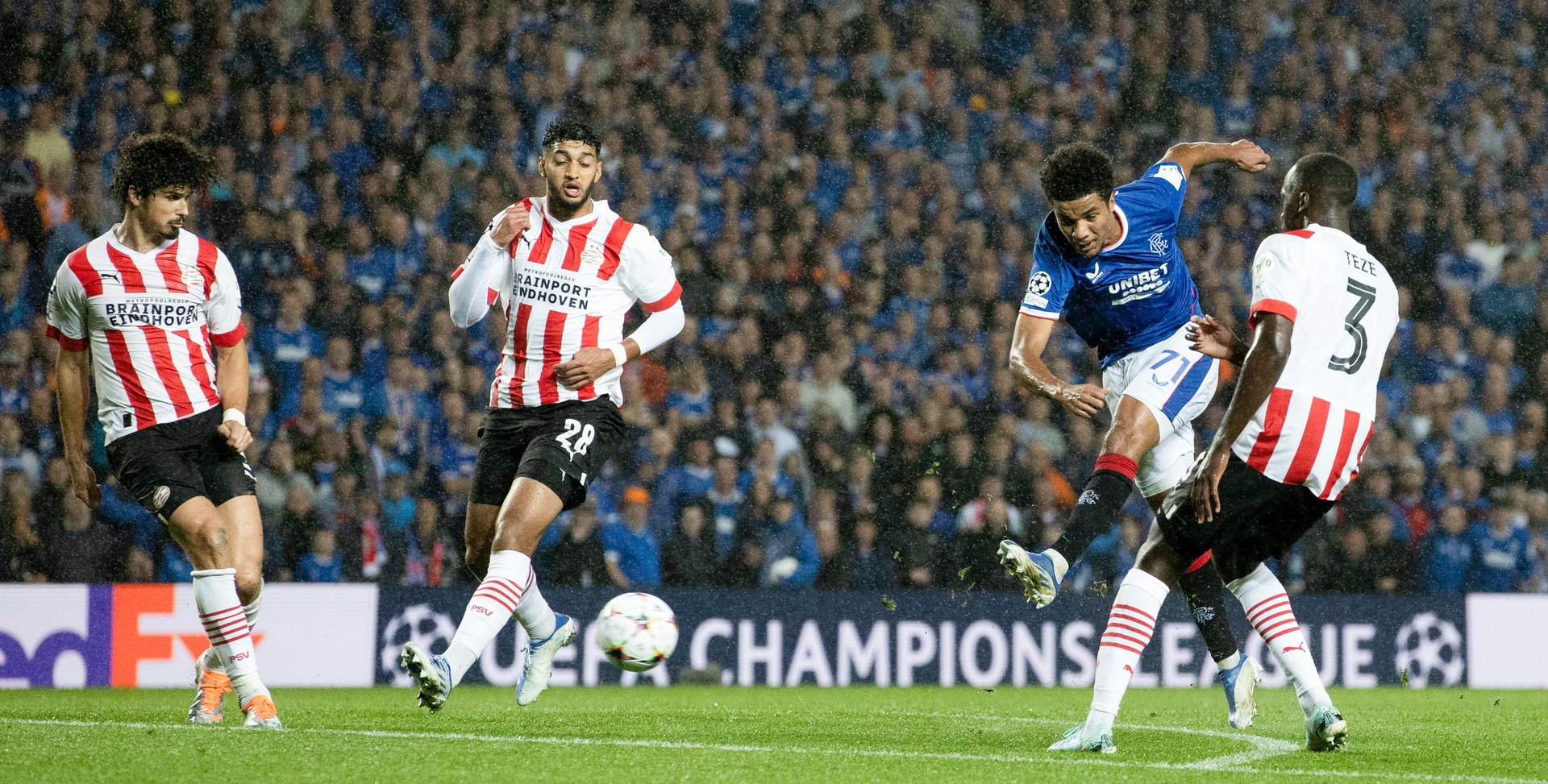 PSV will attack, they did in the first leg, and Rangers will have to have answers for the questions they are asked. The visitors will need to find at least one goal to go through, or endure another penalty shoot-out months after the pain of losing one when within touching distance of glory.
There was little between the sides last week, and though PSV had spells of possession and dangers, so too did Rangers. A repeat may be on the cards and it may come down to who plays the occasion.
The run to the Europa League final, and the hard-fought results in each of the knock-out ties, will stand Rangers in good stead. The team has shown an appetite for this over the last year, when a relentless run of games and increasing demands were handled when odds were against them. 
The rewards are there for all to see. Not just the prestige of playing against the continent's elite, or even the £30-40m the winner will rake in. The clear sign of progress after excelling in the second tier last time is essential for the squad and manager.
Van Bronckhorst's career so far has delivered experiences at the top level, and he has stated his ambition to continue that as Rangers manager. On Tuesday, he said: "I have won the Champions League, I have coached the Champions League.
"Every time you hear the tune it is something special. It brings emotions and it brings such significance as the best club tournament in the world.
"For the fans, the team and the staff it is special."
PSV and Rangers both have ambitions to return to that platform, and enjoy the rewards. With the finely-balanced tie offering both the chance to dream, it may be whoever delivers something special on the night that marks their team as Champions League quality.