It is one year since Scotland became the first country in the UK to issue a ban on single-use plastics.
The legislation, which came into effect on June 1, 2022, made it illegal for businesses to supply items including plastic straws, plastic cutlery and containers made of expanded polystyrene.
But not a single fine has been issued since despite environmental campaigners saying usage is still widespread.
While the Scottish Government was eager for businesses to switch to reusable alternatives, many have opted for the cheapest, legal single-use offering.
Data from environmental charity Keep Scotland Beautiful suggests single-use wooden and bamboo cutlery are now being found littered on some of Scotland's beaches.
Kim Pratt, from Friends of the Earth Scotland, said the law needs expanded to cover single-use items in general.
"What we want to see happening is business being supported to find reusable options and the Scottish Government should be doing more to support them to do that," she told STV News.
Keep Scotland Beautiful's chief Barry Fisher said the ban last year was a positive and important step but that more can be done – including to tackle the prevalence of littered single-use vapes.
"While the regulations were welcomed, we must also be aware of unintended consequences," he said.
"Our data suggests that single-use wooden and bamboo cutlery are now being found littered on some of Scotland's beaches.
"Making the change to reusable items is an example of a positive behaviour change that both tackles littering and avoids the use of single-use items, no matter what they're made from. These changes are also a necessary step in improving the places we care for – both land and sea, along with the habitats and wildlife they are home to.
A Scottish Government spokesperson said: "Banning some of the most problematic single-use plastic items is an important step to protect our natural environment and prevent littering.
"While many businesses will have adapted to the ban, we understand there are challenges for some businesses and we will work with them to help them comply with the regulations.
"Now that the regulations have been in place for a year, we are reviewing how well they are working as part of our continual efforts to learn, improve and gather an evidence-base to inform any future next steps."
What single-use plastics are banned?
It is unlawful to make and commercially supply the following items:
Cutlery (forks, knives, spoons, chopsticks and other similar utensils)
Plates
Beverage stirrers
Food containers made of expanded polystyrene
Cups made of expanded polystyrene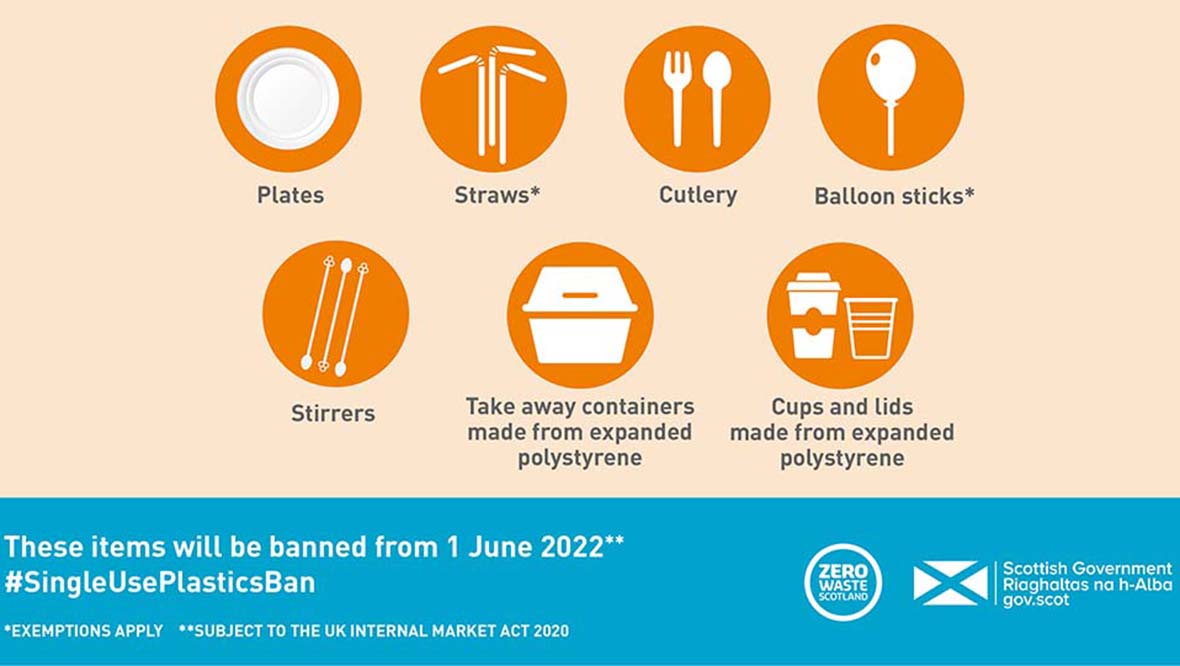 It is also unlawful to supply commercially the following items, although exemptions allow them in certain settings and circumstances:
Plastic straws
Plastic balloon sticks
All the restrictions apply to both online and in-store sales, whether they are free or paid-for.
Enforcement will be the responsibility of local authorities. Failure to comply with the regulations carries a maximum fine of £5,000.
Why are plastic straws exempt in certain settings?
An exemption was made to ensure those who need them to eat or drink independently, or for medical purposes, can get access.
They are still available to purchase at in-store or online pharmacies and given on request in hospitality venues – but won't be routinely available in supermarkets or other shops.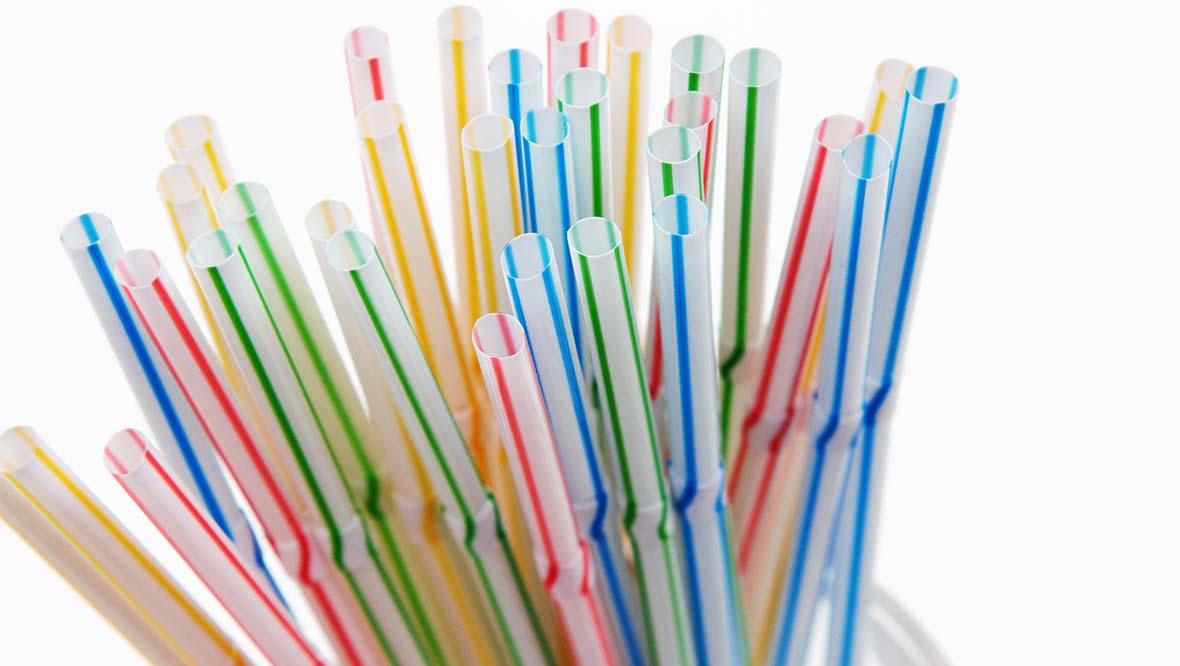 Plastic straws can also still be accessed in hospitals, care homes, schools, early learning/childcare premises and prisons.
The regulations also provide an exemption for single-use plastic balloon sticks used for industrial or professional uses.
What should be used instead?
The Scottish Government said it wants reusable alternatives prioritised over substituting plastic for other materials.
For example, choosing metal reusable cutlery over single-use cutlery made of non-plastic materials.
The Government believes problems caused by single-use items cannot be solved by replacing them with alternative single-use items made with different materials.
Zero Waste Scotland said it was an "opportunity to break up with unnecessary single-use items, no matter what material they're made from, and choose to reuse instead".
Is the rest of the UK doing this?
Scotland was the first part of the UK to introduce regulations on such a comprehensive list of items.
England has recently introduced restrictions on some items such as single-use plastic straws, beverage stirrers and cotton buds.
Wales launched a public consultation in August 2020, on restrictions for the items listed in the Single-Use Plastics Directive.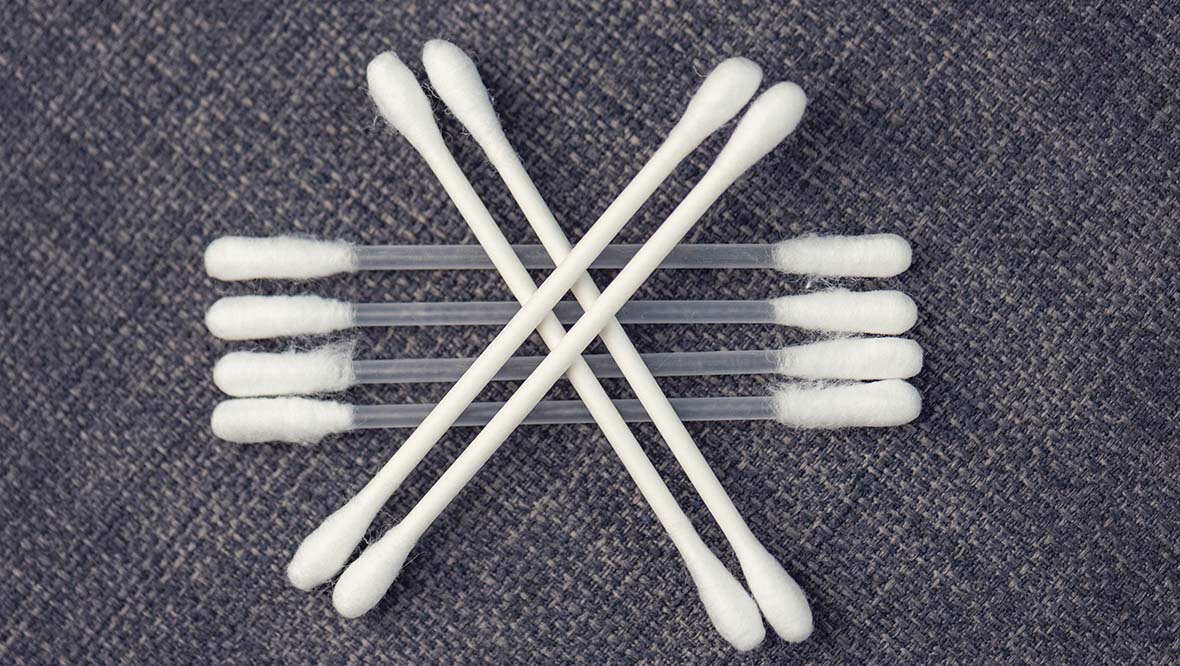 Northern Ireland must, as part of the UK/EU Withdrawal Agreement Northern Ireland Protocol, implement certain requirements set out in the Single-Use Plastics Directive.
Scotland became the first part of the UK to ban the sale of plastic cotton buds in 2019. A ban on the sale and manufacture of plastic microbeads was introduced the previous year, in June 2018.
Furthermore, the minimum cost of plastic carrier bags in Scotland rose to 10p in April 2021, seven years after the 5p charge was introduced.
Can I still get a takeaway coffee cup?
Takeaway coffee cups were not affected by the rules that come into effect a year ago.
But the Scottish Government is establishing an advisory group to look at plans to introduce a mandatory charge, as part of a crackdown on tackling waste across the country.
The charge would apply to coffee cups and other single-use disposable beverage containers.
It is hoped that by charging for single-use cups, more people will be encouraged to start using reusable alternatives, such as flasks.
In Scotland, it is estimated that around 40,000 disposable cups are dropped throughout the country each year.
Due to their waterproof plastic lining, the cups can be difficult to recycle, meaning that most of them are either incinerated or sent to landfill.
From 2024, larger coffee shops, fast food chains and others who sell drinks in disposable papers cups will have to provide a dedicated bin to collect and recycle them.
What is the Scottish Government's view?
At the time, circular economy minister Lorna Slater MSP said the Scottish Government was turning its "promises into action".
She said: "Every year, hundreds of millions of single-use plastic are wasted, with many of them littering our beaches, waters and parks. This ban will encourage businesses to make the switch to reusable alternatives, helping to reduce litter and cut emissions."
Speaking to STV News on Wednesday, Slater said it was not her intention to be "punitive" towards businesses.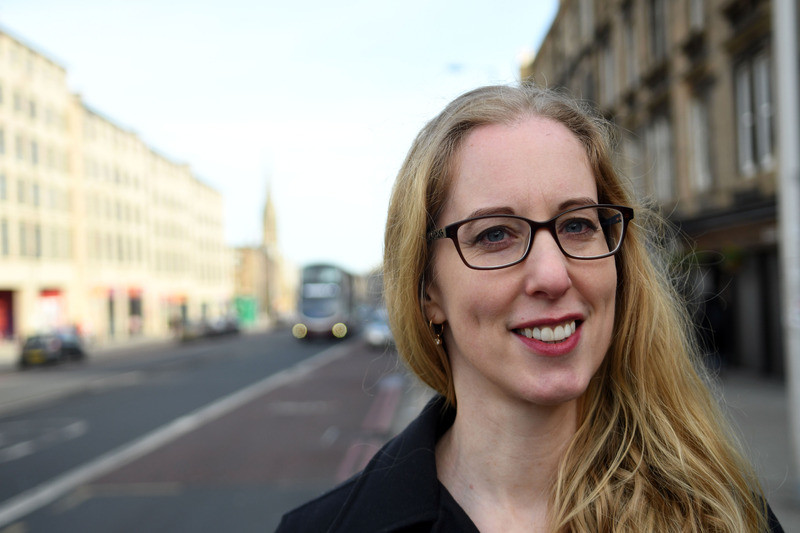 She said enforcement officers had various options available to them.
"We want to take businesses on a journey," she said, "To support businesses into knowing what the regulations are and what their options are for complying, so that we can help them in that direction.
"Zero Waste Scotland, for example, has some helpful advice on their website that business owners can look at to understand how they can comply and what their options are."
Asked why takeaways already struggling with increasing running costs should have to cover the more expensive environmentally-friendly packaging, Slater said the source of the polluting plastics should have to pay rather than the taxpayer.