A woman missed being with her mother when she died in a care home by seconds because of Covid restrictions during the pandemic, an inquiry has heard.
Natasha Hamilton had to wait for the results of a Covid test and then "wait her turn" to visit her mother, and she arrived just too late to say a final farewell.
Her mother Anne Duke, who had dementia, died on November 13 2021, and her cause of death was given as Alzheimer's and pneumonia.
She had been diagnosed with Alzheimer's aged 56 in 2014 and was admitted into a care home in 2018.
Ms Hamilton told the Scottish Covid-19 Inquiry that dementia "destroyed" her mother, but she visited the care home regularly before the pandemic and "cherished" the moments she spent with her.
She told the inquiry she did not have a chance to say a final goodbye to her mother as she was "waiting her turn" while her father and sister were in the room.
Her voice choking with emotion, she said: "I was up in my in-laws' house because I wasn't able to enter the care home until a certain point.
"I had to take a PCR Covid test and I got to my mum's room, I opened the door and my dad was frantic and I looked at my sister and my sister just nodded at me, and I'd missed being with my mum by seconds because we had to stagger who was coming into the care home."
Ms Hamilton told the inquiry on Tuesday that before lockdown she and her family were able to "camp out" at the care home and it became like a second home where they could spend time with her mother, who was non-verbal, and help stimulate her.
She said: "I got to a certain point where I didn't know if mum knew I was her daughter but she knew I was someone that made her happy in her presence, I could get smiles and acknowledgement from her.
"That was the only communication I had with her, holding her hand, singing songs with her, playing her favourite music. As soon as I left my mum's room I knew I would have no more contact with her till the next time I was able to visit, so you cherished those moments."
She said being in her mother's presence was the only way she could communicate with her because of the way dementia had affected her.
However, she said that during the first few months of lockdown, when relatives were not allowed to visit care homes, the lack of contact made it feel as though her mother had died as she had "just disappeared from our lives".
Ms Hamilton, a member of Care Home Relatives Scotland (CHRS), launched a campaign for change with the introduction of Anne's Law, named after her mother, who herself was a care home worker.
New standards were introduced last year allowing designated friends or family members of care home residents to enjoy the same access rights to facilities as staff. However, Ms Hamilton said more still needs to be done and she is continuing with her campaign.
The inquiry also heard from Ms Hamilton's father Campbell Duke, who said it felt like care home residents were kept "under lock and key" during the pandemic.
He said: "My wife was one of the few sectors of society which literally had somebody standing at their front door with the keys saying: 'You shall not pass.'"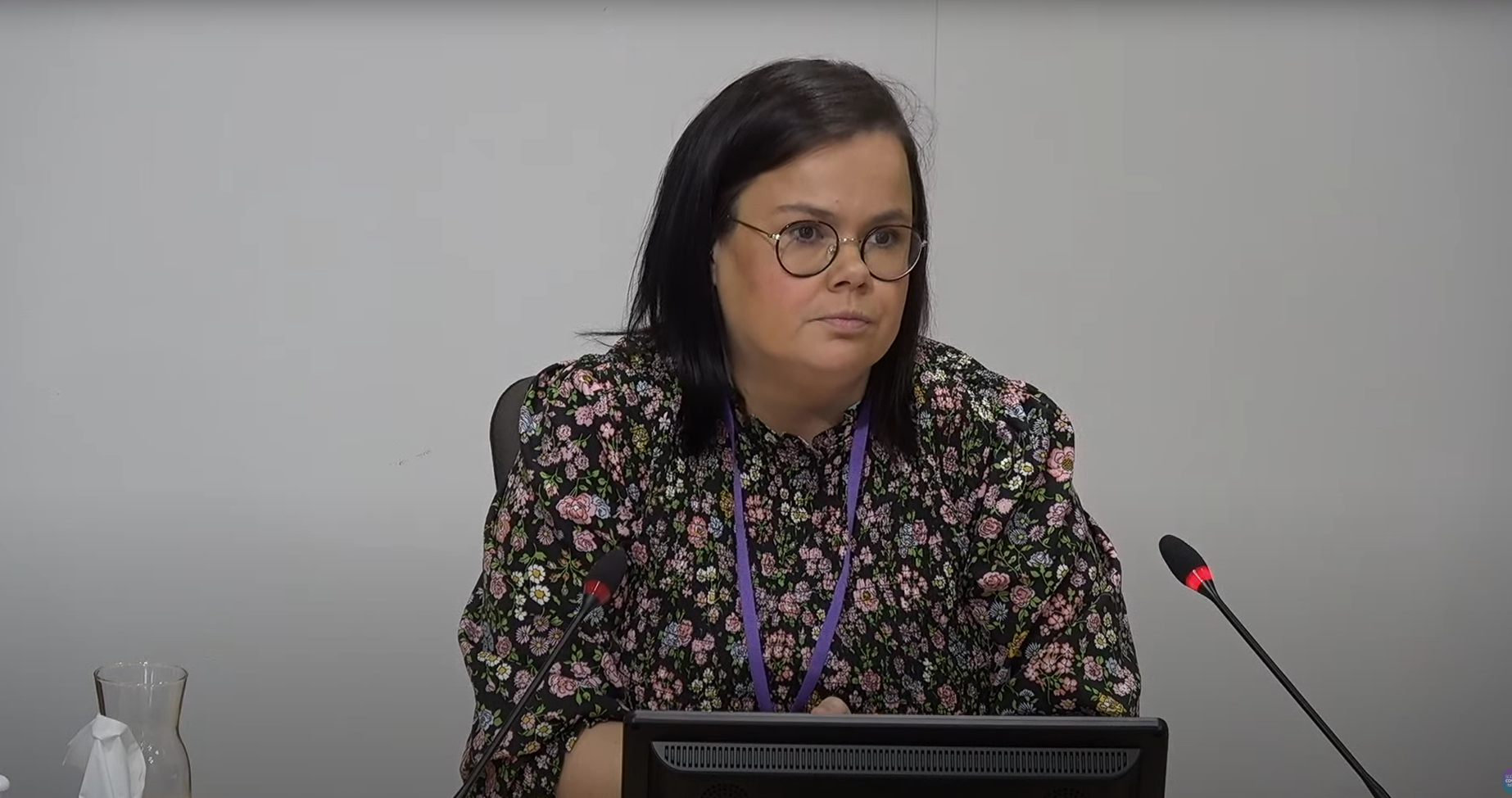 Stuart Gale KC read from a written statement Mr Duke gave to the inquiry, in which he said: "The Government must never again be allowed to imprison our most frail and vulnerable in such an inhumane way. It has been despicable, heartless and relentless."
Mr Gale asked whether he adheres to that view, to which Mr Duke agreed.
Mr Duke also spoke of the unsatisfactory nature of "garden visits" which were allowed from August 2020.
He said: "Our garden visits were taking place in a car park with potholes in it, 15 feet away from the pavement where people were passing by, and my wife was brought out to be paraded, sat two to three metres away from me with a member of staff sitting watching, listening to everything.
"It was cold, a Scottish summer. People were walking by 15 feet away, they could see us, they could hear us, they knew what was going on. It was not private at all."
In the afternoon, the inquiry heard evidence from Alison Leitch of CHRS, who told the panel she was prevented from seeing her mother, Kathleen, last-minute last Christmas.
The care home had previously agreed to allow residents to spend time with their families on Christmas Day.
However, Ms Leitch said the care home called her at around 8pm on Christmas Eve 2022 informing her she would not be allowed to see her mother due to a flu outbreak.
She told the inquiry the nurse who informed her had "never heard of a care home being closed for flu" in her 30 years of nursing.
Ms Leitch added: "Still, words fail me about this. After everything that we have been through, somebody made the decision to ruin Christmas again.
"I saw families shouting through windows on Christmas Day last year. The place was so empty."
She went on to say the care home's decision was "unforgiveable".
A Scottish Government spokesperson said: "Our sympathies are with all those who lost a loved one to Covid-19 during the pandemic.
"The Scottish Government is co-operating fully with the UK Covid-19 Inquiry and the Scottish Covid Inquiry and will follow all of the evidence given closely.
"We support both inquiries in their work to explore the handling of the pandemic and to identify the vital lessons we all need to learn.
"It would not be appropriate to comment on detailed evidence presented to either inquiry at this stage."
The inquiry, taking place before Lord Brailsford in Edinburgh, continues.
STV News is now on WhatsApp
Get all the latest news from around the country
Follow STV News
Follow STV News on WhatsApp
Scan the QR code on your mobile device for all the latest news from around the country