Major cuts will see a third of Scotland's train services disappear from timetables on Monday.
Almost 700 journeys have been scrapped in a "temporary timetable" drawn up amid the newly nationalised rail operator's pay dispute with drivers.
The reductions come just weeks after ScotRail was taken into public ownership by the Scottish Government in what ministers hailed a "historic" move.
The changes have sparked fury as Scots face a summer of travel chaos amid concerns supporters won't be able to get home to Edinburgh, Aberdeen and Dundee from Scotland's World Cup qualifier at Hampden next month.
What can customers expect?
Regular passengers have shared examples of how it will affect commuters, football fans and gig-goers.
Some stations will see services drastically reduced, with the last trains leaving Scotland's main cities much earlier than usual.
From Monday, the last train from Edinburgh to Glasgow will be at 10.15pm instead of 11.45pm. The last service from Glasgow to Stirling is currently 11.51pm, but will now leave at 7.49pm.
The last service from Glasgow to Aberdeen will leave at 6.41pm instead of 9.40pm.
The last train from Queen Street to Paisley Canal is 7.12pm, brought forward from 11.12pm and the Queen Street to Anniesland train will also be brought forward to 6.03pm from 10.54pm.
Meanwhile, the last train from Dundee to Edinburgh is now at 8pm rather than 10.48pm. The last train from Perth to Glasgow is 8.14pm, brought forward from 10.48pm.
It's bad news if you travel for work on the east coast; the earliest you'll arrive in Edinburgh from Aberdeen will be 9.35am, as opposed to 8.33am.
People in the Borders heading to the capital for a night out will be left disappointed too. The last train from Edinburgh to Tweedbank will leave at 9.43pm instead of 11.43pm. The final Galashiels to Edinburgh train will leave at 8.23pm instead of 11.31pm.
Commuters from Glasgow to Larbert will have to wait to head home, with no trains between 5pm and 6pm.
For travellers from Mallaig, you'll need to be an early riser; if you miss the 6.03am train to Glasgow, you'll be waiting 24 hours for the next direct service.
Changes to the Saturday and Sunday timetables are to be announced in the coming days.
Full details of the new timetables can be found on the ScotRail website.
The pay dispute explained
ScotRail is currently involved in a pay dispute with trade union Aslef which has seen drivers decline to work overtime or on rest days; the rail operator said it relies on this to run a normal timetable.
Bosses blamed the coronavirus pandemic for significantly delaying the training of new drivers – estimating an extra 130 would have been deployed.
They said the temporary timetable will provide "greater certainty for passengers" after a raft of cancellations, though it is not yet known when it will end.
ScotRail is to carry out a review process to examine how the changes affect customers and see where improvements can be made.
In the meantime, the operator says it is working with Aslef to resolve the issue. David Simpson, ScotRail's service delivery director, confirmed drivers have been offered a 2.2% pay rise and participation in a shares scheme. Aslef branded the pay offer "derisory" and has refused to rule out further action.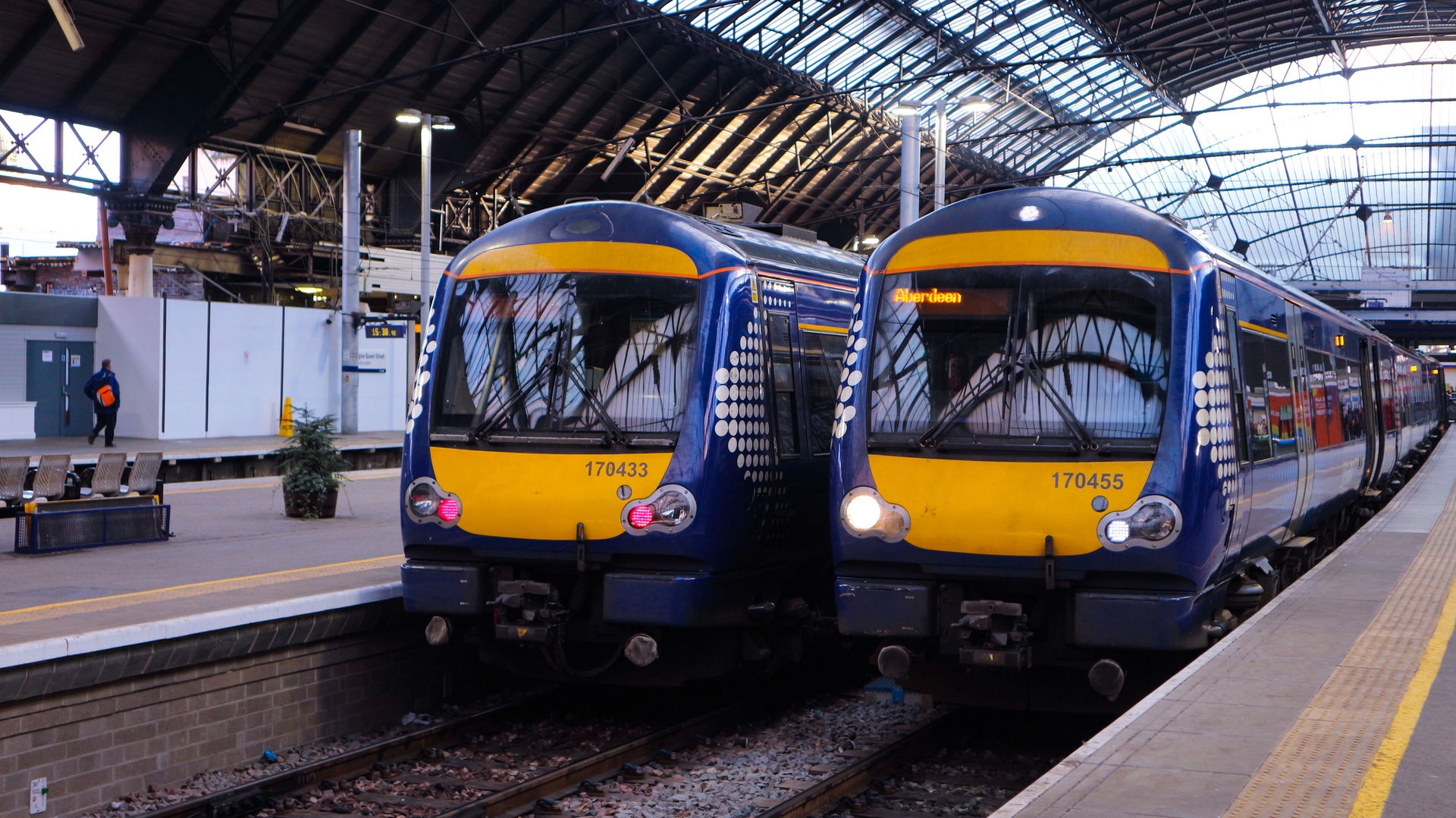 Emergency timetable could last weeks
Mr Simpson said it is hoped the temporary timetable will only be in place in the short term, but that depends on talks with the union.
He told BBC Radio Scotland's Good Morning Scotland programme on Thursday: "I'd hope temporary means as short as possible, but it does depend on making some progress with the pay talks, which are the root cause of this problem.
"We're trying to minimise the impact of this by making the service more predictable to customers and we plan to leave this timetable in place until we make any progress in the pay talks."
Asked whether the timetable could be in place for weeks or potentially months, he said: "I hope it's less than that, I'm always hopeful we'll make some progress, I think certainly weeks is potentially possible, but we'll do everything in our power to keep the duration of this as short as possible."
Aslef chief: 'No way to run 21st-century railway'
Kevin Lindsay, Aslef Scotland organiser, said ScotRail and the Scottish Government were behaving "appallingly" and demanded urgent talks.
He said: "Nicola Sturgeon has to realise that the pay dispute can only be resolved with the resumption of immediate talks. We need a fair pay deal and there must also be a clear and proactive plan to recruit more drivers.
"Aslef stands ready to have talks anytime, anywhere, any place. We have said this from day one and today we repeat that call. Relying on drivers to work rest days is no way to run a 21st-century railway. This situation will not be resolved if ScotRail fails to engage in meaningful talks."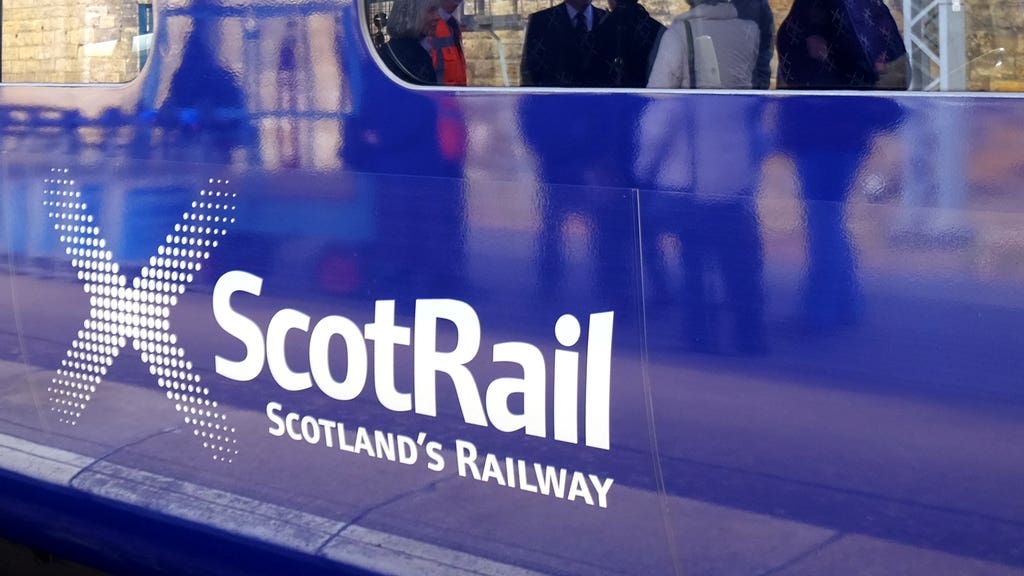 Nicola Sturgeon says return to normal timetable 'vital'
Facing questions on ScotRail's changes at Holyrood, Nicola Sturgeon stressed the importance of ensuring services return to normal as quickly as possible.
ScotRail, the First Minister said, believes a temporary timetable is "preferable to unplanned cancellations".
She added: "However – and let me stress this point – it is vital to get the timetable back to normal as quickly as possible and I expect ScotRail to review the temporary arrangements regularly; indeed, it is due to be formally reviewed on June 3.
"I always take the opportunity to apologise to any member of the public in Scotland who doesn't get from a public service – whether that is the railway, or any other service – the standard they have a right to expect.
"And that includes those who are being disrupted right now because of the temporary timetable being put in place by ScotRail."
Sturgeon urged Aslef and ScotRail to continue negotiations to reach a settlement.
"I would say to the unions, I understand their job is to represent their members and to get a fair pay deal for members, but let's see both parties get round the table and negotiate that in good faith – I think that's what the travelling public want to see as well," she said.
What opposition ministers said
Tory transport spokesman Graham Simpson said the ScotRail service cuts were "damning, but not surprising".
He added: "Not only are existing passengers being let down by these enormous cuts, but the SNP-Green government will have no hope of increasing public transport use while it slashes services."
Responding to the First Minister in parliament, Scottish Conservatives leader Douglas Ross said: "You call this regrettable, say that to the people in Dunbar who will have zero trains operated by ScotRail stopping at their station.
"Say that to the business leaders who are telling you these cuts are going to put at risk thousands of jobs and small businesses."
Anas Sarwar said the Scottish Government has "chased the headline" but "won't do the work" when it comes to ScotRail.
The Scottish Labour leader challenged the First Minister on her reaction to service cuts of 40 trains per day back in 2018, which she said were "not good enough".
He said that since 2020, ScotRail services have seen a decrease of almost 1000 a day.
Sarwar said: "For once, Nicola Sturgeon has got nobody else to blame.
"Why are 40 cuts a day when someone else is in charge not good enough, but cutting 1000 services a day, in the words of the rail minister, 'a stable and reliable service'?"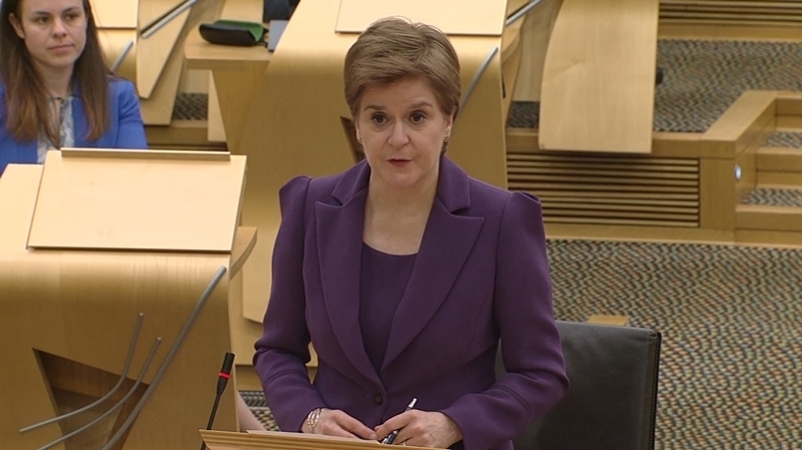 Scottish Liberal Democrat leader Alex Cole-Hamilton said rather than flying to the US – where the First Minister has been on a working trip this week – she should instead be "travelling with passengers across Scotland hearing how these SNP/Green rail cuts will impact on their families, work and travel plans".

Cole-Hamilton said: "The promise to passengers of a stronger, greener rail network is in tatters just 47 days after the SNP/Green government took it over.
"For all their talk about the climate emergency and the importance of public transport, they have just made it much harder to leave the car at home.
"Green voters especially will be dismayed by this betrayal."
STV News is now on WhatsApp
Get all the latest news from around the country
Follow STV News
Follow STV News on WhatsApp
Scan the QR code on your mobile device for all the latest news from around the country