Spray painted stencils warning people not to "get too close" with an image of a snapping crocodile appearing outside schools and nurseries have been met with surprise.
The white markings were noticed on Monday after nursery staff found they had appeared without any idea who had painted them.
The signs are part of a Scottish Government initiative in collaboration with Parent Club Scotland to highlight Covid-19 physical distancing at places with the highest footfall.
Parent Club Scotland said that the intention was to support the "brilliant job" being done in early learning and childcare settings, but the surprise appearance of the reptilian stencils has been met by confusion and anger by some.
The snapping crocodile symbols have appeared in Greater Glasgow, Lanarkshire and other locations, with some pointing out that they were spray painted onto private property without permission.
North and South Lanarkshire councils were uninvolved in the appearance of the markings in their areas.
But South Lanarkshire Council head of roads and transportation Gordon Mackay said: "South Lanarkshire Council is supportive of this Scottish Government public health initiative which is part of the national Covid-19 response."
Carol Watson, owner of Little Hands Nursery in Cumbernauld, said: "One of my staff members came to the office and asked if I was aware that a crocodile logo had been spray painted onto our car park.
"Honestly, I thought she was kidding. When I saw it I was angry that someone had done this without my knowledge or consent and had came onto our property without identifying themselves given we look after young children.
"I was also concerned about the logo itself as it is not in keeping with our ethos of a welcoming and caring environment and a crocodile does not make me think of comfort and safety.
"I am further concerned as to the amount of monies spent on this without consultation. I'm sure this money could have been put to use in far better ways."
The government has since apologised for any of the crocodile markings that have been placed on private land and said it would arrange for them to be removed as soon as possible if requested.
Parent Club Scotland said the markings are water based and can be washed off easily using soap and will not remain for longer than four weeks.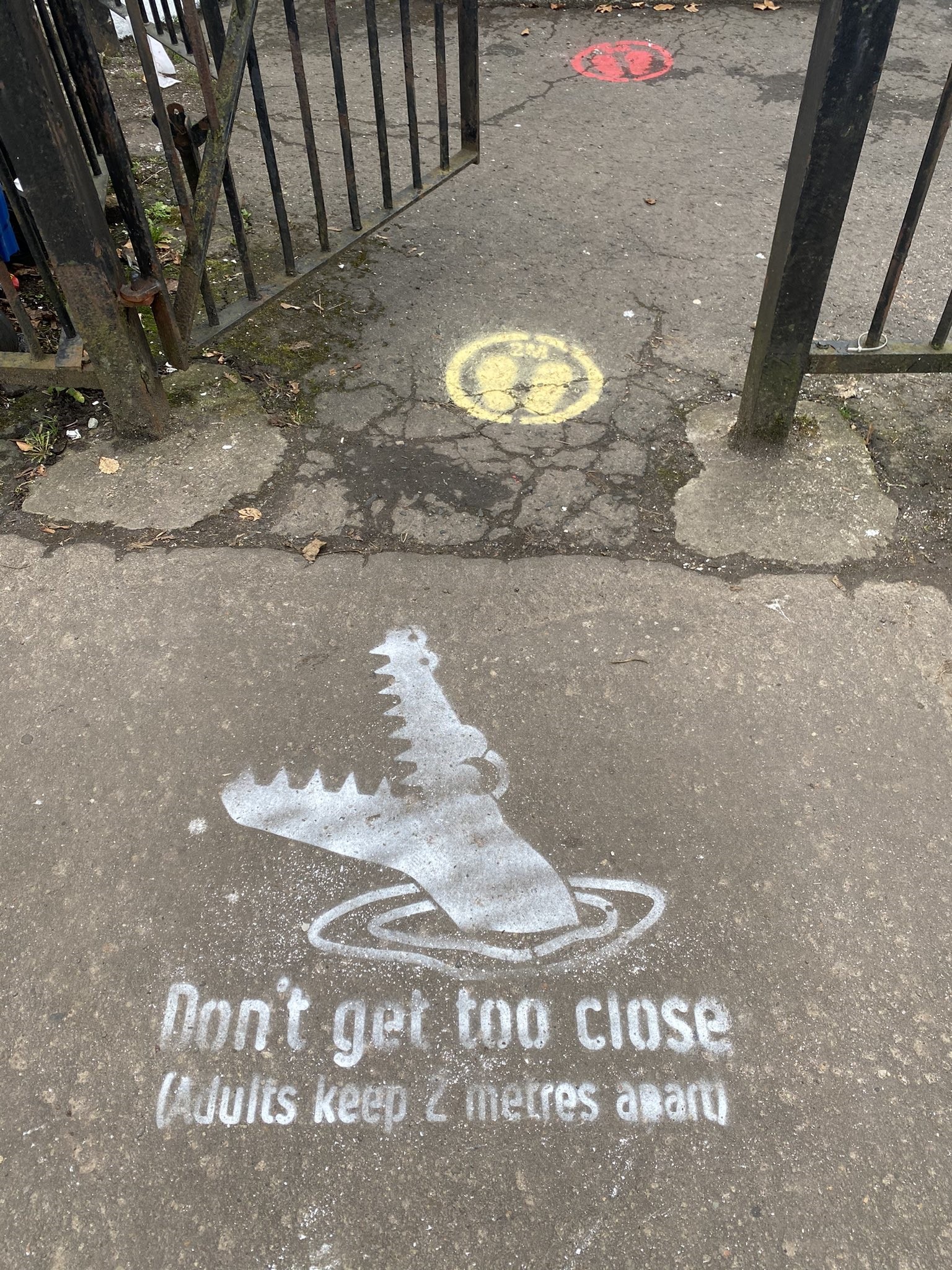 One nursery owner said she felt it was a waste of resources given she already had markings on the ground at the entrance to her property.
Michelle Bonner, who runs My Little Fishes nursery in Old Drumchapel, said: "If it was authorised by [the Scottish Government] then seems a total waste of money and definitely not an essential job.
"They would have been better giving early years private settings a better grant for having to close as we have all lost out on a huge amount of private income."
A Scottish Government spokesperson said: "These temporary stencils are part of a wide campaign to highlight the safety measures that we are taking. They were placed on pavements outside some of the nurseries and schools with the highest footfall, to support the safe return to schools and nurseries.
"We know that early learning and childcare settings are doing a brilliant job to follow the guidance within the settings, and this is part of a wider package designed to support them with that.
"We apologise for any inadvertent error where a temporary stencil has been placed on private land. Where this has happened, and where the property owner requests, we will arrange for these to be removed as soon as possible."