The cost-of-living crisis is continuing to deepen with inflation now at its highest rate since the early 1980s.
Households across the country are having to make difficult decisions with UK inflation rising to 9.1% in May and expected to hit 11% by the autumn.
STV News looks at what that means for your day-to-day spending and examines the factors driving the increase.
What is inflation and what items are seeing the biggest price rises?
Inflation is the increase in prices of goods and services over time. For instance, if a loaf of bread costs £1, then rises by 5p the following year, the annual inflation rate is 5%.
Food has increased by a massive 8.7%, with bread, cereals, meat, oil and fats seeing the largest increases.
From April 2021 to April 2022, the price of pasta had increased by 50%, crisps by 17%, bread and minced beef by 16% and rice by 15%.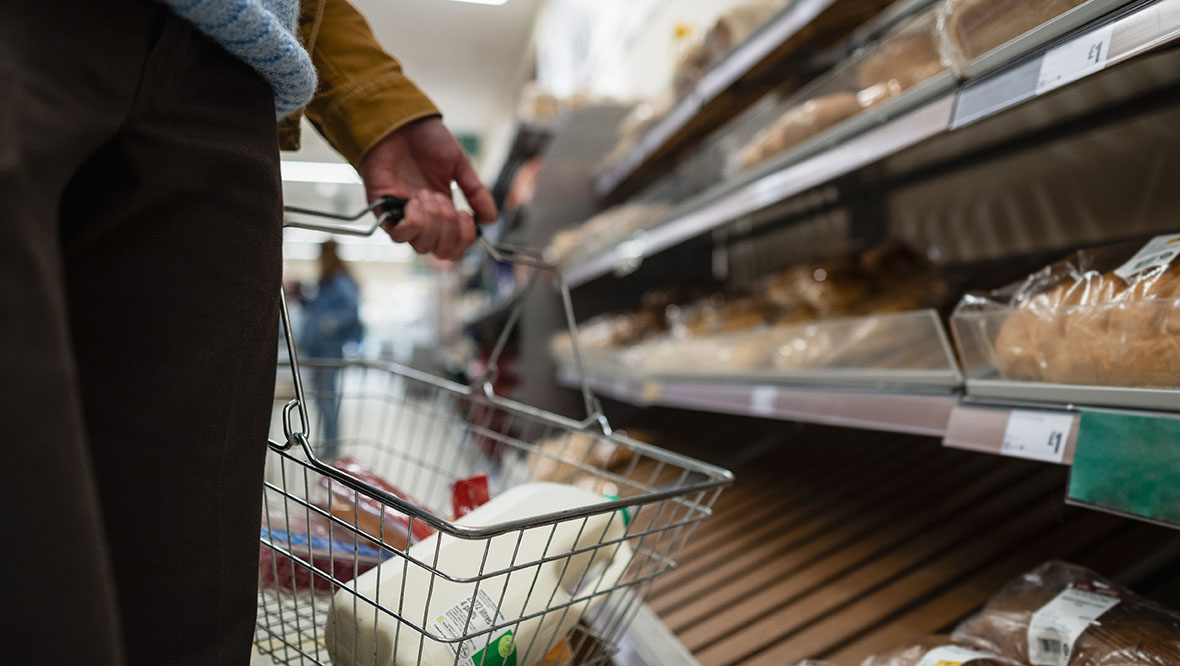 Potatoes had previously avoided some of the high inflation figures that other food items saw in recent months. However, in May they started catching up as the rate of inflation for potatoes more than doubled to 5.1%.
Pizza and quiche prices had risen by 3.1% in the year to April; a month later this had increased to 12.3%.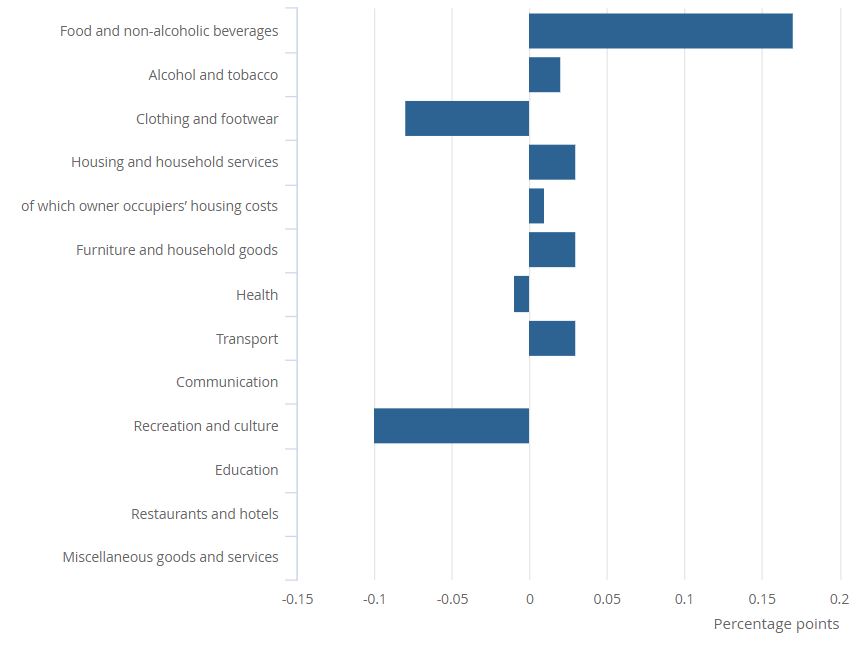 Meanwhile, the cost of filling up a family car with petrol last month was around 30.4% higher than a year ago, the Office for National Statistics (ONS) revealed on Wednesday.
The cost of using a gas-powered boiler has risen by 95.5%, and the prices of liquid fuel, electricity and diesel have also soared.
Fuel prices also shot up after Russia invaded Ukraine. In May, petrol and diesel prices jumped by 32.8% from the previous year, which is the highest rate since records began in 1989.
Furthermore, the UK's energy price cap increased by 54% in April and 22 million customers saw their payments skyrocket.
How much are consumer habits changing?
Britons are set to see their annual grocery bills jump by £380 this year as food price inflation hits a fresh 13-year high, according to new figures.
The latest data from Kantar has revealed that grocery price inflation jumped to 8.3% over the four weeks to June 12 – up from 7% in May and its highest level since April 2009.
The soaring increases in the cost of food and groceries means the average annual shopping bill is now predicted to increase by £380 to £4,960 in 2022 – up by more than another £100 since April alone, Kantar said.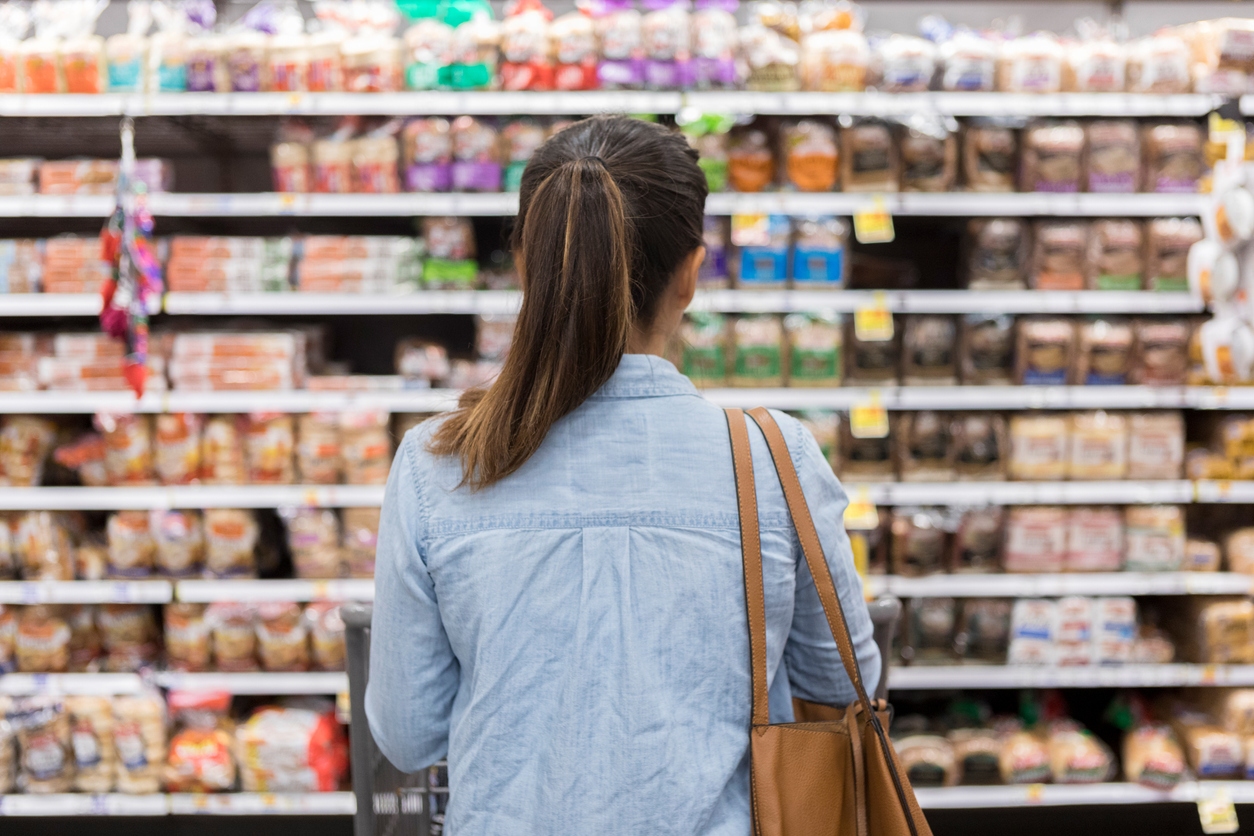 Shoppers are increasingly swapping branded items for cheaper own-label products as they look to manage their budgets, according to the research.
It found that sales of branded products fell by 1% in the 12 weeks to June 12, while own-label sales rose by 2.9% and value own-label lines surged by 12%.
Are things going to get worse?
Inflation is expected to rise even higher later this year when the next energy price cap review takes effect in October.
The Bank of England predicts inflation could peak at an eye-watering 11% in the autumn, which it has cautioned will leave the UK on the brink of recession.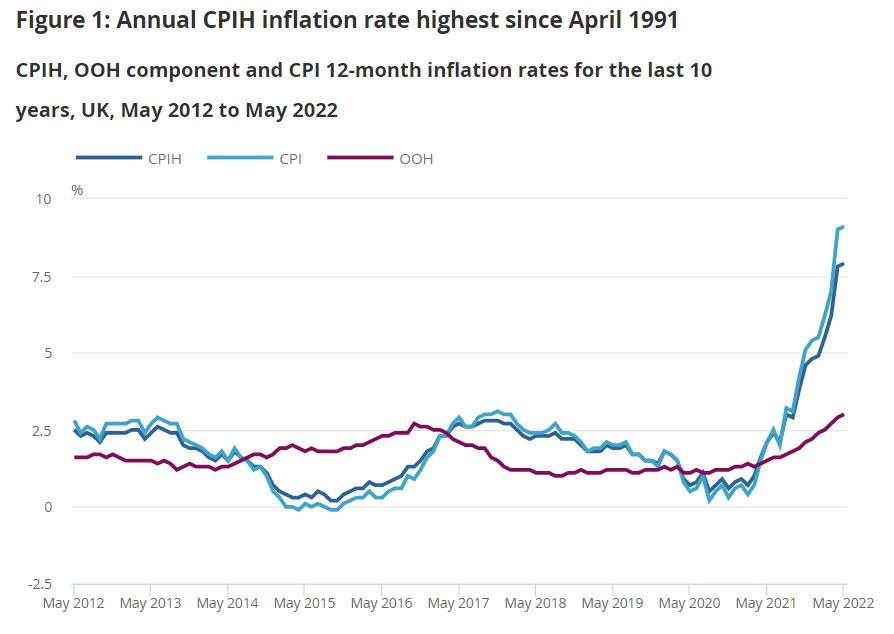 In an attempt to stem the pace of surging prices, the Bank of England recently increased UK interest rates from 1% to 1.25%.
The aim of this is to increase the cost of borrowing and encourage people to borrow and spend less, and save more.
Impact of war in Ukraine
Ukraine is one of the biggest grain producers in the world and experts are worried about what the war could do to global prices and availability.
The price of flour and other cereals in the UK had been decreasing before the war started, but has been ticking up since.
Between February and April, price rises increased from 2.3% to 9.3%. But in May prices leaped and are now 16.3% higher than a year ago.
Price rises of olive oil also accelerated from 9.5% in April to 18% in May, the ONS said.
But the price of energy is not just feeding through to household energy bills. Gas, oil and other fossil fuels are needed to make and transport many of the goods that households buy every month.
When the price of fuel goes up, so does the price of the end product.
Energy prices have spiked over the last year. To begin with they started rising as the global economy started to reopen and demand for energy rose after the pandemic.
The prices later worsened, especially in Europe, when Russia – one of the world's largest energy producers – launched a full-scale invasion of Ukraine in February.
Is any help forthcoming?
Eight million homes across the country will start to see cost-of-living payments hit their bank accounts on July 14 as part of a package to help people deal with soaring energy prices.
From that date, a first instalment of £326 will start to be paid out to low-income households on benefits, the Department for Work and Pensions has announced.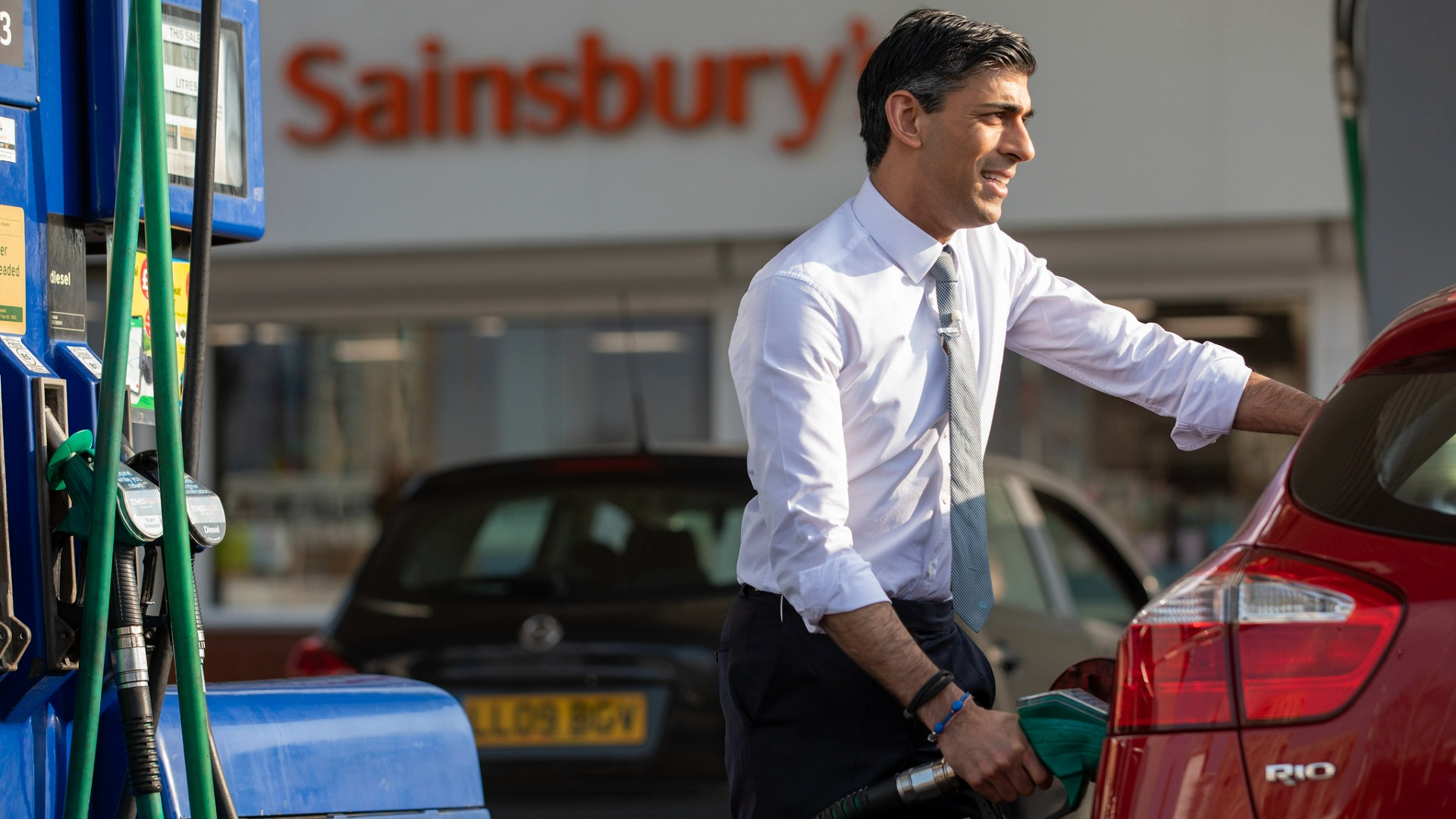 The second portion of the one-off £650 payment will follow in the autumn, as part of support worth £1,200 that vulnerable households will receive this year, which also includes a previously announced £150 council tax rebate.
Chancellor Rishi Sunak announced the emergency cost-of-living support package last month, saying £5bn of it would be paid for by the levy on the profits of oil and gas giants and around £10bn will be covered by extra borrowing.
Asked on Wednesday if the Bank of England had lost control of inflation, which is meant to be kept at a target of 2%, Sunak said: "I want people to be reassured that we have all the tools we need and the determination to reduce inflation and to bring it back down.
"Firstly, the Bank of England will act forcefully to combat inflation.
"Secondly, the government will be responsible with borrowing and debt so we don't make the situation worse and drive up people's mortgage rates any more than they are going to go up.
"Lastly, we are improving the productivity of our economy, improving the supply of energy we have and moving people off welfare and into work."
Are wages keeping up?
Average pay increases aren't keeping pace with inflation and trade unions say not enough is being done to help workers.
Trades Union Congress General Secretary Frances O'Grady believes the UK Government should defend wages and give decent pay rises to those employed in the public sector.
But Downing Street has argued it would be "reckless" to raise public sector pay in line with inflation.
Prime Minister Boris Johnson's official spokesman stressed the UK Government does want to reward workers in the public sector with a pay rise, but warned against "chasing inflation", which he said could lead to people's take-home wages counting for less.