There is an "extreme risk" of wildfires across the country posing harm to people and animals, the fire service has warned.
The warning is in place across west, north-east, east and central Scotland until Saturday, April 17.
The Scottish Fire and Rescue Service (SFRS) said the fires can burn for days and devastate vast areas threatening lives and livelihoods.
Local senior officer Bruce Farquharson said: "We are asking the public to exercise extreme caution and think twice before using anything involving a naked flame.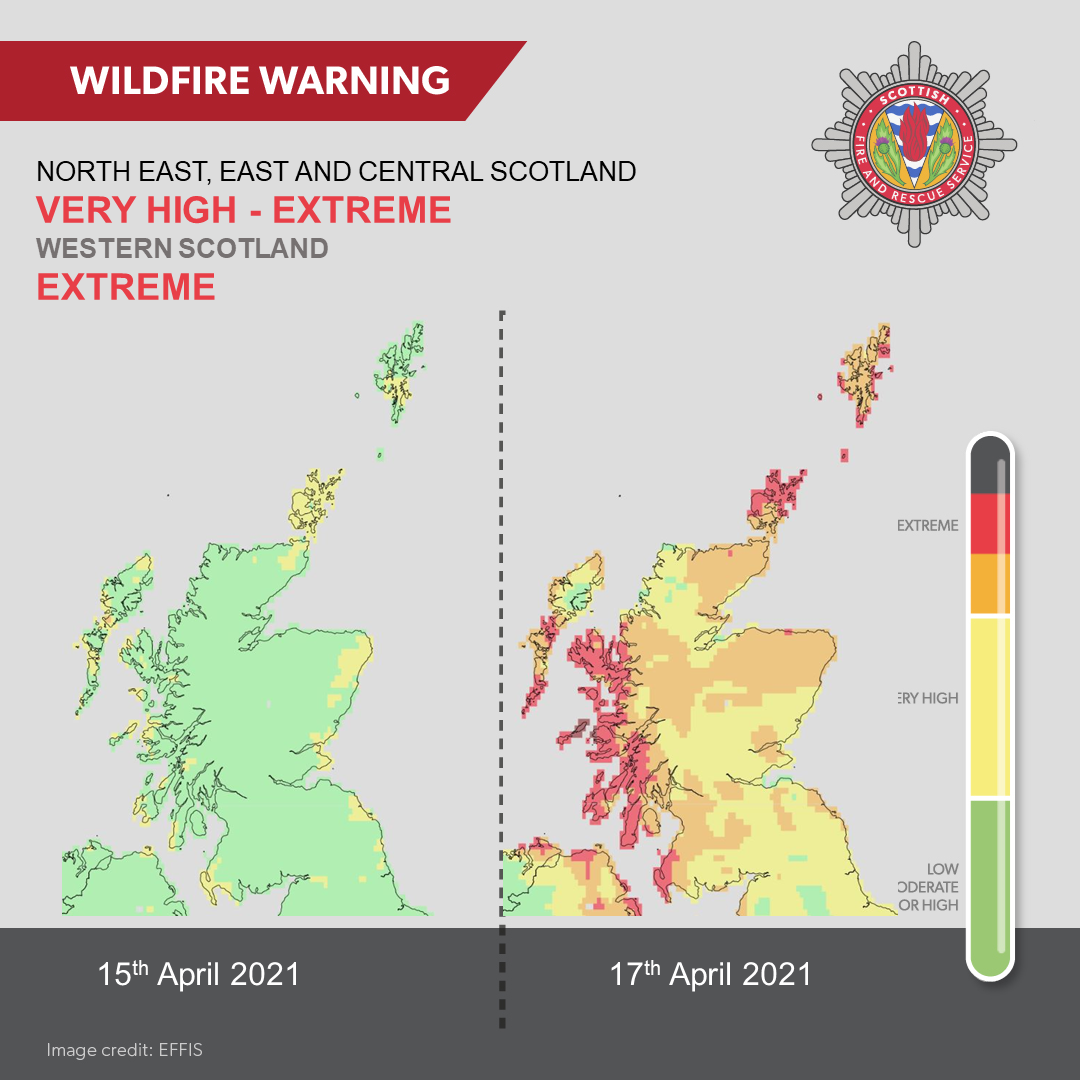 "Livestock, farmland, wildlife, protected woodland and sites of special scientific interest can all be devastated by these fires – as can the lives of people living and working in rural communities."
The warning comes after police forces responded to more than ten fires started in one afternoon on the Easter weekend.
Emergency services have had to deal with several wildfires already this year, and warnings of extreme risk in February were followed by blazes across the Western Isles.
Earlier this month a major road in the Highlands has to be closed as six engines tackled a 200m long wildfire.
In February, a large fire spread uncontrollably across a hillside by a Highland village.
Many wildfires are avoidable and the result of people discarding cigarettes, littering or lighting campfires or barbecues in the wrong places.
Forestry and Land Scotland said it continues to welcome locals to forests but urged visitors to follow guidelines.
Chief executive Simon Hodgson said: "Right now everyone should take extra care and be aware of the heightened fire risk and not carry out any activity that might risk starting a wildfire.
"Helping to prevent wildfires also prevents undue demands being made on our blue light services – and could also save lives."
Senior officer Farquharson said: "Human behaviour can significantly lower the chance of a wildfire starting, so it is crucial that people act safely and responsibly in rural environments, and always follow the Scottish Outdoor Access Code."