Ukrainian women and children who fled here a year ago have had to make huge adjustments – settling into school, trying to find work, and making new friendships.
All this while facing an unknown future, and worrying about loved ones back home.
They've been sharing their reflections on life in Scotland with STV News.
Tetiana: 'I've created a healing space'
The day after Russia invaded, Tetiana Hurn and her son Nikolai drove across Europe in a desperate search for safety.
At first, they lived with a host family in North Berwick, but now they now have their own flat in Musselburgh.
"This really helps," she said. "I've created a space, it heals me, it helps me, I've finally got a little space where I can paint. My son, he goes to swimming pool, judo, karate, drama, football, all the opportunities here."
Tetiana is working on community projects, including an art therapy course for other refugees.
She hopes to paint a mural in North Berwick later in the year.
But despite making the most of life here, here parents and sister – still in Ukraine – are never far from her mind.
Mariia: 'Bonnie Scotland is incredible'
Mariia Vikharieva arrived in Scotland last summer, finding refuge in rural Speyside.
Her husband is still in Kyiv, volunteering with the military. His brother, Serhiy Matveev, was killed on Christmas Day.
"It was a shock for all of us, of course. He was 33, quite young, and we loved him, all our family. It's a big loss for us," said Mariia.
Mariia is working in a shortbread factory in Aberlour, and living with a host nearby.
"It's a very nice community. I will not say [I am] 'happy' because war is going on, but Scotland is fabulous. Bonnie Scotland is incredible."
Adjusting to education
While there are refugees across Scotland, Leith has one of the largest populations – where hundreds are still living on the MS Victoria cruise ship.
Of nearby Victoria Primary's 45 primary one pupils, 12 are Ukrainian.
Head teacher Laura Thomson said: "I take my hat off to the families because the parents rebranded it as an exciting adventure for them.
"The teachers have been absolutely brilliant and very creative about how they're teaching, apps are wonderful, Google Translate is wonderful."
Along the road at Trinity Academy, 14-year-old Vovo is enjoying school.
He also lives on the cruise ship, with his mum Natalia and sister Ye-va. His dad remains in Kyiv.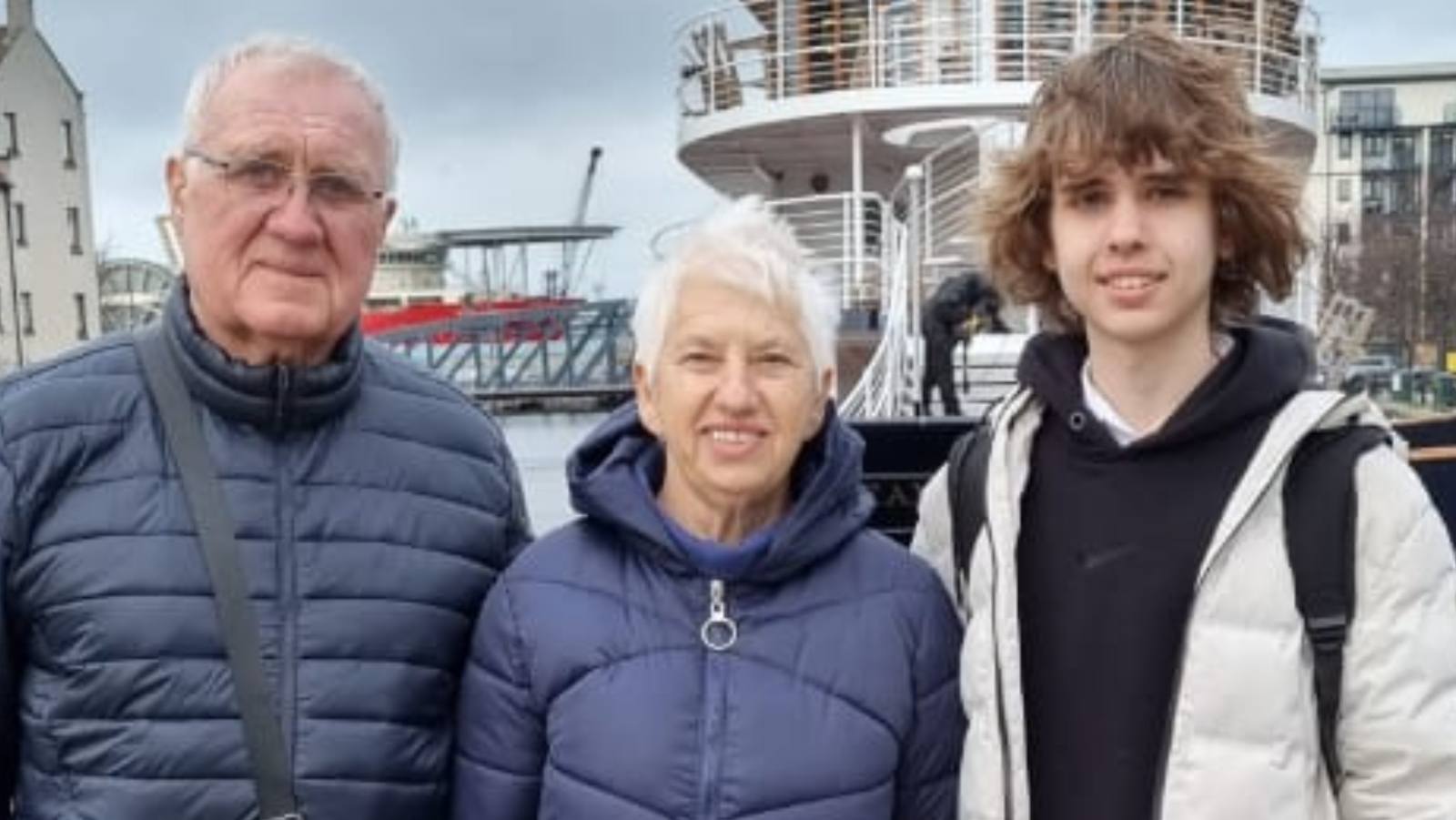 Alongside his studies in Edinburgh, Vovo has been taking part in the Stay with Ukraine scheme, which connects him virtually with teachers back home.
The scheme has been supported by charity Theirworld.
Vovo told STV News: "I want to say thank you [to] the school. I'm playing tennis – I'm going to play tournament in London, junior Wimbledon, in the summer."
His mum Nataliia said the welcome she has had here is overwhelming.
"In Ukraine we had a beautiful life. My husband worked in government, I had a company, the children had a good school.
"In one day, we lost everything. And here, we have the chance to start everything afresh."
Sarah Brown, chair of Theirworld, said: "This brutal war has torn children away from everything that gives them safety and security: their family, friends, teachers and school.
"Arriving in a foreign country – often unable to speak the language – children can be traumatised, bewildered and afraid.
"In times of crisis, how our society treats refugees reflects who we are. I'm delighted that the people of Edinburgh shown such compassion and kindness to refugees like Volodymyr and his family who have suffered so much since the start of the conflict."
STV News is now on WhatsApp
Get all the latest news from around the country
Follow STV News
Follow STV News on WhatsApp
Scan the QR code on your mobile device for all the latest news from around the country