The number of pupils vaping at high schools has increased substantially over the last four years, an STV News investigation suggests.
Numerous council areas have reported a large rise in the number of vape-related products being confiscated from schoolchildren.
The law currently restricts sales to over 18s, but having not recorded a single incident in 2018/19, Fife schools confiscated 121 vapes in 2021/22.
It was a similar picture in the city of Dundee, where none were confiscated in 2018/19, compared to 83 in 2021/22.
Large rises were also reported at schools in South Ayrshire, Clackmannanshire, Inverclyde, East Dunbartonshire and West Dunbartonshire.
Calls have now been made for a crackdown on the advertising of vape products in a bid to make them less appealing to young people.
Last month, a major report by Action on Smoking and Health (ASH) said many youngsters were attracted to the devices because of the way they are marketed in shops and on social media sites such as TikTok and Instagram.
Sheila Duffy, chief executive of ASH Scotland, described STV's findings as "alarming".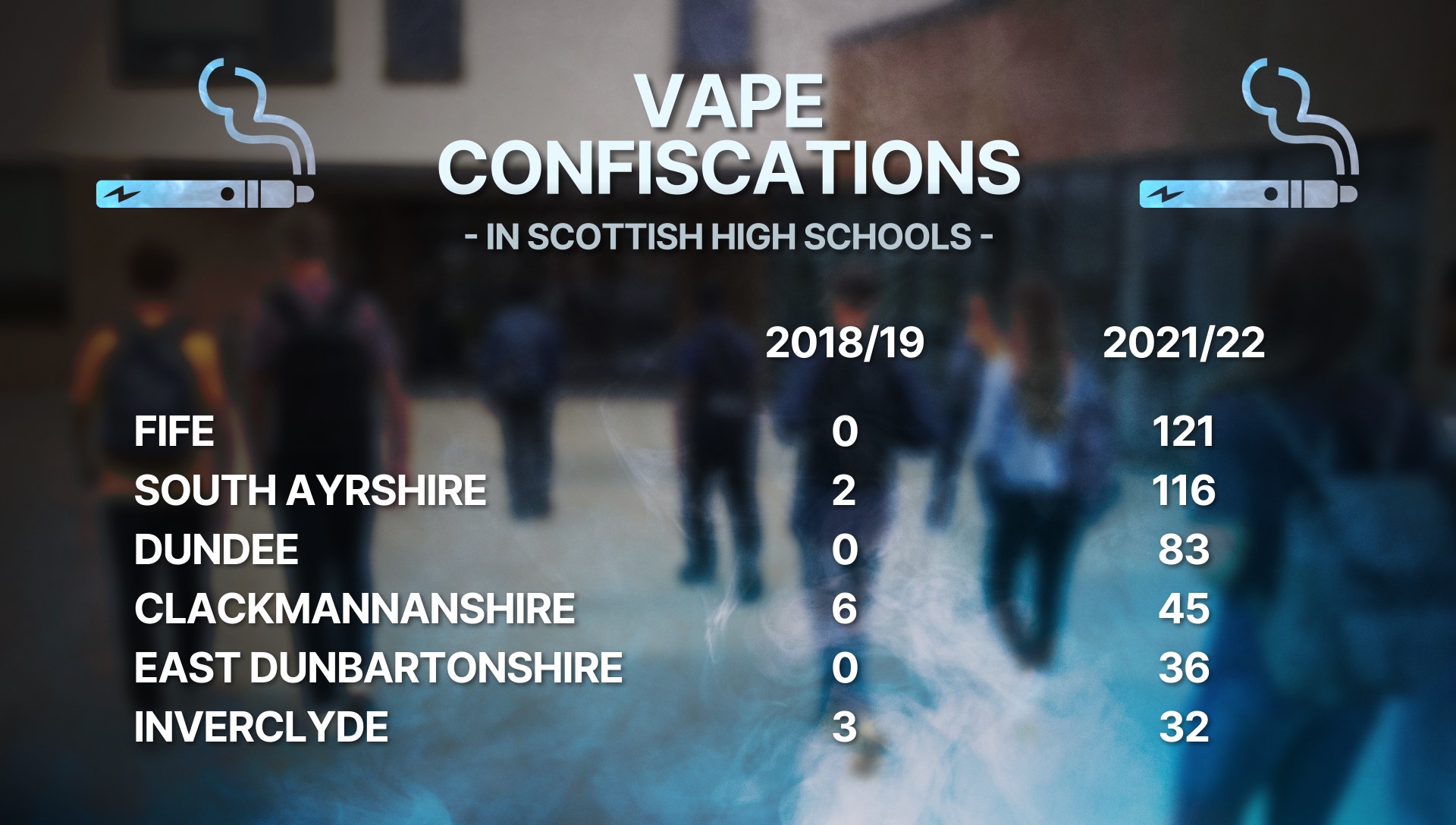 She said: "We are particularly concerned that vape sweet flavours, vibrant colouring and packaging are attractive to young people, and their use is often influenced by advertising portraying vaping products in a positive light, which is noticed more by youths than adults.
"The influence of vape promotions on social media platforms accessed by teenagers is also troubling. Many vapes include toxic e-liquids that have not been safety tested for inhalation and could damage health over time – this is especially worrying for children and young people as their lungs are still growing.
"Research also indicates that young people experimenting with vapes are at a higher risk of using tobacco products, which is a prospect we should all want our children to avoid."
STV News submitted freedom of information (FOI) requests to all 32 local authorities in Scotland. Some didn't respond and others said they didn't collate that particular data.
But the councils that did send responses reported significant increases in the number of vape products confiscated compared to four years ago.
ASH Scotland wants the advertising and promotion of recreational vaping products to be restricted and action taken by online platforms to clamp down on social media influencers promoting vapes.
Duffy said: "It is also vital that trading standards teams are resourced to issue penalties to retailers found selling vaping products to under 18s."
What are vapes?
An e-cigarette is a device that allows you to inhale nicotine in a vapour rather than smoke.
E-cigarettes do not burn tobacco and do not produce tar or carbon monoxide, two of the most damaging elements in tobacco smoke.
They work by heating a liquid that typically contains nicotine, propylene glycol and/or vegetable glycerine, and flavourings.
They're not completely risk free, but they carry a small fraction of the risk of cigarettes. The liquid and vapour contain some potentially harmful chemicals also found in cigarette smoke, but at much lower levels.
Why do youngsters like vaping?
The popularity of e-cigarettes has boomed in the last ten years, as it is seen by many as a healthier alternative to traditional cigarettes.
Student Caitlan O'Donnell used to only vape when she was out socialising with friends, but has got into the habit of doing it more regularly – partly because she is normally with other people who vape.
The 18-year-old told STV News: "I bought my first vape when I was 17 but I didn't regularly start doing it until February this year. Most of my friends vape – only a handful don't. I have a few friends who will only vape when they are drinking but won't do it in everyday life.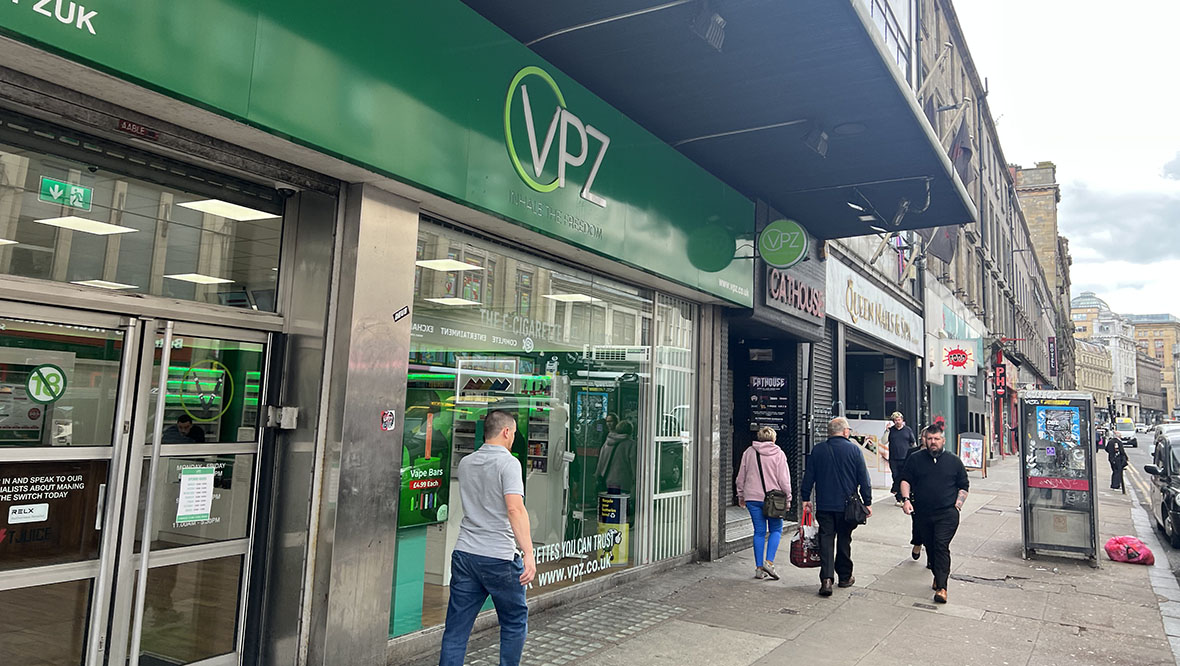 "Vapes are sold in almost all corner shops so it's really easy to buy them and quite a few places do deals as well, so you end up buying two instead of one. I would say now that they have become so global and popular with the younger generation, they are much more easier to buy."
The social aspect of vaping is also familiar for 17-year-old student Reuben McGoldrick, who started using the products when he was aged 15 and in fifth year of high school.
"Most, if not every single one, of my friends vape," he said. "I like to join in with everyone, especially at social events and as a result of that I now vape more occasionally.
"Vapes are extremely accessible and by far a lot easier to purchase than ever before as they're in most shops now and advertised so much more."
'I managed to quit'
Musician Adam Dundas managed to give up vaping after adopting the habit as a teenager.
"I started because people around me started and I thought it would be fun to try," the 20-year-old told STV News.
"I do feel like it impacts health way too much. I was doing lots of sports at the time and I felt like it was starting to affect my breathing and stamina during training.
"I started to feel it being sore on my throat, so I didn't see any good in doing it. That's when I just stopped using it. I was never addicted to it, never felt any need to keep doing it, even when my nicotine content was at its highest, I just didn't care about it in any way."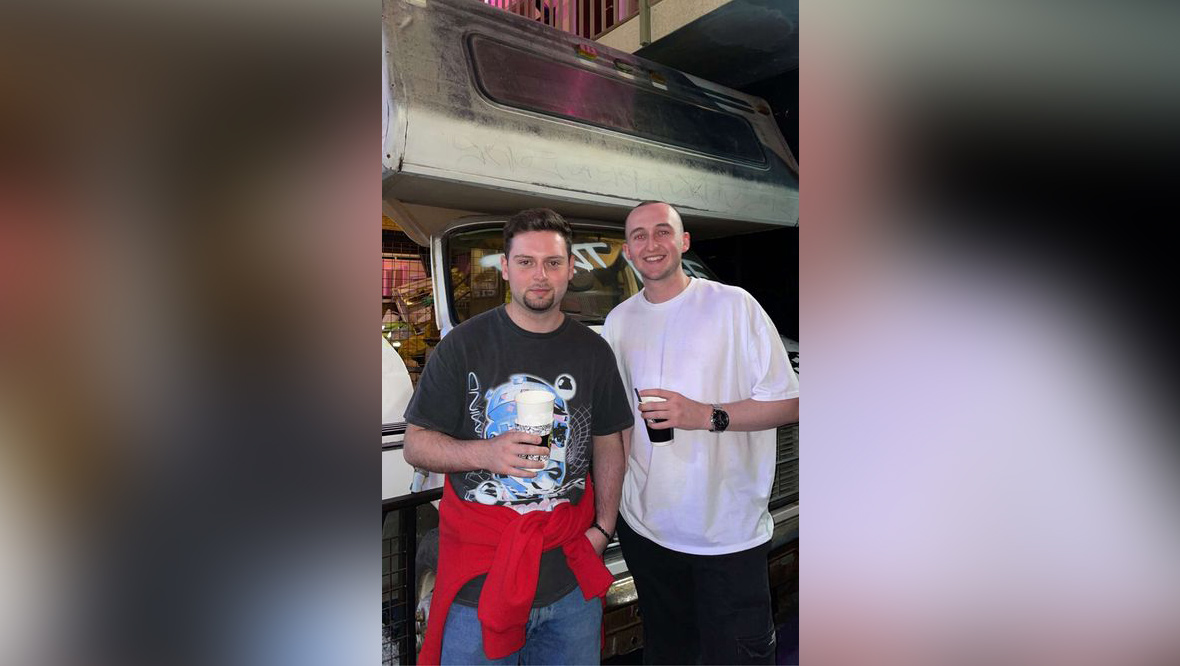 Adam, who vaped when he was around 15 and 16, said he decided to quit because he "couldn't be bothered with it" as vaping is an expensive habit and he was only being paid £70 a week in his job.
"It wasn't hard at all giving it up, I don't understand how people find it hard as I never thought about it or craved it," he said. "I'm unsure why they vape instead of using cigarettes. I think because they're more cost-effective and easier to carry.
"You don't need a lighter or anything and it's very compact. In addition, they are so easy to acquire. When I bought mine I didn't even go to a shop, I ordered it off of Amazon and it came the next day.
"There was no restriction, I could buy whatever I needed for it. The only thing that was semi-difficult to get was the nicotine liquid itself as Amazon doesn't sell it. That was very easy to get at any vape shop. They don't check ID properly so a cheap fake works."
What did the ASH report discover?
Some 2,613 children took part in the survey, carried out by YouGov in March and partly funded by the UK health department, which informed ASH's report.
It revealed that, among 11 to 17-year-olds who have tried vaping, a greater proportion have never smoked (40%) than smoked (36%) in 2022 for the first time.
Some 40% have never smoked a real cigarette but have tried an e-cigarette – a rise from 30% in 2020.
Dr Caroline Johnson, a qualified GP and MP for Sleaford and North Hykeham, earlier this month raised the issue of a growing number of children using vaping devices.
She claimed the "bright colours" and "popular flavours" appeal to youngsters, despite the devices being illegal for them to use.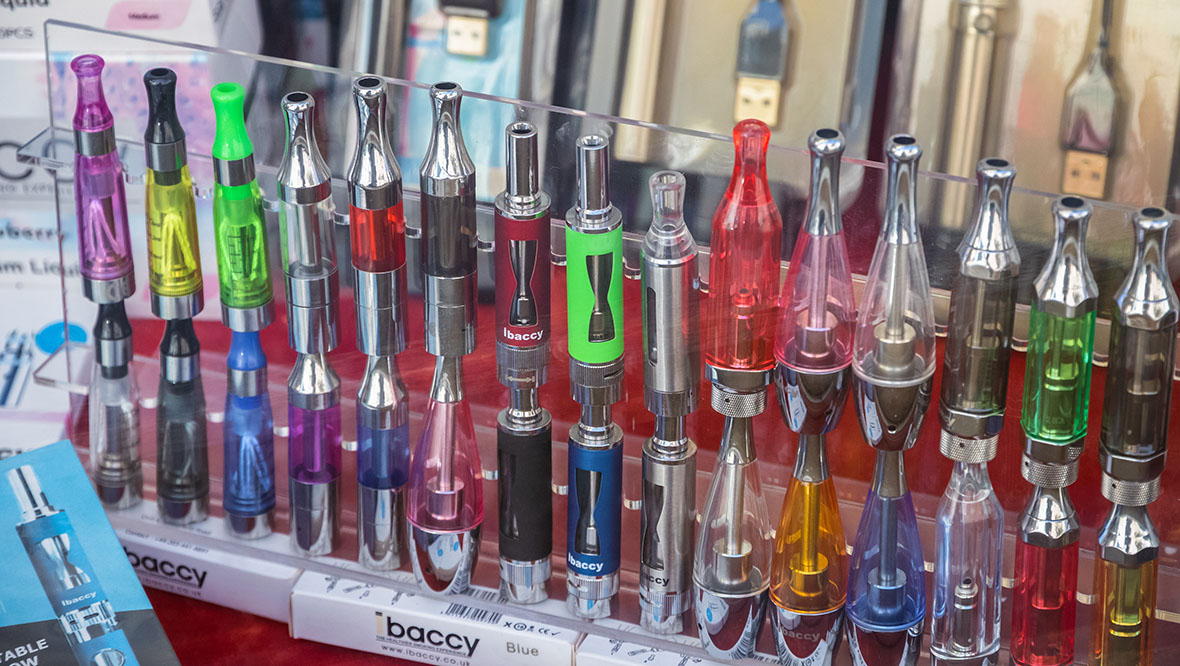 Dr Johnson said: "Recent reports show that the number of children using vaping devices has doubled in the last two years.
"These devices and their bright colours and popular flavours are appealing to children. They are illegal for children to use, but more than half of children who use them say they are buying them in shops, and they contain nicotine, volatile organic compounds and chemical flavourings, which are very harmful to children."
Ann McNeill, professor of tobacco addiction at King's College London and author of a forthcoming review of e-cigarette evidence for the UK Government, said: "The rise in vaping is concerning and we need to understand what lies behind this such as packaging, accessibility, taste or addictiveness.
"Our response must be proportionate given smoking is a much bigger risk to the health of young people and good evidence that e-cigarettes can be an effective stop smoking aid.
"Government should ensure existing laws are enforced and identify where regulations could be extended.
"However, this must be done alongside securing a much quicker decline in young people taking up smoking and helping more smokers to stop."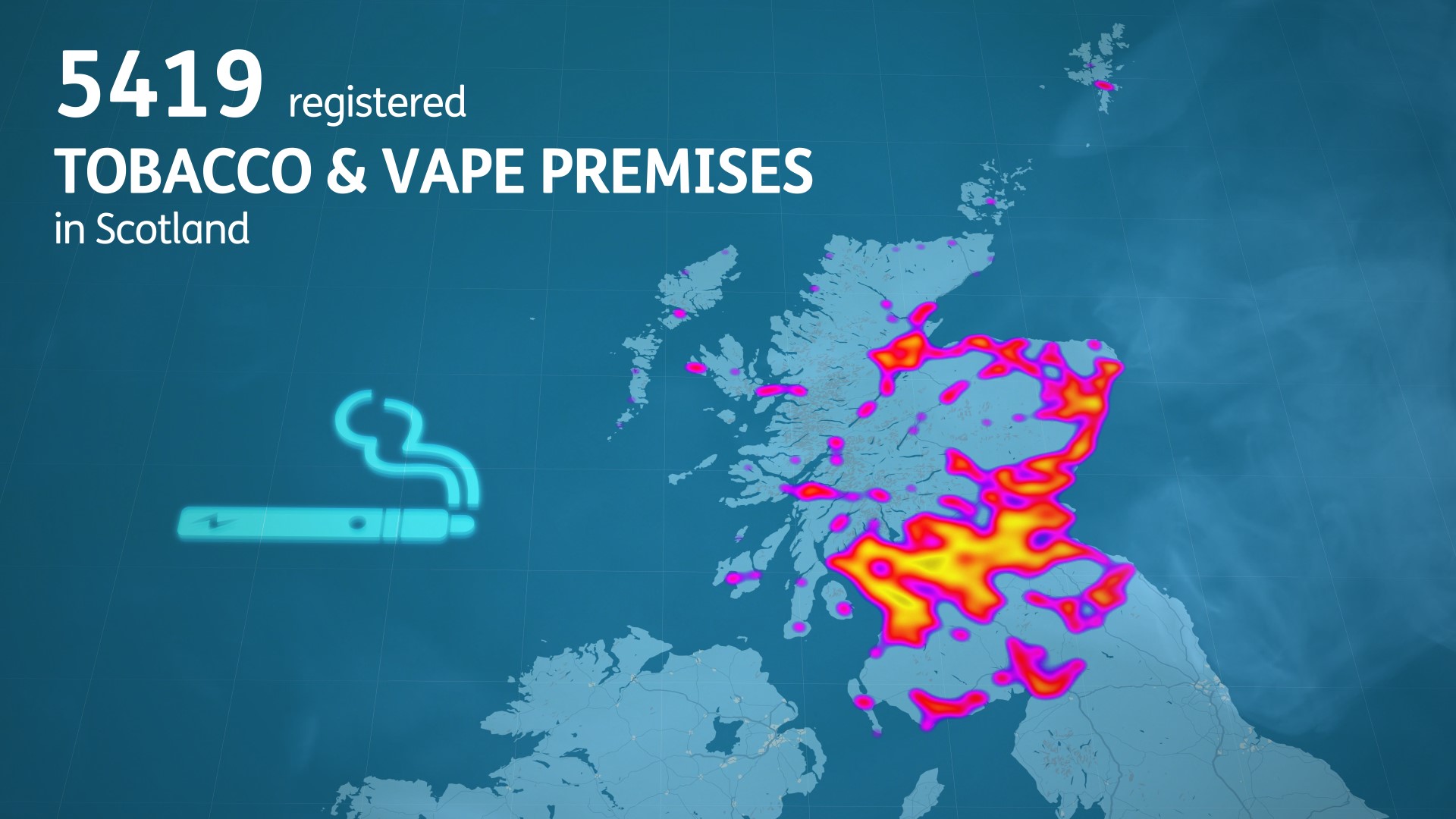 Earlier this year, the Chartered Trading Standards Institute carried out 442 test purchases in shops, resulting in 145 illegal sales to under-18s.
John Herriman, chief executive of the Chartered Trading Standards Institute, said more cash was needed, but added: "Trading Standards teams are doing their best to protect young people from underage sales of both vapes and tobacco."
How influential is social media?
The report published by ASH said many youngsters are being influenced by social media sites such as TikTok.
The study shows newer, disposable e-cigarettes are increasing in popularity. They cost around £5 each and come in a wide range of fruity flavours.
Some 52% of youngsters who vaped said disposable e-cigarettes were their favoured product – a dramatic rise on the 7% who said the same thing in 2020.
Furthermore, over the last year, a new generation of disposable vapes known as 'puff bars' – which contain nicotine – have come on to the market.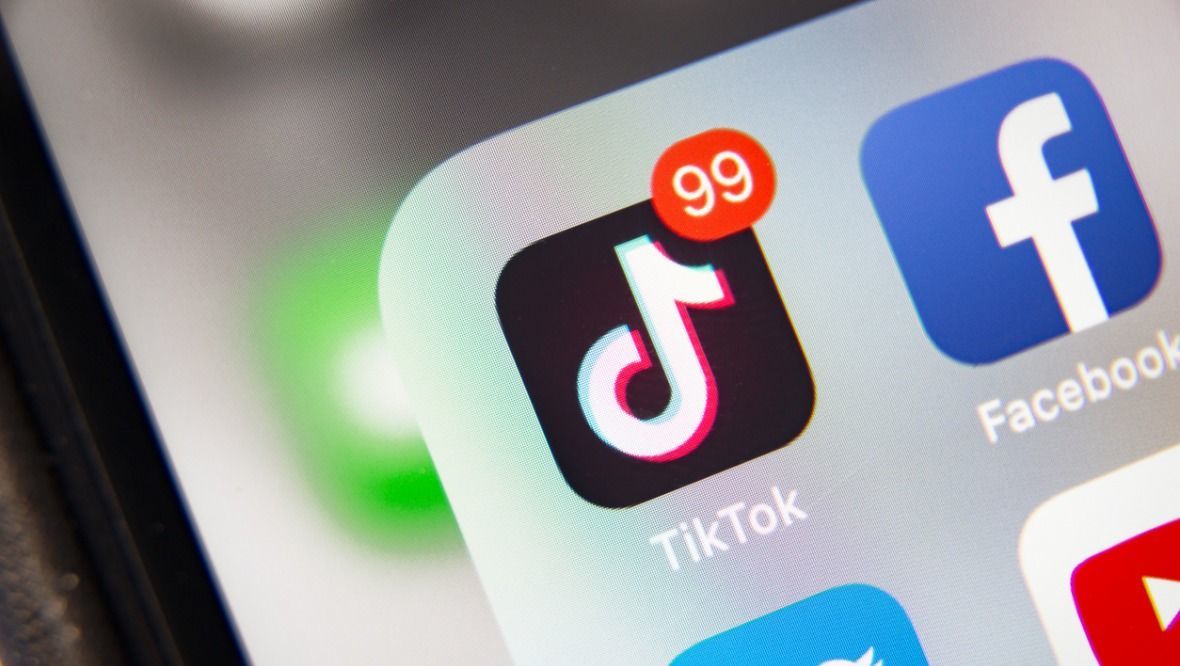 Gillian Golden, chief executive of the Independent British Vape Trade Association (IBVTA), said: "Social media platforms supposedly have policies to prevent promotion of vapes to children, but they do little to enforce them.
"We monitor and report infringements to social media platforms, but they rarely take any action, with TikTok being the worst offender.
"Businesses that illegally sell products to under 18s are also more likely to break the law by selling products that do not comply with UK regulations.
"Most retailers and importers don't sell to children and want tougher enforcement to ensure that others don't either."
The most popular brands are disposable vapes such as Elf Bar and Geek Bar, according to the ASH report, with only 32% of young vapers saying they use a different brand.
While it is illegal to sell vapes to under 18s, social media carries posts from teenagers showing the new vapes and discussing the flavours, which include pink lemonade, strawberry banana and mango.
What are social media platforms saying?
A spokeswoman for TikTok said: "At TikTok, nothing is more important than keeping our community safe, especially our youngest users.
"Regardless of a user's age, we strictly prohibit content that depicts or promotes the sale, trade or offer of tobacco, including vaping products, and we will remove any content found to be violating our community guidelines.
"We also do not recommend content that shows or promotes tobacco products in TikTok users' feeds."
Instagram declined to comment.
What is the Scottish Government's stance?
The Scottish Government launched a consultation on whether it should bring in new rules to limit the way vape products can be advertised and promoted.
It aims to reduce smoking rates in Scotland to five per cent of the population or less by 2034.
A Scottish Government spokesperson said: "We are concerned by the increasing number of young people gaining access to vape products as indicated by this investigation.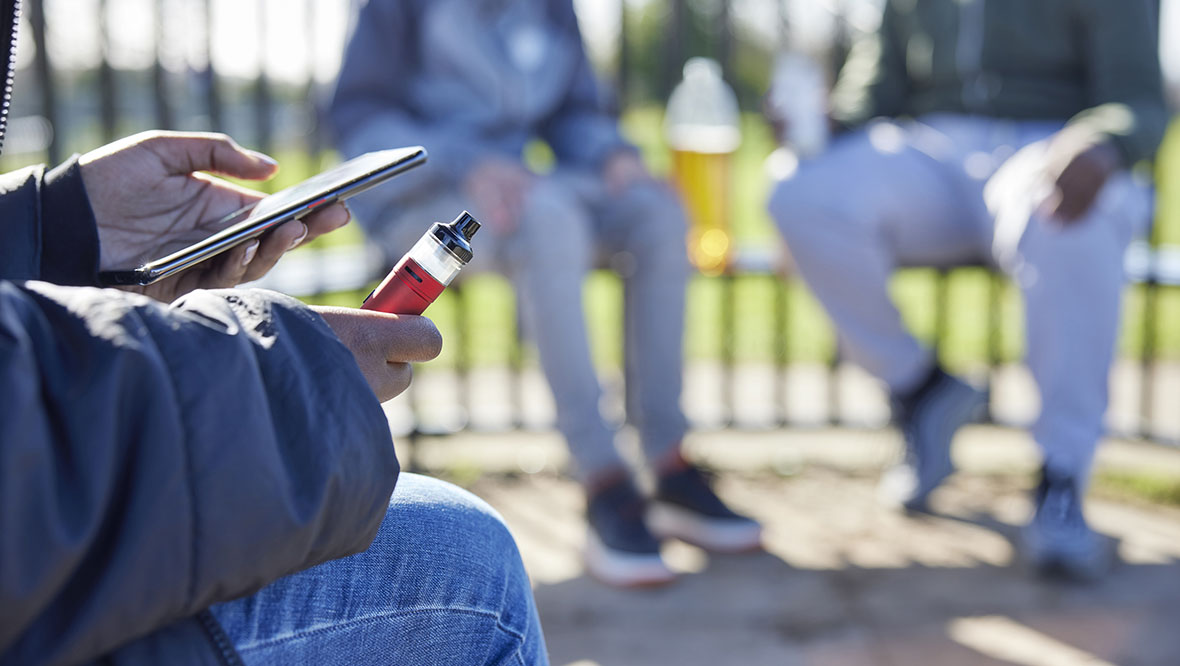 "These products are age restricted. It is illegal to sell vapes to anyone under 18 or to buy them on behalf of people under 18. Stores are legally required to operate age verification procedures and ensure all staff know how to operate them.
"Vape products can be a useful tool for those trying to quit tobacco use. They should not be used as a lifestyle accessory. Stores selling these products to under 18s should be reported to local authority trading standards officers.
"An independent report on our consultation on potentially introducing further restrictions on advertising and promoting vaping products will be published this summer. This will be used to inform future policy decisions."
Who would be affected by any new legislation?
New regulations would affect wholesalers, large and small retailers, advertising and promotion companies, producers of vape products, organisations and businesses who have entered into or could enter into sponsorship agreements and designated officers of local authorities.
These proposals will have a direct impact on the 4,912 outlets currently registered to sell both tobacco and vape products and the 1,351 specialist vape retailers on the Register of Tobacco and Nicotine Vapour Product Retailers and would only apply to activities carried out in the course of a business.
Is vaping a better alternative to smoking?
Almost half of Scots think Holyrood should encourage cigarette smokers to switch to vapes, according to a poll released this week.
According to the new survey for the Scottish Grocers' Federation, 45% said they tended to agree or strongly agree that the Scottish Government should encourage tobacco smokers to switch to e-cigarettes.
Some 23% indicated they did not agree, 23% said they held no opinion either way, and 9% said they did not know.
The poll, by the Diffley Partnership, suggested e-cigarette users chose the products because they were cheaper and less harmful, and that 41% of respondents said it helped them move away from cigarettes.
But Linda Bauld, professor of public health at Edinburgh University and the Scottish Government's chief social policy adviser, told STV News the health risks of vaping are still unknown for people who have never smoked.
"E-cigarettes are far less harmful than tobacco," said Ms Bauld. "The problem we have is we don't know what the risks are to people who have never smoked and the main reason we don't know that is we don't have studies that have followed up 'never smokers' who regularly vape for a considerable period of time.
"But we can look at the constituents of e-cigarettes and recognise there will be health harms. There are likely to be harms from long-term vaping for respiratory health and then the other element, of course, is many of the products contain nicotine, which by itself is not harmful to health but it is addictive and it is what keeps people using vaping.
"So those two things together, we really do not want teenagers aged under 18, particularly those who have never smoked to be vaping."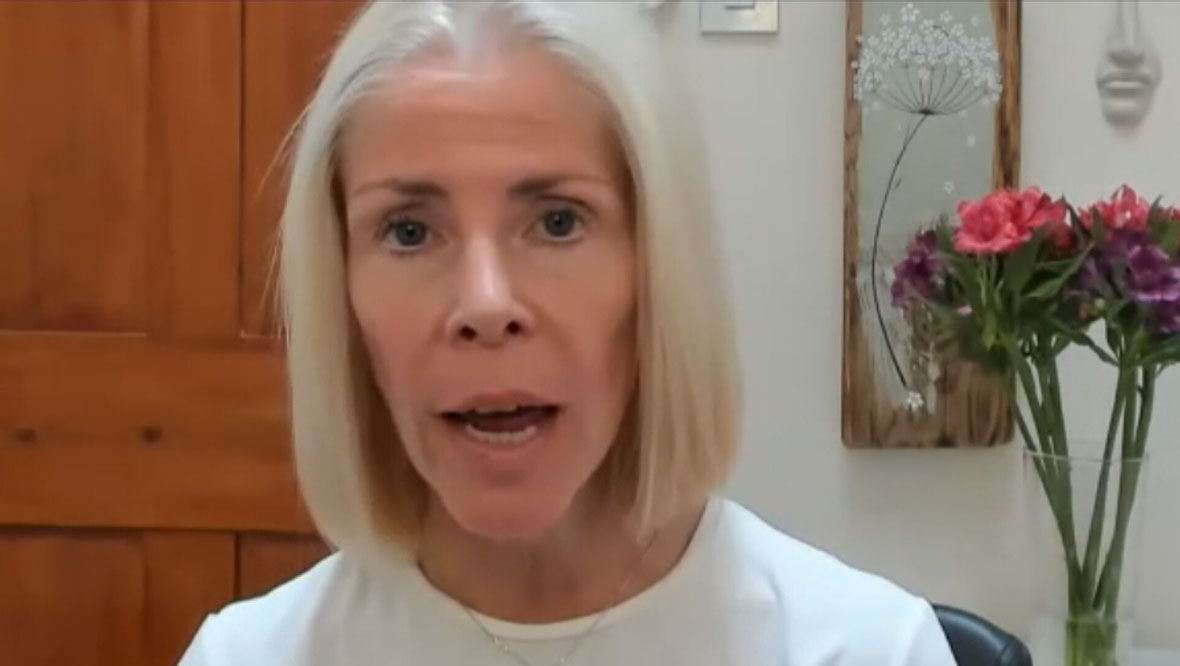 Ms Bauld warned young people to exercise caution before vaping, after the ASH report revealed the number of high school-age youngsters taking up the habit has almost doubled in the past two years.
Bauld said: "We think a lot of this is actually driven by new products that are on the market; that young people find very easy to get a hold of, and obviously this is something we need to reverse because these are not products for young people who have never smoked.
"If you're a young person who doesn't smoke and you're vaping, you have to ask yourself 'why are you using the product?'
"It's costing you money, there's unknown health harms and if you're addicted to it, it's difficult to quit."
What are vape retailers saying?
Doug Mutter, director of e-cigarette store VPZ, said: "As the UK's leading vaping specialist, we are spearheading the fight against the nation's number one killer – smoking.
"Our plans to open ten new stores and the launch of our mobile vape clinic responds 100% to our ambition to engage with more smokers throughout the country and help them take the first steps on their quit journey."
Mutter added, however, that the sector could be improved and called for greater scrutiny of those selling vape products.
He said: "At the moment we have a challenge in the industry where imported, many unregulated, disposable vaping products are readily available from local convenience stores, supermarkets and several other general retailers with no age verification control or regulation in many of these.
"We are urging the UK Government to act now and follow best practice from countries like New Zealand, where flavoured products can only be sold from specialist licensed vaping stores, where a challenge 25 policy is in place and consultation is aimed towards adult smokers and vapers.
"VPZ is also in favour of substantial fines for those who breach the rules."