The first vaccinations against coronavirus have been given in Scotland to those who will be administering the Covid-19 jabs.
Andrew Mencnarowski, a clinical lead at NHS Lothian, was among the first to receive the jab at the Western General Hospital in Edinburgh.

Initial supplies of the Pfizer/BioNTech vaccine have been arriving at NHS boards across Scotland since the weekend and are being stored at ultra-low temperatures.

Scotland's deputy chief medical officer Nicola Steedman was at the Western General Hospital to see the roll-out begin.

She said: "The arrival of these first Covid-19 vaccines is a huge turning point for us all and will protect those most at risk from the serious effects of the virus, but we can't relax yet.
"Even after the first people are vaccinated it will be important for now that everyone continues to follow the Scottish Government's guidance for their area."

After vaccinators have received their injections, the focus will be on vaccinating residents in care homes for older adults, their carers, and other frontline healthcare workers.
"Science has given us hope and we are starting on a journey which will eventually allow us to return to the lives we want to lead."

Jeane Freeman, health secretary
Health secretary Jeane Freeman said: "This is obviously a very welcome milestone in our collective fight against the pandemic and I am very grateful to all those who have worked so hard to ensure Scotland is ready to deliver these first COVID-19 vaccinations.

"Science has given us hope and we are starting on a journey which will eventually allow us to return to the lives we want to lead."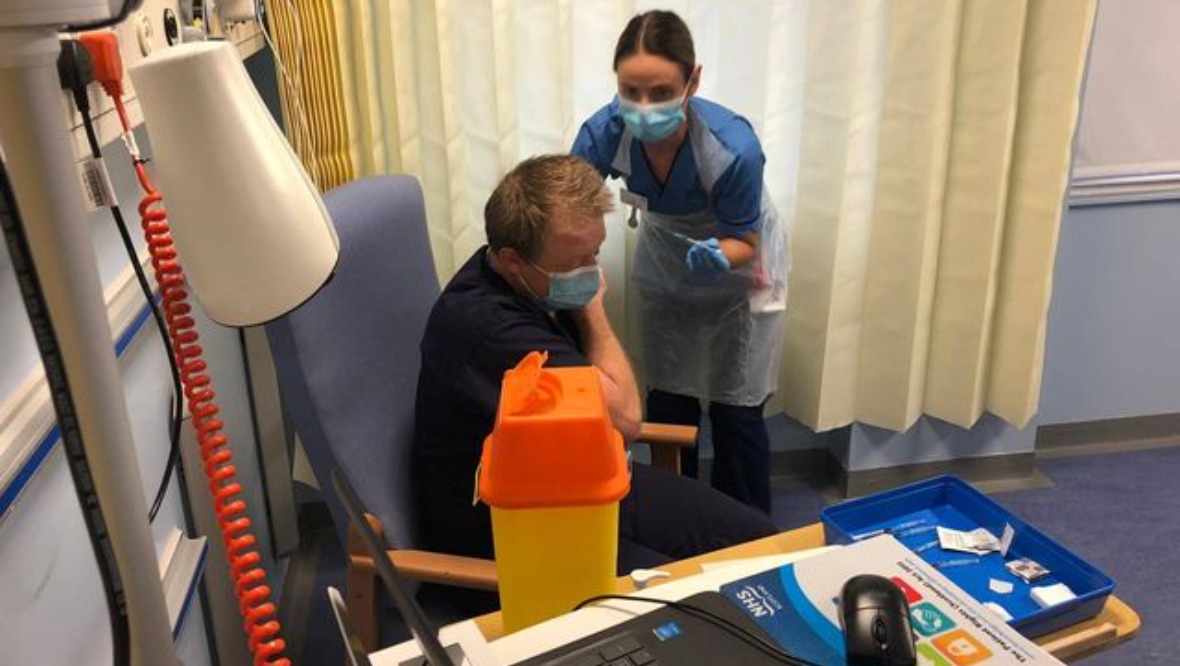 Pauline Bell, the clinical lead for the Covid Vaccination Hub at the Western General Hospital, said an enormous amount of planning and preparation had been undertaken to "get us to this point".
She said: "As we prepare to administer the very first vaccinations, we reach a crucial juncture in the fight against COVID-19, the beginning of the journey towards a return to normality."

Earlier on Tuesday, a grandmother became the first person in the world to receive Pfizer's Covid-19 vaccine.
Margaret Keenan, 90, received the jab at 6.31am in Coventry on Tuesday, marking the start of a phased rollout of the vaccine to older people, NHS staff and care home workers.
First Minister Nicola Sturgeon said she got "a bit of a lump in the throat" watching Mrs Keenan receive her vaccination.
The First Minister tweeted: "Got a bit of a lump in the throat watching this. Feels like such a milestone moment after a tough year for everyone. The first vaccines in Scotland will be administered today too."
Mrs Keenan, known to family and friends as Maggie, received the jab from nurse May Parsons at University Hospitals Coventry and Warwickshire NHS Trust.
She said: "I feel so privileged to be the first person vaccinated against Covid-19, it's the best early birthday present I could wish for because it means I can finally look forward to spending time with my family and friends in the New Year after being on my own for most of the year.
"I can't thank May and the NHS staff enough who have looked after me tremendously, and my advice to anyone offered the vaccine is to take it – if I can have it at 90 then you can have it too."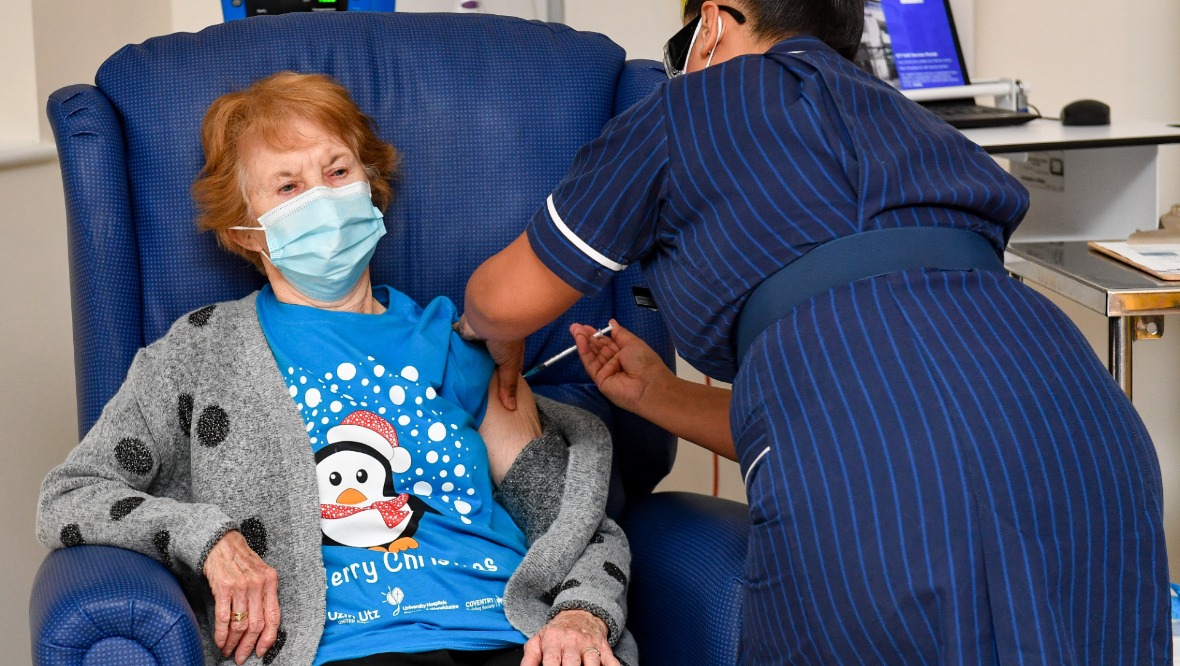 Mrs Keenan, who has a daughter, a son and four grandchildren, has been self-isolating for most of this year and is planning on having a very small family "bubble" Christmas to keep safe.
Originally from Enniskillen, Northern Ireland, she has lived in Coventry for more than 60 years.
She will receive a booster jab in 21 days to ensure she has the best chance of being protected against the virus.
The Scottish Government says it has received an initial batch of 65,000 doses of the Pfizer vaccine, with more on the way.

The vaccine must be stored at minus 70C (minus 94F) before being thawed out, presenting a logistical challenge in delivering it to care homes.
Planning is under way for the vaccine to be delivered to care home residents from December.