Two talented pianists from Ukraine who fled the war and are now living in Scotland have secured places at one of the country's leading music schools.
Sofia Shokhina and Jing Huang say their love of music helps them deal with the pain of having to leave their homeland.
Determined to continue their passion, they have now both been accepted to study at the prestigious Royal Conservatoire in Glasgow.
Sofia, 20, and Jing, 22, are currently living in the Aberdeenshire town of Ellon with a host family.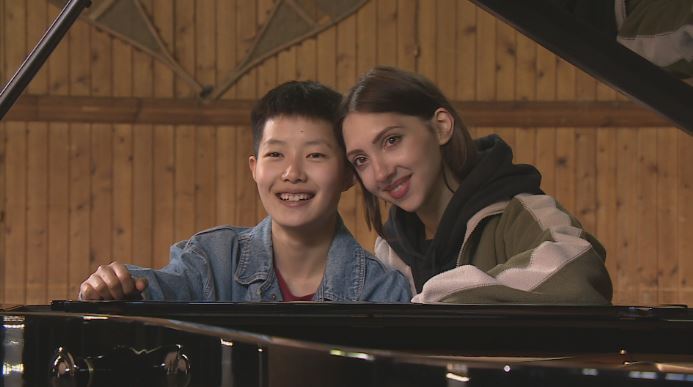 They'll start their course after the summer, but are currently able to rehearse at nearby Haddo House, which has a Steinway grand piano.
The pair say they're extremely grateful to the people of Scotland and their affinity they've found with them through the power of music.
"When you play music you don't think about political things, you just go to another world. You just think about music," Sofia told STV News.
"I've had an opportunity to study here, and I just need to catch it."
Jing added: "I'm very grateful to the people of Scotland for everything they've done for us – they are so kind.
"Without them, we wouldn't have been able to do this.
"In the future, I'd like to be like the people I've met here."
The Steinway piano Sofia and Jing use for practice belongs to the Haddo House Operatic Society.
It is planning a concert to help support the young women with their future studies.
Lady Aberdeen, whose family home is at Haddo House, said: "Music is international, it doesn't matter what language you actually speak.
"Immediately I thought here they are, they're near Haddo, they must come and see Haddo and play, and what can we do for them here?
"I wondered whether we could do something to help them because they have no funds at the moment to pay for accommodation, just for all their studies.
"So we're planning to put on a concert here, at Haddo, at the Canadian Hall here, using our wonderful grand piano.
"It was all just meant to be, and meeting the girls here and hearing them play, it's all just incredible it really is.
"That feeling of hope and for better days ahead for them."