A major auction has seen huge areas of Scotland's seabed offered out to deliver more than triple the offshore wind energy needed to power every home in the country.
Just over 2700 square miles has been successfully secured covering 17 projects earning just under £700m for the public purse.
In total, the estimated electricity output is over 24GW – more than ten times Scotland's current capacity.
Nicola Sturgeon said it was a "truly historic" opportunity.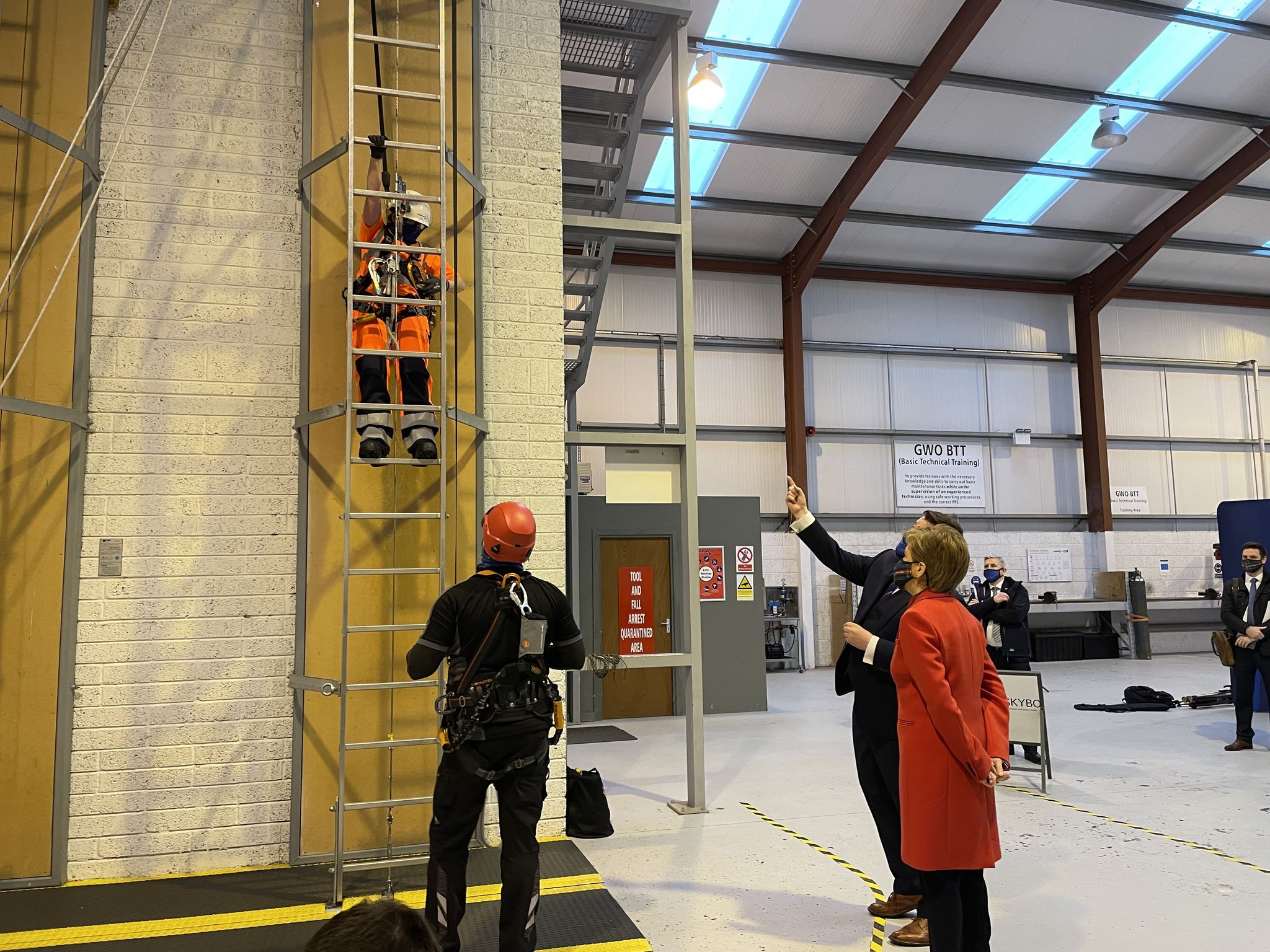 Crown Estate Scotland, which manages the Queen's land and property on behalf of the Scottish Government, announced the result of the Scotwind Leasing process on Monday.
It has been a decade since plots in Scottish waters were last available for development and it is the first time since the management of offshore wind rights were devolved.
Simon Hodge, chief executive of Crown Estate Scotland, said the results were a "fantastic vote of confidence".
"Just a couple of months after hosting COP26, we've now taken a major step towards powering our future economy with renewable electricity", he said.
Mr Hodge said Scotland was set to be a major hub for the development of offshore wind technology in the years to come.
ScotWind Leasing attracted 74 applications from developers eager to secure the rights to build projects across the 15 areas of seabed with an aim of producing at least 10GW of wind energy.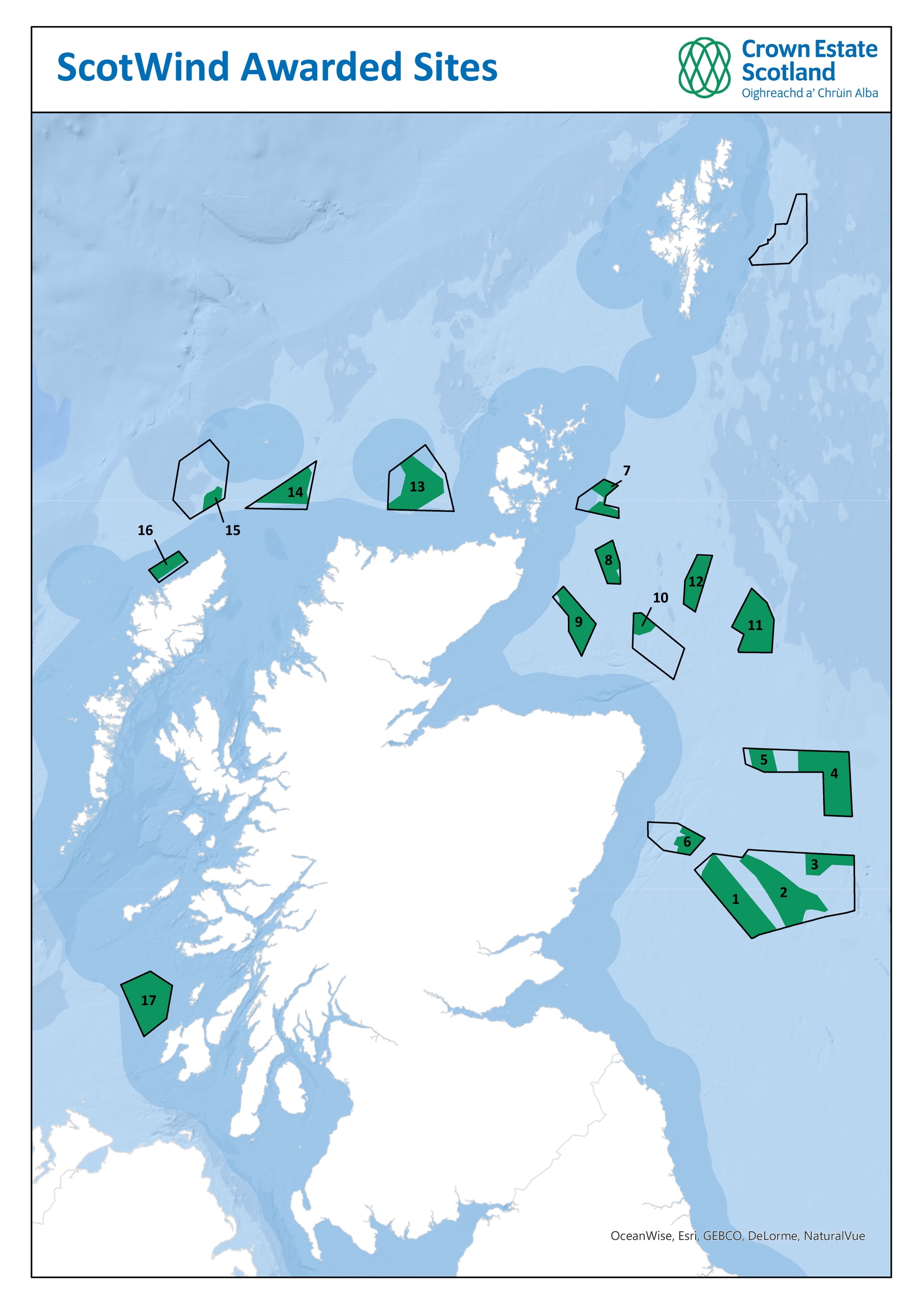 BP, SSE Renewables, Falck Renewables, Shell, Vattenfall, and DEME Concessions were all successful in winning projects.
They will now be offered option agreements ahead of signing full agreements.
ScottishPower was awarded seabed rights for three offshore projects with a total capacity of 7GW.
Keith Anderson, CEO of ScottishPower, said: "It's absolutely brilliant to get the green light to develop new floating technology in partnership with Shell, while expanding our renewables presence in Argyll and Bute into the offshore industry.
"Our ScotWind projects will play a massive part in that and make the best use of our fantastic natural resources to help power the UK's transition from fossil fuels to renewables and a better future, quicker."
Scotland's current offshore wind capacity is around 2GW, with a target of 11GW by 2030, with the single largest source being the Moray East project in the outer Moray Firth made up of 100 turbines producing enough energy to power abounr 650,000 homes.
But the 114 turbine Seagreen project, off the coast of Angus in the North Sea firth, will soon overtake Moray East to being the country's largest offshore wind farm producing just over 1GW or 1075MW.
The First Minister visited Windhoist, a turbine installation company in Irvine, ahead of the announcement.
She said it was a "big day".
"The scale of opportunity here is truly historic," she said.
"ScotWind puts Scotland at the forefront of the global development of offshore wind, represents a massive step forward in our transition to net zero, and will help deliver the supply chain investments and high quality jobs that will make the climate transition a fair one.
"The scale of opportunity represented in today's announcement exceeds our current planning assumption of 10GW of offshore wind – which is a massive vote of confidence in Scotland.
"So we will now embark on the rigorous consenting process required to make sure we can maximise the potential that clearly exists in offshore wind while also ensuring that the impacts of large scale development – including on other marine users and the wider natural environment – are properly understood and addressed."
Responding to Crown Estate Scotland's announcement, Elspeth Macdonald, chief executive of the Scottish Fishermen's Federation, said: "While it is clear that substantial additional offshore renewables will be required for Scotland to meet its net zero target, we are understandably anxious and concerned about the potential impact of these and future offshore renewables projects on the Scottish fishing industry.
"This is a vast area, and the majority of the successful projects are for floating offshore wind, which creates even greater spatial and co-existence problems for fishing than fixed turbines do."