Warnings remain in place across parts of Scotland as heavy snow continues to cause traffic delays and other hazards.
Bus and rail travel has been disrupted with an amber weather alert across much of the central belt.
Emergency services have also been called out to a number of road accidents, including a lorry crash on the M90 near Dunfermline in Fife.
Police said there were no reports of any injuries after the HGV jack-knifed on the motorway on Tuesday morning.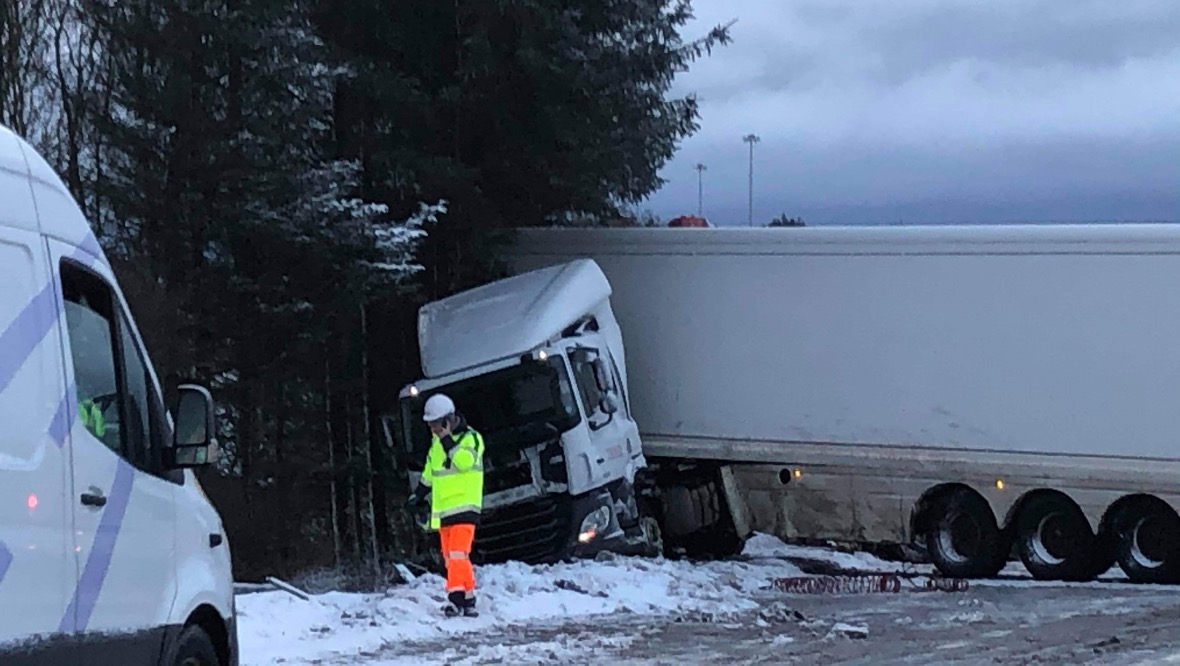 Transport Scotland has reported temperatures down to nearly -18C at Bannockburn in Stirling.
Speaking on Good Morning Scotland, Transport Scotland manager Stein Connolly said: "We had 146 gritters out last night.
"All the trunk roads are open, but there are some places where it's just passable.
"There has been a couple of accidents – police are working to get these clear, but it's maybe better to leave it until a safer point in the day [to travel].
"We did have temperatures down to nearly minus 18 last night at Bannockburn in Stirling, so it has been a challenge.
"It's been minus seven, eight throughout the country last night."
The Met Office said -16.7C was reported in the Highlands.
The temperature at Altnaharra was recorded on Tuesday morning and is the coldest temperature recorded there since 2010.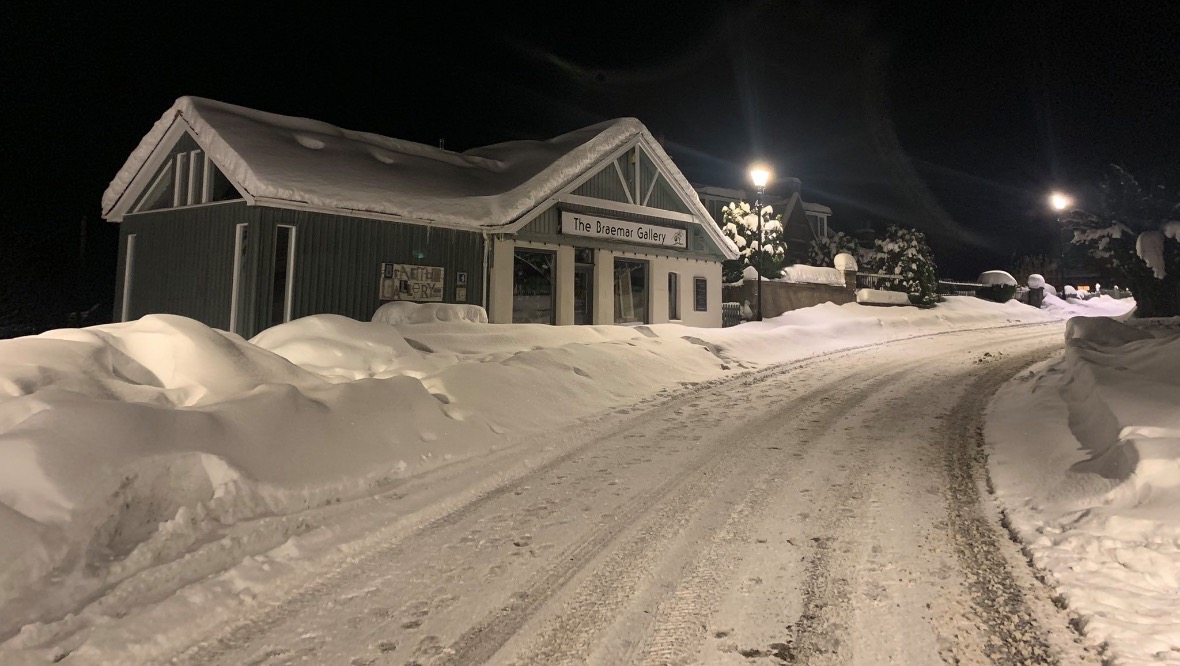 The Met Office has issued an amber alert from 3am until 9pm on Tuesday.
The heaviest snowfall is expected to hit areas including North Lanarkshire, Falkirk, Stirling, Clackmannanshire, Fife and Perthshire.
A yellow warning has been in place since Monday and is expected to last until 11.59pm on Wednesday.
The alert covers the Borders, Glasgow and Edinburgh, as well as Tayside, Aberdeenshire, Moray, parts of the Highlands including Inverness and Wick, and Orkney.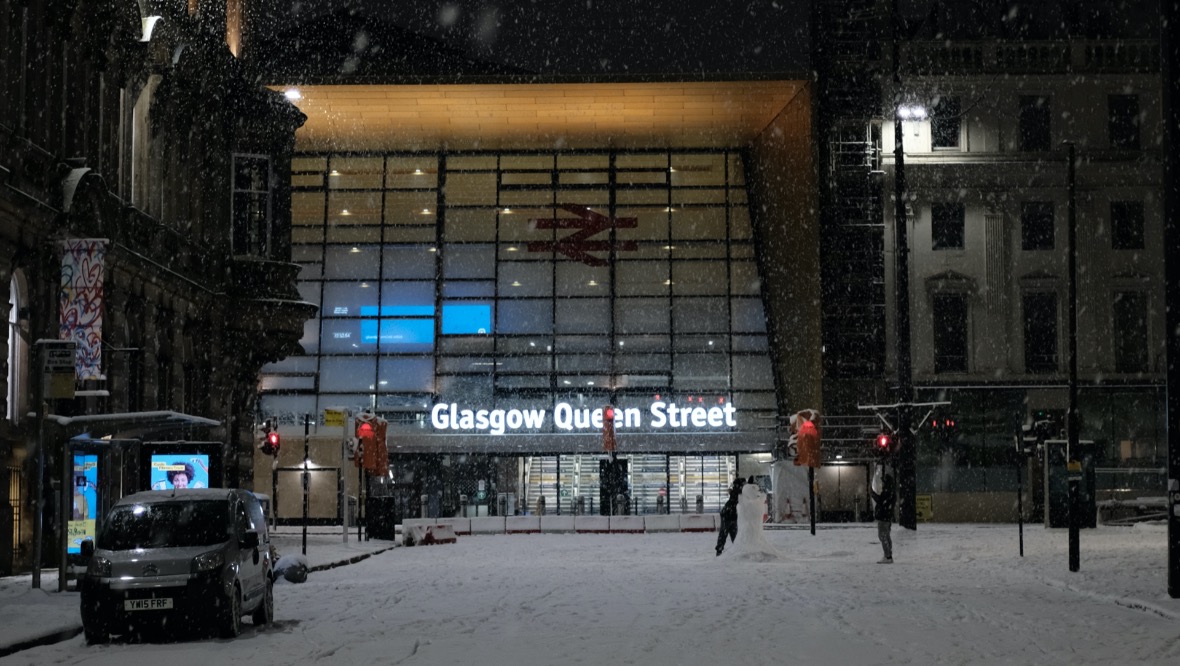 Parts of Orkney are dealing with power cuts, with all schools in the area closed, even to children of key workers, due to the weather.
Areas including Edinburgh and Glasgow have already faced a loss of electricity supplies amid the wintry weather.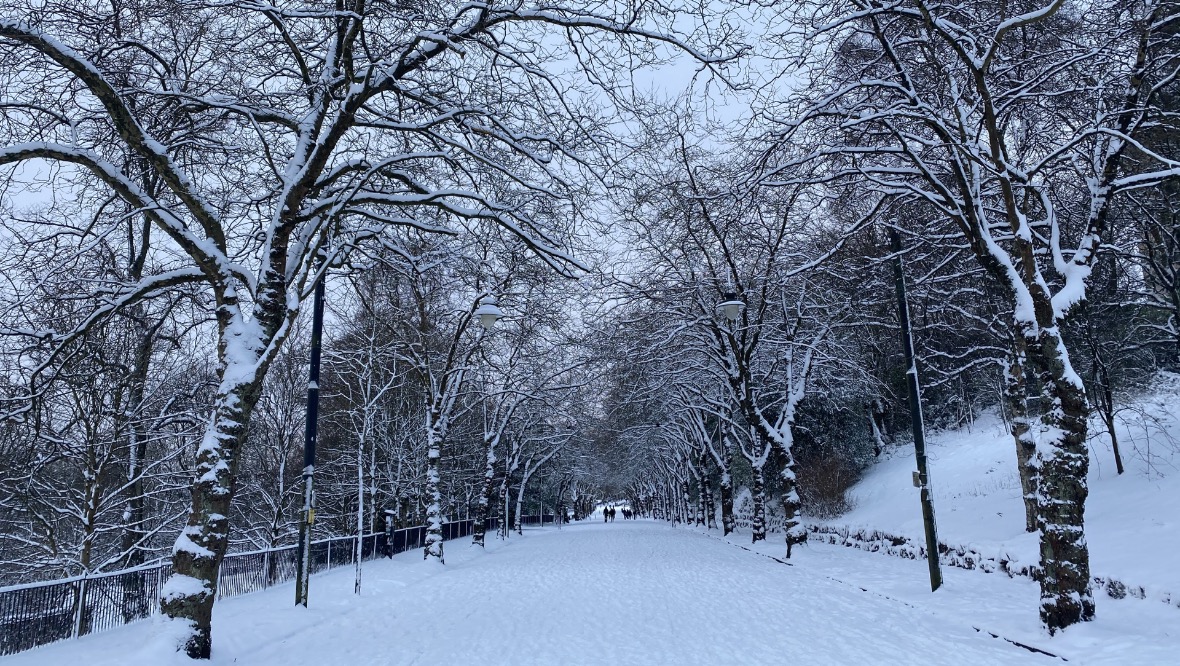 Transport secretary Michael Matheson said: "The current Covid-19 restrictions mean you should only be leaving your home for an essential purpose, so please consider if your journey is absolutely necessary before setting off.
"The forecast conditions will likely cause difficult driving conditions and disruption to the wider transport network.
"If you do have to make an essential journey, then the advice remains the same as it has throughout this winter – plan your route in advance, drive to the conditions and follow Police Scotland travel advice.
"There may be disruption on other modes of transport, so you should check with your operators before setting off."
On Tuesday morning, ScotRail reported delays due to staff struggling to get to work, while Transport Scotland urged care following a number of accidents.
At 7.12am, a spokesperson tweeted: "We're starting to see major disruption affect most central belt routes to/from Glasgow Central, Glasgow Queen Street, and Edinburgh Waverley.
"Please check your journey before you travel."
Network Rail Scotland also warned: "We're dealing with points failures at Newbridge in Edinburgh, Newton in Glasgow, and Glenrothes too.
"It's causing disruption to rail services. Please check in with your train operator before you travel."
On Monday night, STV's meteorologist Sean Batty reported that Braemar in Aberdeenshire had record levels of snow.
He tweeted: "Now recording about 70cm of snow lying in Braemar.
"Record we hold for Braemar is 68cm back in 2001, so looks like that's gone."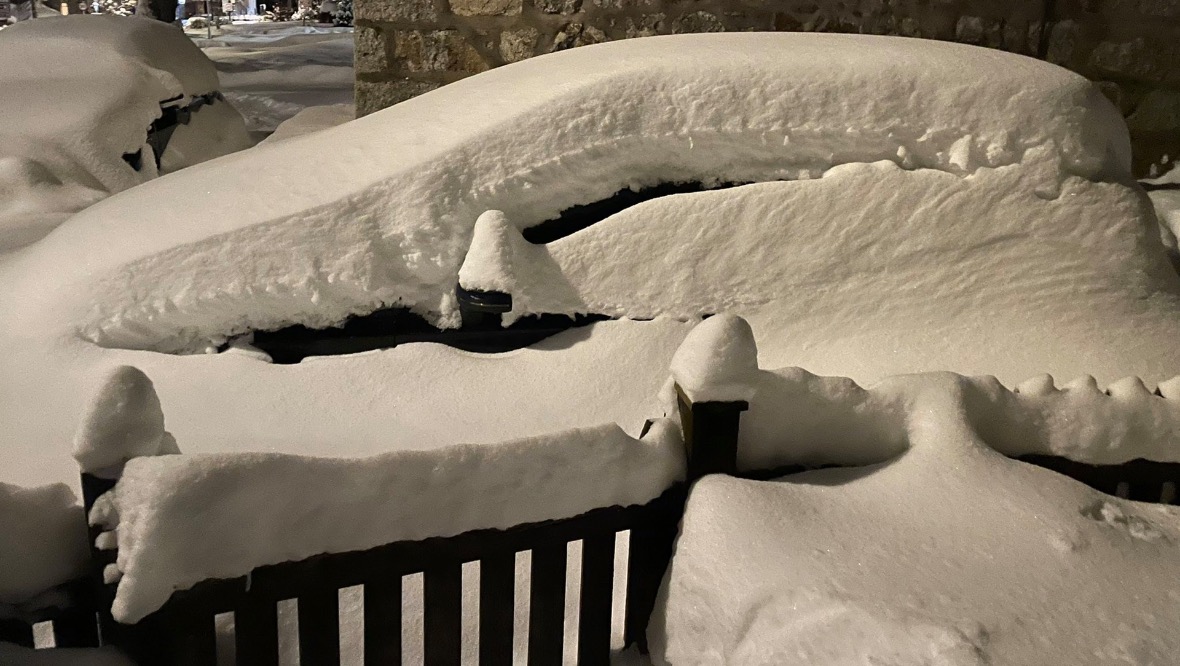 On Tuesday morning, Sean added: "Snow is going to continue on and off all day today in central belt – this could get very bad.
"It looks very Beast from the East 2018 to me. I reckon western Fife and around Cumbernauld, Falkirk and Slamannan could be some of the worst hit areas with another 15cm falling today and into tonight.
"The showers will continue to feed well west into Glasgow area too.
"Snow eases tonight but then it's the severe chill on the way."
On Monday night, Des Tinney posted a video on Twitter of a Tesla sliding down an icy Glasgow street before smashing into another car.
In the video a woman shouts at the motorist to brake, but another onlooker responds: "He cannae."
Matt Donlan captured motorists having a tough time navigating their way along Edinburgh's Royal Mile.
One taxi driver needed a push to get along the slippery road.
On Tuesday, a snowboarder showed off his ice cool moves in Glasgow.
Spotted on Gardner Street in Partick, the boarder was captured carving down the steep road's snow.
In Aberdeenshire, Brody Penny, 11, was set the task of building something with snow by his primary school.
With the help of mum Claire and dad Dave, he built an impressive racing car.
Siblings Ayla, eight, and Caleb, three, enjoyed a spin in the car on Tuesday morning.