Glasgow. Friday, 10.45pm. Overcast.
Lockdown rules in effect.
Everyone knows the rules by now – gatherings limited to six people from two households. Yet here I am, racing toward a party behind a police van. We are uninvited guests, the real-life fun police dispatched to bust clusters of enjoyment across the city.
With the rate of coronavirus rising, this is a serious job. Groups tend to spread the virus easily. Well-intentioned partiers with bellies full of booze? Full-scale biohazards.
I expect a quiet night. Staying in saves lives. Going out in large groups puts lives at risk. Everyone I know follows the rules, so everyone else must follow the rules. Wrong.
The first call – a party at a student accommodation building. The area around the flats is noisy, busy with students. The closer we get, the more they disperse. Nobody wants a run-in with the squad that fun forgot.
"The officers approached the students and explained why they were there," said chief inspector John McQuilter.
"Within a couple of minutes they did disperse."
The students get off lucky. They don't argue and break up right away, no need for fixed penalty fines.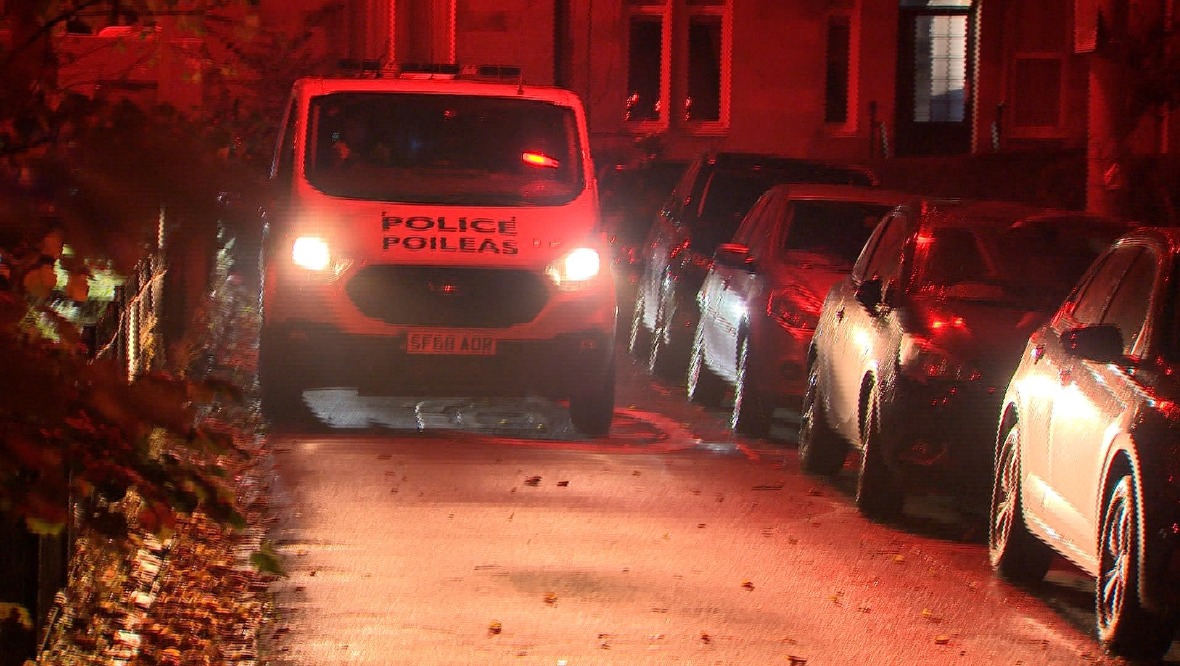 It won't be a quiet night. We're together for four hours, we'll visit five properties to lay down the law.
That's just a small percentage of the 405 houses in Scotland which received a complaint and were visited by officers across the weekend.
Once we're done dealing with the students, it's off to Whiteinch.
Party reported. Numbers unknown.
The officers make their way to the stairwell after spying several silhouettes in a window. I stand outside to keep the numbers down, desperately trying to eavesdrop. The party went quiet, the rain started.
Five minutes later, the officers step back into the night with two hooded figures. There were four people inside, neighbours had popped by for a visit.
Time to go home and use the phone instead.
"Two people live there, the other two live across the street," the officer says.
"They were confused and weren't sure of the regulations. We gave them a bit of guidance and the two boys left and it was fine. No issues."
Chief inspector McQuilter wants his officers to educate rather than arrest people or issue fines. Most of the time it works out.
"It's all about speaking to people and making sure that they are aware that it's their safety that's at the bottom of this," he says.
"It's only in very few circumstances that we have to turn to enforcement. It's all about education, engagement and explaining."
Over the weekend, just one person was fined and six arrested at house parties across Scotland. Officers say they only issue a fixed penalty fine if the host of the party refuses to comply with their guidance.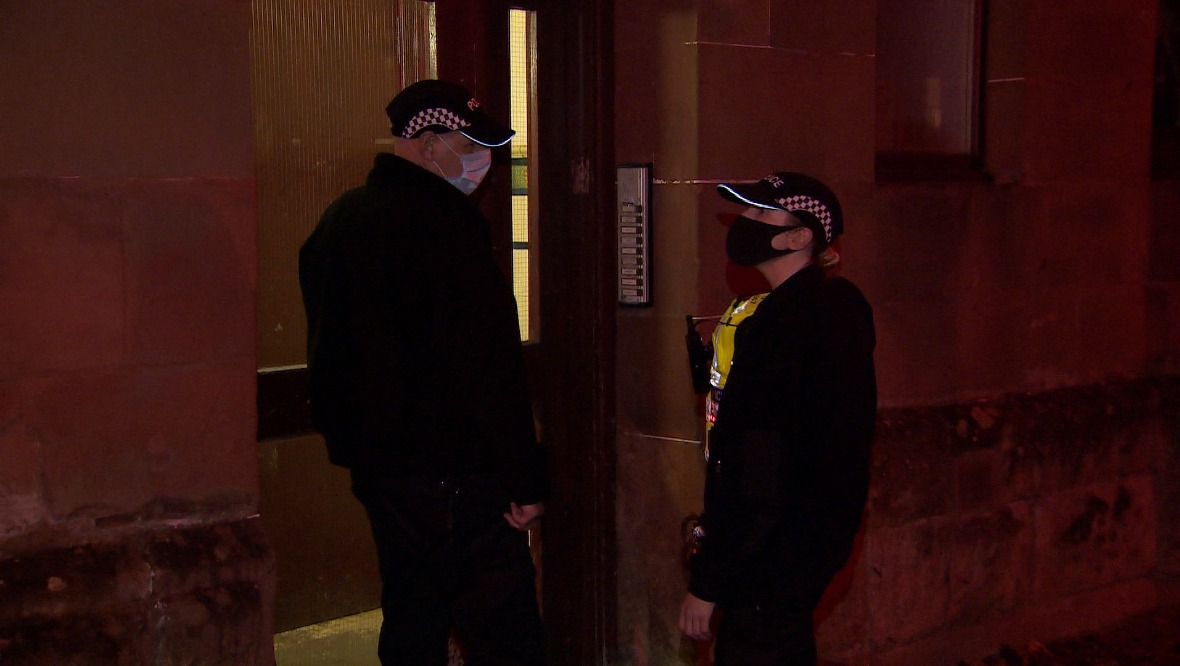 Midnight. A new day, a new party.
After ten minutes of close listening, we figure out which West End house the music is coming from and we head to shut it down.
Turns out it's a birthday party – only four people in the house, they're all related. But party time is over – birthdays aren't exemptions.
Near the end of our shift. It's off to Hillhead – where 16 students are piled into a flat. They think they have a good excuse – no pub would take them.
"They couldn't get a drink anywhere so they came here instead," the officer says.
They get no satisfaction at the flat either. Police send them back into the night, individually, to think about what they've done.
Tonight's work is done, but police expect the number of calls to increase as people become increasingly concerned about the virus cutting its way through house parties and then hitting everyone in the community.
"We would expect members of the community to call us when they are concerned," said deputy chief constable Malcolm Graham.
"In terms of houses, gardens and outdoor spaces, if we are called about incidences where people are breaking the law, we will respond to that in the consistent way that we have done up until now."
Two weeks ago, Police Scotland recorded a significant increase in the number of reports of noise, public nuisance and disturbance compared to the same time in 2019 as neighbours looked to shut down anything resembling a good-time gathering.
Last week, the trend continued. Officers responded to 1852 reports of such incidents across the country – an increase of 41% compared to the same weekend last year.
Patience is running out – and neighbours have 999 on speed dial.
STV News is now on WhatsApp
Get all the latest news from around the country
Follow STV News
Follow STV News on WhatsApp
Scan the QR code on your mobile device for all the latest news from around the country