Justice secretary said she is 'open to discussion' on ban on sale of fireworks
Police Scotland assistant chief constable said Bonfire Night violence was 'co-ordinated'
Four people, including police officer, taken to hospital after disorder in Glasgow
Emergency services respond to 'unprecedented levels of violence' in Edinburgh's Niddrie
Firefighters targeted with bricks and fireworks in nine attacks over eight-hour period
Police believe adults 'equipped' children with pyrotechnics and encouraged them to attack officers
Three arrests have been made following disorder across the country
Three arrests have now been made in connection with Bonfire Night disorder which left nine emergency service workers injured, with more expected "in the coming days".
Police condemned the "extreme violence" which saw petrol bombs and fireworks thrown at riot police in Edinburgh and left several officers injured. Nine emergency service workers were hurt.
Scotland's First Minister Humza Yousaf has also voiced his concerns about the "thuggish" and "reckless" behaviour on November 5, when some fire crews were attacked.
Around 50 young people clashed with officers in what was described as "unprecedented levels of violence" in Edinburgh.
Niddrie some place man 😂😂 pic.twitter.com/dt4bEGlyVY

— jason (@_jason_91) November 5, 2023
Scotland's justice secretary Angela Constance said she would be open to a ban on fireworks sales, although the Scottish Government does not currently hold the powers to do so.
"I'm open minded about it, open to discussion," she said on BBC Radio Scotland on Tuesday.
"It's not within our powers for an outright ban, but open to discussion."
Four people, including a police officer, were taken to hospital in Glasgow following a "mass brawl" in the Barmulloch area.
Meanwhile, firefighters were bombarded with fireworks and bricks in nine attacks during an eight-hour period on Bonfire Night.
Around 100 youths gathered on Hay Avenue in Niddrie, Edinburgh, just before 5pm on Sunday in a repeat of disorder seen last year in the neighbourhood.
Drone footage showed people aiming fireworks and petrol bombs at riot police in Edinburgh.
Police said around 50 of them were responsible for directing fireworks, petrol bombs and other projectiles at buildings, vehicles and police.
Assistant Chief Constable Tim Mairs said while the majority of Scotland enjoyed Bonfire Night, "Police Scotland officers were subjected to unprecedented levels of violence.
"A minority of individuals have been responsible for an unacceptable and frankly, disgusting level of disorder that left communities alarmed and police officers injured.
"The violent nature of the situation witnessed in the Niddrie area of Edinburgh is extremely concerning, not least because it is believed young people were being actively encouraged and co-ordinated by adults to target officers while they carried out their duties."
First Minister Humza Yousaf called the scenes "disgraceful".
Disgraceful scenes of fireworks misuse across some areas of Scotland last night, particularly in Niddrie. I pay tribute to @fire_scot & @PoliceScotland officers who should not be targeted & attacked for doing their job. Those responsible should feel the full force of the law.

— Humza Yousaf (@HumzaYousaf) November 6, 2023
The drone footage showed a line of police officers with riot shields standing in front of vans with blue lights flashing.
A mob of black-clad youths gathered on grass in front of them and began throwing pyrotechnics.
The police made a retreat as a petrol bomb hit the ground in front of them and fireworks exploded.
The assault continued, with petrol bombs and fireworks forcing police to shuffle backwards.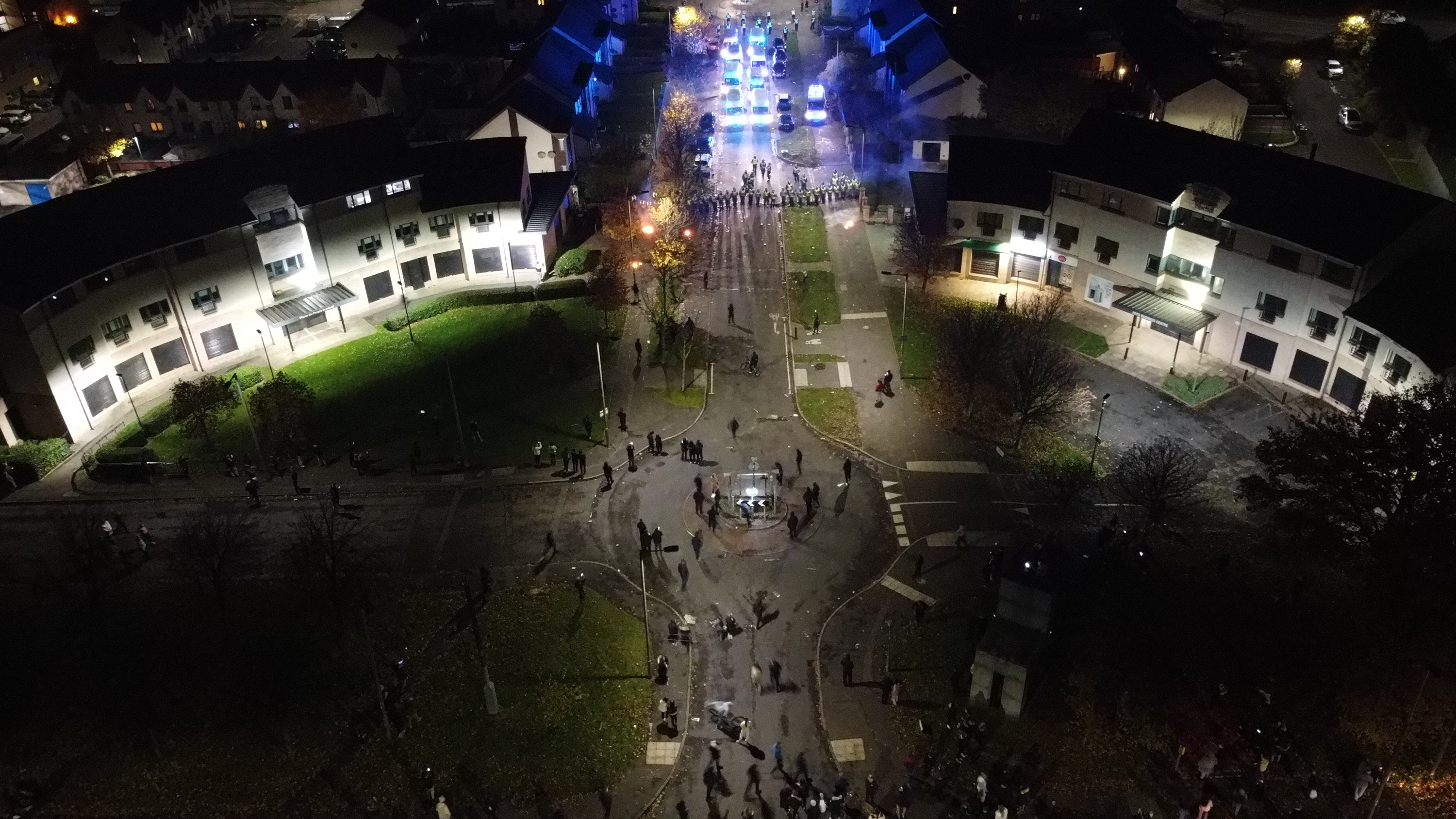 The officers then ran at the assailants, in footage filmed from a nearby sports centre.
Police Scotland said there were a small number of arrests made with further arrests anticipated to follow in the coming days as investigations continue.
Speaking in Holyrood on Tuesday, community safety minister Siobhian Brown confirmed two arrests had been made.
"There has been two arrests so far and the police are looking at intelligence and there will be more arrests in coming days," Ms Brown said under questioning from Conservative MSP Stephen Kerr.
Police later confirmed on Tuesday evening a third person had been arrested in relation to Bonfire Night unrest, after fireworks were directed at officers on Sunday at Letham Park in Craigshill.
In Glasgow, dozens of officers responded to an incident involving 20 youngsters fighting and firing fireworks at each other in an attempt to calm the situation, however one was hurt during the operation.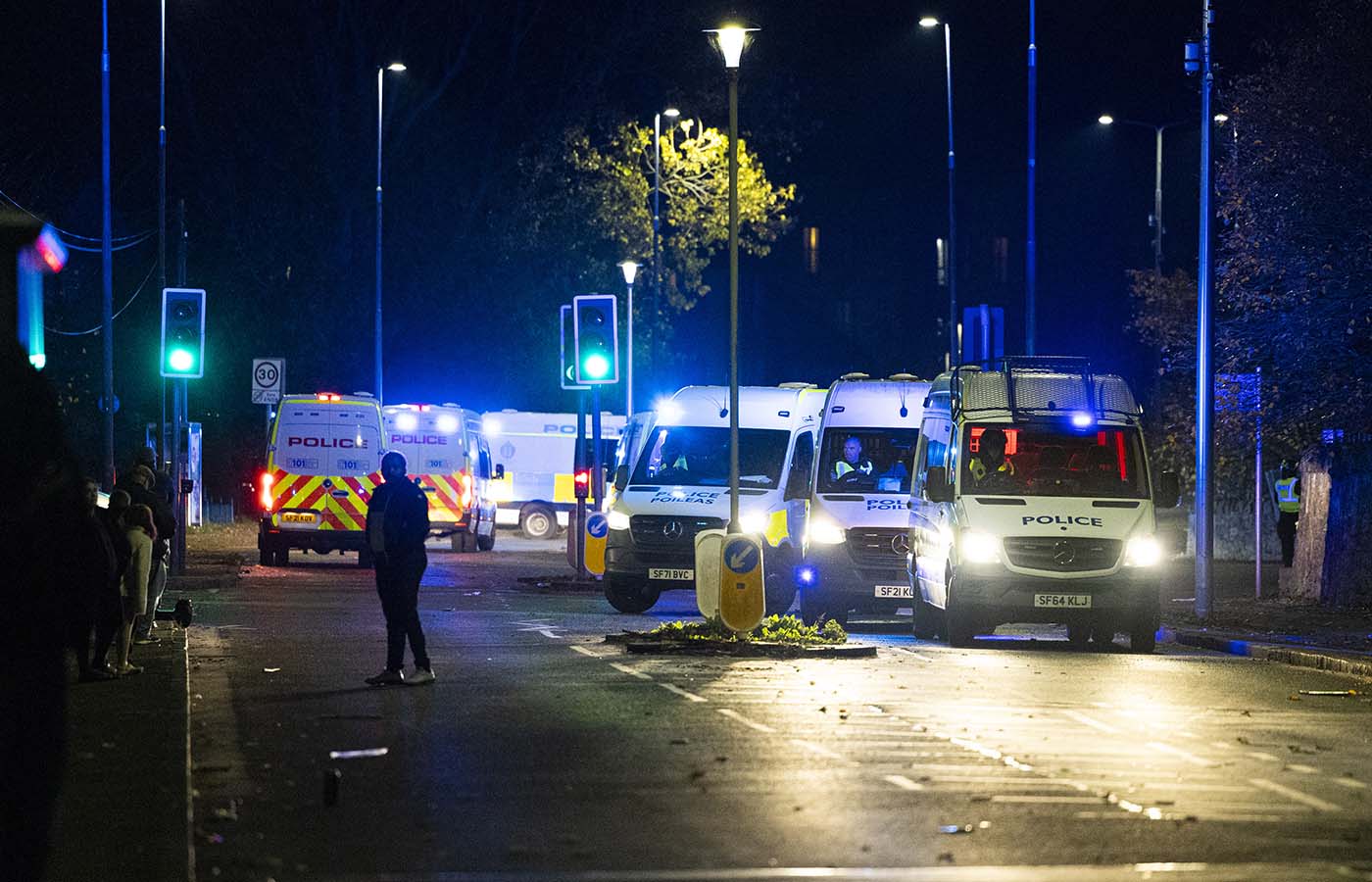 In Dundee, two police vehicles were struck by bricks, while in Glasgow two groups of youths were fighting and directing fireworks towards each other.
Scottish Fire and Rescue Service crews were also attacked with fireworks and bricks thrown at them.
Nine attacks were reported during an eight-hour period in which firefighters were deployed to tackle outdoors blazes.
The attacks happened in Dundee, Edinburgh, Glasgow, Blantyre in South Lanarkshire and Blackburn in West Lothian.
There were no injuries reported to the crews involved however a fire appliance in West Lothian had a windscreen smashed by a brick.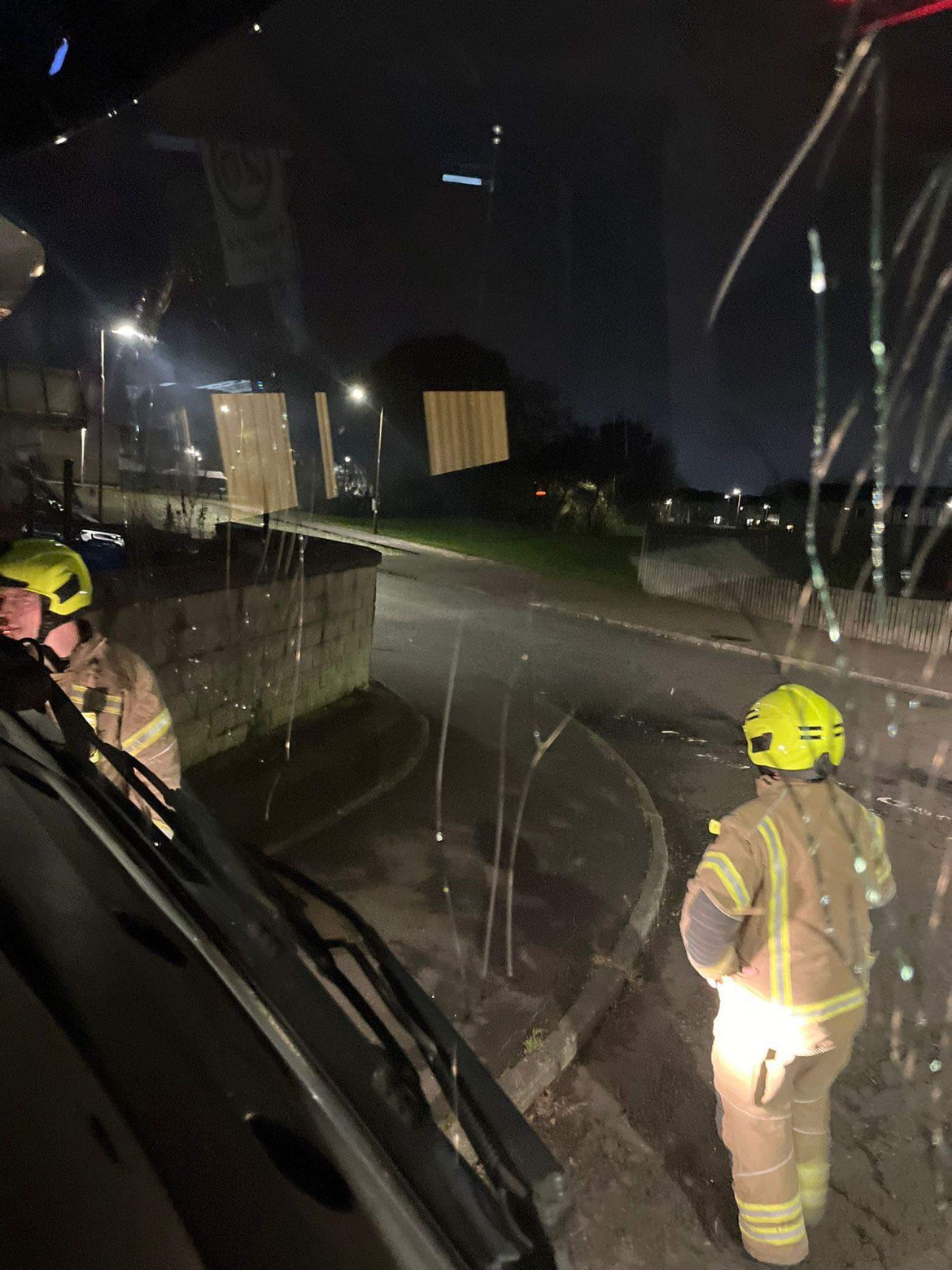 SFRS received more than 892 calls from the public and Operations Control mobilised firefighters to approximately 355 bonfires across the country between 3.30pm and midnight on Sunday.
Last year in Niddrie, motorbike gangs terrorised the neighbourhood on Bonfire Night while fireworks were thrown on the ground.
In 2018, Police Scotland set up Operation Moonbeam to tackle Bonfire Night chaos, and on Tuesday, riot police attended Kirkton, Dundee, after children reportedly as young as ten set off fireworks.
Scottish Conservative justice spokesman Russell Findlay branded the youths in Edinburgh "thugs", and council leader Cammy Day warned they would be prosecuted.
Day said: "I'm appalled to see the scenes in Niddrie this evening. We've been clear that this sort of conduct is unacceptable.
"We've been working throughout the year in our communities to mitigate Bonfire Night-related disruption so it is extremely disappointing to see a minority of people behaving in this way.
"This reckless behaviour endangers lives and, like the majority, I share in their dismay and upset at this disgraceful behaviour."
Findlay said: "Such attacks on police officers are cowardly, reckless and dangerous. Police Scotland need sufficient resources to tackle these thugs."
Children 'exploited and encouraged to attack police'
Assistant chief constable Tim Mairs, gold commander for operation moonbeam, acknowledged young people were responsible for many of the attacks on emergency crews.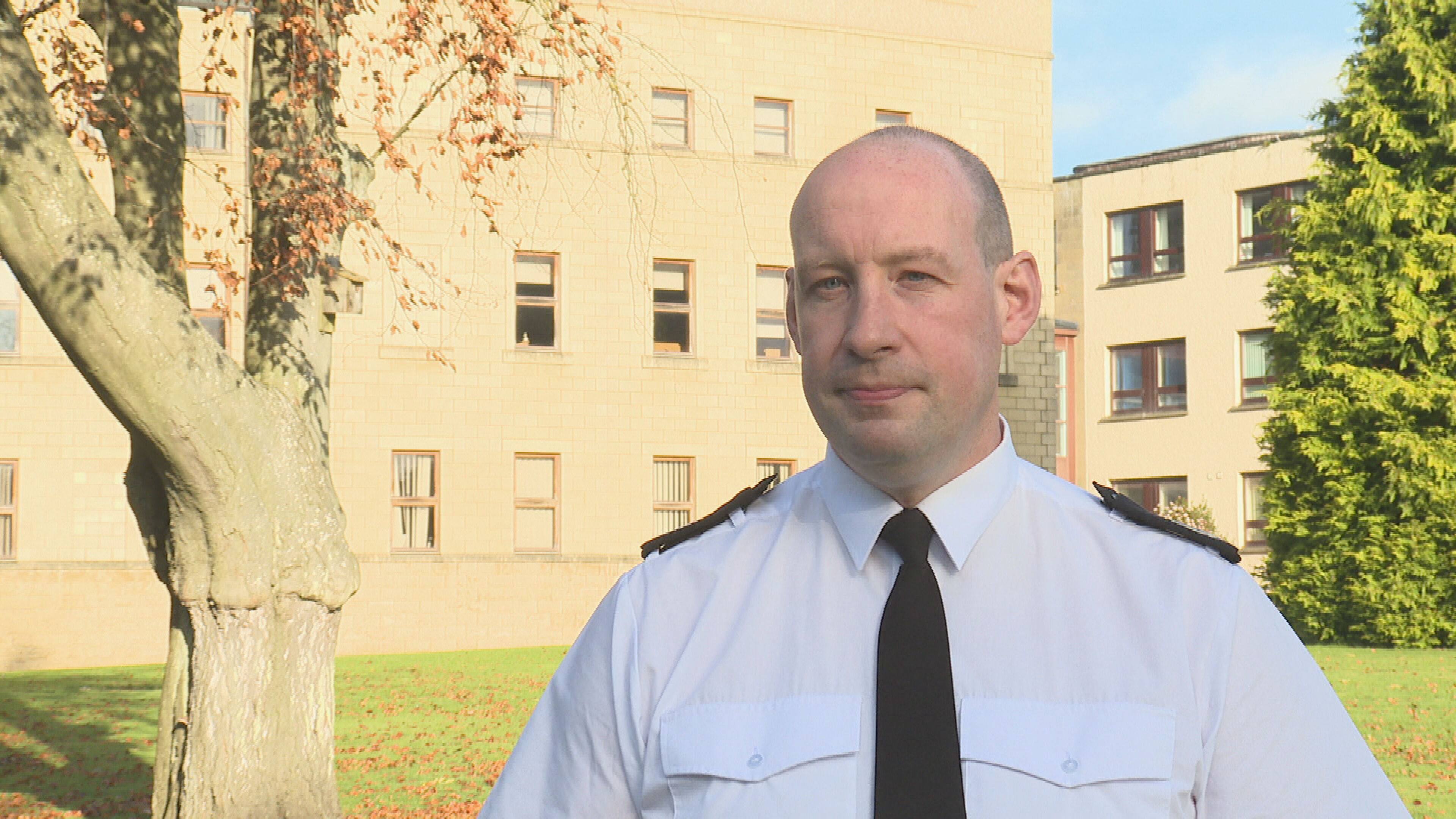 But he said they carried a "sinister" undercurrent of adults supplying youngsters with fireworks.
He said: "Whilst it was clear it was, in the main, young people attacking police, there have been adults in the area in vehicles who have been moving about and supplying them with fireworks, essentially exploiting them and encouraging them to attack police.
"That's what makes this much more sinister as an act."
ACC Mairs added: "We have to focus on the small number of individuals who exploited children last night, and equipped them, not just with fireworks, but with petrol bombs, with masonry and with other items.
"These are deeper issues and those are the things that we need to focus on right now."
STV News is now on WhatsApp
Get all the latest news from around the country
Follow STV News
Follow STV News on WhatsApp
Scan the QR code on your mobile device for all the latest news from around the country