Thousands of people have taken to the streets in major Scottish cities to demand a ceasefire in Gaza on the day the UK commemorates the end of World War One.
Demonstrators waved Palestinian flags and held up signs decrying fighting in the region in Aberdeen, Edinburgh and Glasgow during a day of action.
It came as the conflict between Israel and Hamas accelerated after Israel's prime minister rejected calls from Western allies to do more to protect Palestinian civilians, with troops encircling Gaza's largest hospital where doctors said five patients including a premature baby, died when the last generator ran out of fuel.
An eight-year-old girl, Jeewan Wadi, told the crowd in Glasgow how her mother had "dodged bombs" while pregnant with her in 2014 and demanded a ceasefire be declared to protect innocent lives.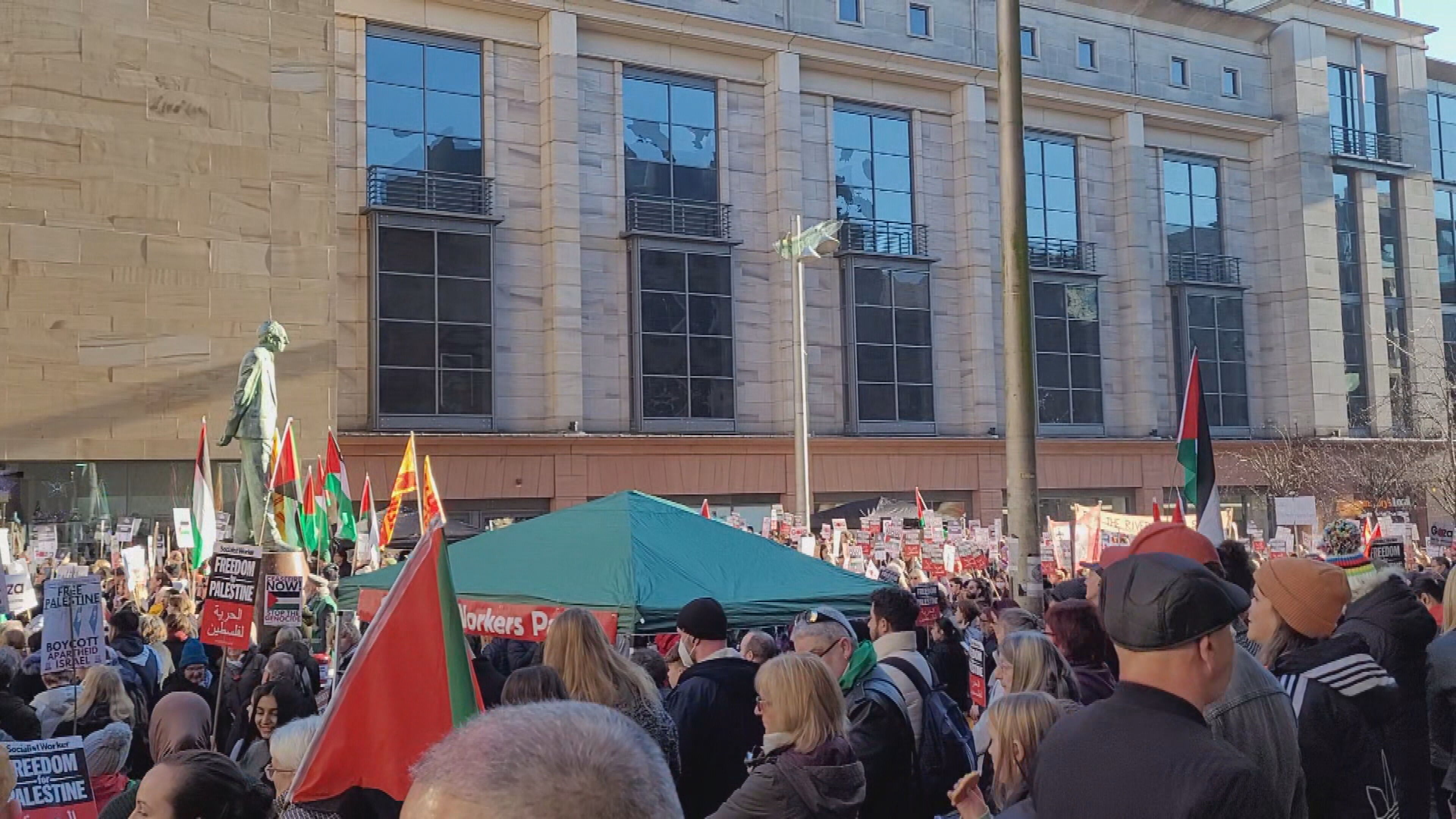 On Edinburgh's Waverley Bridge, protestors said "too many people had died" and called for an end to conflicts across the world.
The demonstrations, which was planned deliberately by marchers to avoid the nearby George Square to allow veterans and the public to commemorate Armistice Day, came against a background of political tension.
Comments from the Home Secretary and Prime Minister in relation to the London march sparked the ire of activists in Scotland, with Suella Braverman and Rishi Sunak invoked repeatedly by speakers at the rally.
Mrs Braverman accused the Metropolitan Police of political bias after they resisted pressure to cancel the march, while the Prime Minister urged those protesting to do so "respectfully and peacefully".
Seven people were arrested at the Glasgow protest, Police Scotland later confirmed.
Through tears and being held up by her father, Jeewan recounted how, while pregnant with her, her mother was forced to hide from explosives.
"Listen everybody, I only care about the children, babies, women and men that are getting bombed in their own homes," she said.
Ending her remarks, Jeewan led the crowd in a chant of "ceasefire now".
The Scottish Greens have already submitted a motion for Holyrood's support of a ceasefire, while former SNP MSP Sandra White told the crowd on Saturday current member Ivan McKee would submit another one.
Reports have also suggested that the Alba Party, through newly defected MSP Ash Regan, plans to submit a motion as well.
Israel has portrayed Shifa Hospital as Hamas' main command post, saying militants were using civilians as human shields there and had set up elaborate bunkers underneath it, claims Hamas and Shifa staff deny.
In recent days, fighting near Shifa and other hospitals in the combat zone of northern Gaza has intensified and supplies have run out.
Asked about reports of troops firing into the Shifa courtyard, the Israeli military would only say that troops are engaged with fighting Hamas in the vicinity and take all feasible measures to prevent harm to civilians.
It said soldiers have encountered hundreds of Hamas fighters in underground facilities, schools, mosques and clinics during fighting in Gaza.
STV News is now on WhatsApp
Get all the latest news from around the country
Follow STV News
Follow STV News on WhatsApp
Scan the QR code on your mobile device for all the latest news from around the country