Student years are usually synonymous with a first taste of independence, learning and expanding your horizons, carefree time with friends and endless possibilities for the future.
But the past academic year has told a very different story.
No packed lecture halls, no bustling library cafes, and no nights out; like everyone else, students' lives have been turned upside down by the pandemic.
More than a year on from the first lockdown, many are still reeling from the impact – and there's plenty of uncertainty about what the next 12 months will hold.
Scotland Tonight – on STV at 7.30pm on Thursday – has been speaking to four students about their experiences.
'No way to pay my bills'
Amber Little has just finished a cyber security course at Forth Valley College.
Since a retail job fell through around the time of lockdown last March, the 20-year-old has been unable to find a part-time role.
Instead, she's been relying on her boyfriend, who works at McDonald's, to support her.
She told us: "Since February I've had £1 in my bank account – I've had absolutely no way to pay my bills, pay my rent, anything."
As a full-time student, Amber, who lives in Perth, is not eligible for Universal Credit – but she's had problems receiving student funding, too.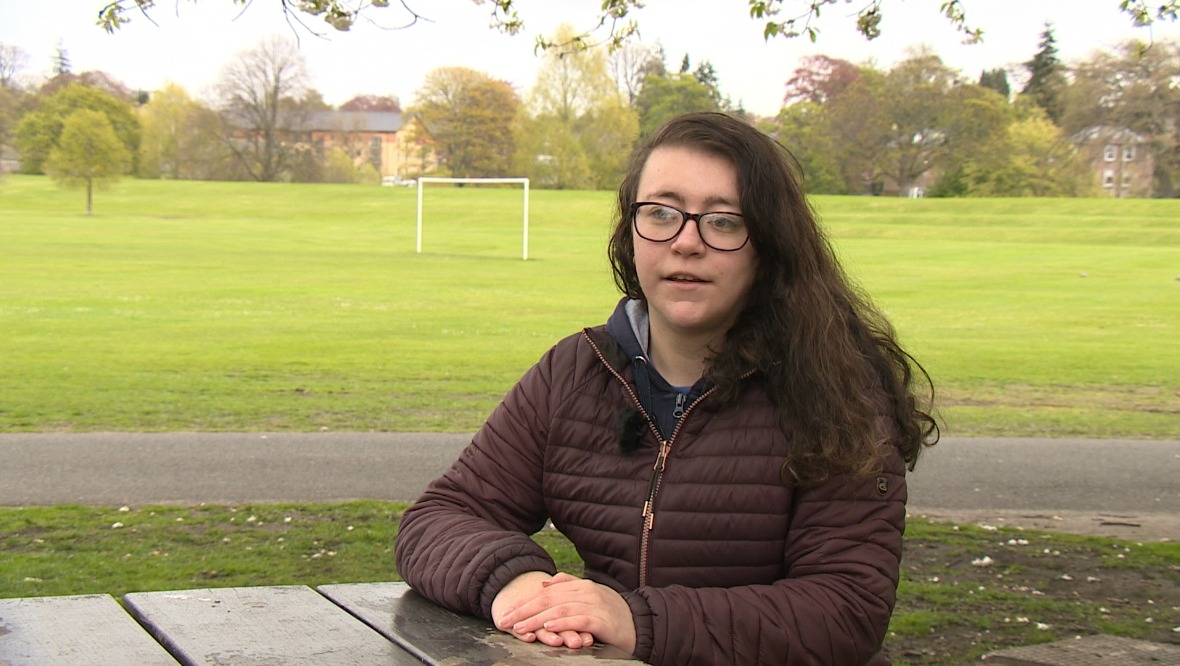 She said: "You're being treated like a piece of dirt, a piece of grass. You're just surviving, no real interest is paid to you… I believe Universal Credit needs to remove the barriers for students in general.
"There needs to be a deeper look into what the situation actually is and why this person isn't able to get student funding.
"Nowhere is taking on new staff, because they're scared that we're going to go into another second, third, fourth lockdown, and they would have to furlough some staff. That's one of the reasons I can't get a job just now."
Although Amber believes the technology industry is more secure than most, she's still concerned about the future.
"For someone who's just coming into the industry just now… I don't believe employers are going to be looking at them as decent workers because this year's been so disrupted by Covid, and because they're less skilled in the practical stuff," she said.
"I think the job market is going to be very tough on them because they won't have the real life, touchy-feely experience that you would really need. The jobs market is going to be very competitive, more competitive than it is already."
Long Covid
Fourth-year student Alisa Koester, who studies French and International Studies at Aberdeen University, was on an Erasmus term in Lyon, France, when Covid hit.
She fell ill with the virus around the same time, and while she initially thought she'd recovered relatively quickly, the lasting impact of Long Covid – when patients struggle to recover from the symptoms – has been debilitating.
"I really underestimated how much sleep and recovery I needed from a single university class," she said.
"I handed in an essay yesterday, a big piece, and another one on Friday so I feel like I've got a constant headache, and I took a nap before this interview because otherwise I can't even stare into the screen."
Alisa has made the difficult decision to defer her graduation to November, giving herself more time to complete her studies.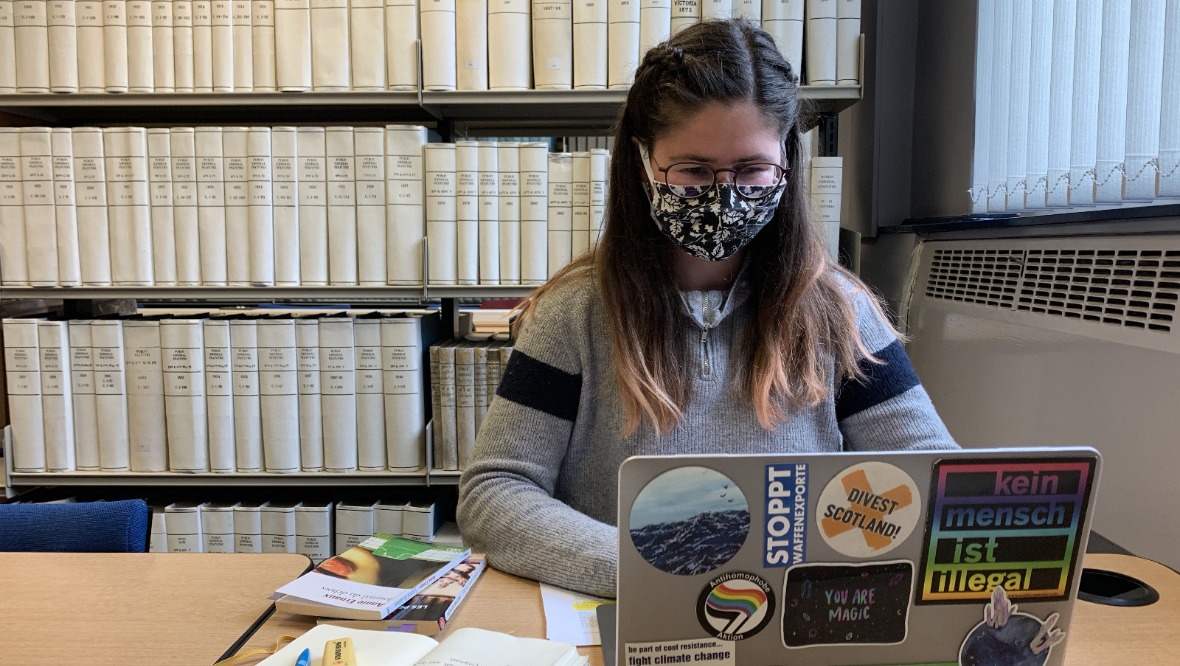 She explained: "I needed extensions for all my assignments this year because whilst usually I'd write an essay in a week, now I'd write 200 words per day and need a nap.
"I just couldn't do it all, keeping up with attending classes and being present in my university life but also writing my assignments, particularly dissertation."
Her family are in Germany, so Alisa has struggled being so far away from them, but she says her friends in Aberdeen have offered a lifeline.
"My flatmates have been incredible," she said. "I'm in a very privileged position that I could stay in university, but what if you don't have that support system?"
'An emotional rollercoaster'
As a young carer studying social work, Lucy Challoner's had more to juggle than most.
Her mum Judy, who has alcohol-related brain damage, had been living in residential care but Lucy and her brother moved her back home after struggling with visiting restrictions.
The 23-year-old from Edinburgh said: "[It's been] an emotional rollercoaster really, I've personally had some really low points where I've lost hope, and I was just wondering when I'm going to see my mum again.
"She was really upset about the situation, so it's been emotionally really difficult, but then having her back home and seeing her with my gran and my brother, that's really positive."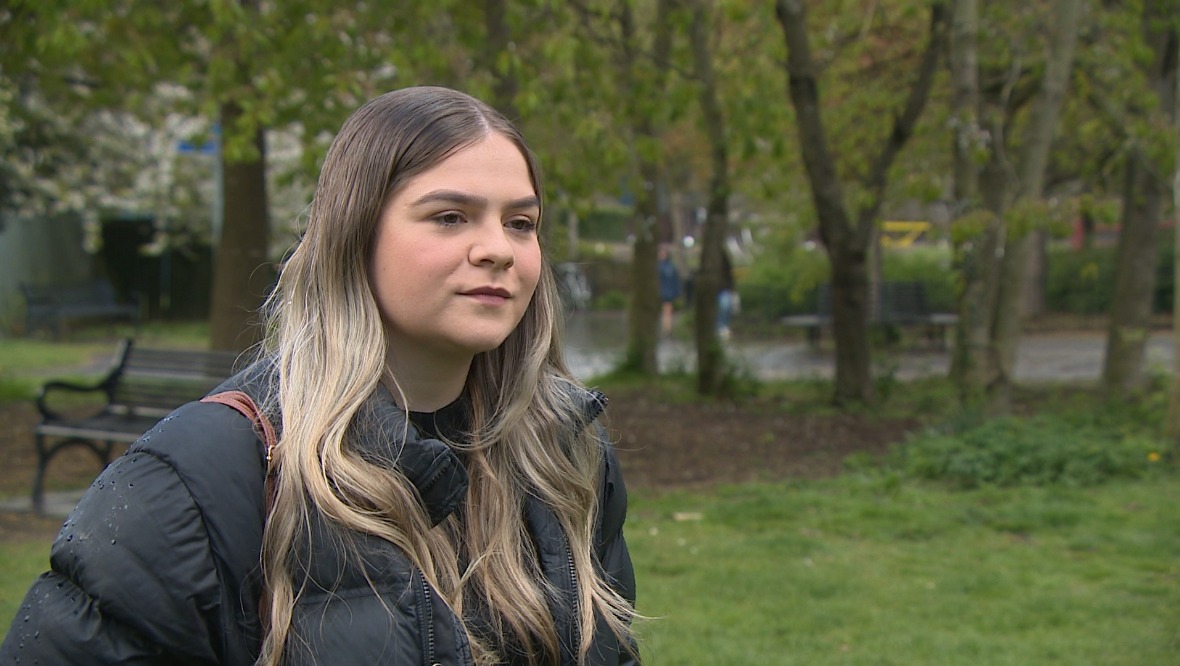 It's been difficult for Lucy to find a balance between caring for her mum and keeping up with her studies.
"Trying to deal with all the change of having mum back home and online learning, it's been a lot and it's been really stressful," she said. "I think that has impacted my level of performance really, all the online teaching. With my dyslexia I do take a bit longer to do things.
"In a way the online working has worked well for us because me and my brother have been in the house more – it's hard to imagine being back in the classroom. For me I'd much prefer being in the classroom so I can see my classmates, and chat to teachers and stuff."
In previous summers, Lucy has worked in a holiday club for children with additional needs, which has provided her with good work experience as well as bolstering her finances.
But lockdown disrupted that last year, and that's taken its toll.
Lucy added: "It's been quite a stress, because I've been on a zero-hour contract, and we're not entitled to carer's allowance because we're full-time students.
"There could definitely be a lot more support for people in my situation, because it can be quite isolating."
'Confined to your four walls'
Athina Bohner moved to Glasgow from Germany last year – she had just turned 18 and was excited to begin her International Relations degree and explore a new city.
But from the moment she arrived, she knew things wouldn't be how she'd imagined.
Her dad had to drop her off at her private flat without coming inside because of the restrictions at the time.
"These are meant to be the best years of your life – but it simply hasn't been like that," she said.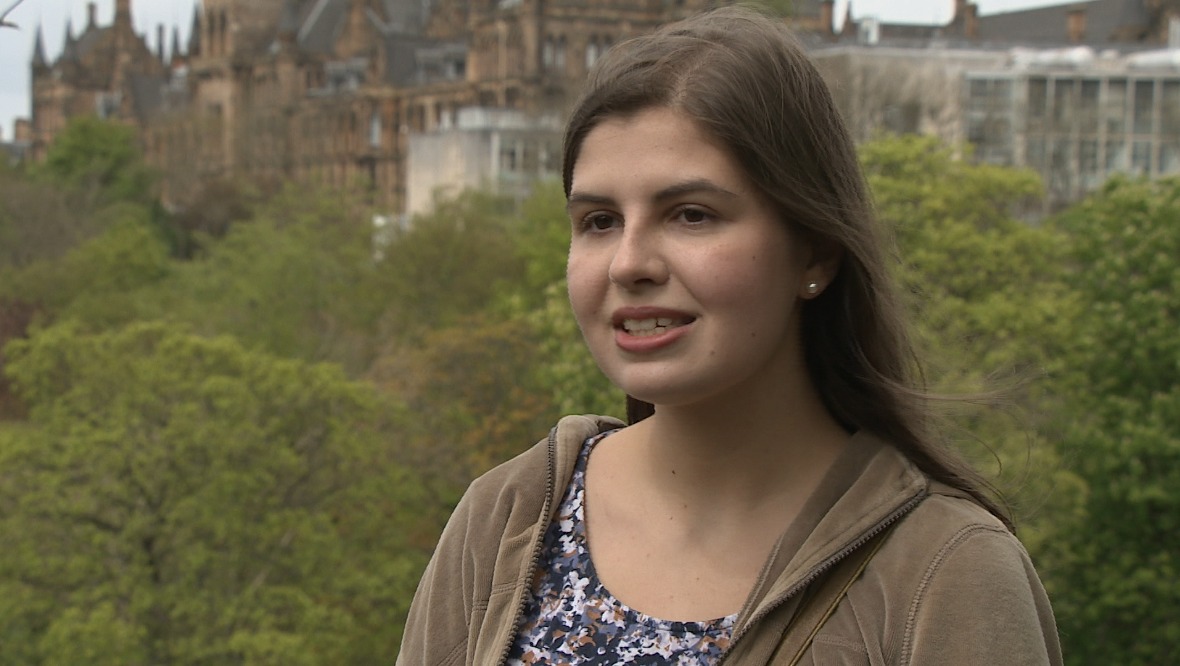 "I was homesick a lot at the start. I missed family, I missed friends back home, I felt very detached from my surroundings; it was like a ghost town, because there was no one outside. It was dark, rainy, gloomy. I was very lonely."
The loneliness was exacerbated by the lack of face-to-face teaching.
Athina said: "You basically just wake up, open your laptop, work all day, shut it and go to sleep, on repeat, while confined to your own four walls.
"All of the live lectures and seminars were just filled with little black boxes that were muted. So it was incredibly difficult to make connections even within your student bubble, your course mates."
But Athina is grateful to have made a close friend in classmate Neve Keachie, who made the last-minute decision not to move from her home in Lanarkshire into student halls.
Neve, who has also found her fresher's year quite an isolating experience, hosted Athina for Christmas.
"I'm very thankful for Neve's family that they invited me over for Christmas dinner, it's probably one of my most precious memories that I have here so far," Athina added.
'Ticking timebomb' as summer approaches
The National Union of Students (NuS) says it's been a difficult year for many reasons – but the financial impact and the uncertain job market is one of particular concern.
The union is calling for urgent action over the summer, as most students have now received their final student loan or bursary payment, with no prospect of further payments until September. It says its members are facing a "ticking timebomb of student deprivation".
NUS Scotland president Matt Crilly said: "Coronavirus has caused untold disruption to students up and down the country, to our studies, our finances and our everyday lives.
"Many students have already lost crucial part-time jobs with no guarantee that such work will be available again soon, the end of student support payments is just around the corner, and the vast majority of full-time students are not eligible for Universal Credit.
"The situation is dire, and we must not end up in a position where students are driven out of education and into poverty.
"That's why NUS Scotland has launched a petition, calling on the Scottish Government to urgently intervene and make bursary support available to all students through a student summer payment."
Hope for the future
Universities Scotland, which represents Scotland's 19 universities, acknowledged the level of disruption students had faced, but said the safety had always come first.
Director, Alastair Sim said: "The safety and needs of students has guided our decision-making process since the start of the pandemic and will continue to be the case.
"Over the last year we have seen tremendous dedication to learning from both students and staff in what has been very challenging circumstances.
"We have witnessed a change in teaching and assessment but the quality has not been compromised. Students have continued to be supported by their universities in a variety of different ways depending of the individual needs of the student.
"We continue to liaise with the Scottish Government and monitor the ongoing Covid-19 situation as we plan for the next academic year.
"Like the rest of society, we want to be 'back to normal' as soon as possible, but also recognise the health and safety of staff and students comes first."