As party poppers begin to shoot colourful confetti across living rooms and elasticated hats are placed jauntily on heads, naturally it's time to find a drink to toast the New Year.
For many, there is nothing more fitting than a dram, a smoky peated malt from Islay or perhaps a lighter, floral measure from Speyside poured into a glass to celebrate the passing of the past 12 months.
While the traditional additions of drops of water or a little ice to a glass of whisky remain popular, they aren't exactly the wild and varied cocktails that are shaken, stirred and layered into glasses in bars across the country on December 31.
Yet unbeknown to many, there are a few surprising facts to be learned about the history of the Scottish cocktail; the drinks inspired by our national spirit, the misleading names and the pioneering Scots barmen who helped revolutionise the way we celebrate, drink in hand.
"In Scotland, we have what I like to call 'alcohol romanticism', and it portrays our passion for what we do," explains Ciarán Russell, a bartender at The Tippling House in Aberdeen.
"It's seen in whisky so much, how we use traditional methods, and do not often change how we make it.
"It is this passion that I believe has been passed onto the creators of these so called 'Scottish cocktails' who have fallen in love with Scotland and been encapsulated by this 'alcohol romanticism'."
These so-called 'Scottish cocktails' are often anything but celtic, rather inspired by historic stories, lush Highland landscapes and even some of Scotland's important scientific discoveries.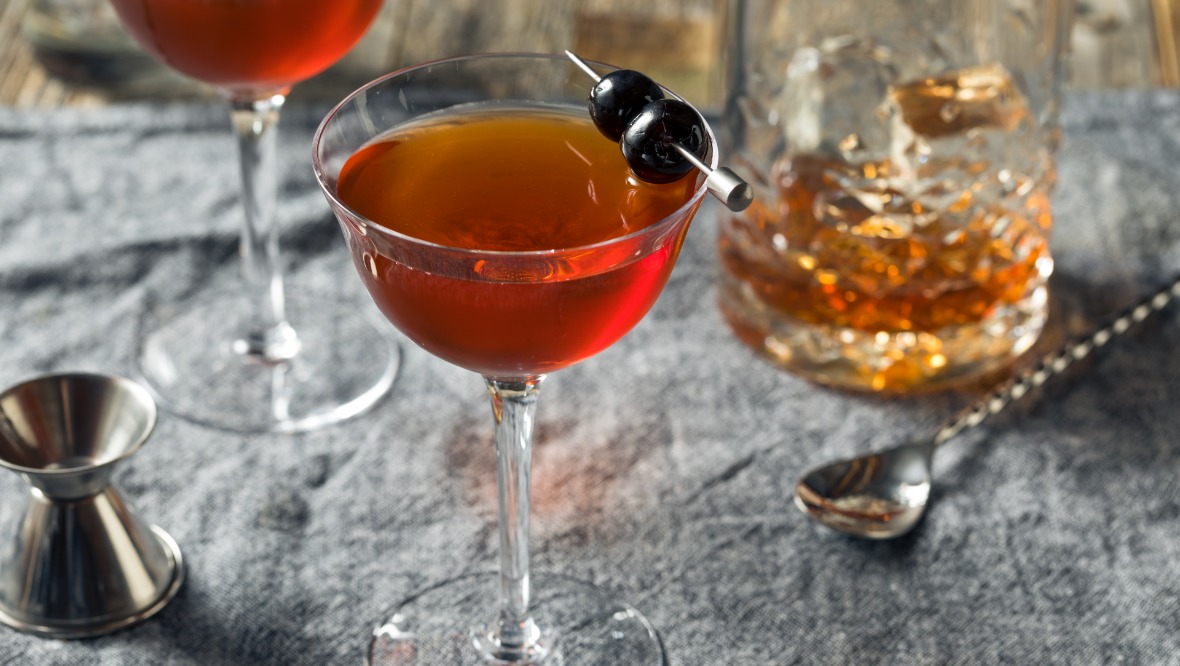 Possibly the cocktail surrounded in the most misconception is the Rob Roy, which despite the name, was actually first stirred up in Manhattan in 1894.
Similar to a Manhattan cocktail itself, the straight up drink which can be served sweet or dry uses Scotch as its base spirit rather than rye or bourbon.
Ciarán explains: "It was named thusly due to being created for the premiere of the operetta 'Rob Roy', loosely based on Scottish folklore hero Rob Roy Macgregor.
"I think perhaps people assume due to it being made with Scotch whisky, it was born here."
Ciarán also adds that the name can confuse drinkers with the similarly titled Bobby Burns, named after The Bard of Ayrshire and differs only with a splash of benedictine liqueur added to the cocktail glass.
For golfers a Whisky Mac, sometimes known as a Whisky Macdonald, is often perceived as an inherently Scottish drink thanks in part to the name and its connection to clubhouses.
Invented in India at some point between the late 19th and early 20th century during the time of British rule, the Whisky Mac was created by a Colonel Macdonald and consists of a blended whisky stirred with green ginger wine and served in a goblet with no ice.
First invented to make use of the perceived medicinal properties of ginger, It is now said to be a favourite amongst golfers, served following a round on the links to warm up players from the cold so they could enjoy a follow up nip of whisky properly.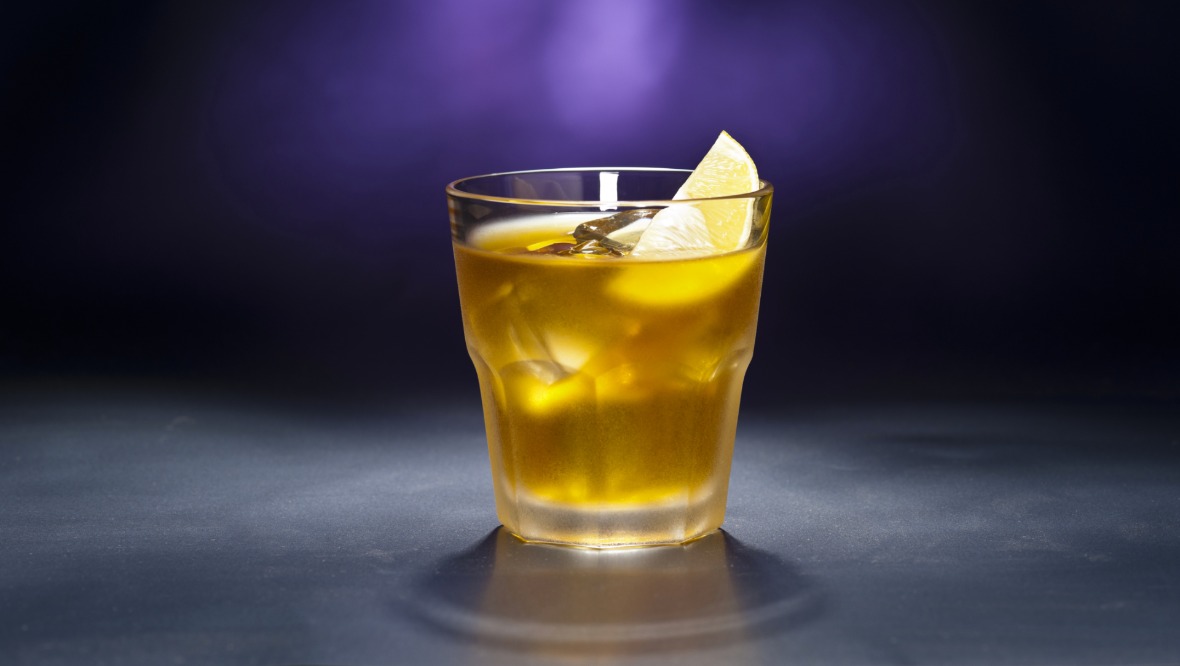 While it isn't known for certain if the Colonel himself was Scottish, Ciarán explains that the drink appears inherently Scottish in nature.
"That touch of ginger breathes that fieriness that people connect with Scotland into the drink.
"There is something, unmistakably Scottish, that you just can't put your finger on with a Whisky Mac, but no matter where you are, it brings you back."
As for The Rusty Nail, Ciarán notes the whisky cocktail as 'an odd one', one of the few trademarked drinks thanks to its exclusive use of Drambuie, a whisky liqueur featuring a secret blend of whisky, heather honey, spices and herbs.
"Drambuie is perhaps the most non-Scotch product that is still quintessentially Scottish," muses Ciarán.
"The cocktail's high proliferation throughout Scottish bars, and from Scotch drinkers set it as a drink that is steeped in Scottish heritage."
The cocktail's popularity began in the early 60s, a Rusty Nail a simple balance of Scotch and Drambuie stirred together before serving straight up, on the rocks or 'up' in a stemmed glass with a twist of lemon.
Appearing to be a Scottish cocktail thanks to its two base ingredients produced in Scotland, the romanticism of the story of Drambuie, Ciarán says, could be why it is believed to have celtic roots.
"Bonnie Prince Charlie fled to the Isle of Skye and was said to have gifted the people of Skye his prized drink recipe," he says.
"It's easy to understand how people may have become to think of this cocktail as inherently Scottish, even though it was created in Manhattan."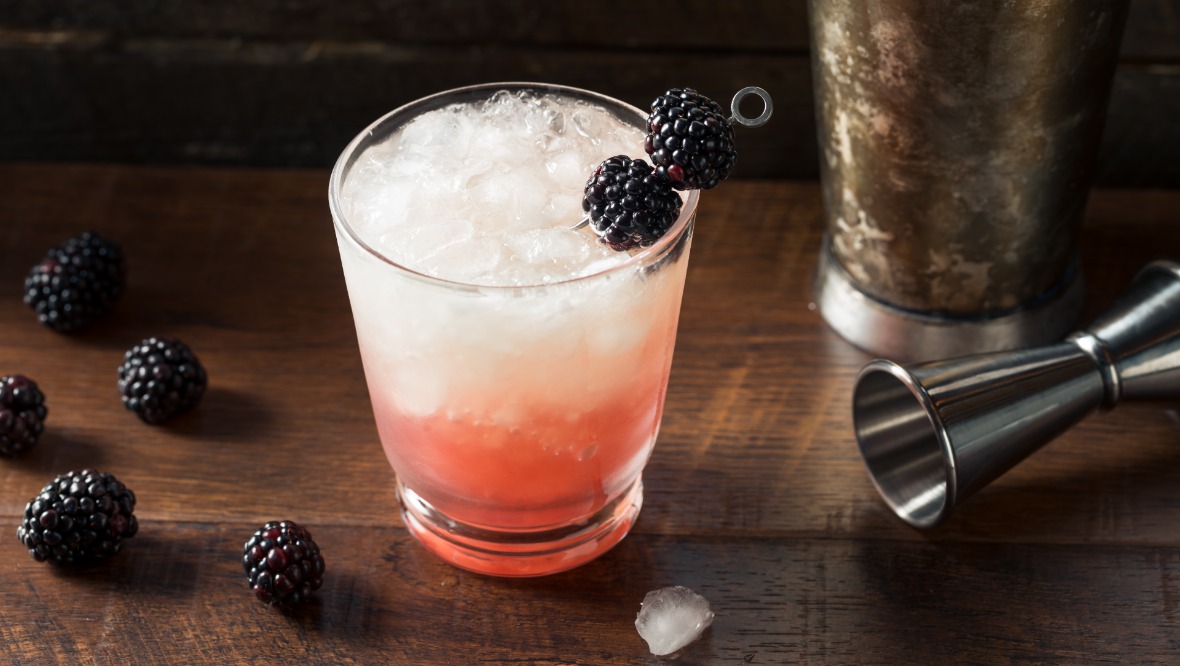 For lovers of gin cocktail The Bramble, it may be surprising to note the Scots colloquialism for a blackberry is the only celtic aspect of this sour drink.
A more recent addition to the classic cocktail books, it was invented in the 80s in London.
Dry gin, lemon and sugar syrup is built over a mound of crushed ice before blackberry liqueur creme de mure is trickled down the ice as a final touch, said to resemble that of a bramble bush, where the cocktail is thought to have attained its name.
With a popular cocktail bar operating in Edinburgh of the same name, Ciarán says he can't help but think of the capital when making one.
"I can't think of the last time I made a Bramble without thinking of Edinburgh," he says. "I think this is the case for many people, not just in Scotland but worldwide.
"That combined with the massive consumption of creme de mure in Scotland, and how Scotland is famous for producing fantastic bramble fruits, is what in my opinion has led to people believing [The Bramble] has Scottish origins."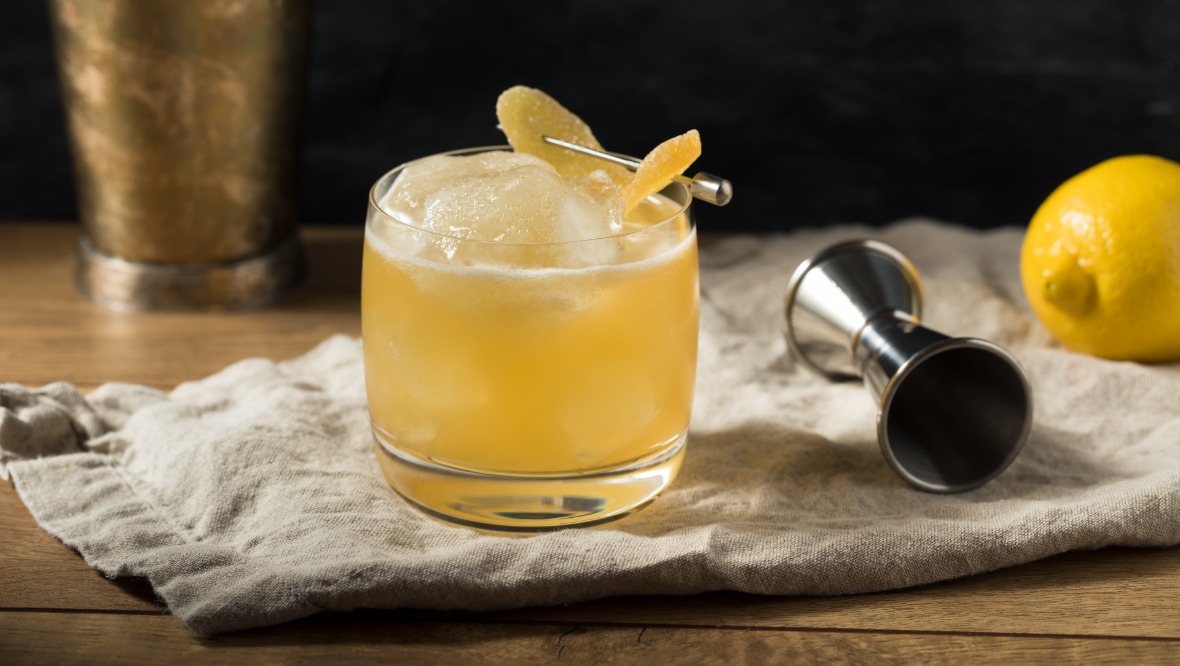 The Penicillin, a shaken cocktail of lemon, honey, blended whisky and fresh ginger layered with an Islay single malt, also evokes confusion with cocktail drinkers over its strong ingredients and Scottish sounding name.
It's heady concoction, said to be something of a 'cure-all' cocktail hence its moniker, but the Pencillin's origins have nothing to do with Alexander Fleming. In fact, it was an Australian who first shook up this cocktail, the most modern on the list, in 2005 in New York.
Ciarán, similarly confused over the cocktail's perceived Scottishness, says: "Maybe people are getting it confused with Fleming discovering the antibiotic, but aside from the heavy influence of Scotch whisky, [it is] like the Rob Roy."
"What I will say though, is that the combination of the honey, the ginger, and the Islay malt whisky over the top of it, from the first sip to the last drop, it does seem to transport you to the coast of Islay."
From the Bramble to the Rob Roy, it seems as though Scotland's historic connection to the cocktail only goes as far as providing Scotch for the base of most drinks. So are there any cocktails that Scots can firmly lay claim to?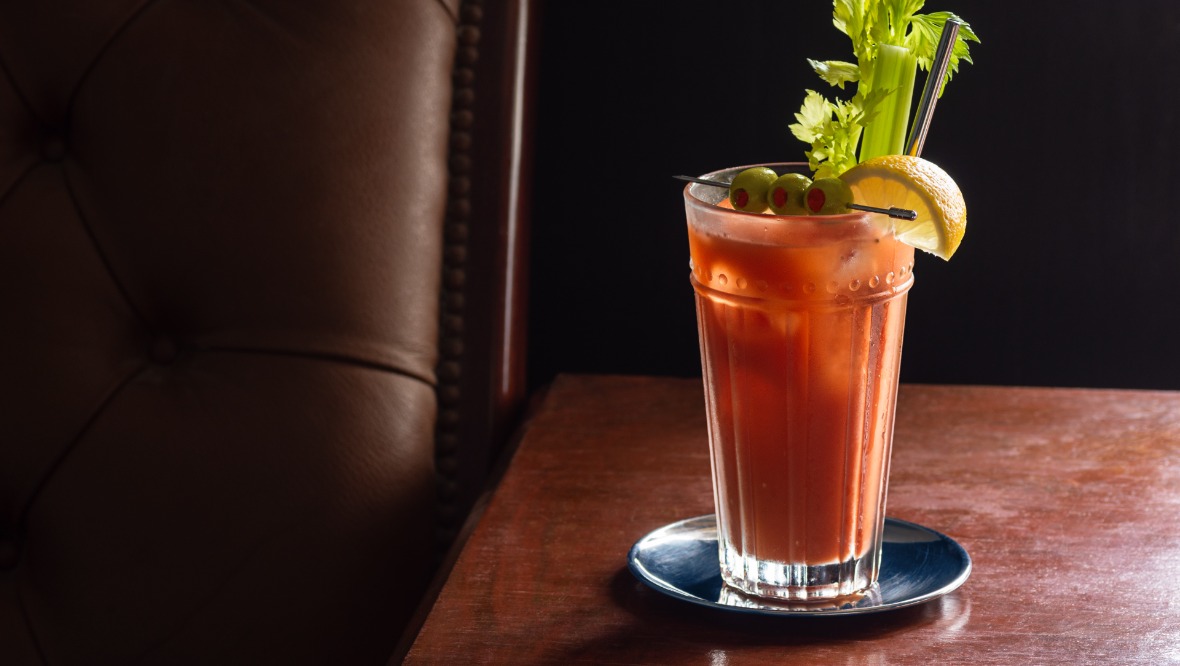 Curiously, Ciarán explains that Dundee could hold the key to Scotland's place on the cocktail map across the world, with famous drinks such as a Bloody Mary connected to the silvery Tay.
"In Paris, there is a bar that is a key stop for any discerning drinker. Harry's New York bar," explains Ciarán
"Bought at the start of the 20th century, by one of the 20th century's defining cocktail figures Harry MacElhone. Harry was from Dundee, something one of my colleagues never shuts up about.
"Harry wrote several books many of us are well acquainted with, such as 'Harry's ABC of Mixing Cocktails'. He himself is credited with the creation of many drinks, such as a White Lady, and Boulevardier, with the Bloody Mary being accredited to being made by one of the other bartenders at Harry's.
"None of which people ever associate with Scotland. What is also great, is that Harry's descendants still run the bar now, and was a popular spot for Ernest Hemingway, and many other prominent figures."
As the clock ticks ever closer to the end of the year, Ciarán does have an idea of how Scots can still shake up a couple of drinks with celtic connections for the bells, adding a few Scottish twists to some classic cocktail recipes.
The Irn Old Fashioned
50ml Monkey Shoulder Blended Malt
20ml Irn Bru Reduction (Just heat 500ml of Irn Bru in a pot with about 500g of Sugar until reduced)
2 dash Angostura bitters.
A twist on a regular Scotch old fashioned, stir the ingredients over ice, and serve in a rocks glass with ice and a piece of orange zest.
Dark Matter Toddy
50ml Dark Matter Spiced Rum
20ml Freshly squeezed orange juice
100ml Boiling water
1 sachet demerara sugar
3 slices fresh ginger
1 orange segment
1 cinnamon stick.
The perfect twist for a winter warmer, with Banchory's own spiced rum, the to be produced in Scotland. Combine all ingredients in a toddy glass, and give a quick stir before serving.
A Most Unusual Punch
35ml Hendricks Gin
15ml Dry Vermouth
20ml 6 Degrees North Wanderlust Wheat beer
20ml Elderflower cordial
20ml Pink Grapefruit Juice
2-3 slices of fresh cucumber
A strong refreshing take on a classic punch, simply shake all ingredients together and serve straight up.