Her Majesty Queen Elizabeth II died in her Platinum Jubilee year at the age of 96.
Britain's longest-serving monarch passed peacefully with her family at her bedside at Balmoral on the afternoon of September 8 2022.
Keeping her pledge to dedicate her life to royal duty, she carried out over 70 years of service and was still attending official engagements as she neared 100.
For many, the late Queen symbolised the stability of the nation, and most people had known no other monarch on the British throne.
Here, look back at some of the most historic moments from the late Queen Elizabeth II's life.
April 21, 1926 – Birth of the Queen
Princess Elizabeth Alexandra Mary Windsor was born at 2.40am on April 21, 1926 at 17 Bruton Street, Mayfair, London. She was the first child of The Duke and Duchess of York, who later became King George VI and Queen Elizabeth.
1933 – Elizabeth given first corgi
At the age of seven, Elizabeth is gifted Dookie, a Pembrokeshire Welsh corgi, by her father King George. This sparked a lifelong love of the breed which saw her own at least 30 corgis over the years.
December 11, 1936 – King Edward VII steps down
King Edward VIII steps down and Elizabeth's father becomes king, making her heiress presumptive.
April 21, 1942 – Elizabeth's first public engagement
On her 16th birthday, Elizabeth makes her first public engagement inspecting the soldiers of the Grenadier Guards at Windsor Castle.
April 1947 – Queen dedicates life to public service
At the age of 21, Princess Elizabeth makes a broadcast from Cape Town while on tour in South Africa, pledging to dedicate her life to public service.
November 20, 1947 – Elizabeth marries Philip
Elizabeth married Philip Mountbatten in Westminster Abbey at the age of 21, whom she first met when she was 13 and he was 18. They were together for 73 years until Philip's death on April 9, 2021.
November 14, 1948 – Prince Charles is born
Elizabeth gave birth to her first child, Prince Charles, at Buckingham Palace.
August 15, 1950 – Princess Anne born
Her second child, and only daughter, Princess Anne, was born at Clarence House.
June 2, 1953 – Elizabeth crowned queen
Elizabeth's coronation takes place at Westminster Abbey following the death of her father in February 1952. She was crowned queen at the age of 27.
February 19, 1960 – Prince Andrew born
Queen Elizabeth's third child, Prince Andrew, was born at Buckingham Palace.
March 10, 1964 – Prince Edward born
Queen Elizabeth gave birth to her fourth and final child, Prince Edward, at Buckingham Palace aged 37.
June 2, 1977 – Silver Jubilee
The Queen celebrates 25 years on the throne with visits to the Commonwealth and a public holiday.
July 29, 1981- Charles marries Diana
Prince Charles marries Lady Diana Spencer in a lavish Royal ceremony at St Paul's Cathedral in London.
June 21, 1982 – Prince William is born
Diana, Princess of Wales gives birth to Prince William, the Queen's third grandchild and second in line to the throne after his father Prince Charles.
1992 – Queen's 'annus horribilis'
The Queen has previously referred to 1992 as her annus horribilis which saw three royal relationships break down and a blaze devastate Windsor Castle.
Her son Prince Andrew separated from his wife Sarah early that year.
Princess Anne divorced Captain Mark Phillips after years of marital strain and Prince Charles and his wife Diana formally separated in December.
The fire at Windsor Castle destroyed 115 rooms on November 20 and it took five years to restore.
August 31, 1997 – Princess Diana dies
Diana, Princess of Wales died on August 31 after being injured in a car crash in Paris.
Relations between the Queen's daughter-in-law and the royal family had been strained after her bombshell interview with journalist Martin Bashir.
The Queen paid tribute to Diana as an "exceptional and gifted human being" who "inspired others with her warmth and kindness".
"I admired and respected her for her energy and commitment to others, especially for her devotion to her two boys."
November 20, 1997 – Golden wedding anniversary
The Queen and Prince Philip celebrated 50 years of marriage with a garden party at Buckingham Palace for couples also celebrating their Golden Wedding.
February 2002 – Princess Margaret dies
Princess Margaret, the Queen's younger sister, died from complications of a stroke on February 9, 2002.
March 2002 – Queen Mother dies
The Queen Mother died one month after her daughter Princess Margaret, at the age of 101.
June 24, 2002 – Golden Jubilee
The Queen visits Commonwealth countries including the Caribbean, Australia and Canada and travels the UK to celebrate her Golden Jubilee.
May 17, 2007 – Visit to the Republic of Ireland
The Queen goes to Dublin in the first state visit to the Republic of Ireland by a reigning British monarch.
There, she shared her "sincere thoughts and deep sympathy" for the victims of the Troubles.
July 22, 2013 – Prince George is born
Prince George is born to Prince William and the Duchess of Cambridge, third in line to the throne.
September 9, 2015 – Queen breaks royal reign record
Queen Elizabeth surpasses her great-grandmother Queen Victoria to become the longest-reigning monarch in British history, with more than 63 years on the throne.
January 2020 – Harry and Meghan step away from royal duties
Prince Harry and Meghan Markle announced they were to step away from duties as senior members of the royal family and split their time between the UK and North America. The news reportedly came as a shock to the Queen.
April 5, 2020 – Queen speaks out on Covid pandemic
Queen Elizabeth delivered a televised speech on the coronavirus outbreak, acknowledging the grief and hardship being faced by people and thanking NHS workers.
She ended her speech with "we will meet again", echoing Vera Lynn's wartime anthem.
March 7, 2021 – Harry and Meghan's Oprah interview
Prince Harry and Meghan Markle's controversial interview with Oprah Winfrey aired on March 7 in the United States, and the following day in the UK.
The royal family faced racism claims after Harry and Meghan alleged an unnamed member of the family questioned how dark their son's skin would be.
April 9, 2021 – Prince Philip dies
The Queen's beloved husband Prince Philip died aged 99 on April 9, 2021. The Queen had previously described him as her "strength and stay" during their 73-year marriage.
The Duke of Edinburgh's death notice declared the cause of his death as old age.
April 12, 2021 – 95th birthday
The Queen's milestone birthday marked the first without late husband Prince Philip by her side in seven decades.
Celebrations were smaller due to the pandemic and the death of the Duke of Edinburgh.
April 17, 2021 – Prince Philip's funeral
Prince Philip's funeral is held at St George's Chapel. There were 30 guests in attendance and the Queen sat alone, due to Covid guidelines. A national minute's silence was held at 3pm in honour of the Duke.
The royal family were reunited with Prince Harry for the first time since the bombshell interview with Oprah.
June 6, 2021 – Baby Lilibet is born
Prince Harry and Meghan Markle name their baby daughter Lilibet after Queen Elizabeth, the family nickname for the Queen.
December 25, 2021 – Tribute to Philip in Christmas speech
The Queen paid tribute to Prince Philip on her first Christmas without him in seven decades. "His sense of service, intellectual curiosity and capacity to squeeze fun out of any situation – were all irrepressible."
February 6, 2022 – Platinum Jubilee
Queen Elizabeth II marks 70 years since she ascended to the throne on February 6 2022.
March 6, 2022 – Leaves Buckingham Palace
The Queen broke with tradition and permanently moved to Windsor Castle from Buckingham Palace, where she spent much of the pandemic with Prince Philip.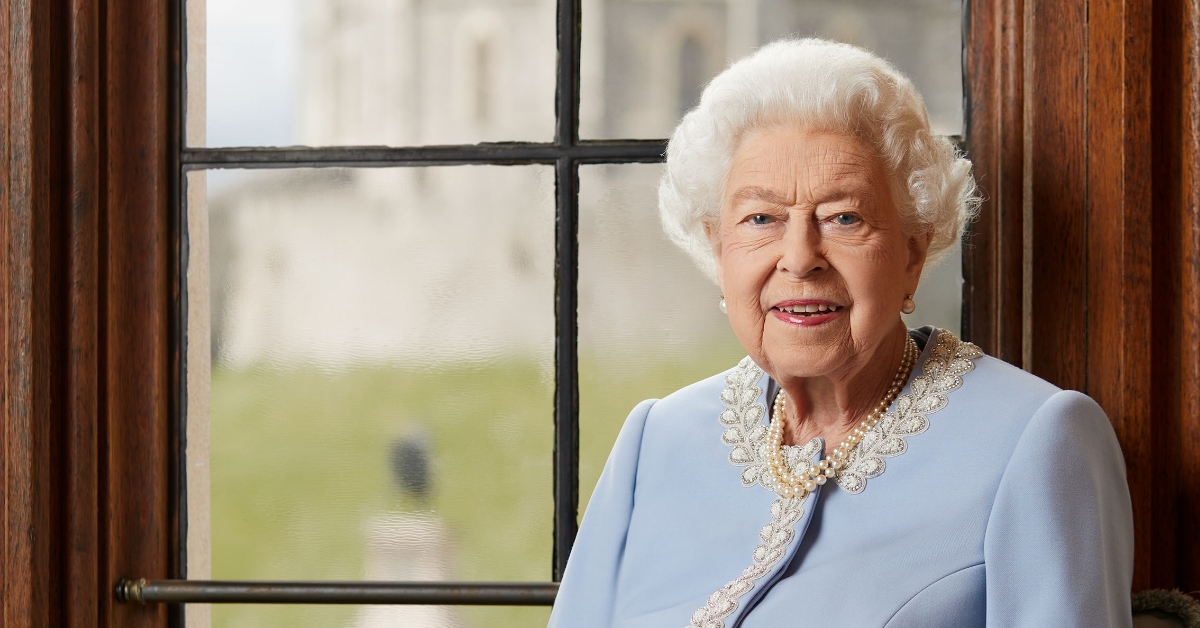 March 29, 2022 – Queen shows support for Prince Andrew
The Queen appeared alongside disgraced son, Prince Andrew, at the memorial for Prince Philip.
The Duke of York made his first appearance with the Queen since settling his sex abuse case in the US. He paid accuser Virginia Roberts a reported £12m with a plea deal condition that no formal admission of liability or apology was owed.
April 14, 2022 – Meets Harry and Meghan for first time in two years
Prince Harry and Meghan Markle visited the Queen in private, before travelling to Germany for the Invictus Games.
April 21, 2022 – Queen marks 96th birthday
The Queen celebrated her 96th birthday at Wood Farm in private on the Sandringham Estate – the farmhouse where Prince Philip lived after his retirement.
June 2, 2022 – Platinum Jubilee
Four days of Platinum Jubilee celebrations kicked off with Trooping the Colour, with thousands coming to watch at the Mall and a flypast over Buckingham Palace watched by the royals from the balcony.
More than 3,500 beacons were lit around the UK and Commonwealth in tribute to the Queen's Platinum Jubilee.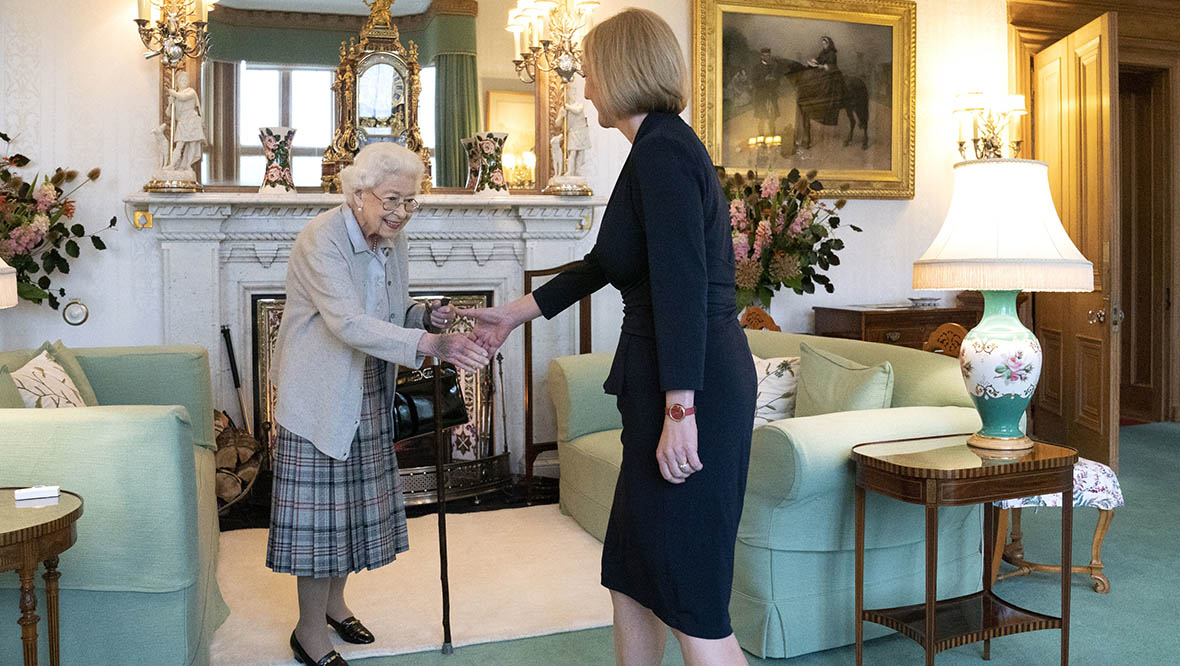 June 4, 2022 – Platinum Party at the Palace
A huge concert is held in the Queen's honour at Buckingham Palace, with Queen and Sam Ryder taking to the stage.
The Queen joined Paddington Bear for afternoon tea in a pre-recorded clip to kick off the event.
September 6, 2022 – Liz Truss becomes PM
Liz Truss becomes Prime Minister after meeting the Queen at Balmoral, where she was officially asked to form a new government.
It was the first time the Queen carried out the duty there during her reign, having previously appointed new leaders at Windsor Castle or Buckingham Palace.