Schools across Scotland have returned after two days of strikes amid the pay dispute between educators, the Scottish Government and councils.
Members of Scotland's largest teaching union, the Educational Institute of Scotland (EIS), walked out on Tuesday and Wednesday.
The EIS has been asking for a 10% pay rise and the union is now singling out the constituencies of First Minister Nicola Sturgeon, deputy first minister John Swinney, education secretary Shirley-Anne Somerville, Scottish Green education spokesman Ross Greer and Katie Hagmann, the resources spokeswoman for local authority body COSLA.
A further three days of strike action will take place in their constituencies, as well as Hagmann's Mid Galloway and Wigtown West council ward in Dumfries and Galloway, between March 7-9.
There will also be a further 20 days of rolling strike action between March 13 and April 21, either side of the Easter holidays.
The union said it would continue with strike action until a "more credible offer is put onto the negotiating table".
What pay has been offered by the government?
The latest pay offer from the Scottish Government would see teachers earning up to £80,000 have their pay rise by 6%, backdated to April 2022, and then another 5.5% from the start of the 2023 financial year.
The EIS union is calling for a 10% increase which the Scottish Government has said is unaffordable.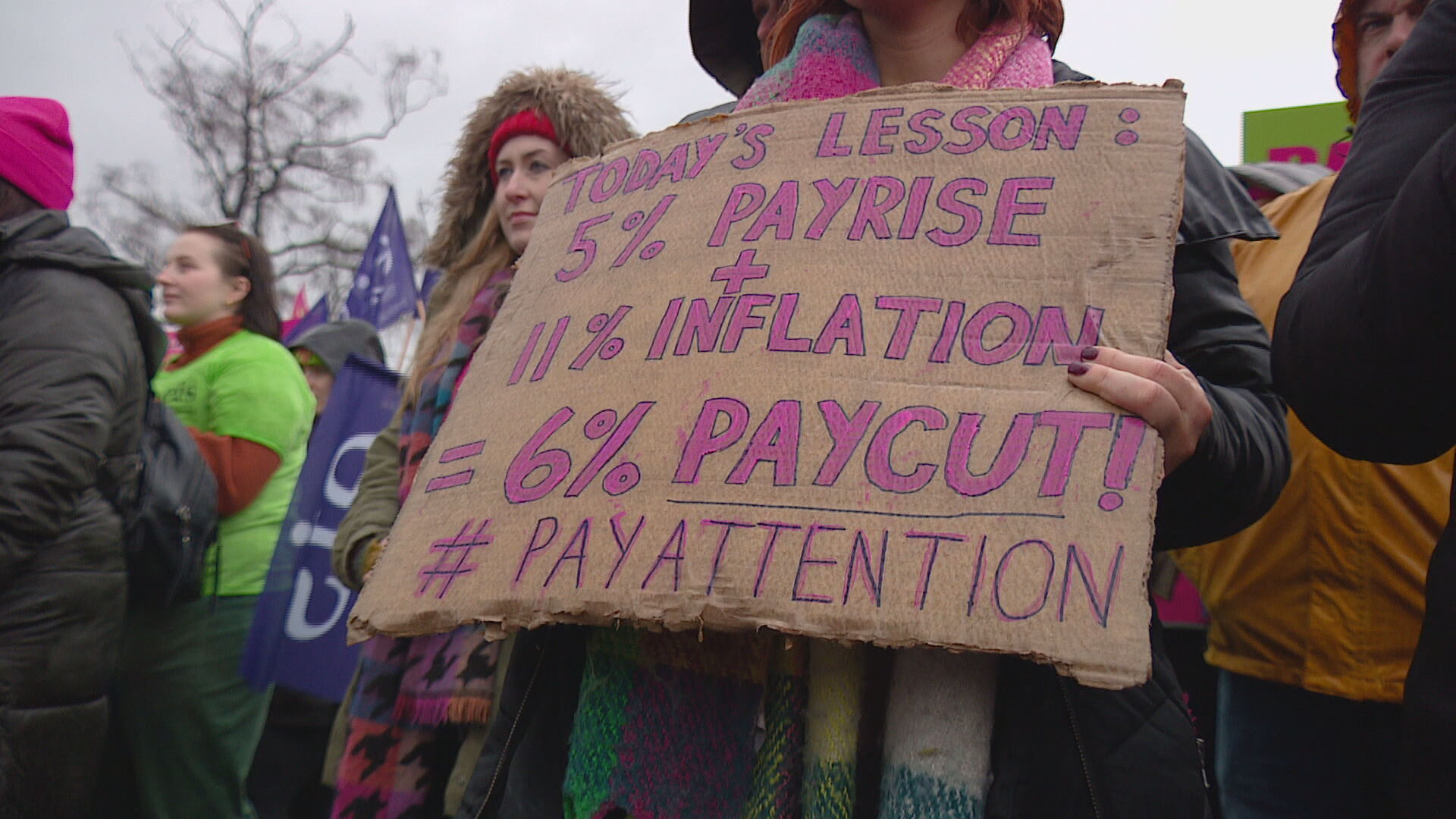 NASUWT refuse to rule out further action
A second teachers' union has refused to rule out further strikes over pay.
NASUWT has not announced any further strike dates, however Mike Corbett, its national official for Scotland, said there was "certainly potential" for more walkouts, though members would be "reluctant" to disrupt exam season.
Speaking on a picket line outside Rosshall Academy in Glasgow, he told the PA news agency: "Our action committee will meet again and review where we're at.
"We do have a programme of action short of strike action in schools at the moment so that's there still to try and put pressure on employers to come to a resolution.
"Certainly there's potential for more strike action… we would be reluctant I think to disrupt exam season, disrupt exams and the pupils' potential achievements."
EIS says mood on picket line 'still strong'
EIS Glasgow secretary Susan Quinn said that the mood across picket lines in the city on Tuesday was "still strong", with teachers resolved to continue with strike action until a "decent pay offer" is on the table.
The union hopes that talks with the Scottish Government and COSLA this week may lead to progress.
She said: "We are ever hopeful that the talks with the government and COSLA will bring something new to the table – that's really why we continue with the discussions, because we hope that they will make the difference.
"They know what they need to do to end these strikes, so hopefully these talks this time will make the difference."
Asked what kind of offer the union would need to see to call off further strikes she said: "One that's much closer to the 10% claim than the current one."
SSTA and AHDS defer strike action
Members of the Scottish Secondary Teachers' Association (SSTA) agreed to defer this week's industrial action after a member survey found they would very marginally vote in favour of accepting the latest offer.
The Association of Headteachers and Deputies in Scotland (AHDS) also cancelled its planned participation in further strikes after a majority voted in favour of accepting the deal.
20 Days of Rolling Strikes
| | | | |
| --- | --- | --- | --- |
| Council | Strike Date – All Schools | Strike Date – Primary | Strike Date – Secondary |
| Aberdeen City | 27-Mar-23 | 24-Mar-23 | 28-Mar-23 |
| Aberdeenshire | 23-Mar-23 | 22-Mar-23 | 24-Mar-23 |
| Angus | 14-Mar-23 | 15-Mar-23 | 13-Mar-23 |
| Argyll and Bute | 20-Mar-23 | 17-Mar-23 | 21-Mar-23 |
| Clackmannanshire | 27-Mar-23 | 24-Mar-23 | 28-Mar-23 |
| Dumfries and Galloway | 30-Mar-23 | 29-Mar-23 | 31-Mar-23 |
| Dundee | 20-Mar-23 | 17-Mar-23 | 21-Mar-23 |
| East Ayrshire | 15-Mar-23 | 16-Mar-23 | 14-Mar-23 |
| East Dunbartonshire | 19-Apr-23 | 18-Apr-23 | 20-Apr-23 |
| East Lothian | 17-Mar-23 | 15-Mar-23 | 16-Mar-23 |
| East Renfrewshire | 30-Mar-23 | 29-Mar-23 | 31-Mar-23 |
| Edinburgh | 17-Mar-23 | 16-Mar-23 | 20-Mar-23 |
| Falkirk | 21-Mar-23 | 20-Mar-23 | 22-Mar-23 |
| Fife | 17-Apr-23 | 19-Apr-23 | 18-Apr-23 |
| Glasgow | 20-Apr-23 | 21-Apr-23 | 19-Apr-23 |
| Highland | 15-Mar-23 | 16-Mar-23 | 14-Mar-23 |
| Inverclyde | 19-Apr-23 | 18-Apr-23 | 20-Apr-23 |
| Midlothian | 28-Mar-23 | 27-Mar-23 | 29-Mar-23 |
| Moray | 18-Apr-23 | 17-Apr-23 | 19-Apr-23 |
| North Ayrshire | 16-Mar-23 | 15-Mar-23 | 17-Mar-23 |
| North Lanarkshire | 28-Mar-23 | 27-Mar-23 | 29-Mar-23 |
| Orkney | 22-Mar-23 | 21-Mar-23 | 23-Mar-23 |
| Perth and Kinross | 20-Apr-23 | 21-Apr-23 | 19-Apr-23 |
| Renfrewshire | 21-Mar-23 | 20-Mar-23 | 22-Mar-23 |
| Shetland | 24-Mar-23 | 23-Mar-23 | 27-Mar-23 |
| South Ayrshire | 17-Mar-23 | 20-Mar-23 | 16-Mar-23 |
| South Lanarkshire | 29-Mar-23 | 28-Mar-23 | 30-Mar-23 |
| Stirling | 23-Mar-23 | 22-Mar-23 | 24-Mar-23 |
| Scottish Borders | 22-Mar-23 | 21-Mar-23 | 23-Mar-23 |
| West Dunbartonshire | 14-Mar-23 | 13-Mar-23 | 15-Mar-23 |
| West Lothian | 24-Mar-23 | 23-Mar-23 | 27-Mar-23 |
| Western Isles | 29-Mar-23 | 28-Mar-23 | 30-Mar-23 |