Teachers are set to begin further targeted strike action in an ongoing dispute over fair pay.
Schools in constituencies of key politicians, including First Minister Nicola Sturgeon's, are involved in the industrial action, which will amount to six days after further strikes next month.
Many schools in the five affected areas will be closed for three days from Wednesday as the Educational Institute of Scotland (EIS) escalates industrial action in the long-running dispute over pay, with a further three days of action planned next month.
EIS members are striking in Glasgow Southside, Dunfermline, Perthshire North and the part of Clydebank and Milngavie constituency that lies within the East Dunbartonshire Council area between February 22 and 24.
The union has singled out the areas which are covered by First Minister Nicola Sturgeon, Deputy First Minister John Swinney, Education Secretary Shirley-Anne Somerville, Scottish Green education spokesman Ross Greer and Katie Hagmann, the resources spokeswoman for local authority body Cosla, for further action.
This will be on top of national strikes on February 28 and March 1, and another 20 days of rolling walkouts across Scotland's local authorities between March 13 and April 21, following strikes earlier in 2023 and late last year.
Parents have voiced concerns over the targeted action, branding it "inequitable and unfair" for pupils in the affected areas.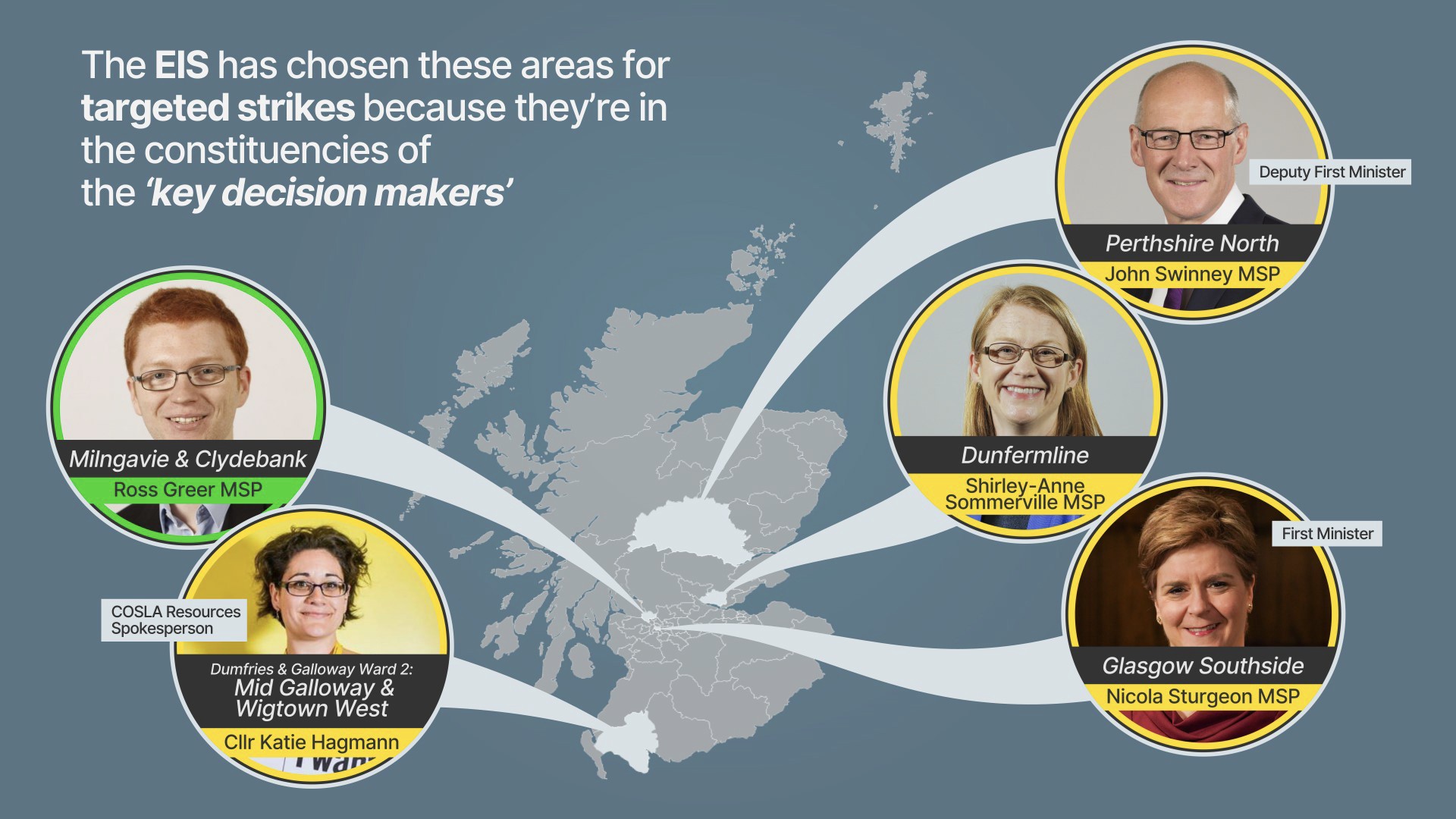 It comes after the EIS rejected the latest pay offer put to it by Somerville, the MSP for Dunfermline in Fife, which would have meant a 6% pay boost backdated to April 2022 for teachers who earn up to £80,000 and a further 5.5% from the start of the 2023 financial year, in what is the fifth offer put to them.
EIS president Andrene Bamford said the resolve of the teaching workforce to push for a 10% pay rise remains.
EIS general secretary Andrea Bradley said: "Today's intensification of strike action is a direct result of the failure of the Scottish Government and Cosla to deliver an acceptable pay offer to Scotland's teachers.
"As a result, this intensified strike action is targeted directly at the politicians with the ability to deliver a better pay offer that can end this pay dispute – just as is happening in health."
She added: "Parents and students have every right to be angry at the fact that local and national politicians continue to collude in withholding a fair settlement from Scotland's teachers."
She said after taking legal advice it is up to individual EIS members if they wish to enter into voluntary agreements with the Scottish Qualification Authority to mark exam scripts.
A further three days of strike action will take place in these areas, and also in Hagmann's Mid Galloway and Wigtown West ward in Dumfries and Galloway between March 7 and 9.
Scotland's deputy first minister John Swinney described the action as "indefensible".
He told the BBC: "I am very, very sorry to families and to young people who are having to experience this, I think it is completely inequitable."
He complained about the action being taken by the EIS, saying children in the constituencies of some politicians are being "inequitably targeted".
He added: "I think it is indefensible."
He said the deal offered to teachers last week should have been put directly to EIS members to vote on.
In response to his comments, Ms Bradley said: "What is indefensible is the chronic under-funding of education over many years, including teachers' pay.
"It is also indefensible that teachers have been compelled by a Government that claims a commitment to fair work to take a fourth day of strike action in pursuit of a fair pay settlement.
"Schools have been starved of funding and resources, and the number of teachers and support staff employed across Scotland has declined – placing ever more pressure on already overburdened teachers.
"Teachers have been subject to many years of real-terms pay erosion, and this has been brought to a head by the current cost-of-living crisis with RPI inflation hitting more than 14%.
"The Scottish Government was given ample warning that teachers would expect a fair pay increase this year, but have dragged the process out for more than a year with little progress towards a fair deal."
Leanne McGuire, chairwoman of the Glasgow City Parents Group, said it does not support the targeted action, warning it could increase inequality, saying parents are concerned about missed learning.
She told the PA news agency: "We're coming up to exam season now and young people are trying to maximise the amount of teaching time and in-class time that they can have to revise for their exams, and it seems really inequitable and unfair that pupils in that area are going to have six less days of in-school time then other areas of Glasgow, so that's why as a committee we just cannot support this type of action in any way.
"The Scottish attainment gap continues to widen, that's a fact, it's not exactly narrowed or anything, and particularly the issue that we have is the areas within the southside constituency, the majority of that is areas of high deprivation, so these young people are already disadvantaged during education as it is, and to then add another six days on top of that just further disadvantages them."
In Perth and Kinross, where Swinney is MSP for Perthshire North, around 40 schools will be closed between February 22 and 24.
In the East Dunbartonshire council area which is part of Greer's regional constituency, nine schools will be closed on both the February and March dates.
The majority of schools in Sturgeon's Glasgow Southside constituency will be closed while in Ms Somerville's constituency 27 primary schools will be shut and secondary schools were considering whether they could offer any learning for some groups of pupils.
Education Secretary Shirley-Anne Somerville, who has written an open letter to learners on the support available during school strikes, said: "I had hoped that everyone involved in this dispute would agree that pupils should not have the worry of disruption to exams hanging over them.
"I am bitterly disappointed, therefore, that the EIS is threatening continued industrial action in the run up to the exam diet."
She has appealed to teaching unions to suspend industrial action as pay talks continue.
Somerville added: "We are working with partners, including the SQA, local authorities and education directors, on contingencies for exams should industrial action continue.
"The National e-Learning Offer continues to offer a wide package of support that pupils preparing for exams can access from home while schools are closed."
STV News is now on WhatsApp
Get all the latest news from around the country
Follow STV News
Follow STV News on WhatsApp
Scan the QR code on your mobile device for all the latest news from around the country