Scotland's largest teaching union has announced 16 more strike dates shutting schools across Scotland, as the dispute over staff pay intensifies.
The Educational Institute of Scotland (EIS), has set out an additional 16 days of industrial action throughout January and February in schools across the country following a national walk-out on Thursday.
The dispute concerns the current pay offer for teachers from the Scottish Government and COSLA, the governing body for local authorities.
An offer was tabled on Tuesday which would see pay increase by up to 6.85% for some teachers.
The starting salary for a fully qualified teacher would also reach £35,650, with those at the top end of the scale receiving a 5% rise.
Education secretary Shirley-Anne Somerville described the offer as a "fair" one which recognises the cost of living crisis.
However, the EIS immediately rejected the offer, branding it an "abject insult" and criticised the Scottish Government for failing to make more money available.
The new 16 days of industrial action will take place between January 16 and February 6 across the country, with different local authority areas taking different days of strike.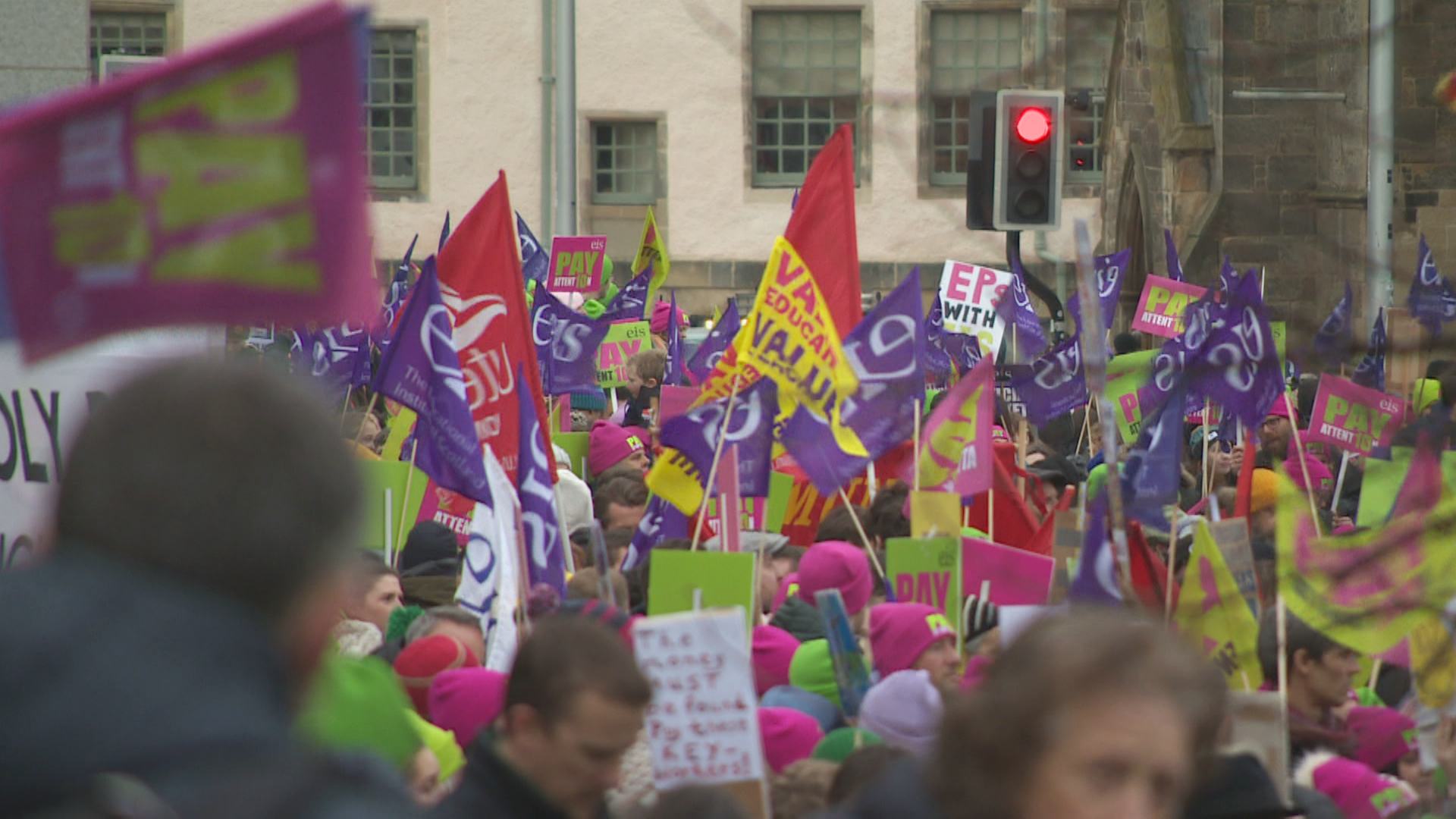 The plans would see teachers in two local authorities on strike on each of these sixteen days.
It comes after teachers walk-out on Thursday with every state school on mainland Scotland being shut to pupils as a result.
The new programme of strikes was announced following a meeting of the national EIS Council.
Following the meeting, the union's general secretary Andrea Bradley said: "Scotland's teachers responded magnificently to yesterday's day of strike action, turning out in their tens of thousands on picket lines, at demos and at campaign rallies across Scotland.
"Members have been greatly angered by the actions of the Scottish Government and COSLA who – after three months of delay – came back earlier this week with the same 5% pay offer that our members had already rejected overwhelmingly.
"Yesterday's strike action was a clear message: Scotland's teachers are not going to be fooled by spin from COSLA and the Scottish Government, and we are determined to make a strong stand until we receive a substantially improved fair pay settlement for all teachers."
Ms Bradley added: "In addition to their annoyance over the rehashed 5% offer itself, our members have been further angered by the behaviour of the Scottish Government and COSLA over the way that the offer was presented. Having dragged the process out for three months, they waited until 30 minutes before the EIS was due to meet to consider the revised proposal, to actually present their reheated 5% offer.
"They then released it to the press, with all their accompanying spin, before the EIS Salaries Committee had even had a chance to discuss the offer. In these bad-faith actions, the Scottish Government and COSLA have displayed little respect for the agreed negotiating process, and even less respect for Scotland's hard-working teachers."
Strike Action Schedule
| | | |
| --- | --- | --- |
| Date | LA 1 | LA 2 |
| Monday 16th Jan | Glasgow | East Lothian |
| Tuesday 17th | Perth and Kinross | North Ayrshire |
| Wednesday 18th | Orkney | Fife |
| Thursday 19th | Moray | North Lanarkshire |
| Friday 20th | Angus | East Dunbartonshire |
| Monday 23rd | East Ayrshire | Dumfries and Galloway |
| Tuesday 24th | Stirling | East Renfrewshire |
| Wednesday 25th | South Ayrshire | Edinburgh |
| Thursday 26th | Midlothian | West Dunbartonshire |
| Friday 27th | Renfrewshire | Falkirk |
| Monday 30th | Aberdeenshire | Borders |
| Tuesday 31st | Highland | West Lothian |
| Wednesday 1st February | Clackmannanshire | Aberdeen |
| Thursday 2nd | Dundee | Argyll and Bute |
| Friday 3rd | South Lanarkshire | Western Isles |
| Monday 6th | Inverclyde | Shetland |
Following announcement by the EIS on Friday, councillor Katie Hagmann, COSLA's resources spokesperson said: "We are disappointed that strikes are going ahead.
"In an effort to prevent strikes happening, on Tuesday afternoon we as Employers made a revised fourth offer to our trade union colleagues, that did include additional money."
She described the pay deal as a "fair and affordable offer" which "recognises the cost of living crisis".
She added: "The offer we have made is in line with the offers made to all other parts of the public sector, including the wider local government workforce. Teachers are a core part of that workforce, and are supported in their roles by other council employees who help keep schools open and clean.
"It was an offer that ensured no additional pressure is placed on teachers themselves, as well as any other parts of our hardworking workforce and the essential services they deliver, and importantly it protects the best interests of children and young people."
Cllr Hagmann also argued that: "Teachers in Scotland are already paid well above their counterparts in England and Wales, as made clear by UK Government figures, and indeed many of their colleagues in Local Government.
"The response of our Trade Union partners is disappointing given the financial challenges facing everybody, but we remain open to having open and honest conversations about how we can reach a viable and realistic settlement that protects the best interests of teacher, children and young people and our wider communities."
STV News is now on WhatsApp
Get all the latest news from around the country
Follow STV News
Follow STV News on WhatsApp
Scan the QR code on your mobile device for all the latest news from around the country