"Talent is being wasted" while high-achieving students from migrant and asylum-seeking families continue to be priced out of Scottish education by a "shameful" tuition fees policy, campaigners say.
Thousands are thought to be affected by rules which class students as international despite having lived in Scotland and studied in Scottish high schools for years – resulting in university tuition fees of up to £25,000 per year.
The Scottish Government is currently carrying out a consultation on changes to the law allowing more young people to have their fees publicly funded.
Campaigners and lawyers say those who have been resident in Scotland for three years should be eligible for public funding.
It comes after the Court of Session determined in October 2022 that the government's current system, which requires young people under 18 to have lived in the country for seven years before being eligible for funding, breached the European Convention of Human Rights.
Lawyers successfully argued that Iraq-born Ola Jasim, an aspiring doctor who has lived in Scotland since she was 11-years-old, had her human rights breached after she could not access free tuition due to being 58 days short of the Scottish residency threshold.
However, despite the landmark ruling, many still face uncertainty over their future while the law remains unchanged.
'A lot of my time has been wasted'
Aleena Haider, from West Dunbartonshire, has lived in Scotland since 2019 and completed her SQA exams last year, achieving six As at Higher level.
The 18-year-old, originally from Pakistan, applied to UCAS in sixth year of high school and had hoped to accept an unconditional offer to study Applied Science at The University of Glasgow.
However, her dreams were halted when she was classed as an international student resulting in tuition fees of £23,000 per year.
She told STV News: "It didn't make sense and I was really demotivated at this point and just didn't want to fight it any further.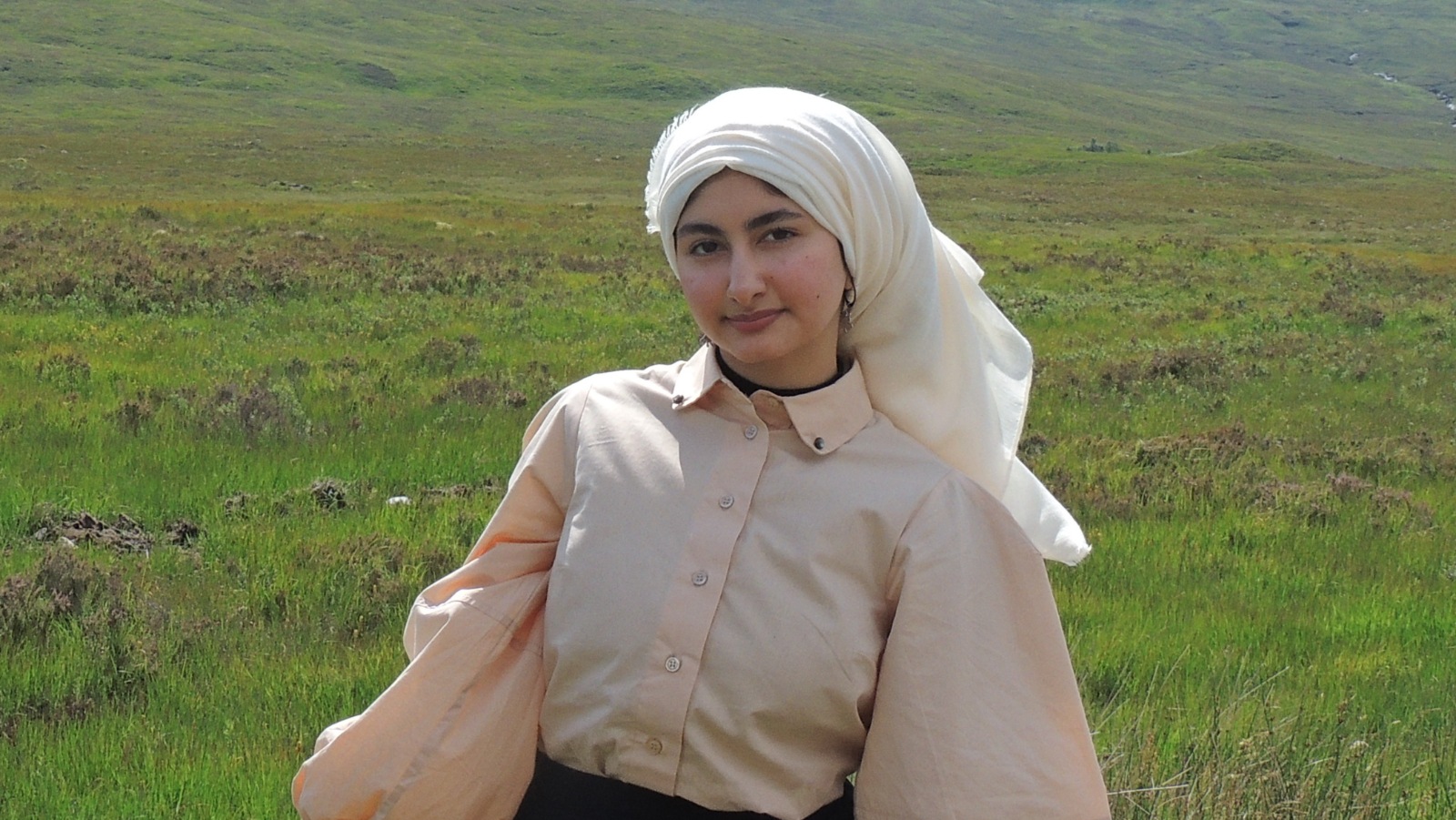 "I've applied for the next year's UCAS but I'm worried my education is facing the consequences. The costs of international tuition fees are just not realistic.
"It's really a lot of my time that's been wasted. If it doesn't work next time I might have to take a gap year."
Despite her qualifications, Aleena is currently at Glasgow Kelvin College studying a HNC course. She is waiting to find out if she will be accepted for student university funding for the 2023/24 academic year.
She said: "This course is designed for students who didn't pass in high school so they come here and can work to transition to university. But I've already done that, so now it's like an extra amount of stress. The grades and entry requirements are much harder. It would have been easier for me to go to university straight away."
Our Grades, Not Visas
Aleena, who attended the Vale of Leven Academy, was helped in sixth year by her English teacher and school career advisor.
She contacted the Maryhill Integration Network, an organisation dedicated to supporting migrants, refugees and asylum seekers and was informed of their Our Grades, Not Visas campaign.
The group are pushing for a change to student funding legislation and aim to gather data and stories from those affected across Scotland.
The campaign has been fronted by 18-year-old Ahmed Alhindi who completed S4, S5 and S6 at Hillhead High School in Glasgow after moving to Scotland from Palestine with his family in 2019.
Ahmed achieved six Higher qualifications and two Advanced Highers during High School and was offered unconditional offers to university in Dundee, Aberdeen and St Andrews to study Computer Science.
His application was so impressive that he was offered direct entry to second year at the University of St Andrews.
However, like Aleena, he was unable to accept the offers due to being classified as an international student.
He told STV News: "It's very disappointing. I had to reject all of them. It would be 2026 before I would be allowed to apply for indefinite leave to remain and could apply to university."
Ahmed is working full-time in hospitality and is currently considering an apprenticeship if his funding application is unsuccessful again this year.
He said: "I wouldn't say I feel optimistic, there's still a lot of work to be done.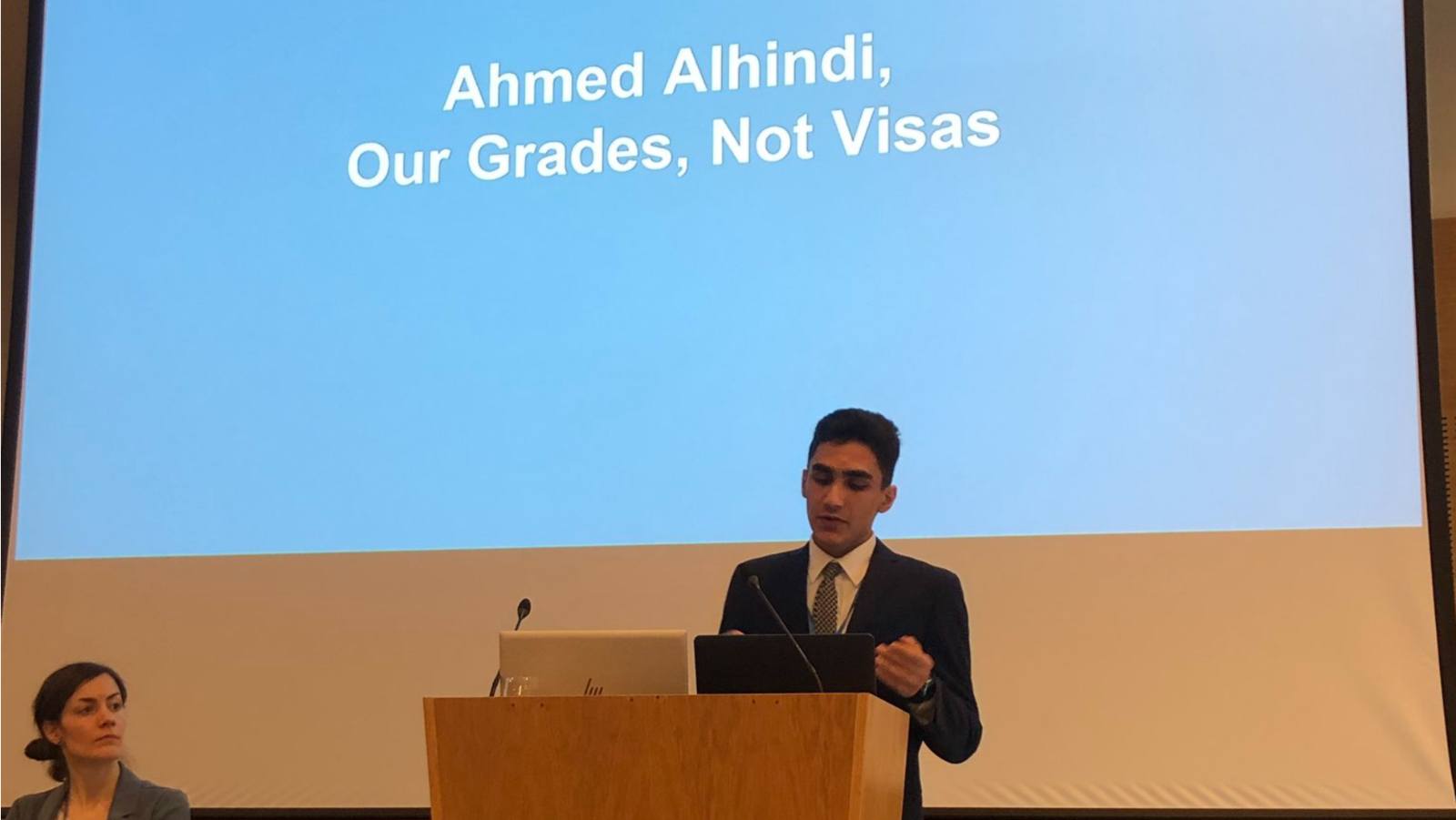 "It would be amazing if all migrant students and asylum seekers could get together to share their stories. I'm working on a website for the campaign allowing students to share their circumstances.
"I want migrant students to feel a little less isolated. When I started this campaign, I thought I was the only one and many other students I've spoken to have said the same thing.
"There are hundreds of us and it would bring relief to know you're not alone. I've heard stories of students who had unconditional offers for medicine or engineering but had to just wait four or five years in silence before they could go to university."
The group is also campaigning to ensure funding opportunities are in place for asylum seekers.
Pinar Aksu of the Maryhill Integration Network said: "People cannot afford to pay these international fees which can be about £25,000 per year. It's impossible.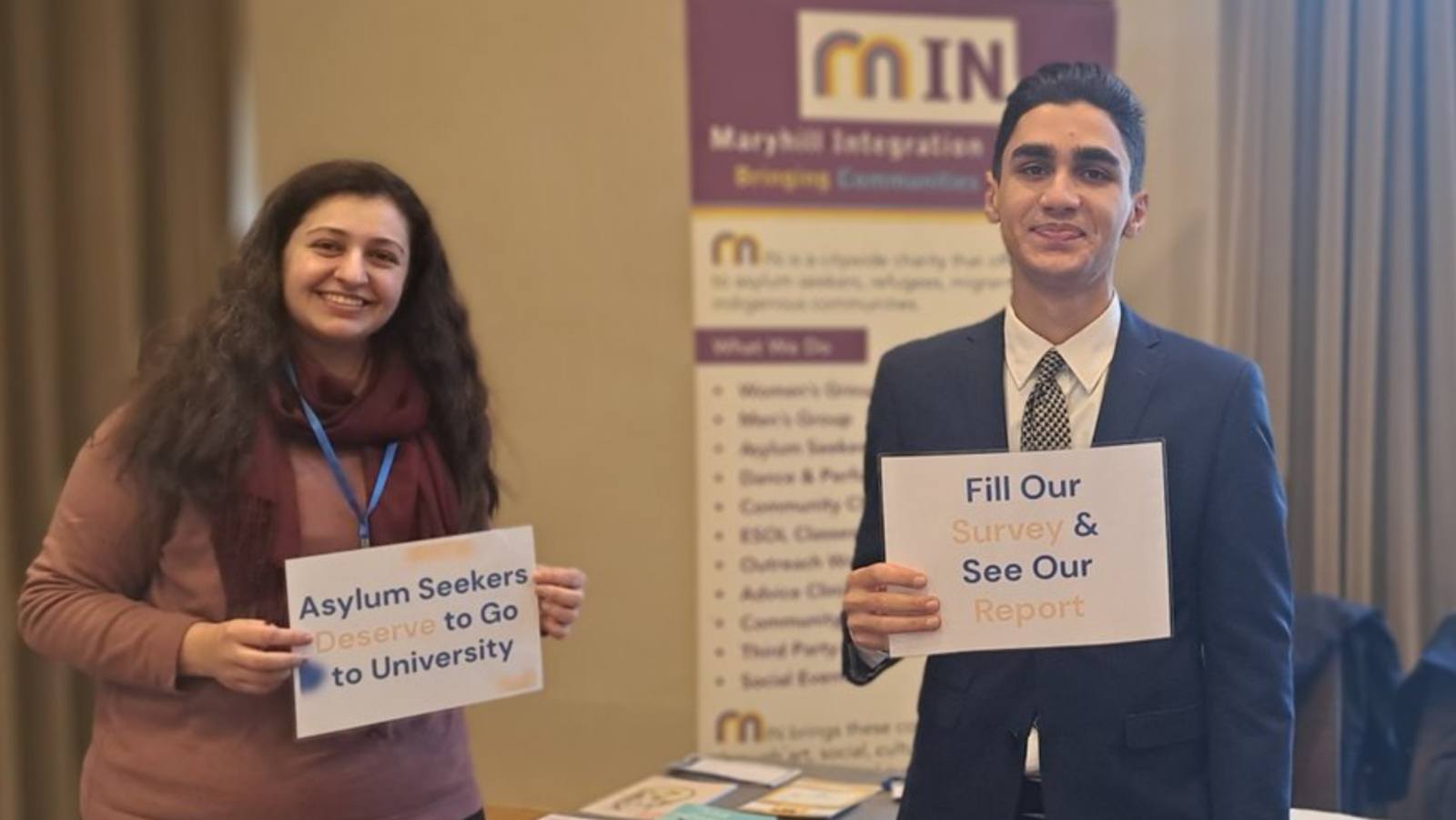 "Talent is being wasted and the Scottish Government currently has an opportunity to do the right thing here."
The group is hosting a gathering for any current or hopeful students affected by the issue on March 8.
Lawyers, MSPs and students are invited to attend.
'A positive story about the Human Rights Act'
Human rights lawyer Andrew Sirel, who successfully brought forward the case of Ola Jasim in October last year, is supporting the Our Grades Not Visas Campaign.
He told STV News: "There have been campaigns on this at a grassroots level for a long time. There have been various meetings with Scottish Ministers and they've never budged on this issue at all.
"There has never been an impact assessment of how many people are being affected and so the Scottish Government doesn't know.
"However, the case that was won in The Court of Session is October means the law must be ripped up and they have to start again."
He added: "We're pleased to see the consultation out. We're welcoming the fact that they're opening up a discussion about how we treat asylum seekers. Currently families and children are locked in this system for years, in limbo.
"I would like to see a speedy resolution for students who will be leaving school in the next year.
"I understand there need to be rules in place because this is public money. If the limit goes down to three years that's a good thing. That's a lot of young people who have come here through no choice of their own and have then been treated in such a radically different way.
"We should be allowing young people to realise their potential."
JustRight Scotland have also emphasised that the current consultation and efforts to change the law are only possible because of the European Convention on Human Rights.
Mr Sirel said: "This change in the law is only possible because of the Human Rights Act. This is a positive story about the Human Rights Act which is currently at risk of being repealed by the Westminster Government and I cannot convey to you how bad that would be."
'We need a swift change'
Labour MSP Paul Sweeney is backing the Our Grades Not Visas campaign and said he became aware of the issue after hearing from constituents affected.
He told STV News: "I have written to the Scottish Government on numerous occasions to raise my concerns and to alert them to the fact that this policy is a clear breach of human rights legislation. The legal case that concluded in October 2022 agreed with that assertion, and it is now incumbent on the government to ensure that their existing policies are changed."
He called for that more robust measures to be put in place while new legislation is drawn up to support those currently applying to university.
He said: "A consultation on possible changes won't help the hundreds of kids that are unable to access further education at present due to huge tuition fees being levied against them. We need a swift change, certainly before the next academic year commences, and if it takes expedited secondary legislation to achieve that then so be it.
"It's not a complex issue to fix, a Scottish Statutory Instrument could be passed in Parliament within a week, so the only reasons Ministers aren't willing to move rapidly is due to the costs, which isn't good enough when it's perpetuating discrimination.
"It's shameful that it has gotten to this point – hundreds, if not thousands, will have lost out on further educational opportunities entirely or been lumbered with tens of thousands of pounds of student debt due to years of government inaction."
A Scottish Government spokesperson said: "We have given careful consideration to the decision of the Court following the recent Judicial Review and launched a consultation with a view to consider changes to the residency conditions for access to Further and Higher Education. Meetings between officials and key stakeholders to discuss the consultation are already underway.
"It is important that we capture as many views as possible in our consultation on the current legislation – and I encourage all those with an interest to have their say.
"The consultation is due to end on March 31 and we are planning that any changes to legislation will come into effect from the start of the 2023-24 academic year."