Sir Keir Starmer has said his party aims to "smash the class ceiling" that holds working people back, pledging a new deal to strengthen workers' rights.
The Labour leader said he recognised that many working class people remained unconvinced his party offered a way forward.
He wrote in The Scotsman newspaper ahead of a visit to Rutherglen and Hamilton West, where a by-election will take place, that many Scots he has spoken to had lost faith in politics and "Britain itself".
On Tuesday, he and Scottish Labour leader Anas Sarwar will hold an "in conversation" event in the constituency alongside their candidate Michael Shanks.
Sir Keir wrote: "Can you look around your community today and say, with the certainty you deserve, that the future will be better for your children?
"Working people I speak with have their doubts – and that's putting it mildly. From Kirkcaldy to Glasgow, Inverness to Rutherglen, they all tell me how little trust they have in politics to change things for them.
"And, if I'm totally frank, this extends to my Labour Party.
"Countless people tell me they support Labour values. Yet they remain unconvinced that we – or, for that matter, Britain itself – still offer the way forward for Scotland or their community.
"And it means striking a new deal that will strengthen workers' rights and finally make work pay. No more zero hour contracts, no more fire and rehire, and a real living wage for everyone.
"That is how a Labour Government in Westminster can secure growth that works for Scotland."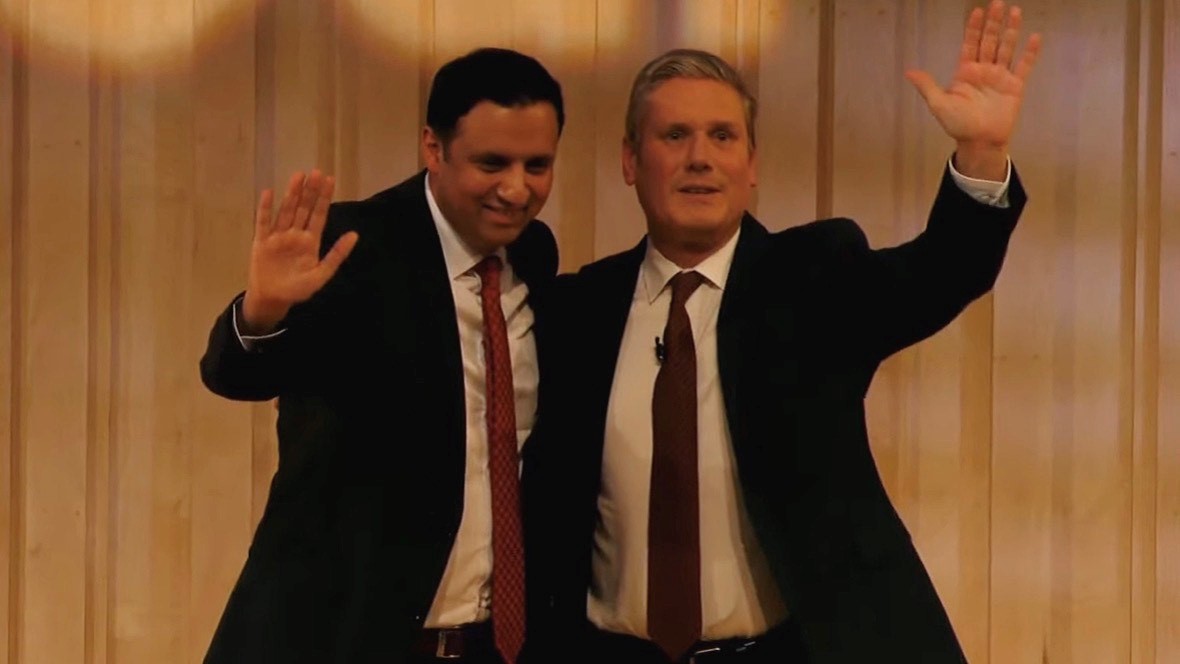 Sir Keir said his "political project" was to reconnect Labour with its working class roots.
He continued: "There may have been times in the recent past where Labour was afraid to speak the language of class at all – but not my Labour Party.
"No, for me, smashing the 'class ceiling' that holds working people back is our defining purpose."
On Monday, Sir Keir played down assertions of a division between Scottish Labour and the party at Westminster.
Sarwar has said he would "press" a Labour government to drop the two-child benefit cap.
Sir Keir said: "Anas and I have got a very, very strong working relationship. So anybody who's trying to find division is going to have a very, very long search."
Ahead of the visit, the SNP hit out at Labour's "pro-Brexit and pro-austerity" policies.
Depute Westminster leader Mhairi Black said: "Sir Keir Starmer ought to be embarrassed campaigning for a so-called fresh start in Scotland.
"The Labour leader has publicly signed up to a Tory manifesto for the status quo – more Westminster austerity, more economic carnage and more misery for Scottish households.
"During his trip to Scotland, Sir Keir must answer what a fresh start means for Scotland and for Rutherglen and Hamilton West – which has been hammered by Brexit to the tune of £156m and where almost 1,500 households are affected by the two-child cap.
"We can no doubt expect more hollow words and empty promises from the pro-Brexit and pro-austerity Labour leader.
"Even his own candidate can't back his plans to stick with Westminster's cruel two-child cap and pro-Brexit agenda."