It's been six months since Russia's invasion of Ukraine. Vladimir Putin's military assault on Ukraine in the early hours of February 24 resulted in one of the world's largest refugee crises in recent times, with an estimated 6.6 million people forced to leave their homeland.
As the war continues with no apparent end in sight, STV News has been speaking to Ukrainians now living in Scotland, those involved in the humanitarian aid effort to help them, and the Scottish Government's sponsorship scheme.
'War starts'
Oleksandra Kobets, 40, who is from the central Ukrainian city of Dnipro, arrived in Scotland two months ago through the government's sponsorship scheme.
She's currently living in a hotel in Aberdeen with her father and two children, Zakhar, seven, and three-year-old Liia. Her husband Serghei remains in Dnipro.
Oleksandra vividly remembers the morning of February 24.
"It was early morning and I heard a huge horrible noise," she told STV News. "My father started calling me – it was 5.30am. He said 'war starts'.
"I couldn't believe it was true. I woke up my husband and we started running around the house. We could hear explosions."
The family remained in their house for a week. They moved their bed into the hall and propped up rugs against windows to try to protect themselves. After that, they knew they had to get out – and they did it quickly.
"If something was to happen, we would have needed to run," said Oleksandra. "We decided to go – we had to do everything quickly."
Serghei drove his wife and children to the border with Slovakia. Their journey was fraught with danger.
"We stopped at a gas station and I heard this horrible noise," said Oleksandra. "We were sitting in the car and I just opened the door and I screamed 'just run'. We ran from the car and I saw two jets flying over our heads.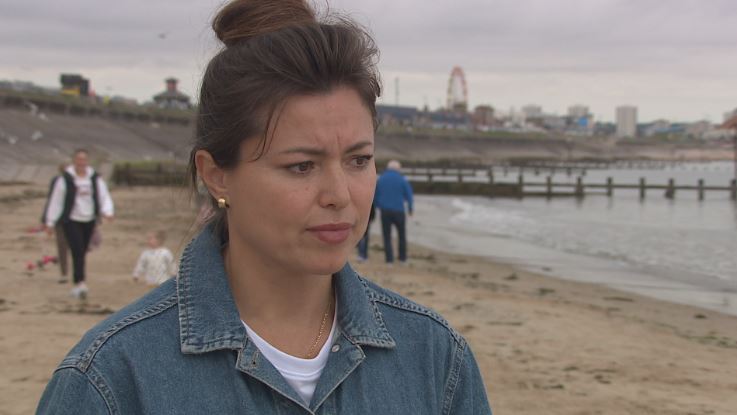 "We started to run out of the car into the fields because I was thinking they're going to shoot us."
The experience has had long-lasting effects.
"My kids are still afraid. These horrible noises. When they hear something loud, they remember it, and they have nightmares.
"Zakhar started screaming and yelling, he was having nightmares that somebody shoots him from the plane.
"He's had it several times and I had to explain to him that it's over and now we are in a safe place.
"Every noise outside he was saying 'it is a plane, is it bombing?'. It's horrible, even I had a horrible time at night. You don't know what is going on outside.
"You're calming yourself down, but your brain remembers all the sounds, all the voices, all the explosions."
Saying goodbye was difficult, says Oleksandra, but the couple knew it was the right decision for their children.
"They know everything about war because I have to explain to them what is going on – they've seen everything and, of course, we were crying inside, it was really hard.
"But my husband says 'you are in a safe place, just think about the kids, about their safety' – so it's better for us to be here, definitely."
Oleksandra is now living in an Aberdeen hotel with her two children and her father, who also made the journey with her.
"We live in one big room with my father and kids… we are waiting for an apartment and are told that pretty soon we will receive an apartment from the government – they will help us.
"We are treated very well… I like everything, I cannot complain at all. We are so grateful to the government that it could help us because we would not manage without any help."
Oleksandra's mother remains in Dnipro as she is caring for her elderly parents. It's hoped she might be able to come to Scotland soon.
The first thing Oleksandra does every day when she gets up is to check her phone to see what is happening back home.
"It's hard because you never know what is going on or what is going to happen next. Sometimes it's quiet and sometimes there's bombing and you're just sitting and waiting for the news every day."
The effect of war has changed Oleksandra's life forever.
"I had everything, a happy life, a beautiful city – I had everything. And somebody just took it one day.
"One question I have every day – when is it going to be finished? And nobody can answer that question."
Despite this, Oleksandra tries to remain optimistic that war will end, and it will end soon.
"I believe that we will win. Because the truth is on our side. I hope – every day I hope – that I will come back home."
'Long, hard, tragic war'
Valeriya Semchuk is also longing for an end to the conflict.
Along with her two teenage sons, she left her home, her partner and her life in Kyiv on the second day of the war.
After hiding out in basements and relying on the help of strangers, she arrived in Aberdeen in March.
She now lives with her mother and sister, who were already settled in Scotland.
"We need to remember every day that the war does not finish," she told STV News.
"And every moment more and more people die, more civilians."
"All people hope that this war is finished in a short period. But it's long, hard and tragic war.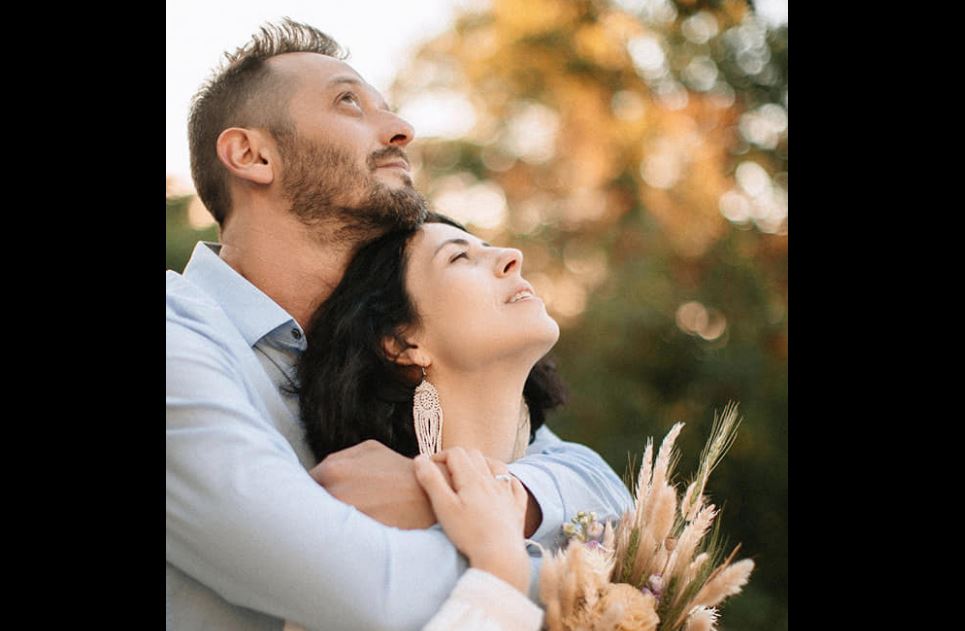 "We hope that everything will be ok and we could have a normal life."
Valeriya said she often longs for home.
"My heart is in two parts – one part of my heart wants back immediately, but another part thinks about my children so I understand that here will be more safe and they will live a normal life."
But amidst the pain, there has also been a moment of pure joy. In July, Valeriya returned to Kyiv to marry her long-term partner Vadim in a small ceremony.
"He is alone and misses us so much, so we just decided to do this. I hope we can do a normal wedding and collect our families together – I don't know maybe in Ukraine, maybe in another country, but all together."
Valeriya says the Scottish welcome she and her family have received has been incredible.
"Every door is open for us – I want to say thank you for providing a home for us. In these historical moments, it's very necessary."
Valeriya struggles to express her thoughts on Vladimir Putin and those who support him.
"They are like a zombie – they are not people. They don't want to hear us… I don't know. We are absolutely different, Ukrainian and Russian."
However, her message is crystal clear when it comes to the war in her homeland. "We were never one nation, never. So please – just stop."
Supporting children
When Steven Carr helped found Dnipro Kids 17 years ago, no-one could have known how future events would play out.
The charity was started by Scottish football fans to support orphans in the Ukrainian city.
When the war started, Steven travelled to the Polish border, desperate to help the children find a safe route out of Ukraine, and ultimately bring them to Scotland.
At the end of March, 56 children and their guardians arrived in Edinburgh. They are now continuing their studies and acclimatising to life in Scotland.
"It's been hard trying to organise things for the children here and obviously what's been going on over there has been changing on a daily basis, so it's been very hard for everyone involved.
"But the children are doing ok. We've got a lot of support in Edinburgh for them. We've got a good team around the children, and a good support network for them.
"We're happy with the way things are going."
Steven says when he stood on the border back in February, he had no idea if the children would make it into Poland.
"I could never have imagined in a million years how things would have played out. It's been an unbelievable experience.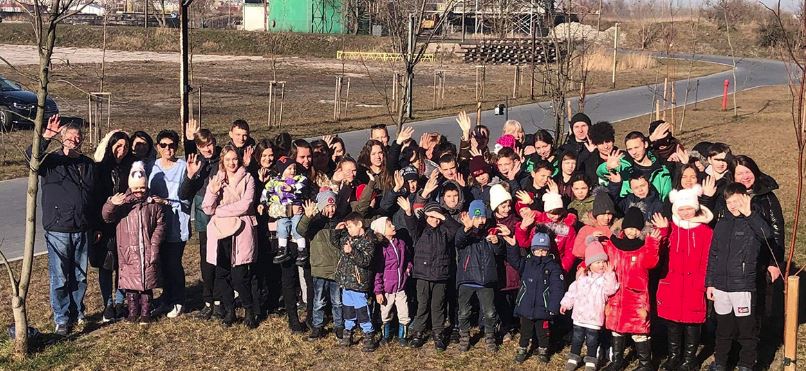 "I think I must have gone through every possible emotion at various stages of this. The overriding feeling that we have is one of pride in the country that supported them."
Mr Carr is helping to organise a parade in Perth taking place this evening.
"It's six months since the missiles started hitting Ukraine and it's also Ukraine's independence day," he said.
"I think at this moment in time the declaration of independence of Ukraine is very much under threat.
"We're using this opportunity to show our support for the Ukrainians that are here in Scotland.
"It's also an opportunity for Ukrainians to meet up and provide each other with support and make new friendships."
'Fighting for freedom'
Refugee minister Neil Gray MSP says he's incredibly proud of how Scotland has reacted to the conflict in terms of offering Ukrainians sanctuary.
"The Ukrainians are literally fighting for their freedom on their independence day.
"It's six months since the start of the war and I'm determined that we're going to keep doing all we can to make sure that those Ukrainians who are here and who are still to arrive are made to feel incredibly welcome and have the opportunity to rebuild their lives here in Scotland."
Reacting to some criticism over the number of Ukrainians who remain in hotels, the minister said the government was doing everything it could.
"We are doing everything we can to ensure that we are giving people the safety, security and sanctuary here in Scotland, giving them the long-term accommodation that they need and deserve, and we will continue to work hard to ensure that we're able to do that over the coming months."
Addressing the recent pausing of the super-sponsor scheme for Ukrainian refugees, Gray said: "We have now welcomed over 11,000 people from Ukraine to Scotland through the super-sponsor scheme.
"We needed to take stock on how that scheme was working and ensure that we were able to continue to offer people the very high standards that would be expected.
"We've had to pause the scheme. But we're continuing to welcome people who have already received their visas here in Scotland.
"That will continue through the review process that we're carrying out after pausing the super-sponsor scheme, to ensure we're able to have a scheme that is both sustainable and welcoming, as people across Scotland would expect."
STV News is now on WhatsApp
Get all the latest news from around the country
Follow STV News
Follow STV News on WhatsApp
Scan the QR code on your mobile device for all the latest news from around the country