Scots are set to enjoy a mid-summer heatwave as temperatures are set to reach as high as 26C.
With July bringing low temperatures and plenty of wind and rain so far, it seems summer is finally set to arrive in Scotland this week.
From Thursday, the highest temperatures are set for the east where it will be widely in the 20s – with temperatures around Edinburgh and Fife set to peak at 26C on Monday.
However, in the west it will continue to be cloudy, which means temperatures there won't be quite as warm.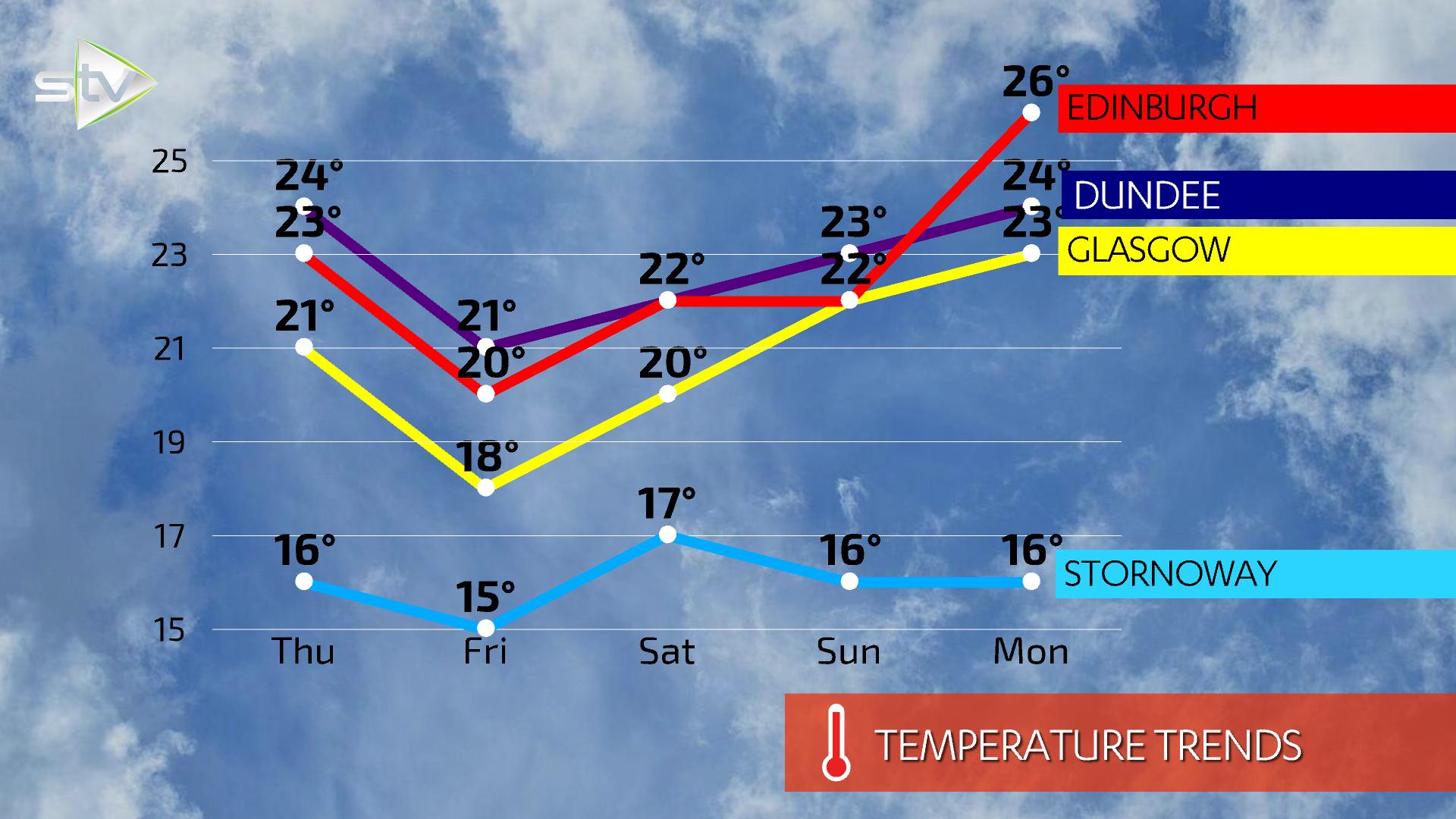 STV Meteorologist Sean Batty said: "The hashtag #ScotScorchio may be returning to our timelines as early as tomorrow – yes really.
"After a poor show for July on Wednesday with temperatures in the low teens, along with a strong wind and rain, some spots could be heading for the mid 20s on Thursday.
"The highest temperatures will be in the east where it will widely be in the 20s, while in the far west we'll again hold onto more cloud and temperatures in the teens, although not quite as low as today's values.
"I think the top spots on Thursday will be the likes of Cupar, Falkland, Glenrothes, St Andrews, Pitlochry, Dunkeld, Forfar and Dundee where the high could hit 25C.
"This will be some of the hottest weather so far this year, although Fife did manage 25C in mid-June. The temperatures will come down a few degrees over the weekend, although it will stay in the low 20s for eastern areas of the country.
"But, despite that, another surge of warm air will move north on Monday with potentially the hottest weather of the season. Temperatures around Edinburgh and Fife could reach 26C on Monday while the Moray coast may be around 25C.
"Meanwhile the far north and west will hang onto more cloud and outbreaks of light showery rain, which will continue to hold the temperatures back here.
"Beyond early next week there's big model variations with most going for more settled conditions with temperatures staying in the low 20s, although a few models also show north to north-westerly winds coming in and dragging the temperatures way down again.
"We'll need to wait until the weekend before next week's outlook is resolved."
Scotland's highest recorded temperature is 33C, which could be beaten if the extreme heat which has been seen across Europe this summer continues.
Sean added: "One thing to note is the extreme heat which has been waxing and waning across Europe so far this summer, especially for Italy and Spain.
"I'm not saying this will happen, but if a long southerly flow were to develop at any point in the next six weeks, I'd say there could be a decent chance of our Scottish record of 33C being broken.
"Embrace the sunshine when you've got it but remember the sunburn risk is still very high and burn time will be down to around 20 minutes."
STV News is now on WhatsApp
Get all the latest news from around the country
Follow STV News
Follow STV News on WhatsApp
Scan the QR code on your mobile device for all the latest news from around the country