Scotland's police chief, Olympic champions and a footballing legend are among those to have been bestowed with royal honours by Princess Anne.
During a ceremony at the Palace of Holyroodhouse in Edinburgh on Wednesday, the Princess Royal awarded a knighthood to Police Scotland's Sir Iain Livingstone in "great recognition" of the work his police officers do across the country.
The investiture ceremony also saw Scotland's Olympic curling stars Victoria Drummond and Mili Smith and Scottish goalkeeping legend Alan Rough made MBEs.
A knighthood was also bestowed upon Professor Aziz Sheikh of the University of Edinburgh for services to Covid-19 research and policy.
Prof Sheikh led a study in 2021 which found that Pfizer and AstraZeneca vaccines are 90% effective at preventing deaths among people with the Delta variant of coronavirus.
Scottish Refugee Council chief executive Sabir Zazai was also awarded an OBE for services to refugees.
He said: "It's an exciting day for me and my family. I reflect on my refugee journey and thank all the amazing people I met along the way that offered me a warm smile and welcome in this journey from a stranger into a citizen."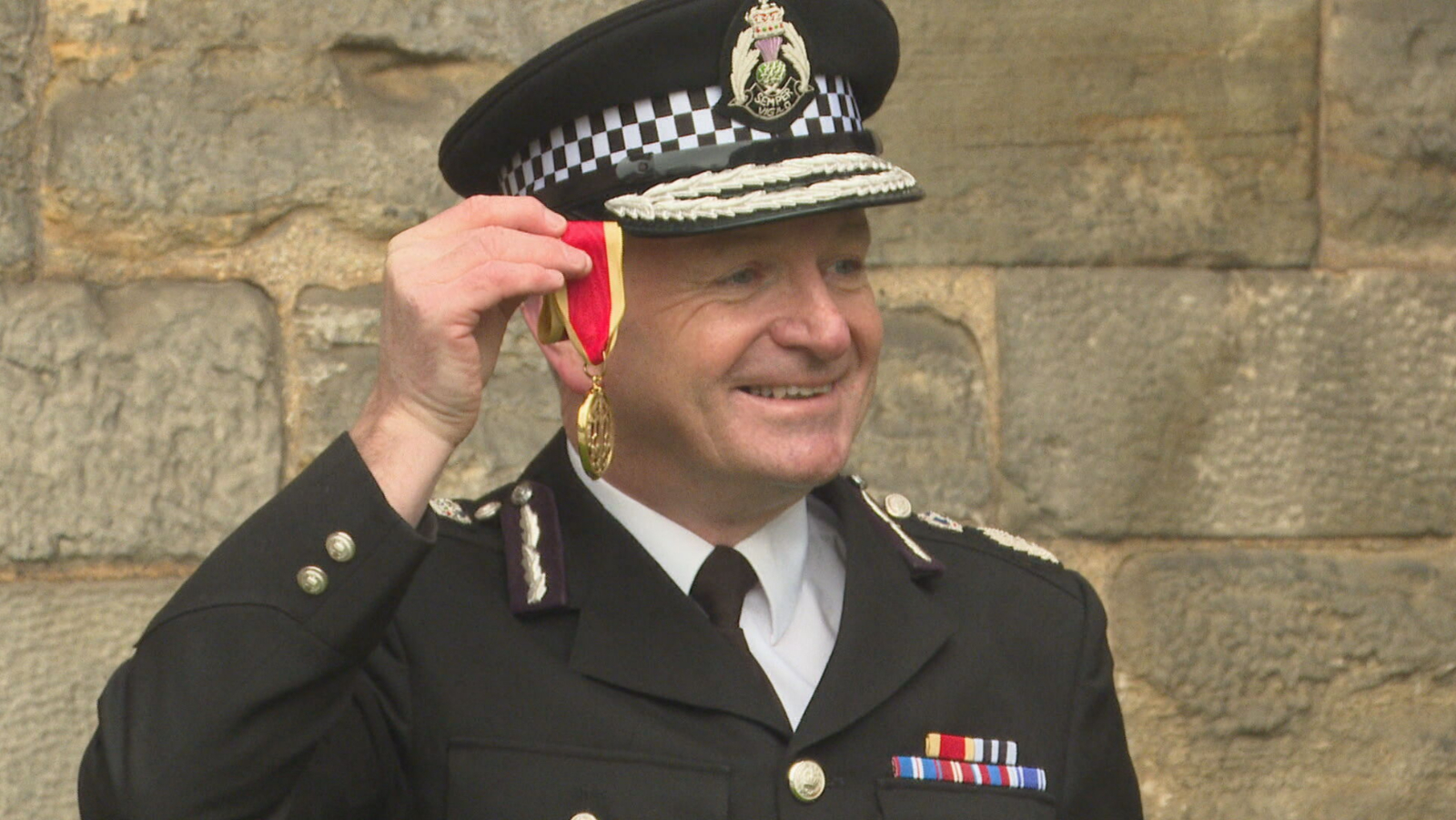 Sir Iain said: "It's a great honour to receive a knighthood for me personally, and for my family, but I also think it's a great recognition for policing in Scotland and the excellent work that the officers and staff of Police Scotland do every day right across the whole of Scotland."
One of his officers, PC Stephen Tanner, was also at the ceremony to be awarded a Queen's Police Medal.
The 51-year-old is the only officer on the Hebridean islands of Coll and Tiree, where he has worked since 2010.
He travelled to Edinburgh to collect his award with his partner Lorna MacArthur, and proud niece Ruby MacArthur, nine, and nephew Hector MacArthur, 11.
PC Tanner, an officer with 30 years of service, said: "I think we're all honoured, it came as a total surprise to be awarded the medal or even to be nominated for the medal, so it was a very big surprise and I'm obviously honoured."
Ms MacArthur, 60, who has been with the officer for 25 years, added: "It's really nice that he has got it. It's well deserved."
Mr Rough, 71, was recognised for services to association football and charity north of the border.
Speaking after the ceremony, he said: "It's an absolutely fantastic day, a fantastic occasion."
He described meeting the Princess Royal as "fantastic", and the former Partick Thistle and Hibs player added: "I was telling her that I met her mum in the Silver Jubilee, we had a Scotland-England game and her mum came along and presented to the players, so she was chatting about that."
Ms Drummond, 29, who worked throughout the pandemic as a nurse at Forth Valley Hospital in Larbert near Falkirk, said it was a "really special" day.
She added: "Princess Anne was on great form today, we have met her a couple of times now, she's just so lovely and we're really honoured to receive this.
"A year ago we were about to go into a bubble out to the Olympics so I can't believe it's been a year already, it's been so quick."
Ms Smith, 24, added: "It's really special. It's really nice to get it in Scotland and Princess Anne was lovely, it felt really welcoming, and just a really special day. It's been so nice.
"It's so amazing to be involved in it all and it's such a special experience, so I'm really grateful."
Fellow curlers Jennifer Dodds and Hailey Duff, plus British curling team head coach David Murdoch, also collected their awards on Wednesday.