Scottish tourists have told of their "relief" after arriving back in the country from fire-ravaged Rhodes.
Wild fires on the Greek island have been burning for a week straight, with multiple hotels and resorts in the area evacuated – leaving thousands of holidaymakers in limbo.
Repatriation flights began to evacuate stranded holidaymakers stuck in on the fire-ravaged island on Monday.
Ailsa Graham said it was a "relief" to get back home early from her honeymoon – after being forced to run from different villages on the island in the search for safety.
She told STV News: "It was very worrying. We were at our hotel and we got a notification to say to evacuate, however, the hotel staff was trying to convince that it was safe. So we just took it upon our self to pack our suitcase and just go for it.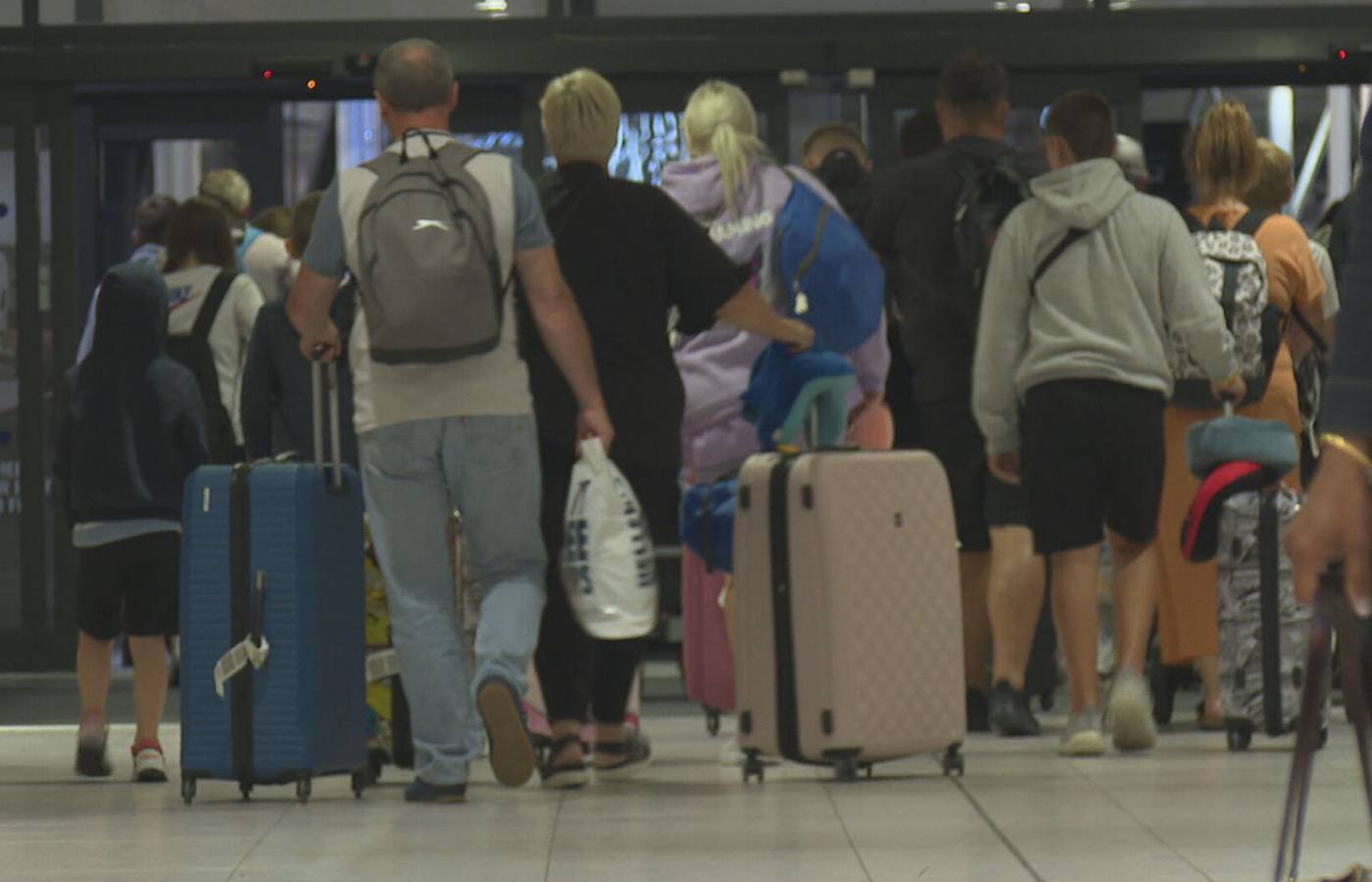 "We were told to head onto this beach, but we could just see the fire was coming and coming, it wasn't stopping. So we just took it upon our self to just keep walking, running pretty much most of the way to the next village which was a good two hours of running.
"We found another hotel, they had no rooms for the night but we were safe – for half an hour then we had to flee again.
"We managed to get lots of help from the locals, including getting dropped off in a pick up truck, then we managed to get this bus by miracle. It took us from the other side of the island, in another two hour journey back to the airport.
"We kept trying different hotels who told us they were full. But yeah, we were really lucky that we found another couple who we bunked with. We shared a triple room between four of us. A complete stranger couple, but it was a godsend that we found them.
"We managed to get flights home today, a day earlier than we planned. So our honeymoon was cut short.
"It's just such a relief, we just wanted to get home as soon as we could. Saturday feels like a long time ago."
Gerry McLaughlin said: "There was quite a big queue for Jet2. People didn't have tickets, they had to apply for them."
Sam John Williams, 23, said he could see on the flight home that the fires were similar in size to some of the villages.
He said: "We were commenting on the way out, even though it looks small, you could see its a similar size to some of the villages.
"So even thought it looks quite small from the plane, you can probably tell it's pretty huge there."
A European heatwave has helped create dry conditions that have allowed the fires take hold in Greece.
The wildfire was confined to the island's mountainous centre, but aided by winds, very high temperatures and dry conditions, it spread on Saturday towards the coast on the island's central-eastern side.
TUI have said the firm's "main priority" was the safety of customers and its staff were doing "all they can" to help those affected by the fires.
A spokesperson said: "We're now working hard to get everybody home safely with our first passengers returning to the UK on three dedicated flights overnight and plans in place to get everyone affected back as soon as possible."