Delays to the Scottish Government's review of public transport fares will hit the most vulnerable, ministers have been warned.
Sustainable transport group Transform Scotland – which boasts local authorities, transport operators and universities among its members – released a report reviewing the Government's commitments on the issue and their progress.
Ministers were praised for the increase to the active travel budget and the roll out of free bus travel for under-22s, but the group warned about progress on the so-called fair fares review, which was commissioned in 2021 and had its publication delayed until the end of this year.
Laura Hyde-White, the author of the report, said: "The delayed progress on the Government's fair fares review is deeply concerning, especially during a cost of living crisis which sees more and more Scots struggling to meet their transport costs.
"This rise in transport poverty, in combination with falling passenger levels post-pandemic, means interventions to make public transport more affordable and accessible are essential and urgent.
"Given the First Minister's focus on tackling poverty, it's imperative that we see action to support those on low incomes who are particularly reliant on buses for their travel needs."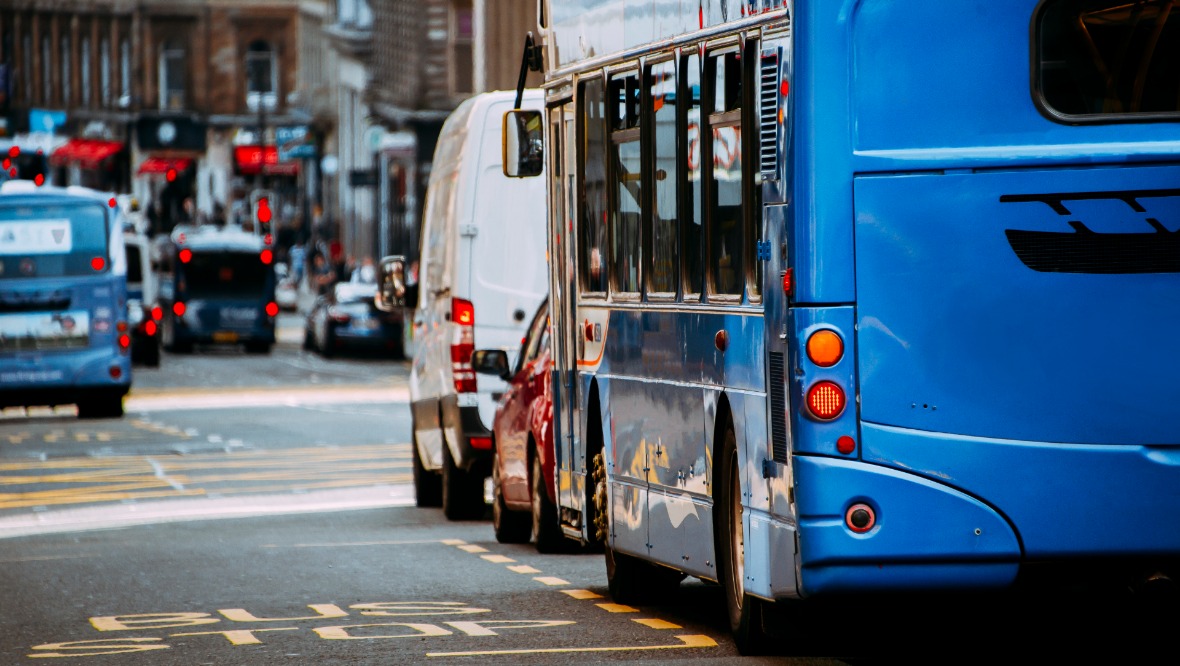 On the review, the report said: "The delay in delivery of this commitment has been attributed to the rapid turnover in transport ministers in recent months. However, it is as likely due to the uncertainty around ongoing levels of financial support for public transport.
"Given the ongoing damage to public transport patronage caused by the pandemic, further delay here risks further undermining the future of Scotland's public transport services.
"Increased fares will inevitably leave more Scots facing transport poverty in the cost of living crisis. As such, it is crucial that urgent action is taken to address fare pricing and structures to make public transport accessible for all."
Alongside the review, the Scottish Government has committed to the trial abolition of peak time rail fares on the publicly-owned ScotRail network from October.
The report was also scathing about progress on the Government's pledge to reduce car traffic by 20% by 2030, the prioritisation of buses on the motorways around Glasgow and the decarbonisation of bus fleets.
But the group also said plans to phase out internal combustion engine vehicles in the public sector fleet by 2030 is on track to be met.
A Transport Scotland spokesperson said: "We've taken clear action to help people through the cost crisis, decarbonise transport and support the shift towards more sustainable public transport and active travel.
"We invest £300m annually to deliver free bus travel for all children and young people under 22, as well as for eligible disabled people and everyone aged 60 and over. This means Scotland has the most generous concessionary fare scheme in the UK, with over than two million people eligible for free bus travel – encouraging more people to choose to take the bus and helping us meet our net zero targets by encouraging a shift away from cars.
"Since January 2022, 78 million free bus journeys have been made by under 22s across Scotland, enhancing patronage to levels where local services can be maintained and extended. This is in addition to providing £223m in emergency funding to support bus services during the pandemic and having continued to provide additional funding through the Network Support Grant Plus in 2022-2023.
"Since 2020 Transport Scotland has awarded almost £113m to help operators in acquiring new zero emission buses and supporting infrastructure. This has brought the total number of zero emission buses from fewer than 20, to nearly 600. Scotland currently has around double the proportion of its fleet already converted to zero-emissions, compared to the proportion in England.
"Funding for active travel is at record levels, with a commitment to investing 10% of the transport budget, over £320m a year, on active travel by 2024-25. This will make it easier for people to choose walking, wheeling and cycling for everyday journeys.
"In June, we froze ferry fares for a further six months. Work continues to deliver a ScotRail peak fares removal pilot from October this year alongside wider work on our Fair Fares review.
"The Fair Fares Review will report by the end of 2023 and will recommend a package of measures which can be considered for implementation from 2024-25 and onwards. These will provide opportunities to address the wider issues for the cost and availability of public transport services across all modes of public transport."