The number of probable suicides in Scotland fell by 3% in 2020, according to official figures.
The National Records of Scotland statistics show there were 805 probable suicides last year, down from 833 in 2019.
Between June and September last year, there were 28% more suicides than usual for those four months.
The report also showed that men accounted for 71% of suicides in 2020, however the number of female deaths from suicide rose slightly in the past year.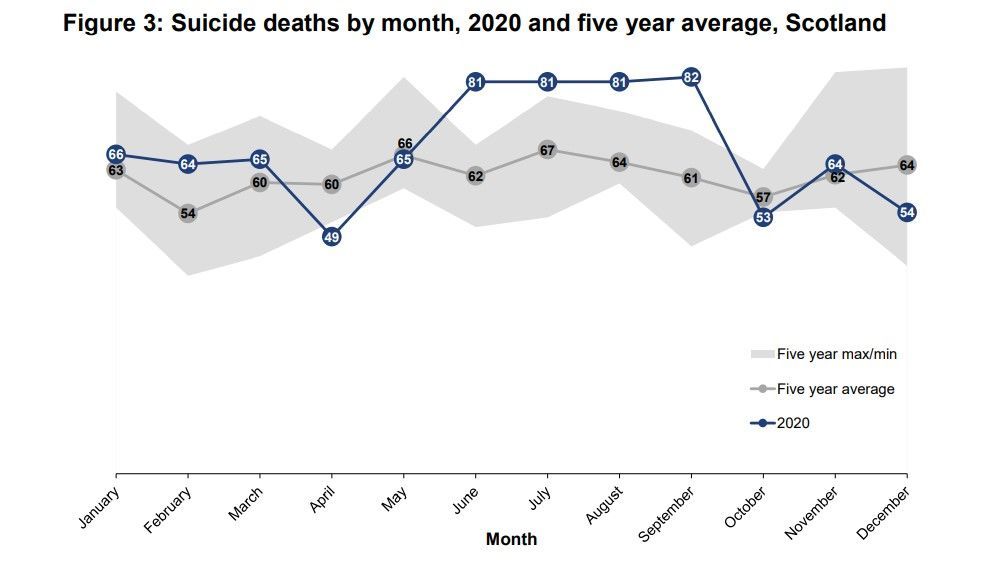 The figures showed the suicide rate in country's most deprived areas is three times the rate in the least deprived areas
Over the past five years, Dundee City has had the highest rate of suicide mortality and East Renfrewshire has had the lowest.
Pete Whitehouse, director of statistical services said: "Suicide deaths decreased slightly on the 2019 level.
"Monthly figures show that suicide deaths between June and September of 2020 were consistently above the highest numbers seen in these months over the last 5 years.
"These statistics provide important analysis of deaths related to alcohol, from suicide and from other causes during the first nine months of the Covid-19 pandemic."
Rachel Cackett, executive director of Samaritans Scotland, said: "Every one of these 805 deaths represents a life lost, with devastating consequences for families, friends and communities.
"We know that the coronavirus pandemic has disrupted all our lives, creating new challenges for mental health and exacerbating existing risk factors for suicide.
"However, it is important to remember that there is no single reason why someone takes their own life and that a range of factors contribute to suicide risk. Deaths by suicide in Scotland had been rising since 2017, and so today's data is a small but positive step.
"However, one life lost to suicide is one too many, and these figures are a reminder of why suicide prevention must remain a priority as we emerge from the challenges of the pandemic.
"As a member of the National Suicide Prevention Leadership Group we have welcomed a renewed focus on suicide prevention at a national and local level.
"This is leading to real change in how we support people experiencing suicidal crisis and those who have been bereaved by suicide, in tackling stigma and through public awareness, ensuring more people feel able to ask for and access support.
"This data is a stark reminder of the impact of inequalities on mental health and suicide. The suicide rate in Scotland's poorest areas is three times the rate in the least deprived areas. Scotland's next suicide strategy must focus on reducing this gap, particularly as more people may experience economic hardship following the pandemic.
"We know first-hand how urgent Scotland's work on suicide prevention is because we listen to and support people experiencing suicidal crisis, day and night. Calls to our helpline each day remind us why we must continue to work together to achieve our shared vision for a Scotland where fewer lives are lost to, and devastated by the impact of, suicide."
If you are struggling, the following services offer confidential support from trained staff and volunteers. You can talk about anything that is troubling you, no matter how difficult:
Call 116 123 to talk to Samaritans, or email jo@samaritans.org
Call 111 to talk to NHS 24's mental health hub
Call 0800 83 85 87 to talk to Breathing Space. The service is open 24 hours at weekends (6pm Friday – 6am Monday) and 6pm to 2am on weekdays (Monday – Thursday).
Text "SHOUT" to 85258 to contact the Shout Crisis Text Line, text "YM" if you are under 19.