Scotland's murder rate has fallen to the lowest level since modern records began almost fifty years ago.
Figures presented by Police Scotland to the Scottish Police Authority show there were 48 homicides in 2022-23.
That compares to a high of 137 back in 2004-05.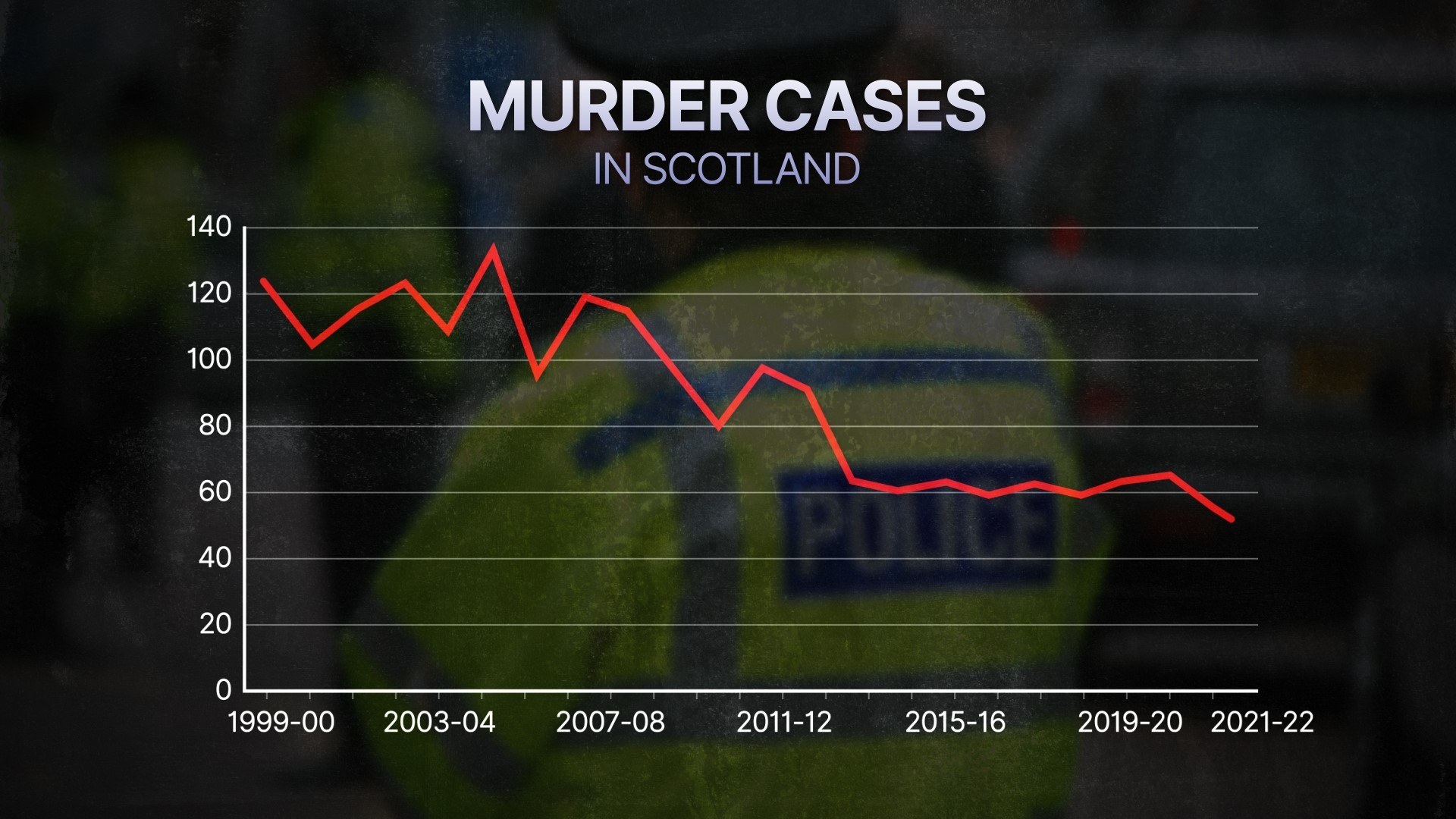 At that time a UN report referred to Scotland as the "most violent country in the developed world".
Reacting to the latest figures, detective chief superintendent Paul Livingstone, head of the Major Crime Unit at Police Scotland, told STV News: "It's quite clear Scotland is a safer place to live and work."
"Each one is an individual tragedy with unique circumstances and investigative challenges," he said.
"Securing justice for families and loved ones is a core duty for Police Scotland and important for police legitimacy."
In the decade since the national police force was established, there is just one unsolved murder.
No one has been brought to justice for the killing of Tony Ferns in Glasgow in 2019, although more than 600 people have been interviewed.
DCS Livingstone believes the resources available wherever a murder happens in Scotland have helped contribute to the strong detection rate.
"Yes, there's been developments in technology and science, in particular DNA, however you still have to have investigators and detectives at the back of that who are becoming very skilled and experienced at what they do," he said.
The last year has also seen successful prosecutions in two high profile historic cases – the 1970s murders of Brenda Page in Aberdeen and Renee MacRae and her son Andrew in the Highlands.
DCS Livingstone said there remains a commitment to keep working on other cold cases.
"We continually review and assess the information we have and we're always looking for new innovative ways to progress cases and we meet regularly with our partners in the Crown Office and forensics to discuss these cases," he said.
In 2005, the city of Glasgow was dealing with a knife crime epidemic. Scotland as a whole saw its highest homicide rate in a decade that year.
Glasgow's 40 murders in 2004/05 accounted for more than a third of the Scottish total, earning it the infamous moniker of the murder capital of western Europe.
The city's police force at the time, Strathclyde Police, launched a new strategy to deal with knife crime and other violent crime: a holistic approach that sought to deal with the issue by treating it as a social and public health challenge.
It resulted in the launch of the pioneering Violence Reduction Unit (VRU) which focused on preventing violent crime through community and youth work, education and social services.